This post may contain affiliate links. I may receive commissions for purchases made through these links with no extra cost to you. See full disclosure.
Last Updated on October 29, 2023 by Yvette's Treasures
Top Cool Tech Gifts For Christmas
Tech products are my favorite so I decided to do a review on what I deem are this year's top 5 cool tech gifts for Christmas, ones that you can actually wear – super cool hey! Hope you like these as much as I do.
Apple Watch Series 5 – Best Technology Gift Ideas
 Apple Watch Series 5 (GPS, 40mm) – Space Gray Aluminum Case with Black Sport Band
Whether you're focused on fitness or just enjoy using technology frequently, the Apple Watch Series 5 offers tons of amazing features and a quality build that helps you really get the most out of your iPhone.
It has plenty of apps, both built-in and downloadable, which can help you improve your health and lifestyle and make things just a bit easier at all times. This watch features Apple's signature Retina display, which has such a high resolution that you can't really distinguish individual pixels, making it all look seamless and clean.
The display is bright and colorful, and is a touch screen. The Series 5 has an always-on display that acts more like a traditional watch, so that you don't have to fiddle with it if you just want to glance down and check the time.
You can turn it off if you want, but many users find it more helpful. The Apple Watch can keep track of tons of different activity levels in your body. It tracks regular things like the distance you've run, or the amount of time you've spent exercising, but it also tracks things like heartrate levels and sleep patterns.
If you're feeling tired, the watch might be able to show you what times at night you're experiencing poor sleep. The watch even tracks things like noise levels in decibels, letting you know when it's a bit too loud.
This can help you prevent long term hearing loss from staying in a loud noise environment for too long. It also has an app for tracking and logging information about your menstrual cycle.
When you have your Apple Watch connected to your iPhone, it helps you keep track of your notifications and even respond to messages and calls quickly. You can text people back straight from the watch, which actually is much easier than you might think.
It can make and receive phone calls, which you can also answer through the watch. With Apple Pay, you can put your debit cards into their virtual wallet, and pay directly with the watch.
Many scanners accept Apple Pay at restaurants and grocery stores nowadays, and all you have to do is select the card you want to use and hold the watch up to the scanner. Apple has ensured that their service is fast and secure, so you can rest easy knowing that your information isn't going to be at risk.
Grab your Apple Watch Series 5 here from Amazon
---
Fitbit Charge 4
 Fitbit Charge 4 Fitness and Activity Tracker with Built-in GPS
If you enjoy going on long runs or hikes, or even just going to the gym regularly, a Fitbit can help improve your experience greatly by helping you keep track of important information while also acting as a stylish smart watch. I've had mine for 4 years now and I couldn't be more happy with it. It keeps me on track!
The latest Fitbit, the Charge 4, has tons of features that fitness enthusiasts will love, making it a must have for any gym goers or runners. The first and most obvious feature of the Charge 4 is that it acts as a sleek, simple watch.
Through the Fitbit app, you can change the watch face to better suit your needs and style. The Charge 4 will track plenty of basic exercise information as a given, such as distance walked each day and steps taken, to give you a good basic idea of your fitness progress.
The Charge 4 also has constant heart rate tracking, which is an important factor in fitness and health. If your resting heart rate is too high, it could be indicative of other problems, and you may have a certain heart rate that you want to achieve during a workout.
If you choose to wear this watch while you sleep, it can give you data on how well you're sleeping, and if you're waking up at certain hours. You sleep in stages when you get a full night's rest, so it can tell you what parts of your sleep cycle need work.
With its week long battery life, you can sleep in it just fine without having to worry about charging it up too frequently. One of the defining features of the Charge 4 is that it has a built in GPS that helps you track your pace and progress through a path or trail.
For outdoor runners and cross country runners, this can be crucial information that would be difficult to track otherwise. It can even tell you which parts of the run were more intense versus which parts were easier.
Of course, this activity tracker does have plenty of connectivity features with your phone. Whether you're on an Android or an iPhone, this can connect via the Fitbit app and help you stay in touch by showing you your notifications and allowing you to control your music with the touch of a screen.
The Fitbit app itself is very useful, and can keep track of things like how much water you're drinking, whether or not you're reaching your fitness goals, and so on.
Grab Your Fitbit Charge 4 here from Amazon
---
Garmin Forerunner 35
 Garmin 010-01689-00 Forerunner 35; Easy-to-Use GPS Running Watch
Some people today can get confused by all the complex features in some smart watches. At the end of the day it really depends on your needs.
The Garmin Forerunner 35 takes things back to basics and delivers you all of the information you want to know in a simple, easy to understand package. First off, you have the actual watch portion itself.
It gives a very clean and minimalistic digital clock, along with the date and battery charge level. At a typical glance, this is all you're going to need to know throughout the day while you're using it as a watch.
You can switch screens to go look at your fitness info, but while you're just working or walking around, that's your basic information. There are a few different fitness screens, with each one showing you some basic health statistics.
For example, the heart rate screen will show you your current heart rate and resting heart rate. Since the heart rate sensor measures constantly, it can give you a pretty accurate average, so you can tell if you're getting enough rest.
There's also a screen for distance travelled, which includes a step counter and a distance reading. Based on your information and your distance travelled, it can also give you a calorie counter as well as information on when you were burning the most calories.
Just because this watch is basic doesn't mean it doesn't have fancy features. The GPS system in this watch is among the best, keeping detailed information on your runs that you can use to track your progress.
It can show you what route you took, how fast you were running, and more. Whether you're a cross country runner or a hiker, this is some valuable information. For less experienced runners, the run/walk mode will come in handy to help them pace out their runs.
You can't just full sprint through an entire long run, you need to pace it out. This mode tells you when you should run and when you should walk to let your heart rate come down. This can be super helpful for those who never ran competitively, and aren't sure what pace they should be going at.
It can sync up with most smartphones in order to forward you your alerts, so you don't have to interrupt your run by pulling out your clunky smartphone just to read a quick little text message.
Grab your Garmin Forerunner 35 here from Amazon
---
More Cool Tech And Outdoor Gift Ideas
---
GoPro HERO8 Black – Cool Tech Gifts For Christmas
 GoPro HERO8 Black – Waterproof Action Camera with Touch Screen
If you like going out on adventures, from hiking to skydiving, you might be interested in getting a GoPro to record your journeys. GoPro's can be attached to all kinds of different mounts and are highly resistant to the elements, which is very useful if you're out in the rain or even underwater.
The GoPro HERO8 has extraordinary video capability, as it can record in 4K resolution at 60 frames per second. This is amazing quality for a standard camera, let alone for one of this size.
In photo mode, it can take photos at 12MP, which is very detailed. It can also livestream footage at 1080p, which is very impressive. One of the advantages of the camera on the HERO8 is that it has video stabilization.
The older GoPros that didn't have this feature would often have very shaky and hard to watch footage, but with the built in stabilization, this GoPro footage is smooth no matter what you're doing.
This makes for even better footage than ever before, and it's like you're really experiencing the adventure you had again. The GoPro cameras have always been well known for their durability, and the HERO8 is no exception.
This camera can be used underwater, in high wind, in rain, and can survive drops that would ruin other cameras. The updated design of the HERO8 has made it even more impact resistant than even before.
It also has a time lapse feature, which is when you have that footage over a long period of time that's sped up. This time lapse feature, which they've called TimeWarp 2.0, allows you to record long segments of video, while adjusting for things like lighting or motion, and letting you slow down certain parts while speeding up the rest.
This is great for showcasing a long travel while still retaining certain special moments. One nice feature of this camera is that it has multiple digital lenses, where the older cameras used to have a fixed lens.
Now you can choose from wide angle lenses, to narrow close-ups, or distortion free settings that give you the best looking image. Whether you're a filmmaker, adventurer, vlogger, or anyone else who might be using a camera regularly, you'll be impressed by all the different mods that you can swap and use with this camera.
Things like upgraded microphones, additional displays, and more can all be added on to the camera quite easily, and are mostly compatible with each other.
Grab your GoPro Hero8 here from Amazon
---
Snap Spectacles 2
 Spectacles 2 (Nico) — Water Resistant Polarized Camera Glasses, Made by Snapchat (60fps HD Action Camera)
One of the most unique and popular social media platforms to come about in the past few years is Snapchat. Snapchat allows users to send and receive videos and pictures to one another as the main form of communication, and users can also post videos and pictures to their stories, which allows all of their friends to view them until the story expires.
Snapchat recently developed a whole new form of wearable technology: the Snap Spectacles. The Spectacles are sunglasses with a camera and microphone mounted on them, which allows you to film a POV video without having to hold your phone out in front of you.
They look like standard sunglasses that you would typically wear, so they don't stand out too much. To get started, you sync these glasses up with your phone and connect it to your Snapchat app.
Then, you can press the button to capture the next 10 seconds, or double tap it to continuously record. If you hold it down, it takes a singular photo. Whatever you select, it then gets transferred to the app so that you can edit it and finally post it or send it to whoever you want.
You won't have to worry about the Spectacles being too fragile. They're designed to be water resistant, meaning if there's some splashing or even shallow water, they're going to be fine.
This means recording in the rain or at a pool party is no cause for concern, and they also come with a durable protective case for when you're not using them. The camera quality is fantastic on these smart glasses.
It records at a 1216 x 1216 resolution, which is full HD. They also record at 60 frames per second, much smoother and more natural looking than the traditional 30 frames per second.
This makes a lot more sense considering that they're meant to be POV videos. These glasses have a good battery life, so you won't have to worry about them dying out on you while you're trying to record.
They're charged with an included cable that connects around the left hinge of the frame. They charge fairly quickly so you'll be able to spend more time recording and less time charging.
If there are things that you want to show off like driving a great car, or doing something adventurous, the Snap Spectacles can help you do that with ease, especially since you don't want to have a phone taking up one of your hands.
I absolutely love this idea, and these sunglasses are definitely on my wish list of cool tech gifts for Christmas.
Grab your awesome Snap Spectacles here from Amazon
---
My Thoughts On These Cool Tech Gifts For Christmas
This year there are so many cool tech gifts for Christmas making it rather hard to choose. That being said, the most talked about are definitely going to be wireless, bluetooth enabled, smaller, thinner and with a longer battery life than ever before.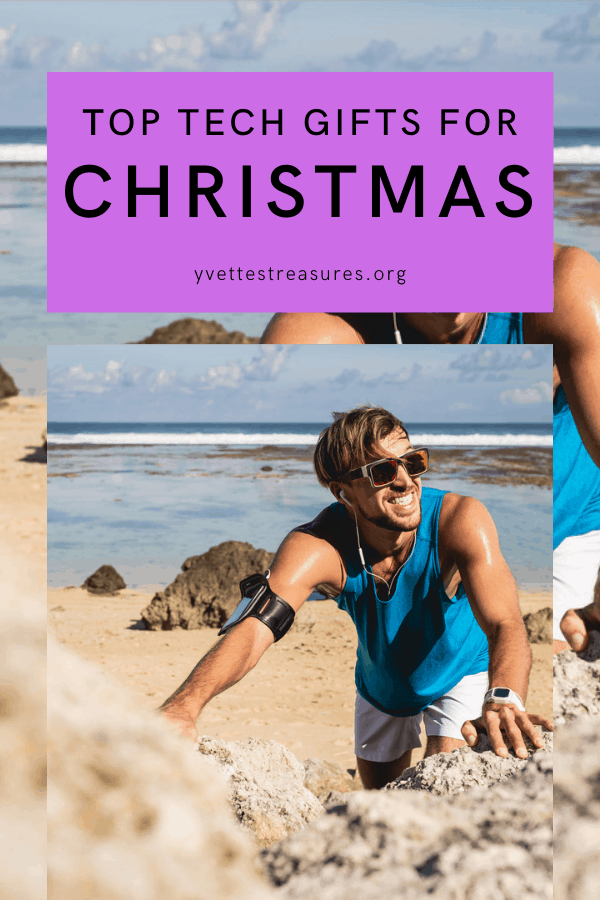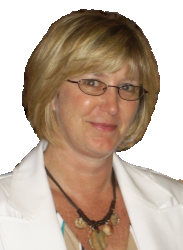 Latest posts by Yvette's Treasures
(see all)
Summary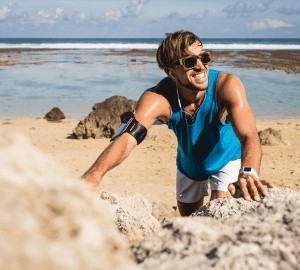 Article Name
5 Cool Tech Gifts for Christmas That You Can Actually Wear
Description
Tech products are my favorite so I decided to do a review on what I deem are this year's top 5 cool tech gifts for Christmas, ones that you can actually wear - super cool hey!
Author