This post may contain affiliate links. I may receive commissions for purchases made through these links with no extra cost to you. See full disclosure.
Last Updated on January 2, 2022 by Yvette's Treasures
Fun Birthday Presents Teenage Girls Will Love
Finding the right age-appropriate gifts for teenage girls that are fun and stimulating is very important. Teenage girls are at an age where they start coming into their own, and become more independent. They often want to be creative and try knew things. Here are a few of the top birthday presents teenage girls will love because of their uniqueness.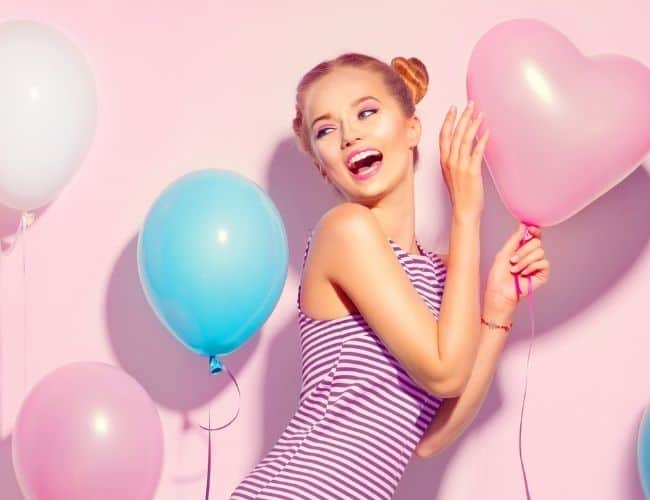 When looking for birthday gift ideas teenage girls will treasure, look for something fun, something that suits their character (maybe they love sports, music or makeup), perhaps a gift they can use or keep. Something for their room to make it more comfortable and their own!
Official Teenager Birthday T-Shirt 
Keep Calm Birthday Official Teenager T-Shirt

A fun, lightweight t-shirt with a classic fit, double-needle sleeve and a bottom hem. Made from 50% cotton, 50% polyester, and there are 5 different colors to choose from. This is such a fun teenage girl gift idea.
---
Birthday Presents Teenage Girls Would Love To Wear
Inspirational Tree of Life Leather Bracelet
Inspirational Tree of Life Leather Bracelet

Every young lady deserves to have a special piece of jewelry. This Tree of Life leather bracelet is beautiful and comes with an inspirational hidden message. Presented in a pretty black gift box all ready for gifting.
---
Birthday Necklace For Teenage Girl
Birthday Gifts For Girls 13 Year Old Girl

This lovely handmade necklace would make an ideal 13th birthday gift. It has one bead for each fabulous year. The chain is 45+5cm/18+2inch, and comes wrapped in a classic jewelry gift box with a cute card. Something special for 13th birthday.
---
Birthday Presents Teenage Girls Charm Bracelet
Teenage Girl Gifts for 13 Year Old Girl Birthday

13 Year old birthday gifts bracelet engraved with a lucky number 13, snowflake, stars, moon, sunflowers and butterfly charms.  Fabulous and inspirational birthday presents for teenage girls to celebration the milestone in her life.
---
DIY Charm Bracelet Making Kit
Teens, why not make your own stunning bracelets with this DIY charm bracelet set! The set comes with 2 bracelets, 3 necklaces, 19 metal beads, 18 beads with dangle and 10 rainbow beads, 4 glass beads and 3 diamond beads.
Get together with your friends and make it a fun craft party. This DIY set comes in a cute unicorn box, making it a great gift for girls who love DIY accessories.
---
Cute Birthday Presents Teenage Girls
Super Cute Leather Backpack
Girls Bowknot Cute Leather Backpack

This cute mini backpack comes in several vibrant colors, perfect for teenage girls. It comes with adjustable shoulder straps. a zipper closure, 1 main compartment, 1 front button pocket, 1 zipper back pocket, 2 side pockets; 1 interior phone pocket, and 1 interior zipper pocket.
---
Pug Travel Mug
Designed just like takeaway coffee cups, meaning no spillages. This cute pug travel mug is great for when you're on the go. It comes complete with a lid and the ability to hold 16oz of your favorite hot drink.
---
Cosy

 Microwavable Boots
Pop these luxury boots into the microwave and you'll soon have super toasty tootsies. Not only are these microwavable boots soft and comfortable, they also release a soothing lavender scent to get you in the relaxing mood.
---
Beauty Birthday Presents Teenage Girls
Teenage girls love to experiment with makeup.  There are so many starter kits and ideas on the market today. Here are just a few cool gift ideas. If your teen likes bling and enjoys changing her hairstyle then this Hair Blinger is definitely for her.
Selfie Makeup Ring Light
Selfie Ring Light with Tripod Stand – Dimmable Makeup Ring Light

This is a brilliant teen girl gift idea. A selfie ring light with a tripod stand. Use it for creating live videos or recording from a smartphone. It has 3 light colors and 10 levels of brightness making it easy to switch color temp to observe all kinds of makeups, therefore avoiding awkward makeup disasters.
After detaching the selfie ring light, the tripod stand can be used as a selfie stick. Take plenty of pictures with friends without worrying who is going to hold the phone for you.  The ring light is foldable, lightweight and easy to carry.
Included is an 8 inch ring light, a tripod ball head, tripod, a mobile phone holder, selfie remote control and an instruction manual.
---
Facial Mask Gift Set
Facial Mask Gift Set with 2 Bonus Mask Brushes

Looking after ones skin is extremely important, especially when you become a teenager. It's always a good idea to keep those pores clean, and what better way than pampering yourself with this multi-masking kit for fresh, glowing skin.
This wonderful kit includes 3 mini tubes, 4 sheet masks, 4 sachets, a silicone facial buffer, a bristle brush and a bonus silicone facemask applicator brush. Plenty to ensure a healthy, glowing skin.
---
Strawberries And Cream Pamper Pack
Strawberries And Cream Pamper Pack

There's nothing quite like the gorgeous smell of strawberries. Add cream, and you've got the ultimate indulgent treat for a pamper night! All contents are handmade from natural ingredients free from preservatives, and includes a face mask, bath tea bag, bath bomb and candle.
---
Makeup Mirror with Lights
Makeup Mirror with Lights, 21 LED Vanity Mirror with Magnification, Touch Screen Switch, Dual Power Supply

This makeup vanity mirror has both cool lights for work or school and warm lights for heavier, party makeup. The makeup mirror can be 180 degree rotatable that can be held on any angle. The brightness of the lights can be adjusted just hold down the touch screen switch to dim or bright.
The lights are operated by a USB charging cable or 4 AAA batteries. Please note though that the vanity mirror can not store power by itself, either the USB needs to be plugged in or you need to use the batteries, not both at the same time.
If you are looking for some makeup brushes to go with the vanity mirror, I highly recommend these, they are excellent!
---
Erase Your Face – Birthday Presents Teenage Girls
Erase Your Face – Reusable Makeup Removing Cloth

A reusable makeup removing cloth that's as cute as can be and eco-friendly. Simply dampen the cloth before use and wipe away makeup. I have one of these and I love it. No more cotton wool waste or makeup remover. Saves you plenty of money and leaves your skin feeling terrific!
It can also withstand up to 500 machine washes and is good to go wherever you may be, making it an ideal travel companion!
---
Nailzee – Manicure Hand Rest
This manicure hand rest is a fantastic birthday gift for any manicure enthusiast! Its simple design means it can be comfortably used as a hand rest when painting your fingernails. You can also rest assured that the nail varnish bottle will remain steady in its holder.
---
Unique Birthday Presents Teenage Girls
LED DIY Nightstand Lamp
Modern Table Lamp 8W LED DIY Nightstand Lamp

This uniquely designed LED desk lamp has 8 bulbs that emits warm white light for beautiful radiance. Great for a teens bedroom. What I love about this desk lamp is that it is innovative with easily configurable branch pieces. So you can create your own style lamp with the different branch pieces…how cool is that?
---
Happy Birthday Chocolate Pizza
Happy Birthday Chocolate Pizza

Who doesn't love pizza, and a chocolate pizza…you've made my day! This scrumptious chocolate pizza is complete with delicious chocolate toppings and a happy birthday chocolate plaque to mark that special birthday!
---
100 Movies Scratch Off Poster
Create memories with this interactive scratch off bucket list poster. It features 100 of the very best films. This is a great way to keep track of all the incredible films you've seen! Perfect for the teen movie buff.
---
Donut Socks Birthday Presents Teenage Girls
Show your love for doughnuts with these Donuts Ladies Socks. Presented in donut tray box the socks are neatly wrapped, laid out in rings and they look just like the real thing!
---
Empowerment Journal For Teenage Girls
Empowerment Journal For Teenage Girls – 100 Page Journal With Prompts

This spiral bound, hardcover teen journal is A5 size with 100 thick pages for empowering journaling. With daily pre-written prompts, 6 sheets of pre-cut stickers, and 1 sheet poster, she will love creatively expressing herself.
---
Glow in The Dark Throw Blanket
Glow in The Dark Throw Blanket

Who doesn't love a 'glow in the dark' throw blanket? Teen girls will especially love this one! Made from the softest, most velvety, microfiber fleece and adorned with words of encouragement like grateful, harmony, happy, peace, comfort, relaxing, hope and love!
---
Mini Jellyfish Tank
Now here is a very unusual birthday present for teenage girls. This Mini Jellyfish Tank contains two artificial jellyfish that swish about soothingly amidst the red, green and blue mood lighting. A great birthday gift idea for those who love the mystery and allure of the deep. It runs on 3 AA batteries (not included).
---
DIY Birthday Presents Teenage Girls
DIY Journaling Set
Customize this 70 sheet spiral journal to include all your thoughts, expressions and memories. Use the stickers, gems and glitter frames to create a trendy keepsake! Why not add a few photos and ticket stubs as well to remind you of the great time you had during all your adventures.
---
Organic Soap Making Kit
Make their birthday extra fun with this amazing Organic Soap Making Kit! Perfect for teens that are looking for an exciting hobby, this kit comes with everything they need to make their very own luxury organic soap!
---
Scrunchie Holder Stand For Teenage Girl 
The Perfect Scrunchy Display Organizer

Save space, time and money with this multiple scrunchie organizer. It fits up to 24 scrunchies providing awesome teen girl room décor. Your teen will always know where her scrunchies are. If you need a few more colorful scrunchies to add to your collection, these ones are great.
---
Tech Birthday Presents Teenage Girls Can Use
Jam Jar Wireless Speaker
The perfect prezzy for a stylish teen tech-lover. Play your favorite tunes, chat with friends and control the volume with this 360 speaker's Bluetooth connection and remote, without removing your phone from the sleek display case. How cool is this Jam Jar Wireless Speaker?
---
Scribble Writing Alarm Clock
Write down anything you need to remember in the morning, and clear your head for a good night's rest! The scribble writing alarm clock features 4 melodies and a scribble pen. The screen lights up in the morning when the alarm sounds so that you can clearly see your message.
---
Fun Games Make Great Birthday Presents Teenage Girls
Sudokube
The serious Sudoku meets the classic cube puzzle! This is the game that has taken the world by storm. The Sudokube is a puzzle in the shape of a Rubik's cube, but made up of numbers rather than colors. You play in the same way as you do a typical puzzle cube, but need to get the numbers on each side as you would in a Sudoku grid.
---
Harry Potter Hogwarts Playing Cards
Harry Potter Hogwarts Playing Cards

A set of Harry Potter Hogwarts Playing Cards is essential to any up and coming magician! This card set is imaginatively designed to show each of the four houses of Hogwarts – Ravenclaw, Gryffindor, Slytherin and Hufflepuff. It comes presented in a beautiful Harry Potter styled tin box and would be the perfect birthday gift idea for your daughter.
---
Thoughts On Birthday Presents Teenage Girls
I'm sure there is a huge selection of birthday presents teenage girls would like for their birthday. I have tried to source some popular ones as well as a few rather unique teenage gift ideas. I personally love to try and find unusual gifts that others won't have, making it extra special! I hope you enjoy browsing through my selection, and if you have any unusual gifts you'd like to share, I'd love to hear about them in the comments below.
Birthday Presents Teenage Girls – Pin For Later!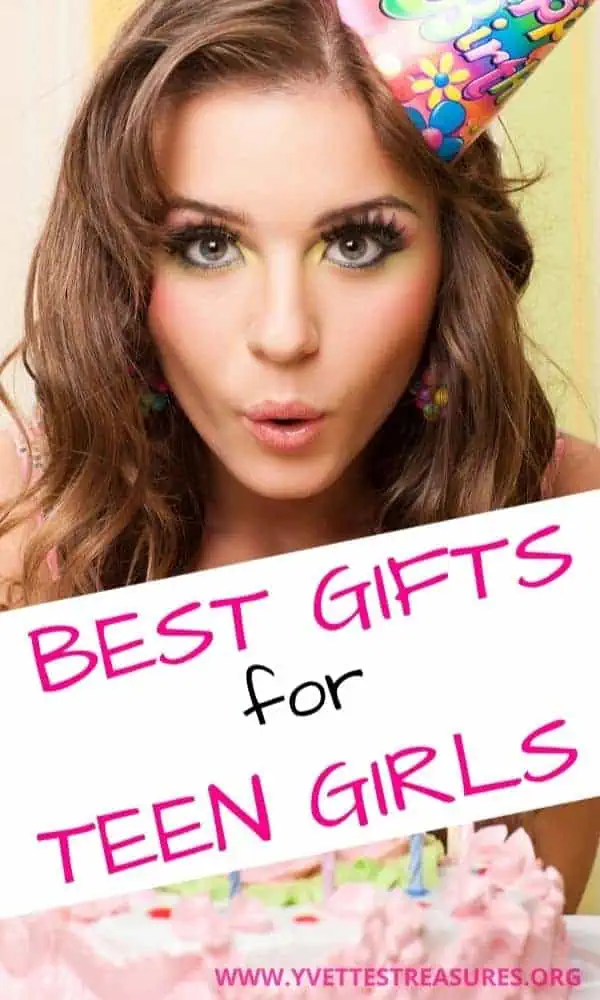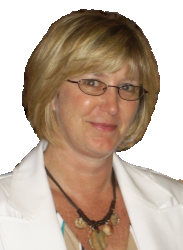 Latest posts by Yvette's Treasures
(see all)
Summary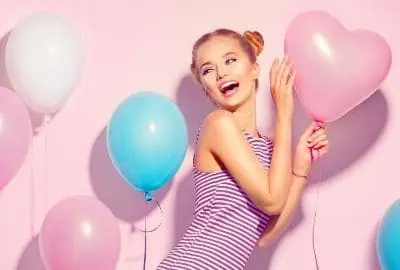 Article Name
Birthday Presents Teenage Girls Will Definitely Want To Keep
Description
Here are a few of the top birthday presents teenage girls will love because of their uniqueness. Birthday gift ideas teenage girls will want.
Author