This post may contain affiliate links. I may receive commissions for purchases made through these links with no extra cost to you. See full disclosure.
Last Updated on September 21, 2019 by Yvette's Treasures
Unique Gifts For Teen Boys! My Favorite Picks For 2019
Many would say that teenage boys are easy to shop for. They usually enjoy video games, sneakers or simply gift cards and cash. My son always had a list so I was never in doubt as to what to get him.
However, what if you want a special, more personal gift for your teenage son or relative? What type of gift should you choose? We've compiled a list of our favorite unique gifts for teen boys. All of the items on this list are different and a gift that any teenage boy will love.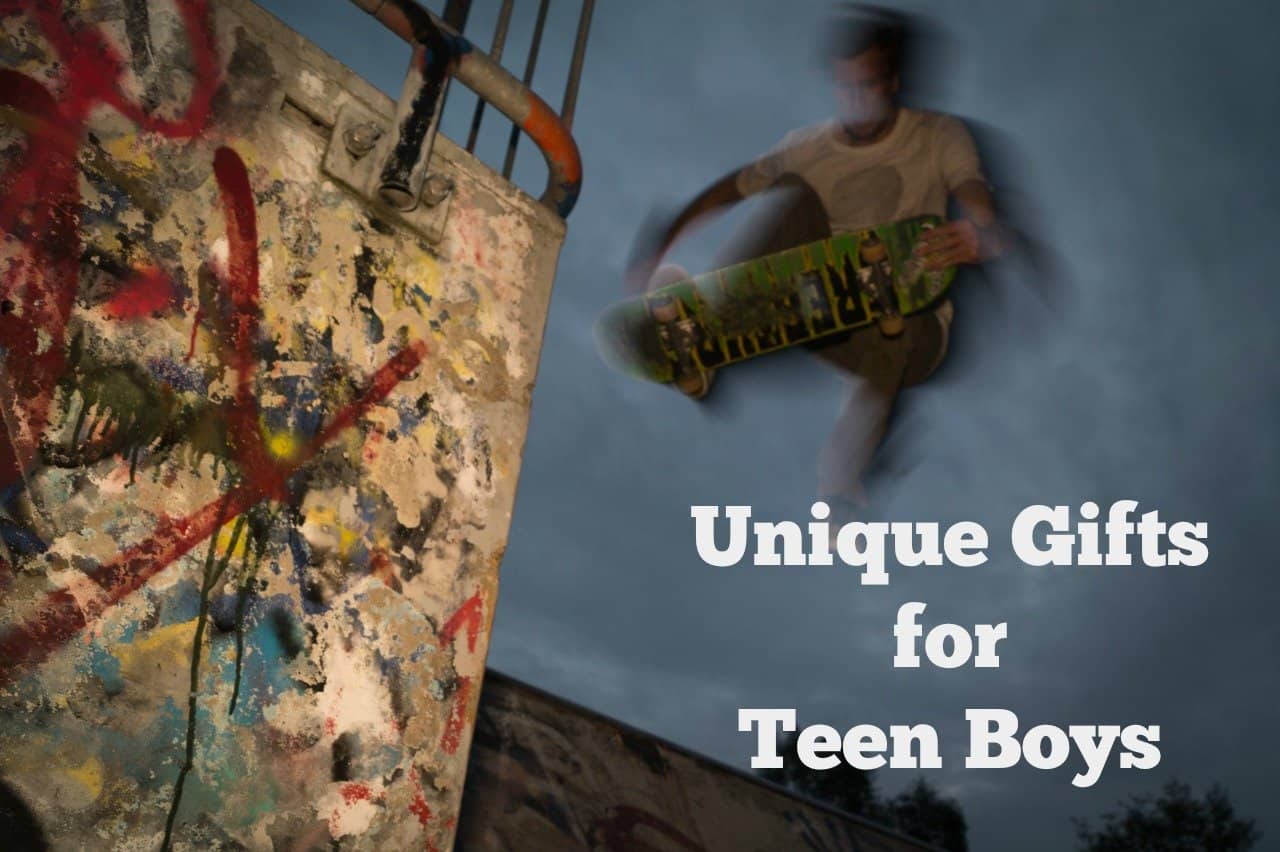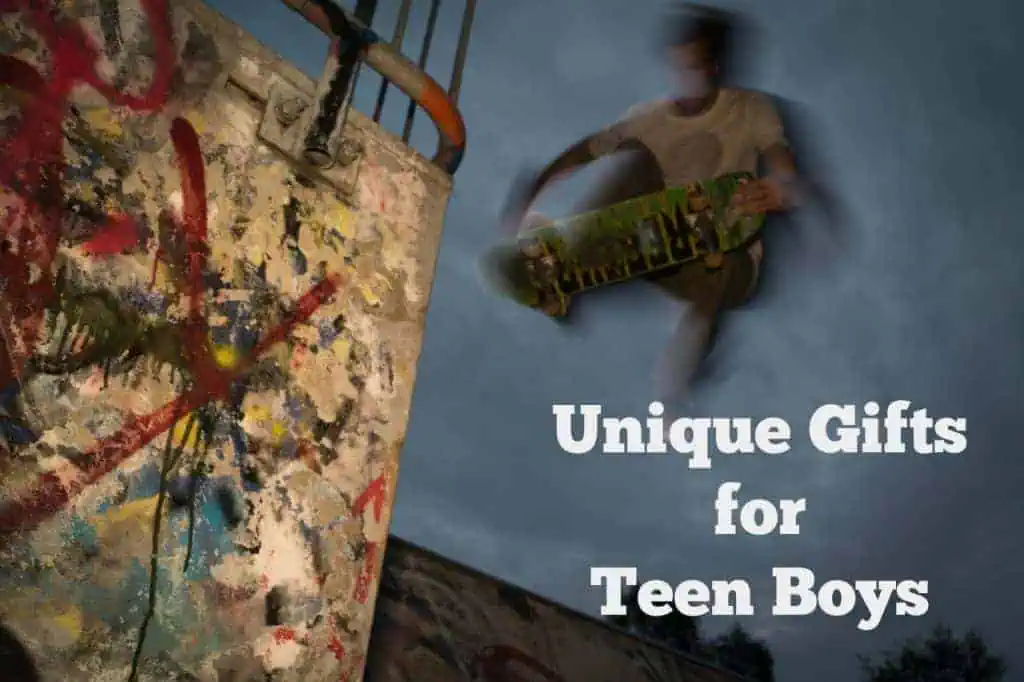 Nintendo – High On This Year's List Of Unique Gifts For Teen Boys
Nintendo has hit the top Christmas list again this year.  As popular as ever kids just can't get enough of Nintendo and all the awesome games. Helps to increase hand-eye co-ordination and motor skills.

Nintendo Switch Bundle (7 items): 32GB Console Neon Red Blue Joy-con, Nintendo Switch Pro Controller Splatoon 2 Edition, Game Disc-Splatoon 2, 128GB Micro SD Card, Type C Cable, HDMI Wall ChargerGET IT HERE
The Nintendo Switch Bundle offers so much including:
• Enhanced Parental Control
• Joy-Con controllers
• Surround sound: TV Mode supports 5.1 channel surround sound.
• You can also add this Nintendo Joy-Con to your Nintendo Switch console so friends can join in.
 The Nintendo Wii U 32GB Mario Kart 8 (Pre-Installed) Deluxe Set is extremely popular for obvious reasons.
Nintendo Wii U 32GB Mario Kart 8 (Pre-Installed) Deluxe SetGET IT HERE
It now offers 6 new characters, 8 new vehicles and 16 new tracks to download.
The Mario Kart 8 comes pre-installed so no physical disc needed. It also includes a Nintendo eShop download card.
The Mario Kart 8 includes:
32GB Internal Storage
Wii U Game Pad
Game Pad Stylus
Sensor Bar
Wii U Console AC Adapter
Wii U GamePad AC adapter
HDMI cable, Wii U Game Pad Stand
Wii U Game Pad Cradle and Wii U Console Stand
The Wii U also supports the original Wii Games…Bonus!
---
Ripstik Caster Board – Definitely On The List Of Unique Gifts For Teen Boys
If your teen son loves surfing, skateboarding or snowboarding then the new Ripstick makes for the perfect gift.
A Ripstick puts an innovative new spin on the skateboard by combining it with design elements taken from surf and snowboards. The Ripstick castor board can make 360° turns with ease and the slightest movement can propel the board uphill.
Razor Ripstik Caster Board, BlueGET IT HERE
---
Cool Unique Gifts For Teen Boys – The Syma X5C Quadcopter
Another one on our list of unique gifts for teen boys is the Syma X5C Quadcopter.   The Syma X5C Quadcopter is no ordinary remote controlled airplane. This helicopter is essentially a drone ideal for beginners.
Equipped with an HD camera, the Syma Quadcopter is easy to control and can perform 360° turns and maneuvers with a simple press of a button.
Syma X5C Quadcopter equipped with HD cameras, 2.4G 6 Axis GyroGET IT HERE
Awesome Christmas Gift Ideas For Teens
38" Blue Acoustic Guitar Beginner Package
38″ BLUE Acoustic Guitar Starter Beginner Package, Guitar, Gig Bag, Extra String & DirectlyCheap(TM) Translucent Medium Guitar PickGET IT HERE
Is your teen son or relative a rock star in the making? If so, then they will love the 38" Blue Acoustic Guitar Beginner Package.
This guitar starter kit comes with everything a teen boy would need to begin making sweet music including; extra strings, guitar pick, a gig bag, and a pitch pipe tuner.
---
The Ozobot – A Great Gift For Teen Boys
Ozobot 2.0 Bit, Titanium BlackGET IT HERE
The Ozobot is the ideal gift for any teenage boy who is into robotics, coding, or computer technology. The Ozobot is one of the smallest, programmable robots in the world, measuring just over an inch.
With the Ozobot, beginners learn to code using colors and more advanced users can use OzoBlockly, Ozobot's block-based programming language.
---
Nylon Velcro Sports Ball Wallet for Boys
This nylon velcro sports ball wallet is such fun with loads of colors and velcro to hold it closed and keep your money safe.  It comes in black basketball, blue soccer, red baseball, and green football variations.
Sports Ball Wallet Nylon Velcro Trifold Kids Wallets for Boys Baseball Basketball Football Soccer (Green Football)GET IT HERE
---
Tech Gifts For Teen Boys
Here are some great tech gifts for teen boys.  This cute little speaker is completely waterproof and shockproof.  It doesn't only need to be used in the shower.  You can take it to the beach or use it outside when you're practicing basketball shots.
Connects easily with your smartphone, tablet or computer. It has multi-functional capabilities like hands-free talk with built-in mic, and the sound quality is absolutely amazing.  With 24/7 customer support you can't go wrong.
Elecstars Water Resistant Bluetooth Waterproof Speaker with Wireless Handsfree Portable Speakerphone, Strong Suction Cup – Best Gift forTeen Kids (Blue)GET IT HERE
Related: 20+ Of the Coolest 13th Birthday Gifts for Girls

Beanie Hat With Headphones
Leezo Soft Smart Wireless Bluetooth Music Warm Knitted Beanie Hat and glove Headphones Caps (Black)GET IT HERE
As far as unique gifts for teen boys goes, this one is extra cool. A soft wireless Bluetooth beanie with a headphone set, speaker mic and get this….touch screen gloves. Now really, how cool is that?
It also comes in four different colors. Speakers are easily removed when you need to wash the hat.
---
Lightning Reaction Reloaded – Shocking Game
How Does The Lightning Reaction Reloaded – Shocking Game Work?
Lightning Reaction Reloaded – Shocking GameGET IT HERE
The Lightning Reaction Reloaded – Shocking Game is loads of fun and it tests your reaction skills.
Each player grabs a handle from the base. Press the button in the center, watch the red light blink and listen to the suspenseful music play. Wait for it…..when the red light turns green. Press the trigger button as quickly as possible. If you are the last to react, you will get the electric shock.
A great idea for your next party or sleep over. Get all your friends involved for a good laugh.
The Lightning Reaction® Reloaded is perfect for teens and adults alike, but not intended for children under the age of 14 years.
---
More Gift Ideas Teen Boys
You're Braver Stronger Smarter than you think Inspirational Bracelet Expandable Bangle GiftGET IT HERE
Always Remember Pendant Necklace Family Friend Gift Unisex (Stainless steel)GET IT HERE
Jstyle Jewelry Men Leather Bracelets Cool Rope Bracelet for BoysGET IT HERE
---
Popular Gifts For Teen Boys
The GoSports Slammo Game Set is a great game for the hot summer months.  It includes 1 Slammo Target, 3 balls, a carrying case and all the rules of course.
This fun athletic game consists of 4 players, 2 on 2.  The aim is to return the ball to the circular net.  Recommended for 12 years and up.
GoSports Slammo Game Set (Includes 3 Balls, Carrying Case and Rules)GET IT HERE
---
Top Gifts For Teen Boys – Cylinder Canvas Backpack
A quality sports bag will always be included in the list of unique gifts for teen boys because it has many uses.  You can use it for your gym gear, a day around town, the beach or a travel bag for a night or two when you don't want to take a lot of luggage.
This backpack is strong and durable with many dual zippers to keep your coins or your passport.  It also has a special computer bag inside to keep your laptop well protected.
Generic Cylinder Bag Canvas Travel Backpack Hiking Shoulder Handbag­ (Khaki)GET IT HERE
Related: 40 Best Birthday Gift Ideas For 4 Year Old Boys

Save
Save
Save
Save
Save
Save
Save
Save
Save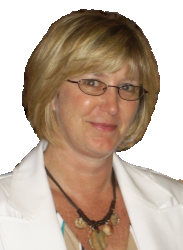 Latest posts by Yvette's Treasures
(see all)