This post may contain affiliate links. I may receive commissions for purchases made through these links with no extra cost to you. See full disclosure.
Last Updated on October 18, 2022 by Yvette's Treasures
Creative Lady Boss Gift Ideas
I have a good friend that I consider a true girl boss.  She is outrageously talented, always coming up with new ideas and setting goals for herself.  I love being around her positive attitude, and I truly love buying gifts for the boss lady because most of the time it's the sort of thoughtful gift I would like to receive. These fun gifts would even make the perfect Christmas gift.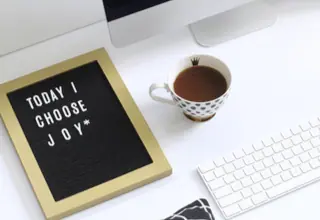 I've put together a great list of unique gifts for female bosses that are both useful and just down right gorgeous!  Some will look great in the office while others will help her unwind from hard work and her busy life.
Gifts For The Boss Lady Under $10
Boss Lady: Lined Journal
This beautiful, lined journal has been designed especially with the Boss Lady in mind. It is covered in gold lettering with 110 motivational quotes from famous people to inspire you. 
Buy it here for only $5.99.
---
Boss Appreciation Keyring Gift
This appreciation keychain comes with a cute keepsake gift box and membrane to protect the keychain. The tight welded connect ring will never fall off. Makes a perfect memento.
Buy it here for only $9.99.
---
Fight Like A Girl Ankle Socks
Aren't these Fight Like a Girl ankle socks a super cool female boss gift? I love the way the colors make them stand out – well, who's boss then?
Buy them here from only $5.49.
---
Boss Lady Mouse Pad
When it comes to the best boss lady gifts, this vibrant Lady Boss mouse pad with non-slip rubber undersurface that grips the desktop firmly is a great idea. Very soft and comfortable for wrists and hands.
Buy it here for only $7.89.
---
Boss Lady 2019-2023 Planner
A stylish 2019-2023 monthly planner that has everything your heart desires.  From vision boards, to-do lists, notes, monthly and yearly calendar views and inspirational quotes!
The perfect way to keep track of all your to-do's, meetings, passions and others throughout the entire year.
Buy it here for only $7.98.
---
TheraFlow Foot Massager Roller
Lady bosses also need to pamper themselves and what better way than with this foot massager!  This wonderful gift helps with stress relief and sore feet after a long day at the office.
Buy it here for only $8.95.
---
Throw Pillow Cover, Just A Girl Boss Building Her Empire Inspirational Phrase
A modern printed design made of 50% cotton and 50% linen natural material. Both sides have the same design with a hidden zipper closure on one side. A stylish addition to any home or office.
Buy it here for only $9.99.
---
iPhone 7 8 Plus Case X XR 5/5s/SE Girl Boss 6/6s iPhone XS Max Custom Name Girl in Sunglasses Google Pixel XL Coffee Samsung S9 S8 Plus Lilac Flowers Galaxy Note 9 8 Cover S10 Lite S10E 2DaO583
Made from high quality eco friendly materials, and fits perfectly to your phone with full access to all ports and buttons. The case has a little gap around the edges protecting your phone from scratches, and light damages. Go girl power!
Buy it here for only $9.99.
---
Don't Let Anyone Ever Dull Your Sparkle Retractable ID Tag Badge Reel
A fun handmade retractable ID badge reel. Each badge reel has a clear high quality image, is sealed with an epoxy resin, and is attached to a 1″ silver or black flattened bottlecap. Clip them on to your shirt, belt or pocket for easy access to your identification card!
Buy it here for only $9.99.
---
Good Days Start With Gratitude: A 52 Week Guide To Cultivate An Attitude Of Gratitude: Gratitude Journal
This self exploration gratitude journal is a personal favorite. It is designed to focus on being thankful for what we have, the big things in life, as well as the simple joys.
Buy it here for only $6.99.
---
Psalm 46:5 God is Within Her, She Will not Fall- Bible Verse Pink Sparkles Glitter Mouse pad
Give her a little inspiration with Psalm 46:5 God is within her, She will not fail. A beautiful reminder while you're sitting at your computer.
Buy it here for only $7.89.
---
Gifts For The Boss Lady Under $20
Here you will find some girl boss gifts for the professional woman and all under 20 dollars – perfect for the pocket! From practical gifts to home office gifts and a boss babe mug.
Boss Lady Sticky Notes Holder
Buy it here for only $11.42.
---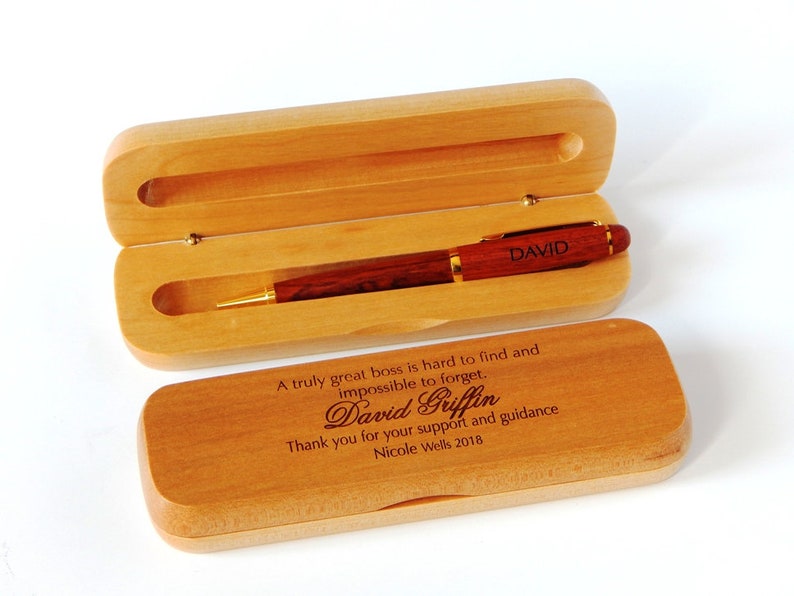 Personalized Wooden Pen
This beautifully handcrafted pen and case can both be personalized. What a wonderful keepsake, and so unusual.
Buy it here for only $11.87.
---
Boss Lady 16 Ounce Ceramic Coffee Mug
Help slay the work day with this quality, Lady Boss fun mug features motivational sayings on the exterior and interior lip. Both microwave and dishwasher safe. Carefully packaged in a fitted box for easy gifting and storage.
Buy it here for only $12.95.
---
Boss Babe Desk Plate
Buy it here for only $12.99.
---
Majestic Pure Himalayan Salt Body Scrub with Lychee Essential Oil
Majestic Pure Himalayan Lychee Pink Crystal Salt Scrub is pure and natural body scrub. It has high quality Himalayan salt for its maximum nutrient profile including calcium, magnesium, potassium, copper & iron with no harmful chemicals.
Buy it here for only $13.98
---
Girl Boss Cute Whiteboard Magnets
Liven things up at the office with these fun, motivational button magnets. The perfect gift for a female friend. These would also make great secret Santa gifts.
Buy it here for only $12.99.
---
Adjustable Cell Phone Stand, Desk Cellphone Holder
The perfect way for boss ladies to keep their cellphones safe, easily reachable, and her desk organized. Compatible with all kinds of smartphones and tablets.
Buy it here for only $10.99.
---
High Heel Stapler, Fun Desk Accessories
Make a fashion statement with this black high heeled stapler. Your office supplies will be as fabulous as they are reliable, when you add this sturdy plastic stapler to your collection.
Buy it here for only $10.59.
---
Girl Boss Fashion Pen
A great birthday present that she can use everyday. It is refillable, has a beautiful gold finish, and comes in a unique gift box all ready for gifting.
Buy it here for only $12.05.
---
Daily Planner with 50 Undated 8.5 x 11 Tear-Off Sheets – You've Got This Calendar
Get organized with this daily planner. This 100% unique design is the perfect present to help you organize your daily appointments, tasks, track your water intake, health and fitness goals and daily meals.
Buy it here for only $10.99.
---
A Truly Great Boss is Hard to Find Difficult To Part With and Impossible To Forget Bracelet
A beautiful stainless steel bracelet that is durable and sturdy. Made from environmental material healthy for your wrist. A super cute gift presented in exquisite velvet bags.
Buy it here for only $14.89.
---
Short Sleeve Inspirational Graphic Tees
T-shirts always make great gifts. This one is made from a premium, super soft cotton blend, and keeps you comfy all day while spreading an inspirational message of love and happiness.
Buy it here from $12.99.
---
Dual-Sided Multifunctional Desk Pad, Waterproof Desk Blotter Protector
What a great gift idea…I just love this one! Keep everything organized and in one place. No more struggling with the mouse pad. And there are so many colors to choose from so you get to have your favorite color right there on your desk.
Buy it here for only $12.27.
---
Inspirational Fashion Prints – Set of 6 (8×10) Pink and Gold Office Poster Wall Art Quotes
These inspirational fashion prints are printed on high quality paper in a glossy finish. This nice wall art will make a fantastic addition to the office.
Buy it here for only $14.95.
---
Boss Morse Code Bracelet 14k Gold Plated Beads on Silk Cord Gift for Boss
One of the best gifts is a handmade Morse code bracelet spelling out the word 'Boss'. Made of 14k gold plated beads on a silk cord. Fully adjustable, and comes wrapped in a classic jewelry gift box.
Buy it here for only $12.98.
---
Graphique File Folder Set
This is such a great office gift for your Boss lady. 3 Unique Go Getter designs to inspire her.
Buy it here for only $13.99.
---
Girl Boss Gift Ideas Under $30
Boss Lady, Expresso Yo' Self Infused with Hustle & Caffeine, All-Natural Organic
Add a little hustle and caffeine to your day with this all-natural organic boss lady candle.
Buy it here for only $25.00.
---
Badass Affirmations: The Wit and Wisdom of Wild Women
Positive affirmations for a badass Lady Boss! Positive living and affirmation queen Becca Anderson reminds you that you are pretty darn great.
Buy it here in Kindle or paperback format.
---
Boss Lady Travel Mug
As far as girl boss gift ideas goes, I just love this travel coffee mug.  The black and gold is such a great combination and makes it look so classy.
Buy it here for only $21.00.
---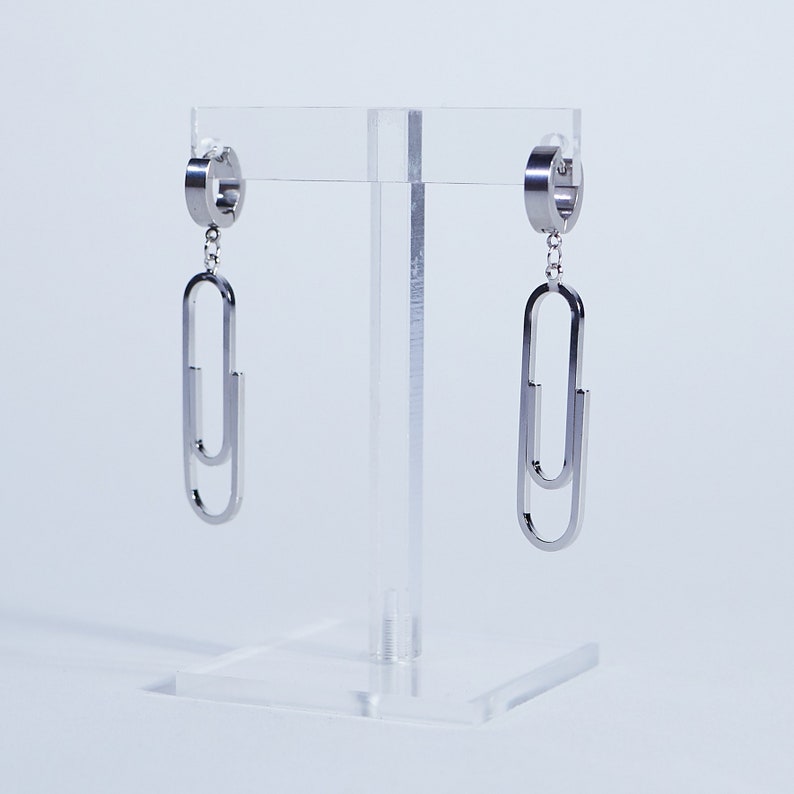 Paperclip Hoop Earrings
Some of the best girl boss gifts are handmade. These earrings are handmade from stainless steel in silver hypoallergenic to imitate paper clips. These earrings are simple yet stylish. What a fantastic lady boss gift idea.
Buy it here for only $25.50.
---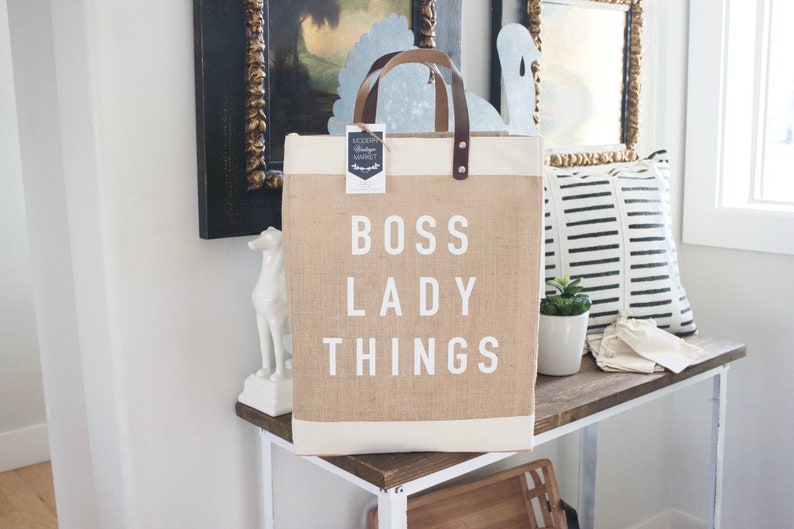 Boss Lady Tote Bag
This classic market jute tote with "Boss Lady Things" has leather handles and a handy laminated interior that can be easily wiped clean.  This is one lovely gift that I wouldn't mind getting…hint, hint!
Buy it here for only $25.00
---
Office Decor for Women Desk- Rose Gold Decor
Rose gold has been my favorite color for a while now and something I have a lot of in my office. It's also great to have a few plants in your office, and plants with inspirational quotes in rose gold pots – what more can one ask for?
These cute planters will make fantastic gifts for your best friend, boss birthday gifts and the perfect stocking stuffer.
Buy it here for only $24.99.
---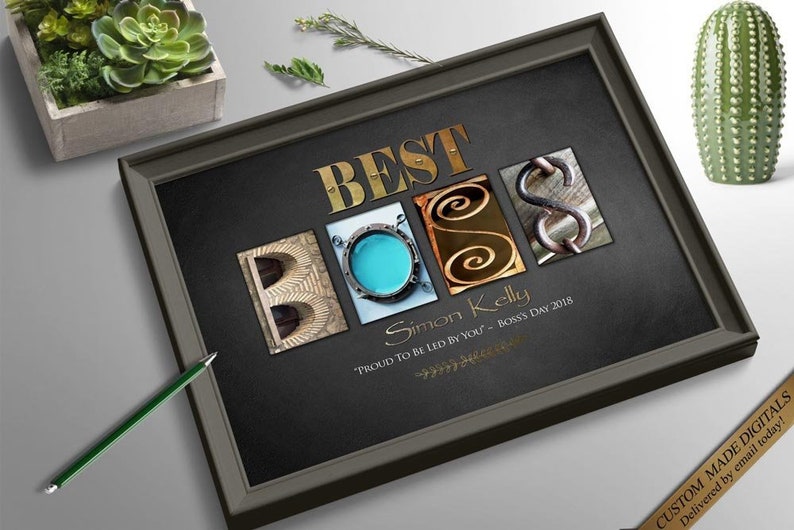 Boss Girl Appreciation Gift
Buy it here for only $11.99.
---
Boss Lady Mint and Gold Notebook and Planner, Refillable
Cute, undated trusty notebook for the girl boss. Refillable with 100 dotted pages and accessories.
Buy it here for only $25.97.
---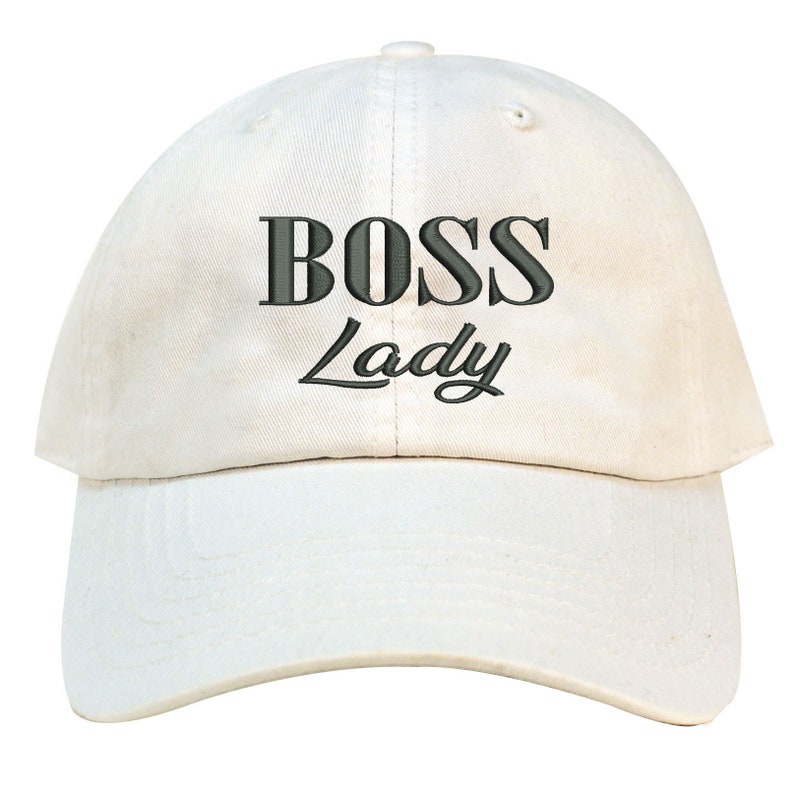 Boss Lady Baseball Cap
Buy it here for only $13.99
---
LifeAround2Angels Bath Bombs Gift Set
The boss also needs to relax after a hard day's work, and what better way than with a uniquely handcrafted bath bomb.  Each bath bomb is individually wrapped making it the perfect lady boss gift idea.
Buy it here for only $26.80.
---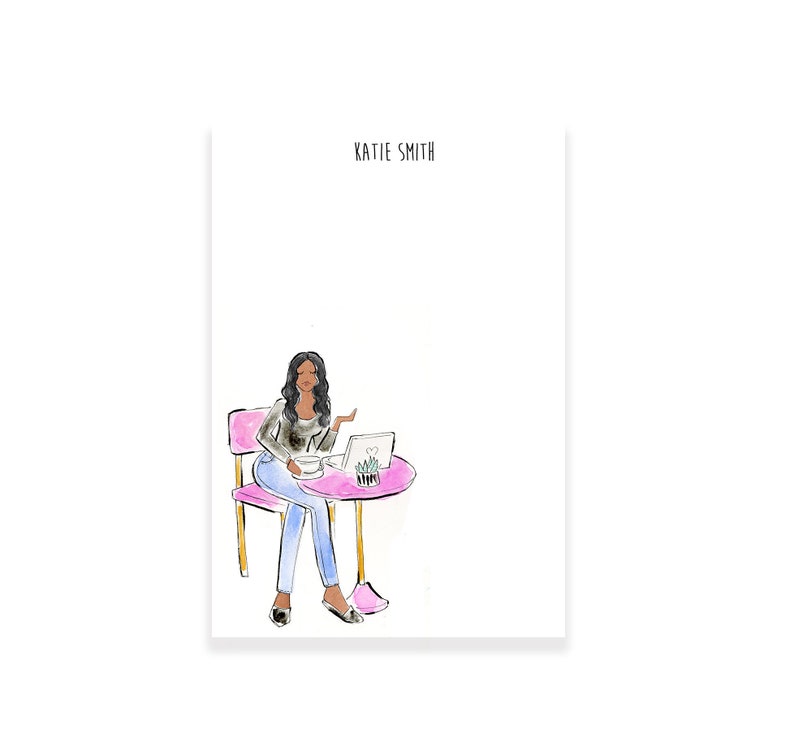 Personalized Notepad
This is a fun,  useful gift and very thoughtful.  Personalize your boss's notepad so that every time she uses it she will be reminded of who gave her this great gift.
Buy it here for only $22.00.
---
Gifts For The Boss Lady Under $40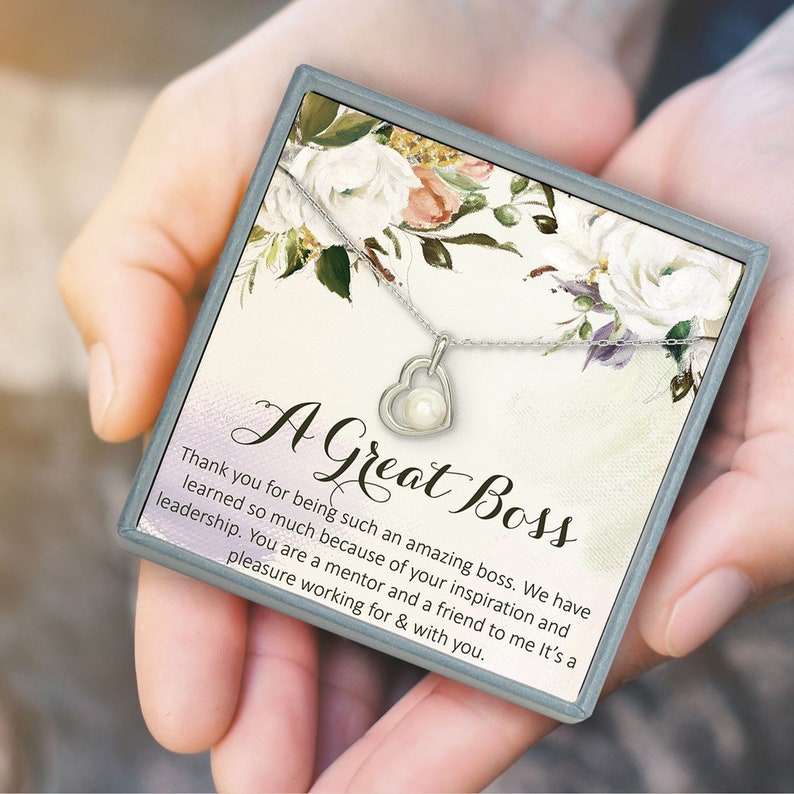 Necklace For Boss Lady
Buy it here for only $34.99.
---
Gift Guide For The Boss Lady
Therapy Dough

Clay has been used by art therapists for years to help people express their emotions and relieve stress. Now, you can enjoy the same benefits at home with Therapy Dough.
This unique dough is infused with essential oils that have calming and soothing properties. As you knead and shape the dough, you'll feel your muscles relax and your mind clear.
And when you're finished, you can simply store the dough in the airtight container it comes in and enjoy it again and again.
So if you're looking for a great way to reduce stress and improve your mood, Therapy Dough is a great choice and the perfect gift for girl bosses.
Buy it here.
---
Tea Drop Sampler

It can be hard to find the best gift for your tea lover boss. But with Tea Drop Sampler, you can't go wrong! These dissolvable tea drops are made from organic, finely-sourced tea, sugar, and aromatic spices.
They come in a variety of delicious blends that any tea lover will enjoy. And best of all, they're super easy to use – just add hot water and let the tea drop dissolve.
It's the perfect way to enjoy a cup of tea any time, anywhere. So if you're looking for a unique and thoughtful gift, for every day or special occasions, pick up a box of Tea Drops. Your tea lover will thank you!
Buy it here.
---
Wine Soaps – Set of 4

If you're looking for a good time and a great way to relax, then look no further than these fun wine soaps! These all-natural, vegan soaps are blended with notes from popular red and white wine varieties, as well as complementary scents and oils.
They're perfect for stocking at-home bars in your shower or tub, and you'll love the surprising skin-soothing benefits they offer. So go ahead and indulge in a little luxury – your skin will thank you for it!
Buy it here.
---
Eyeglasses Holder

There's nothing worse than misplacing your glasses when you need them the most. With this handy eyeglasses holder, you'll always know exactly where they are.
The top of his head is the perfect place to perch your glasses when you're not using them, and his outstretched arms provide a safe and secure way to keep them from getting lost or knocked over.
Hand-carved from shisham wood, this little guy makes a charming addition to any desk, nightstand, or countertop. Now you can finally stay on top of things – literally – with this handy eyeglasses holder.
Buy it here .
---
Wine Pairing Towel Set

When it comes to wine and food pairings, there are endless possibilities to explore. But with so many options, it can be hard to know where to start. That's where the Wine Pairing Towel Set comes in.
This set of two cotton tea towels covers 68 popular wines and 56 different foods, for a total of 3,808 possible pairings.
So whether you're uncorking your best vintage or just a Wednesday night special, you can be sure to find the perfect pairing for your meal.
Whether you're a palate newbie or a seasoned sipper, these towels are sure to help you have a good time at your next dining experience.
Buy it here.
---
Lavender Neck and Eye Travel Pillow

Looking for a great way to relax while traveling? Check out this great lavender aromatherapy travel set! The pillow and eye mask are filled with organic lavender, known for its soothing and calming properties.
They're also lightly fragrant, so you can enjoy the gentle scent as you drift off to sleep. The set is great for airplane travel, long car rides or anywhere else you might need a little rest.
Plus, it folds up small so you can easily slip it into your bag or suitcase. Sweet dreams!
Buy it here.
---
Rock Dock

This holiday season, give the gift of charging with Rock Dock. Whether it's gift for your female boss or the friend who loves her gadgets, this stylish and sturdy dock is sure to please.
Made of hand-collected rocks from New England beaches and reclaimed granite, each Rock Dock is unique in color, shape, and feel. So not only will she love the function of being able to charge her phone while keeping it propped up, she'll also appreciate the one-of-a-kind look of this beautiful piece.
And because it's made of natural materials, she can feel good about supporting sustainable practices, so why not give the gift of charging with a Rock Dock.
Buy it here.
---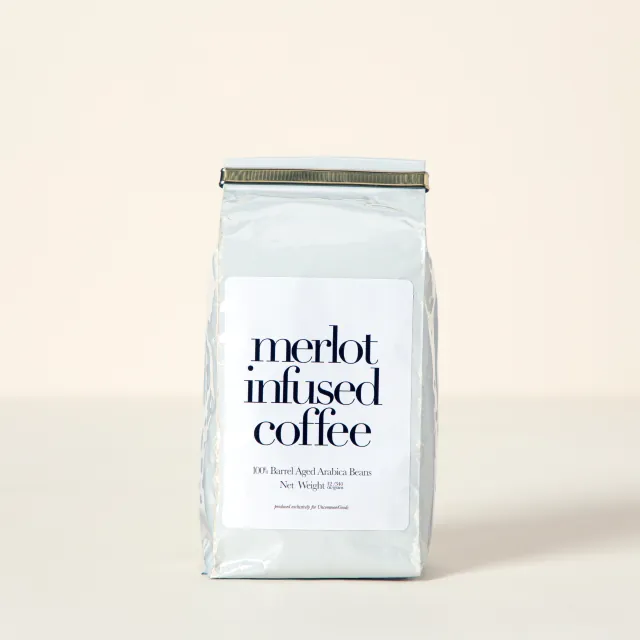 Merlot Infused Coffee

If you're looking for a female boss gift that's both unique and sure to please, consider this merlot-infused coffee. These beans are aged in merlot wine barrels for a subtle infusion of wine notes, making it the perfect after-dinner beverage.
The rich, decadent flavor is sure to impress, and your boss will appreciate the thoughtfulness of this unique gift. So next time you're struggling to find the perfect present, reach for a bag of these special beans and know that you've found a winner.
Buy it here.
---
Exclusive Gifts For The Boss Lady
If you've been working for your boss for a long time and have a mutual respect for each other, perhaps you've even become close girl boss friends, then you might want to get her something that's a little more exclusive.
Maybe a gift that you know she would love to have, but won't buy for herself. It can be a special gift that she can use at the office or perhaps a fun gift idea just for her!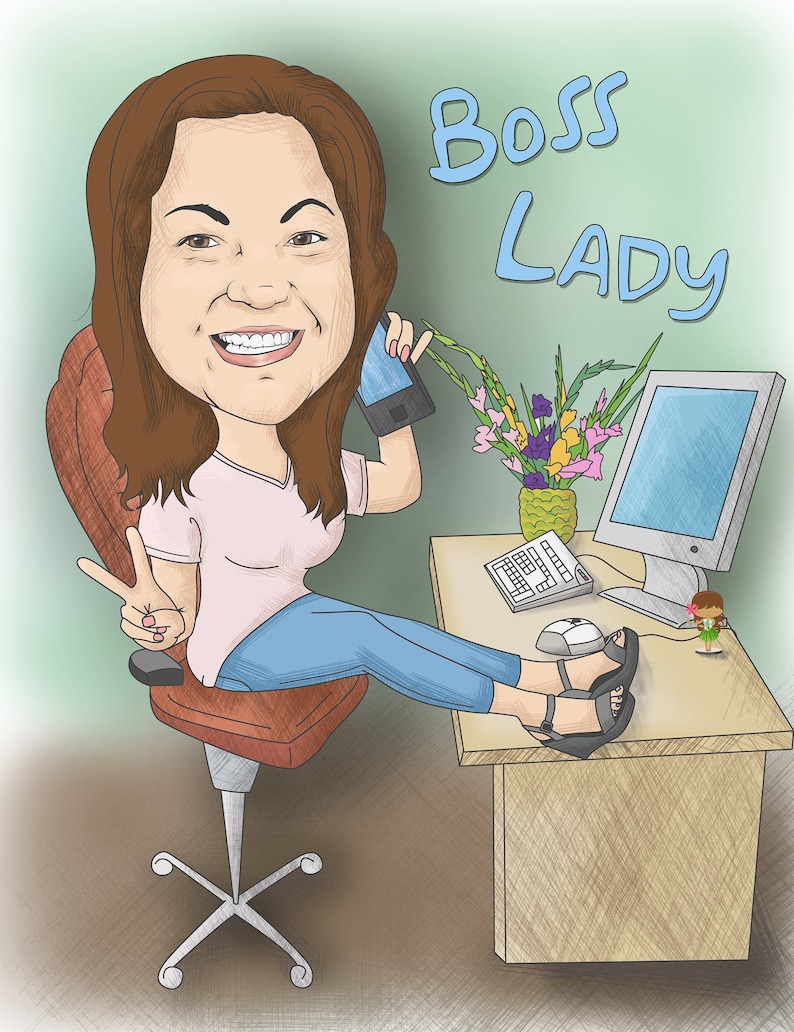 Lady Boss Gift Caricature
Now here is something a little different and perfect for her office wall – a hand drawn caricature digital portrait! What a wonderfully unique gift idea. I'm sure no one else has thought of this. 
You can present it either printed on canvas, paper, a phone case or in electronic version.
Buy it here for only $43.00.
---
Women's Leather Briefcase/Laptop Bag
I have a thing for leather bags and this laptop case is no exception. The color will go with any outfit your boss wears. I must be honest, I'm not mad about the bow. I'm just not a 'bow person', but it can easy be removed so it's up to you.
Buy it here for only $49.99.
---
Travel Organizer Wallet
Buy it here for $149.00.
---
Bose SoundLink Revolve+ Portable & Long-Lasting Bluetooth 360 Speaker
This portable Bluetooth speaker is one of the best performing portable speakers that Bose has to offer. It delivers deep, jaw-dropping sound with true 360-degree coverage.
Enjoy up to 16 hours of play time from a long-lasting, rechargeable, lithium-ion battery and wireless range of up to 9 metres (30 feet).
You can easily take calls and access Siri or Google now with the wireless Bluetooth pairing.  With over 1 000 reviews this will make an awesome girl boss gift.
Buy it here for $299.00.
---
Women's Genuine Leather Shoulder Tote Organizer
This really is a beautifully made leather shoulder tote. With two main compartments and plenty of smaller pockets there is ample space for everything. It is super soft and very comfortable to wear.
Buy it here for $79.99.
---
Keurig K-Classic Coffee Maker, Single Serve K-Cup Pod Coffee Brewer, 6 To 10 Oz. Brew Sizes, Black
You can never go wrong with a coffee maker as gifts for the boss lady, and this Keurig single serve is the perfect size and one of the most popular on the market at the moment. It will look stunning in your boss's office (maybe she will even let you use it – Bonus)!
Read more about it here. Cost is only $79.00.
---
Laptop Bag for Women with Thick Shockproof Compartment for Business
A gorgeous laptop case to easily carry your laptop from one meeting to another. A choice of either the top handles or shoulder strap for comfort. Very spacious with plenty of compartments.
Buy it here for $48.99.
---
DeskCycle Ellipse: Under Desk Elliptical Black
A great pick for those lady bosses sitting for long hours at their desk with no chance of a quick walk outside. The under desk elliptical exerciser can help you burn calories, boost your energy level, and increase productivity while reducing stress during work.
The super-quiet, ultra-smooth pedal motion and precision flywheel allow you to workout quietly without disturbing your coworkers.
Get it here for $259.00.
---
Girl Boss Gift Boxes
If you've only known your Lady boss for a short while and you're not quite sure what to get her, then perhaps one of these girl boss gift boxes will do the trick.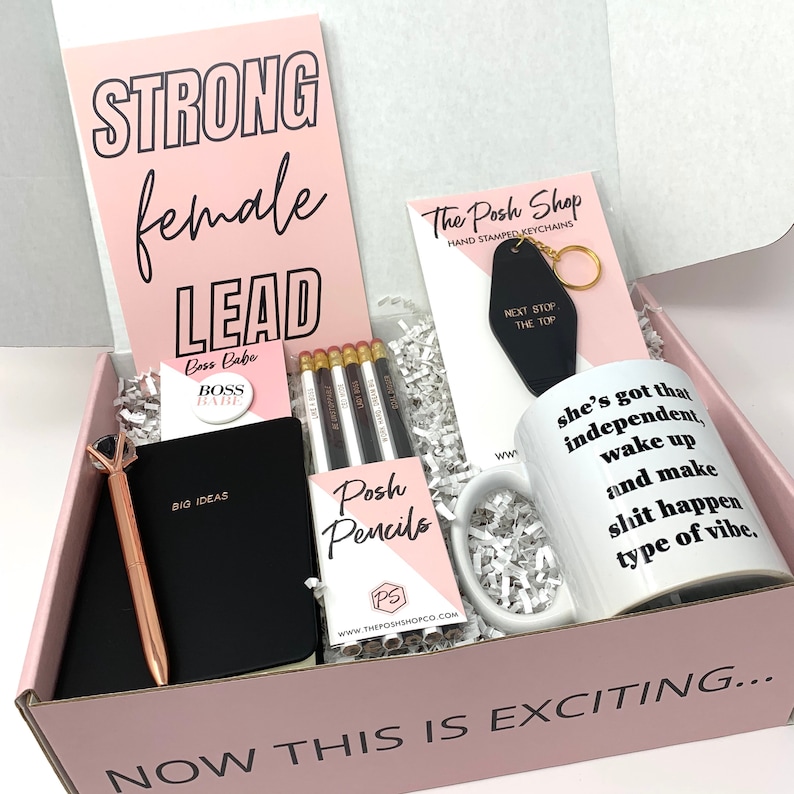 Boss Babe Box Set
Buy it here for only $45.00.
---
Relaxation Gift Basket for Women
This trendy gift box is filled with a stainless steel wine tumbler, a scented candle, bath bombs as well as a tea and candy set.  Definitely my kind of relaxation gift basket.
Buy it here for only $49.95.
---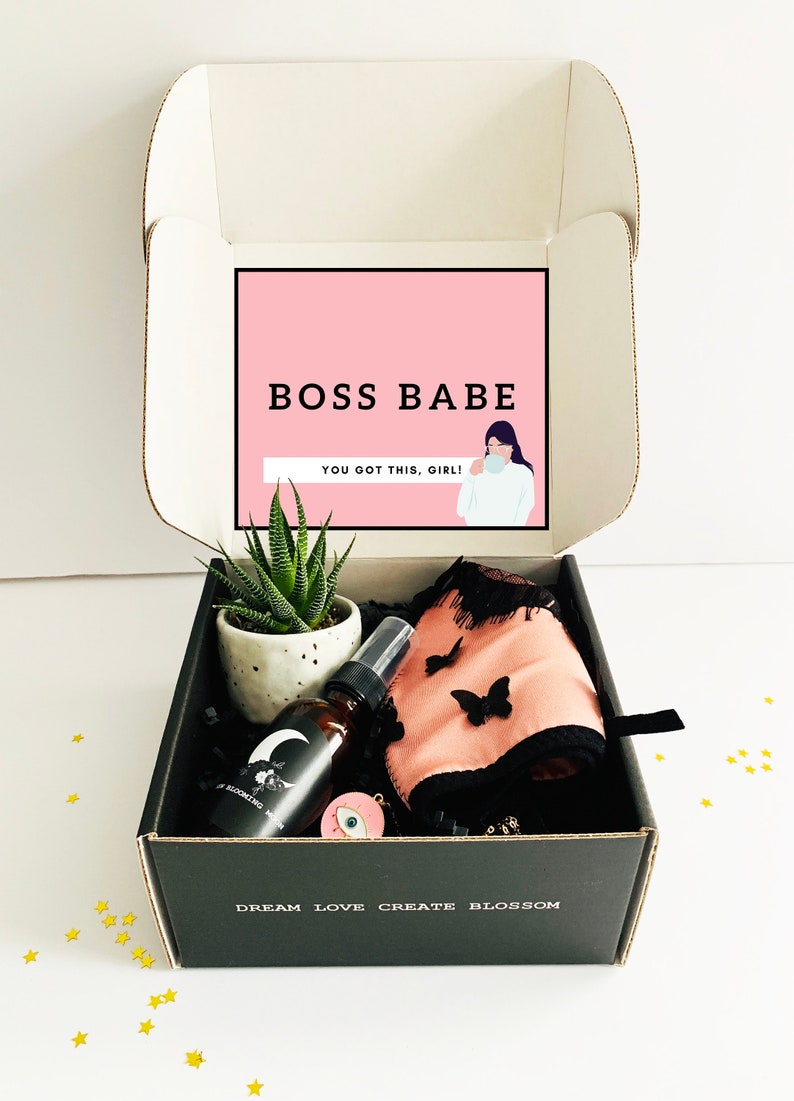 Lady Boss Gift Set
I just love the cute face mask in this set. It also includes an eye necklace, a live succulent, lavender hand sanitizer and a card with your personal message.
Buy it here for only $50.00.
---
5-Piece Warm Hugs Gift Pack
I love this in Teal, but it does come in other colors too.  This warm hugs gift pack includes a throw blanket, neck pillow, eye mask, socks and a beautiful tote bag to carry all your goodies in.  Use it at home or for traveling. 
Buy it here for only $59.99.
---
My Comments On Girl Boss Gift Ideas
I really loved putting these girl boss gift ideas together.  I wanted to offer some unique gift ideas that one wouldn't normally think of – I hope I have achieved my goal.  If you have any other great girl boss gift ideas, please let me know in the comments below.
Related Gifts For The Boss Lady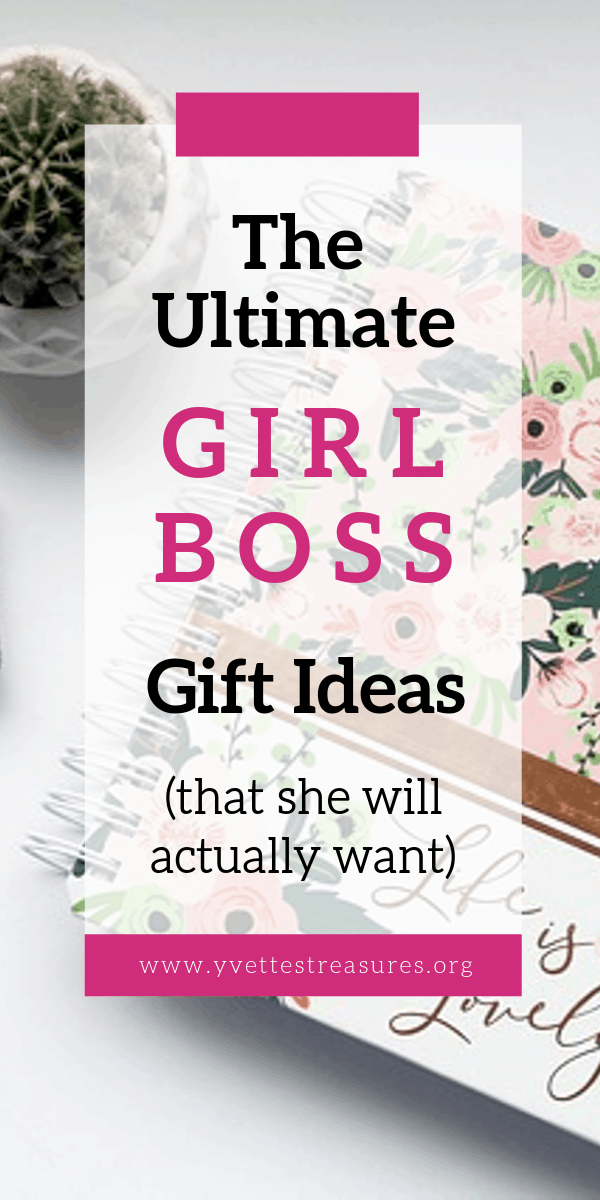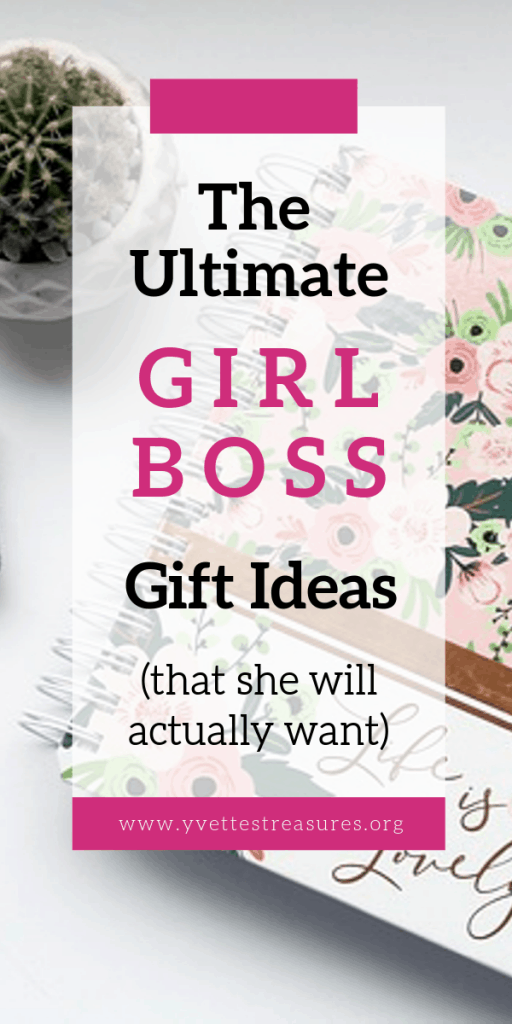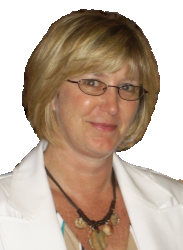 Latest posts by Yvette's Treasures
(see all)
Summary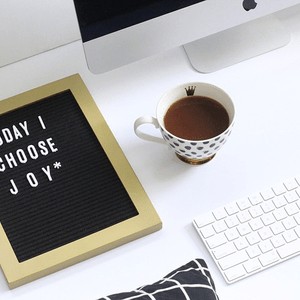 Article Name
Gifts For The Boss Lady (That She Will Actually Want)
Description
I love being around her positive attitude, and I truly love buying gifts for the boss lady because most of the time it's the sort of gift I would like to receive.