Last updated on
Best Small Christmas Gifts For Coworkers
I've put together a great list of small Christmas gifts for coworkers.  These can be used for office parties or as Secret Santa gifts. Coworkers can use these gifts at home or at the office.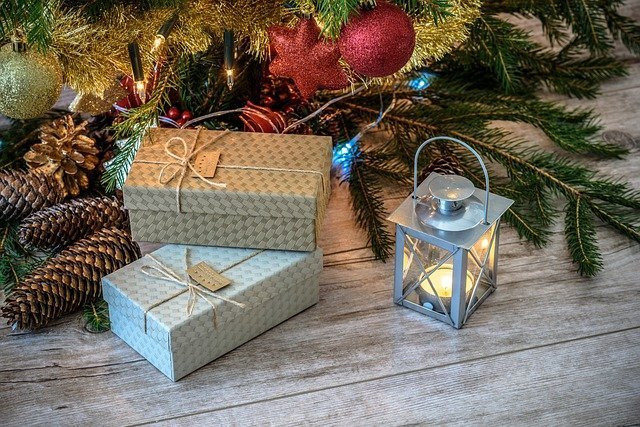 This post may contain affiliate links. I may receive commissions for purchases made through these links with no extra cost to you. 
These small Christmas gift ideas are loads of fun, useful and small enough to wrap easily. Just pop it in your bag and you're ready to go!
#1.

Colorful 3D Sports Car Shape Mouse
3D Sport Car 2.4GHz Wireless Mouse 1600DPI 3 Buttons Optical Ergonomic Gaming Mice with USB Receiver
Super cool USB optical car mouse with 3 buttons and a USB receiver. It has 7 colors breathing LED headlights. It also comes in blue, black, pink, red and yellow.
#2.

Things I Want to Say at Work But Can't
Things I Want to Say at Work But Can't: Blank Lined Journal
Journals are always useful and fun to have. Coworkers can jot down things to remember at work, their thoughts or write down their goals and inspiring quotes.
#3.

MyCozyCups Gift For Coworker
Coffee cups are always a great gift for coworkers.  Cups often get chipped, lost or stained from plenty of use.  Sometimes it's just fun to have a brand spanking new coffee mug…don't you agree?
#4.

7PCS Diamond Ballpoint Pens
7PCS Diamond Beautiful Metal Ballpoint Pen for Coworkers
These diamond ballpoint pens are beautifully made, durable and comfortable to hold.  They will make wonderful small Christmas gifts for coworkers because not only do they look great, they also come with 7 pen refills and each one has their own black velvet bag. 
#5. Ceramic Glaze Owl Pot
Owl Pot Ceramic Flowing Glaze Base Serial Set – 6 in Set
A set of 6 beautifully glazed ceramic owl pots.  Perfect for coworkers with a green thumb and a great way to add color to the office.
More Small Christmas Gifts For Coworkers
#6. Scented Candles
Scented Candles Jasmine,Lotus,Lilac Blossoms & White Gardenia,Natural Soy Wax Portable Travel Tin Candle,Set Gift of 4
The aromatherapy candle gift set includes 4 Fragrances : Jasmine, Lilac, Lotus and White Gardenia. It comes in a portable tin which can be sealed and taken with you wherever you go. Each candle burns anything from 12 – 15 hours.
#7. Vacuum Insulated Wine Tumbler
12 oz Wine Tumbler with Lid, Double Wall Vacuum Insulated Stemless Glass, Perfect for Wine,Coffee,Drinks,Champagne,Cocktails
Vacuum sealed and temperature controlled for hot or colds drinks. It also comes with a lid to prevent spillage.
Easy to sip or you can use a straw. It has a beautiful powder coated finish making it sweat proof! It also comes in several different colors.
#8. Willow Tree Friendship Keepsake Box
Willow Tree Friendship, sculpted hand-painted keepsake box
If you have a coworker that has become a really good friend. Perhaps someone you meet up with after work or on weekends to go shopping.
Then this Willow Tree Friendship keepsake box will be greatly appreciated. Inside the box is written "Forever true, forever friends". The perfect place for small trinkets.
#9. Appreciation Keychain For Coworker
Colleague Appreciation Gift For Coworker
Keychains are always useful and this one has 'Thank you for being not just a great colleague but a fantastic friend' engraved on it. This beautiful keychain makes a perfect gift for a friend from work.
Not only is it a wonderful secret Santa gift idea for coworkers, it is also lead free, nickel free, hypo allergenic and it doesn't rust, change color or tarnish.
#10.

Cozy Warm Slipper Bed Socks
Women Christmas Fuzzy Fluffy Socks – Cozy Warm Slipper Bed Socks
These Christmas socks are not only pretty, but they are very soft and plush. The premium Microfiber provides maximum coziness for your feet keeping them warm, soft and sweat-free. 
They have also been known to strengthen your blood circulation and health, helping you to sleep better at night.
Small Christmas Gifts Coworkers Will Love
#11.

Funny Sarcastic Notepads
Funny Sarcastic Notepads – 8-Pack Memo Note Pads for Work and Office, 4 Assorted Designs
Who doesn't like notepads at work?  I know I do, I stick them everywhere (I probably use too many).
Use them to write down important messages, notes to yourself or daily goals. Each notepad features an entertaining message which will brighten up your day!
#12.

You Are a Badass® Talking Button
You Are a Badass® Talking Button: Five Nuggets of In-Your-Face Inspiration (RP Minis)
This is such a cool gift idea for coworkers. You will love this badass kit, which includes an 88-page mini abridgment of Sincero's irreverent guide and a Badass Button for your desk.
Shouting out inspiring messages, it's the perfect anytime reminder that "You are a badass!"
#13.

Lunch Bag Tote
This lunch bag looks small, but with large capacity.  It could perfectly fit your lunch box, snacks and even your protein shake bottle. 
#14.

Hilarious & Funny

Emoji Faces
29 Emoji Faces – Best Office Gift for Coworkers
Who doesn't love Emojis? A great gift for your coworker's desk. Everyone loves a laugh and a giggle, even the boss.
#15.

Funny Tape Dispenser
Funny Tape Dispenser, Desk Accessories-for Home or Office Spaces
This humorous toilet tape dispenser is a fun addition to any workspace, whether it's your desk at work or your home office. With its bright colors and charmingly minimalistic design, this desk accessory fits in almost anywhere. 
Thoughts On Small Christmas Gifts For Coworkers
I hope you have enjoyed my list of small Christmas gifts for coworkers. I tried to include something for everyone.  I will be adding to this list on a regular basis so pop back anytime.
More Christmas Gift Ideas Just For You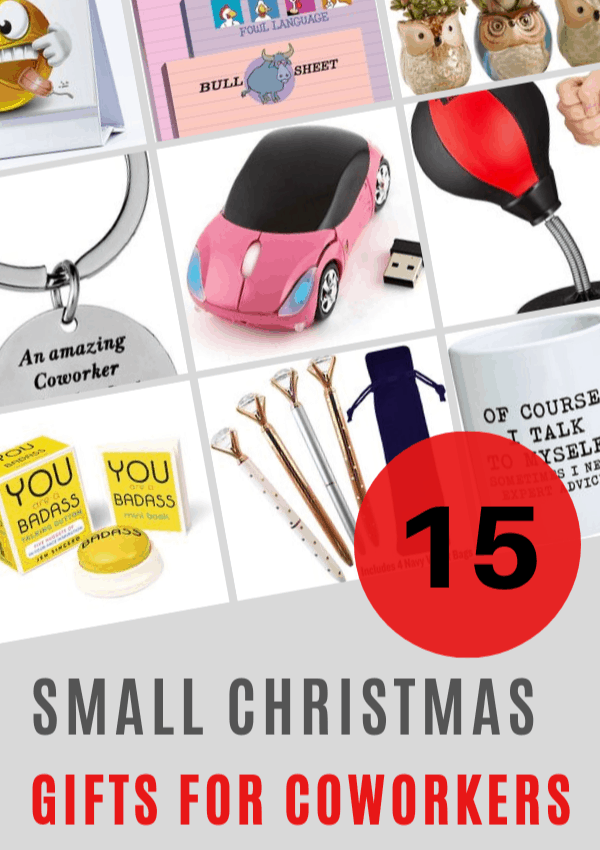 Summary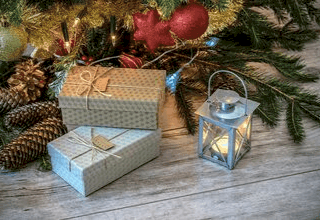 Article Name
15 Small Christmas Gifts For Coworkers
Description
I've put together a great list of small Christmas gifts for coworkers.  These can be used for office parties or as Secret Santa gifts.
Author