This post may contain affiliate links. I may receive commissions for purchases made through these links with no extra cost to you. See full disclosure.
Last Updated on January 2, 2022 by Yvette's Treasures
Adult Christmas Party Ideas That Your Guests Will Love!
Quick Links to Info on this Page
This year get all your friends together and host the best adult Christmas party EVER! With these fabulous adult Christmas party ideas they will still be talking about it way into the New Year.
There are so many great Christmas party ideas to get you started. From ugly Christmas sweater party games, to themed menus, decorations to fun activities and games.
Hosting your close friends and family for an adults-only Christmas party is the perfect way to spend time with them, and is sure to provide lots of laughs and memories that will last well past New Year's Eve.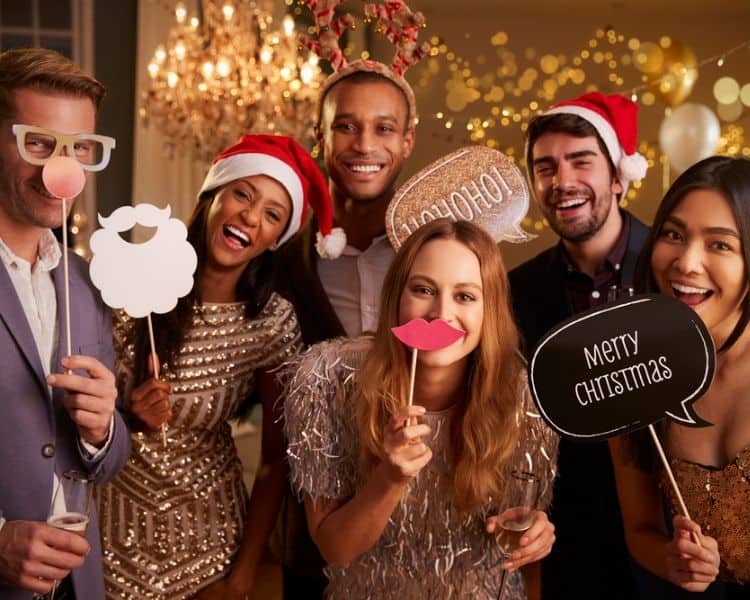 Christmas Party Ideas For Adults
1. Christmas Scavenger Hunt
Why not have everyone provide a gift up to a certain amount of money. Then provide clues that point people in the direction of the gift. Prizes that can be shared, such as mini chocolate treats or airline bottles of adult beverages, are a great idea to break the ice.
2. Movie Night
Bring over the popcorn and set up the flat screen. Then play those wonderful classic festive season movies. Who doesn't like Home Alone or Die Hard?
The selection has all the feels and is a perfect way to spend an evening with those nearest and dearest. So break out the popcorn maker, pour the eggnog, and settle in for a fabulous night.
3. Champion Punch
It's not really Christmas until someone brings out the punch. Invite everyone over to present their own version for a blind taste test. Blindfolds on and score from 1 to five. Tiebreakers make it even more fun. The winner gets bragging rights and provides the next festive drink of choice for everyone to sip on.
4. Christmas Trivia
Who knows where that famed red and white suit comes from. Each person has to have five cards. Get the question wrong and you lose a card. No cards and you're out. If you are in need of some Christmas trivia game cards, I use these and they are great.
A simple game to get everyone into the Christmas spirit. You can also put your own penalties as part of the game. How much eggnog can you drink?
5. Christmas Movie Bingo
The Bingo card has movie clichés such as "snowball fights" and "person wearing a Santa hat," which are represented by squares on the card.  We declare the Christmas champion when someone achieves five in a row.
6. White Elephant Gift Exchange
This is the time of year when people bust out the hilarious and tacky gifts they've been collecting throughout the year for the white elephant gift exchange. It's best to use some type of container, such as a basket or bin.
Everyone brings a wrapped gift of equal value. They place the gifts in the container and then draw numbers. Going around the circle, you can either pick a new gift or steal one that has already been opened. That's where all the fun begins!
7. 'Never Have I Ever' Christmas Edition
This is a festive twist on an old classic. This time, the questions are to do with Christmas traditions and childhood memories. The best thing about it is that if you have done or been through something, you simply drink instead of saying 'Never have I ever'.
It's a nice, lighthearted way to bond with others and recollect on some good memories that will last well into the next year.
8. Christmas Cookie Swap
This is a great fun activity. Everyone brings a batch of their best home-baked cookies, and the host provides some festive mugs, plates and spoons for everyone to sample them all. You can vote on your favorite or simply eat them all with some mulled wine. If you decide to vote, the winner gets a small prize.
Fun Theme Party Ideas
9. Ugly Christmas Sweater Party Games For Adults 
It's the only time of year where it's socially acceptable to dress up in some truly hideous outfits. Get everyone to bring their ugly Christmas sweater along for some festive fun.
Have guest judges pick the best one and if you want, have a prize for whoever wears it! You can even have a prize for the best matched couples ugly sweater contest.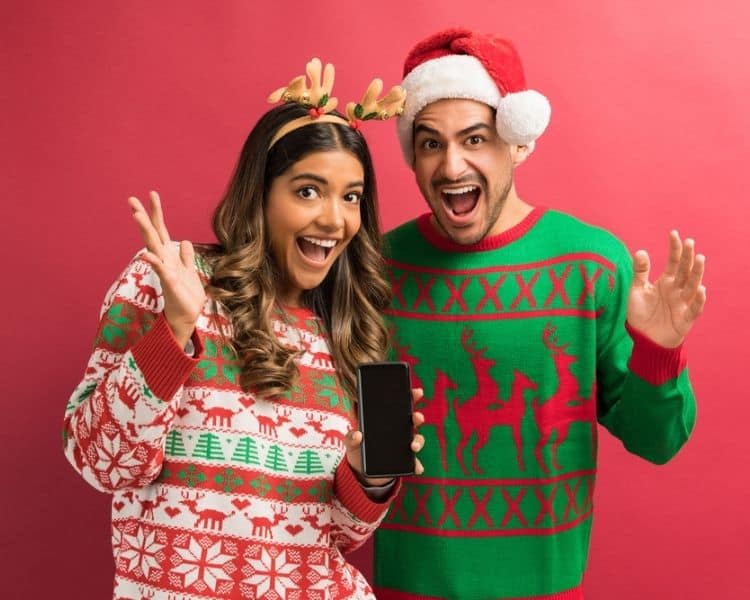 10. Guess How Many Ornaments On The Tree Game
For more fun theme party ideas and the perfect way to get into the Christmas spirit. Have everyone guess the number, then the closest person gets to take home that number of ornaments from your tree! You can go for some sort of wager on this one, but all in good fun.
11. Adult Christmas Party Ideas – Gift Wrap Game
Set a time limit for your guests to wrap a present the quickest. The twist? They must work in pairs, and each person may only use one hand! This adult Christmas party idea is loads of fun and a great time will be had by all.
12. Christmas Limbo
If you don't know limbo, you're missing out! Despite the fact that it's a classic during the festive period, this is an activity that everyone can take part in.
You can do it by yourself or with several others. The aim is simple: walk under the pole bending down as low as possible without touching it! To make it extra difficult, put a balloon in your clothes for "Santa" bellies.
13. Christmas Karaoke
Nothing gets you into the Christmas spirit quite like some festive tunes. If you have a karaoke machine, bring it out for your guests to share their most heart-felt carols with everyone. You can also go one better by having actors dress up as Santa and sing along too! It's sure to be a hoot.
14. Holiday Drinking Games
This is a great way to make the party more interactive and a little competitive. Here are a few holiday drinking games that you can try:
Santa Says – Similar to Simon Says, if they don't follow his commands, they drink!
Pass the Ugly Sweater – A silly game where you pass around a cheesy Christmas sweater. Whoever is wearing it has to take a drink each time someone says "Christmas" or "sweater."
Christmas Charades – Gather a group of people to act out Christmas movies for the other guests to guess. Whoever is acting has to drink every time they get it wrong.
Christmas Beer Pong! – The perfect drinking game for a party. All you need is beer and cups. Fill up half a cup of beer, one per team, and set out a table with lots of beer cups in a pyramid formation. Whoever loses has to finish their beers!
Final Thoughts On Adult Christmas Party Ideas
Adults-only Christmas parties are a great way to get into the holiday spirit with your friends and loved ones. Simply pick one of these adult Christmas party ideas or create your own to make this year's party the most memorable.
Christmas-themed games are fun. You can buy them off the shelf or think out of the box. But they have to have one thing in common – and that is fun. Also being with those who have made the year not only bearable, but who have made you smile. So, give back – and have some fun!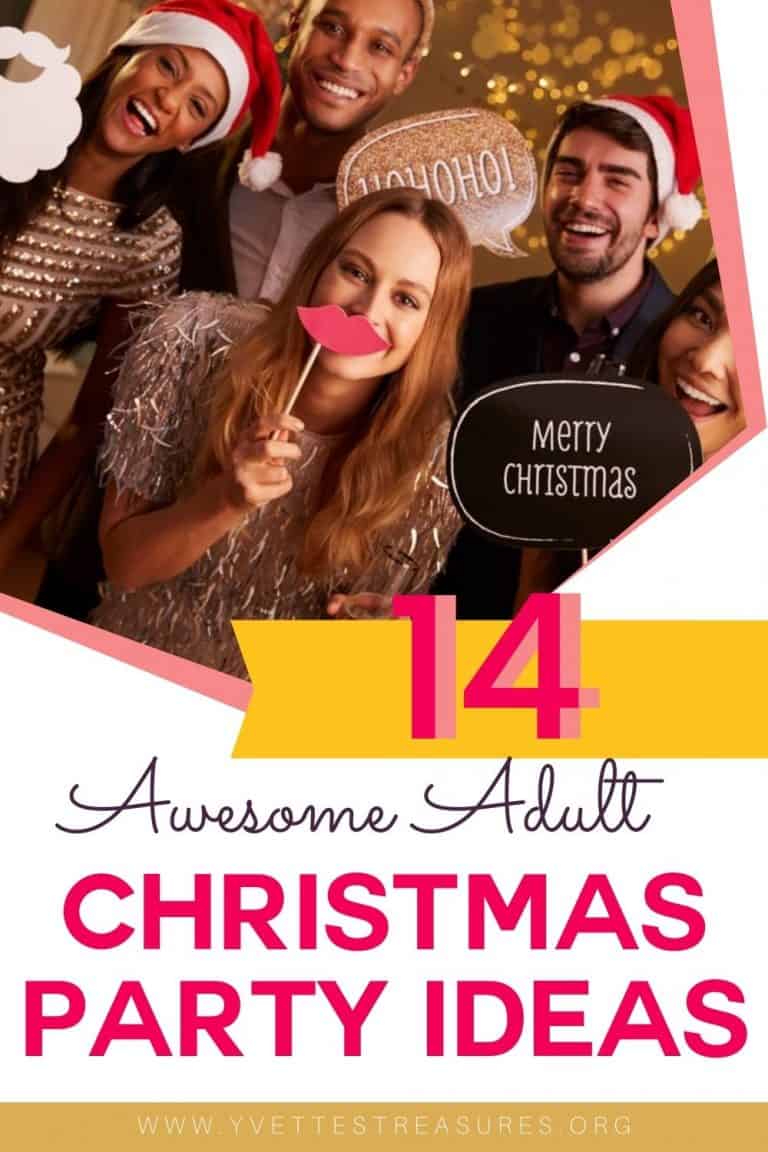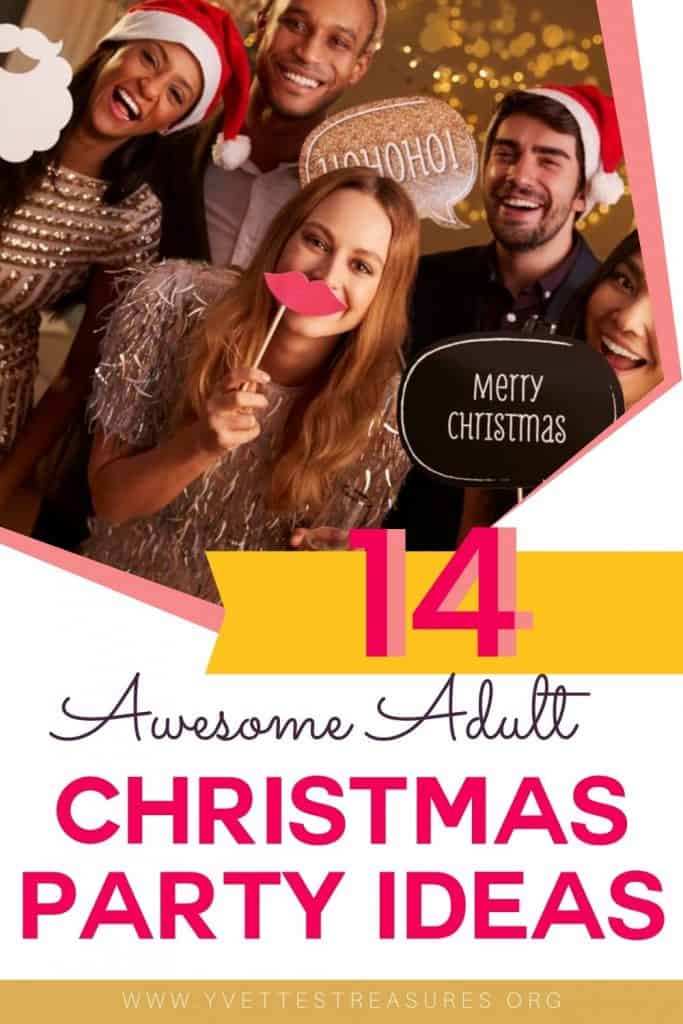 Summary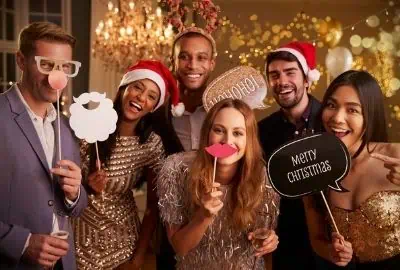 Article Name
Adult Christmas Party Ideas For The Best EVER Holiday Fun!
Description
Adults Christmas party ideas for the best adults-only Christmas party EVER! It is the perfect way to end the year with family and friends.
Author