Last updated on
Buying gifts for people who love camping can be really fun, especially if you yourself are into camping.  Camping is one of the most wholesome, fun, affordable and bonding experiences a family can have.
My family and I are regular campers.  We love the outdoors, camping and the freedom to just be.  We especially try to find campsites that are dog friendly as we have a Border Collie named Ben and we hate to leave him at a kennel.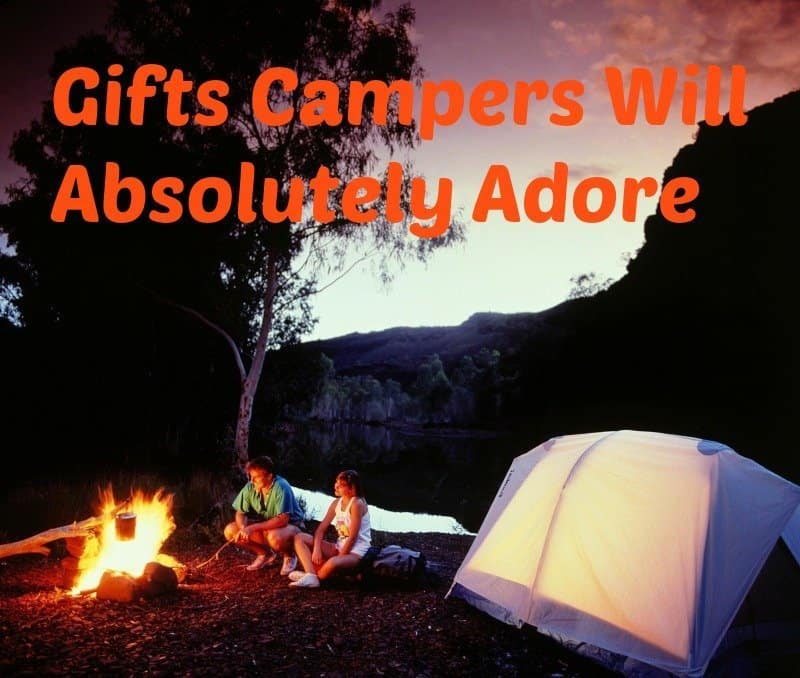 I absolutely adore buying gifts for people who love camping because there are so many different options available.  There are small camping accessories which can make a great gift especially if you're on a tight budget, but you still want to buy something useful.
Then there are the bigger items like sleeping bags, tents, camping stretchers and a few others which can really help your friends to add to their list of camping needs. Certainly perfect as a wedding or anniversary gift.
Click here

to go straight to the Gifts for People who Love Camping
Here I have listed what I felt are some of the very best gifts for campers for camping. Some are fun, some are essential must haves and others I just love because they make my life a little easier while out in the 'wild' so to speak.
Best Rated Camping Tents
A tent is the main item you will need when you go camping.  The size depends on your needs.  Are you a couple or a big family.  Buy depending on your needs.  If you love camping and are going to be camping for many years to come then buying a bigger tent now might be the better option.  It will save you money in the long run rather than buying a small tent and having to purchase another one a year or so down the line.  Here are a few options of the best rated camping tents:

Coleman 8-Person Red Canyon Tent,204
This is one of the most popular tents around for big families and for good reason. It can accommodate a family of eight and has three room dividers so the kids get to have their own room which they can play in and mess up just as much as at home and all you have to do is close the zip and you won't see a thing. What more can you ask from best rated camping tents?
While tent setup is very easy with its shock-corded poles, the cool-air port and Variflo adjustable venting system allows you to adjust airflow so it never feels stuffy inside.
The Coleman's exclusive Weathertec System is guaranteed to keep you dry from unexpected wet weather which hopefully you won't have too much of while on holiday, but it's good to know you're covered should you be caught in an unexpected shower.
&
Coleman 8 Person Tenaya Lake Fast Pitch Cabin Tent with Closet
Coleman Montana 8-Person Tent
Coleman Instant 8 Person Tent, Black, 14×10-Feet
Two Person Tent by Wakeman Outdoors – Bold Blue
3 Person Tent with Carry Bag, UV-proof Beach Tent
Large Door, 3-Person, Lightweight Water Resistan Camping Tent with Carry Bag
bCap
Cap
Save
Save
Save
Save
Save
Save
Save
Save
Save
---
Camping Furniture Ideas
When it comes to camping furniture ideas there are many to choose from, but one of the main ones you need to consider is a comfortable cot or mattress to sleep on.
One of the most affordable lightweight camping pads is the Klymit Static. It has a V-chamber design to limit air movement and heat loss.  It has received numerous positive reviews and as far as camping furniture ideas is concerned, this camping pad is right there at the top with the best of them.  These are great gifts for people who love camping.
Klymit Static V Lightweight Sleeping Pad, RECON Coyote-Sand
Features include:
• Packed Weight: 18.6 Ounces; Packed Size: 4 x 8 Inches
• Inflated Size: 72 x 23 x 2.5 Inches
• Includes: Stuff Sack, Patch Kit and Lifetime Warranty
Although it doesn't come with an air pump, it is not necessary because it is really easy to blow up. All it requires is about 10 – 15 deep breaths and you're all done ready for a comfortable nights' sleep. The Klymit Static V Lightweight Sleeping Pad comes highly recommended.
&
Klymit Insulated Static V Sleeping Pad, Orange/Char Black
Klymit Inertia O Zone Lightweight Camping Air Pad, Blue/Gray
Klymit Pillow X Inflatable Camp & Travel Pillow, RECON Coyote-Sand
---
&
Best Outdoor Camping Chairs for Comfort
You only want the best outdoor camping chairs when camping outdoors. As you get a little older you want a decent, comfortable chair to sit on when you're chatting around the campfire with friends and family.
When I was younger I just sat on the grass or what my dad used to call a 'wetsuit' box which he used for his wetsuit after surfing, but now I like a little comfort from home even when I'm camping.
In a hurry? Get the Best Gifts For Campers

HERE!
Below is one of the best outdoor camping chairs on the market. I have the one that is featured below and I am very happy with it. This is definitely one of the best gifts for people who love camping.
The Coleman Oversized Quad Chair has a built-in-arm rest cooler that holds up to four cans of your favorite cold drink or beer with another mesh cup holder for the fifth drink so plenty of storage space.
 Coleman Oversized Quad Chair with Cooler
&
There is also a storage pocket to keep personal items like your cellphone or perhaps a nice book safe from getting dirty or lost.
This durable, heavy-duty steel frame supports up to 300 lbs making it one of the best outdoor camping chairs.
---
Outdoor Camper Lights
Having the right type of lights when camping is very important. Outdoor camper lights can be used for finding your way to the bathrooms or checking to see if your meat needs to be turned or even adventure walks in the forest at night. Make sure you have a light that can be charged or take extra batteries with you.
 ThorFire LED Camping Lantern Hand Crank USB Rechargeable Lantern Mini Flashlight Torch Light Tent Lamp
&
SunJack CampLight (TM) USB LED Bulb 340 Lumens – Cool White
SunJack USB Rechargeable Waterproof LED HeadLamp – Red, Spotlight and Floodlight AAA Rechargeable Batteries Included
MPOWERD Luci Outdoor – Inflatable Solar Light
---
&
Portable Stoves For Camping
A slow cooker, really? This seriously looks more like my dog's bed.

Wonderbag Non-Electric Portable Slow Cooker with Recipe Cookbook, Blue Batik
The Wonderbag is a simple but revolutionary non-electric, portable slow cooker. This is perfect when it comes to portable stoves for camping.
The clever insulation allows food that has been brought to the boil to continue cooking slowly without being burnt. No plugs. No Fuss. No electricity required, so it's worry-free.
This really is an awesome way to cook your food when you're camping. Put your food in and go swimming or hiking. Everything will be ready to eat when you get back. Click here for a full review.
&
Ohuhu Portable Stainless Steel Wood Burning Camping Stove
Camp Chef Camping Outdoor Oven with 2 Burner Camping Stove
Coleman Classic Propane Stove
---
&
Sleeping Bags Make Great Outdoor Camping Gifts
Now don't these "onesie" sleeping bags make great outdoor camping gifts? You can have fun and keep warm. I didn't even realize you could get them, but I definitely want one…note to hubby. Kids can choose their own superhero while adults have their own range to choose from in all different colors. I've also added the most popular and useful 'normal' sleeping bags should you not want to go 'superhero'.
Selk'bag Youth Marvel Spider Man Sleeping Bag
Selk'bag Original 4G Lemon Chrome Size L
Selk'bag Adult Original 5G Wearable Sleeping Bag
Double Sleeping Bag with 2 Pillows and a Carrying Bag for Camping
Outdoor Vitals Aerie 30°F Down Underquilt / Sleeping Bag, Use As Ultralight Underquilt, Sleeping Bag, Or Double Bag
Coleman Brazos Cold Weather Sleeping Bag
&
---
Water Filters – The Best Gifts For Campers
One of the most important and best gifts for people who love camping is a water filter. Water as we know is more important than food and when you're camping clean, filtered water is a must. The last thing you want is to be sick when you're on holiday.
LifeStraw Personal Water Filter
Features:
The Award-winning LifeStraw water filter has been used by millions around the globe since 2005.
• Furthermore, it removes a minimum of 99.9999% of waterborne bacteria and surpasses EPA standards for water filters
• It also removes a minimum of 99.9% of waterborne protozoan parasites and filters to an amazing 0.2 microns
• Filters up to 1000 liters of contaminated water WITHOUT iodine, chlorine or other chemicals and comes in a sealed bag, perfect for storing for emergencies
&
---
Fun Outdoor Camping Gifts for Everyone
Below is a display of the top gifts for people who love camping. Some are small outdoor camping gifts perfect for people who love camping. These are fun and inexpensive and make great gifts for any occasion. I personally love the waterproof socks and the LED tent stakes because I'm always tripping over the tent cord. 
MilitaryLensatic/Prismatic Sighting Compass with Pouch
All-Weather Emergency 2-IN-1 Fire Starter & Magnesium Fuel Bar
Light My Fire Titanium Spork
UCO StakeLight RGB Tent Stakes with Red, Green or Blue LED Lights (Set of 2)
Gerber Freescape Camp Kitchen Kit
Double Hammock – Lightweight Parachute Portable Hammocks
Moisture Proof Salt & Pepper Shakers, Spring Loaded, No Clog, 2 Oz, Set of 2
Goal Zero 42005 Sherpa 50 Silver/Black Solar Recharging Kit with Inverter
Rome Industries 1705 Pie Iron Sandwich Cooker
Dexshell Ultralite Waterproof Socks, Hi-Vis Yellow, Small
Waterproof External Battery Power Bank Charger with Strong LED Flashlight and Strap Hole for Tablets, Smartphones and 5V Devices
Leatherman – Sidekick Multi-Tool, Stainless Steel with Nylon Sheath
&
I hope that these give you some ideas of gifts for people who love camping. If you have come across or know of a camping gift that would be fun or useful please let me know in the comments section below.  I would love to hear from you.
Save
Save
Save
Save
Save
Save
Save
Save
Save
Save
Save
Save
Save
Save
Save
Save
Save
Save
Save