This post may contain affiliate links. I may receive commissions for purchases made through these links with no extra cost to you. See full disclosure.
Last Updated on August 21, 2023 by Yvette's Treasures
Unusual 30th Birthday Presents For Him
Turning 30 is an important milestone in anyone's life, male or female, and one that should be celebrated in style! We have put together a list of unusual 30th birthday presents that the men in your life will love. Whether it be your husband, boyfriend, partner, brother or a gift for your best friend who is turning 30, here are some great 30th birthday present ideas.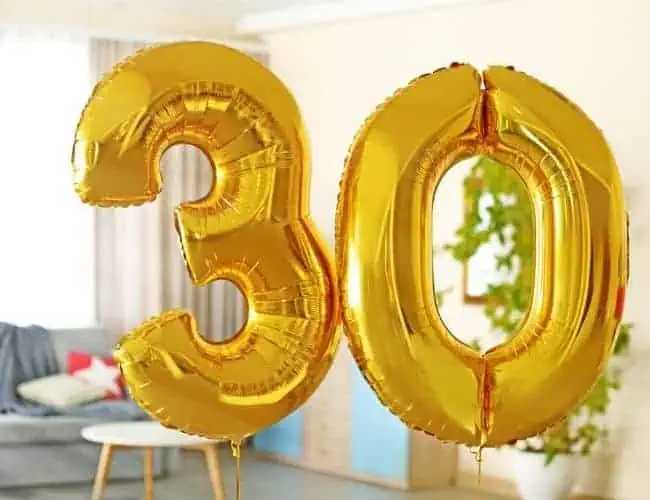 If you are also in need of unique birthday gift ideas for the lady in your life who is turning 30, then take a look at these great 30th birthday gift ideas for women that we have sourced especially for you.
Unusual 30th Birthday Presents That Are Loads Of Fun!
Invaders Men's Socks
Mens Socks Space InvadersCHECK PRICE
Some of the best gifts are inspired by the iconic retro game, these 6 funky socks – each with its own appropriate game-inspired pattern can be mixed up and mismatched to suit your mood with various colors.
---
Retro Beer

Print Dishtowel Set
Assorted Print Dishtowel SetCHECK PRICE
How cool is this unusual 30th birthday present idea? The perfect high quality dishtowel to handle any job! Fun and colorful design to match with most kitchen décor. The perfect gift for Game day, your next BBQ Party, holidays, housewarming and hostess gifts.
---
Unique 30th Birthday Gifts
Funny Milestone T-Shirt
Level 30 Unlocked ShirtCHECK PRICE
Mark your 30th milestone birthday with flair wearing this fun t-shirt on your big day. Unlocked design symbolizes freedom. High-quality and very comfortable. Will make a perfect present or personal keepsake, and it comes in several different colors.
---
Funny Gag Toilet Paper
Happy Prank Toilet PaperCHECK PRICE
When you are looking to buy some unique and eye-catching gifts for someone's 30th birthday present or décor, this is the gift that fits right in and makes a big Happy Birthday hit.
This funny prank toilet paper will wow and please all the guests at the birthday celebrations. Not only is it a birthday gift, but it also makes for great 30th birthday decorations. BONUS – it comes in a cute gift box all ready for gifting.
---
30th Birthday Wine Bottle Labels
Adult 30th Birthday – Birthday Party GiftCHECK PRICE
Add a touch of elegance to the celebration with this gold wine label set, the ultimate gift for a fabulous special birthday! These 4 dazzling stickers are tailor-made for a standard 750ml bottle of wine, featuring professional printing on glossy, waterproof adhesive paper. Elevate the festivities, even when the bottle is chilled!
---
12″ Screen Magnifier
12″ Screen MagnifierCHECK PRICE
I'm sure your birthday boy hasn't bought one of these fun gadgets yet! This screen magnifier will make a great addition to his other techy gadgets. Here are also some other great options depending if you want it in 3D or even a curved screen.
---
Wireless Touch Speaker
Bluetooth Speaker, SoundBox Touch Portable WirelessCHECK PRICE
Experience remarkable sound with the DOSS Soundbox Touch speaker. Boasting 12W stereo, deep bass, and high-performance dual drivers for immersive music enjoyment. Tap into the vibe with capacitive touch controls for seamless track changes, volume adjustments, and pairing.
Don't let a little water dampen your fun – the speaker's IPX5 water-resistant rating ensures durability against splashes. Perfect for beach days, pool parties, and sunny adventures.
Take your tunes everywhere – its portability suits lounging, camping, biking, and more. Revel in 20 hours of playtime at 50% volume from the built-in rechargeable battery. A quick 3-4 hour charge via the included micro USB cable keeps the music flowing. Elevate every moment with the DOSS Soundbox Touch.
---
Men's Whiskey Glass Set
Whiskey Glass Set – 30th BirthdayCHECK PRICE
This thoughtful gift set includes 1 handmade wooden box, 1 thick base 11oz whisky glass, 1 slate coaster, 4 natural granite stones, and 1 small gift card.
The gift set will be delivered in a delicately designed gift package. Unusual 30th birthday presents at its best. Perfect for all sophisticated drink lovers everywhere.
---
Men's Birthday Bracelet
Bracelet for Husband Son Grandson Brother BoyfriendCHECK PRICE
As far as 30th Birthday ideas go, I really love this one because it's such a personal gift. I love any gift that speaks from the heart. The recipient can wear it everyday as a reminder of his special day.
---
Unusual 30th Birthday Presents For The Cook
Men's Cooking: From hot starters to dangerous dessertsCHECK PRICE
Does your 30 year old love to cook?  Well, then he's going to love this men's cooking manual. In this book Chris Maillard shares his tips on buying, cooking and eating great food.
This no-nonsense cooking manual is aimed at men who want to learn how to cook. It has advice, tips and techniques, allowing the reader to cook absolutely anything, almost as good as his favorite restaurant. While learning the basics and different techniques involved in the whole of the meal preparation.
---
DIY Hot Sauce Making Kit 
DIY Standard Hot Sauce Making KitCHECK PRICE
Unleash your inner hot sauce maestro with this awesome DIY kit! Craft 7 gourmet bottles of sizzling flavor using premium, handpicked ingredients.
Elevate your culinary game with step-by-step guides, expert tips, and a flavor-boosting roadmap. The ideal gift for spice-loving husbands, friends, or anyone craving fiery creativity!
---
The Science of Supercars
The Science of Supercars: The Technology that Powers the Greatest Cars in the WorldCHECK PRICE
In The Science of Supercars, the authors describe the history of supercars, unraveling the mysteries and mechanics of the cars that changed the automotive world forever.
In-depth interviews with the top names in the supercar and racing industries reveal their opinions on today's supercars and their visions for the future.  A great gift idea for the lover of supercars.
---
Best 30th Birthday Gift Ideas
PHILIPS H8506 Over-Ear Wireless Headphones with Noise Canceling Pro and Multipoint Bluetooth ConnectionCHECK PRICE
The sleek over-ear fit creates a seal that passively isolates external noise, taking you deep into the music. Perfectly tuned 40 mm drivers bring the best out of your favorite soundtracks.
Certified Hi-Res Audio ready, just plug in the included stereo cable to your Hi-Res sources and get ready to rediscover your favorite songs.
---
Stay Cool Ice Towel 
4 Packs Cooling TowelCHECK PRICE
I love this gift idea! Definitely one of the best 30th birthday presents for men (and women too). I bought one of these stay cool ice towels as a gift for my husband's 50th birthday, and one for my son because he loves doing weight training at the gym.
Simply soak the towel in water and squeeze out any excess, then shake the towel for about 5-10 seconds this will activate the cooling effect. It stays cool for hours.
---
Survival and Outdoor Gear Subscription Box: Pro Plus
BattlBox – Survival and Outdoor Gear Subscription Box: Pro PlusCHECK PRICE
The perfect birthday gift for the gear enthusiast. This survival and outdoor subscription box includes 5 -9 products including everything from the other tiers plus the Knife of the Month (KOTM). Also includes a Mission Card which provides a breakdown of the products and their features. BONUS – comes with free shipping!
If your birthday boy loves the outdoors, hiking or camping gifts then he'll be very impressed with this subscription box.
---
Unusual 30th Birthday Presents 
Cheers to 30 Years Can Sleeves Set of 12CHECK PRICE
Customized 30th birthday can coolers, great for your party or relaxing next to the BBQ. Another great birthday gift idea for the special occasion.
---
30th Birthday And Bullet Pen Gift Set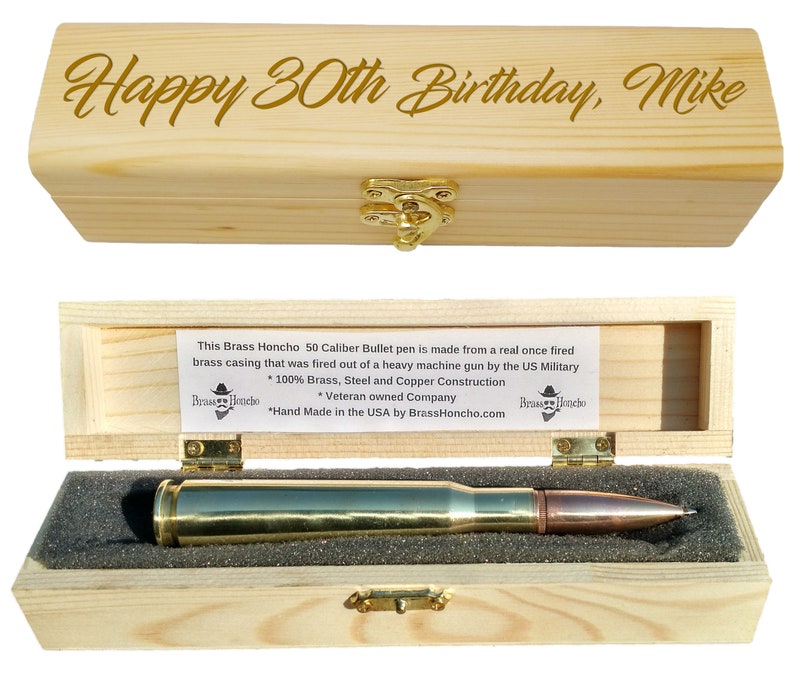 30th Birthday And Bullet Pen Gift SetCHECK PRICE
A beautifully crafted bullet pen and personalized gift box. You can have any message that you'd like engraved onto it.
The Bullet Pen has been hand crafted from a true 50 caliber bullet. The brass casing that makes up the bottom part of the pen has actually been fired out of a heavy machine gun by the US military.
What other gift can you give that have been previously fired out of a machine gun? What a truly unusual 30th birthday present!
---
Personalized 30th Birthday Present Ideas
Oak Whiskey Tumbler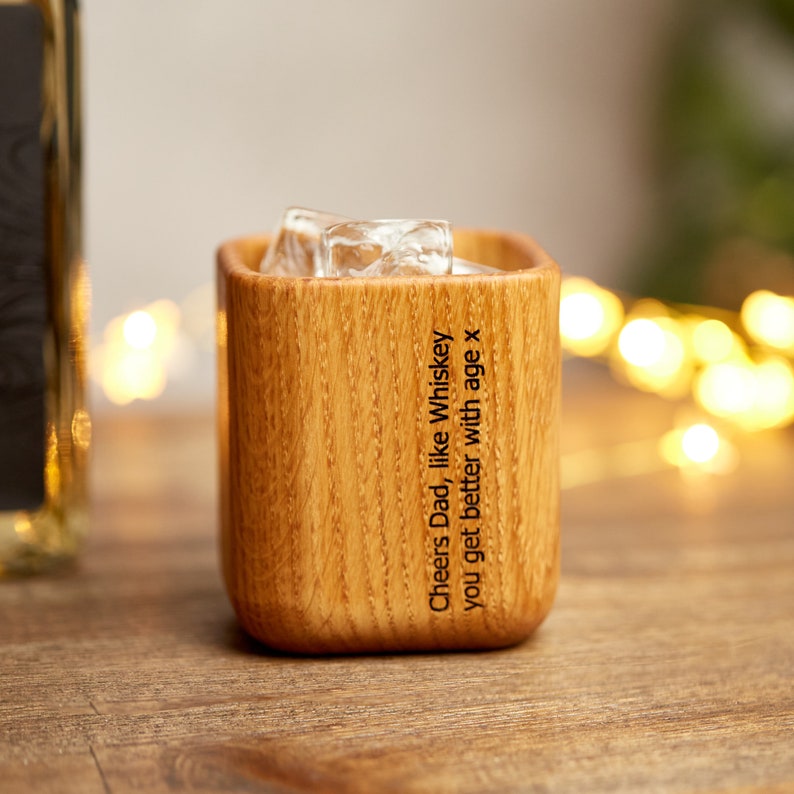 Personalised Oak Whiskey TumblerCHECK PRICE
There is nothing better than gifting homemade birthday gifts if you have the time to get one made. I came across this beautifully handcrafted whiskey tumbler made from oak to reflect the traditional way whiskey is stored in oak barrels, which enhances the flavor of the whiskey. Personalize it with the recipient's name or put on a special message and I'm sure this gift will be treasured always!
---
Custom Photo Collage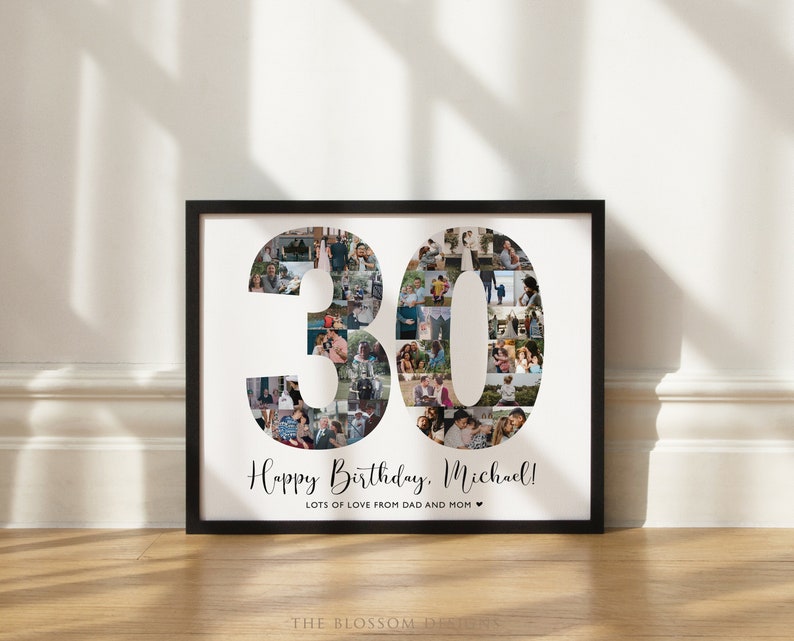 30 Photos Collage,CHECK PRICE
This birthday gift is not only a memorable keepsake, but it is perfect if you have limited time. Just send your photos to the supplier and everything will be done for you.
It is a digital download which means you don't have to wait for it to be delivered by courier, but please note that the seller will need between 2 – 4 days to customize it for you.
---
Wood Watch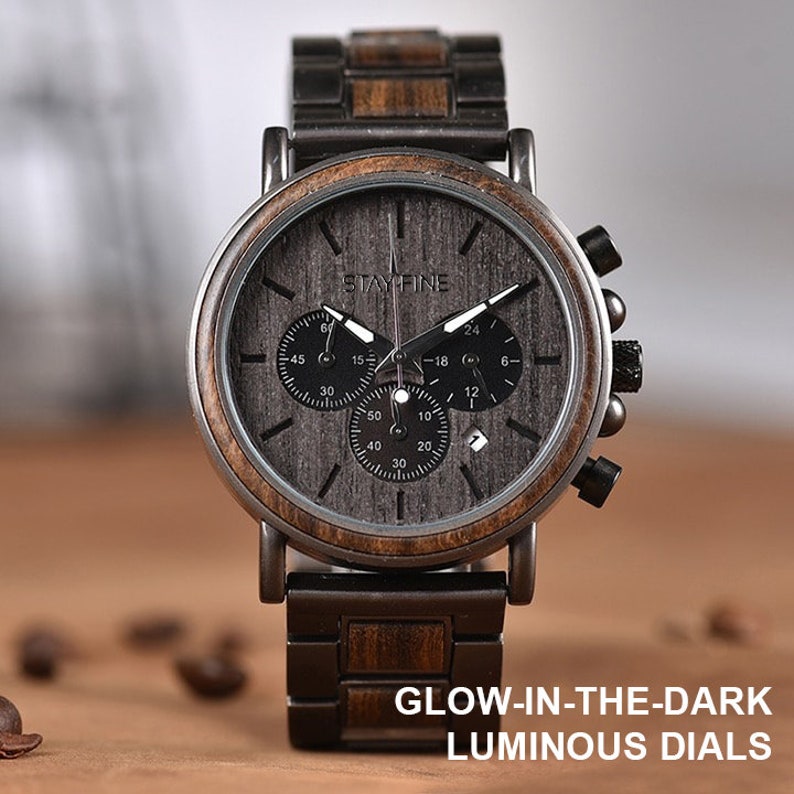 Wooden WatchCHECK PRICE
I am crazy about wooden watches, in fact, I have about three of them myself. I love that each one is an original because no wood looks exactly the same.
This is a very thoughtful gift idea from a close friend or loved one. This wooden watch is made from Premium Indonesian Blackwood and is engraved with your personal message.
They also supply extra links for large wrists. If you're looking for something personal and meaningful, you can't go wrong with one of these wooden watches.
---
Engraved Pocket Knife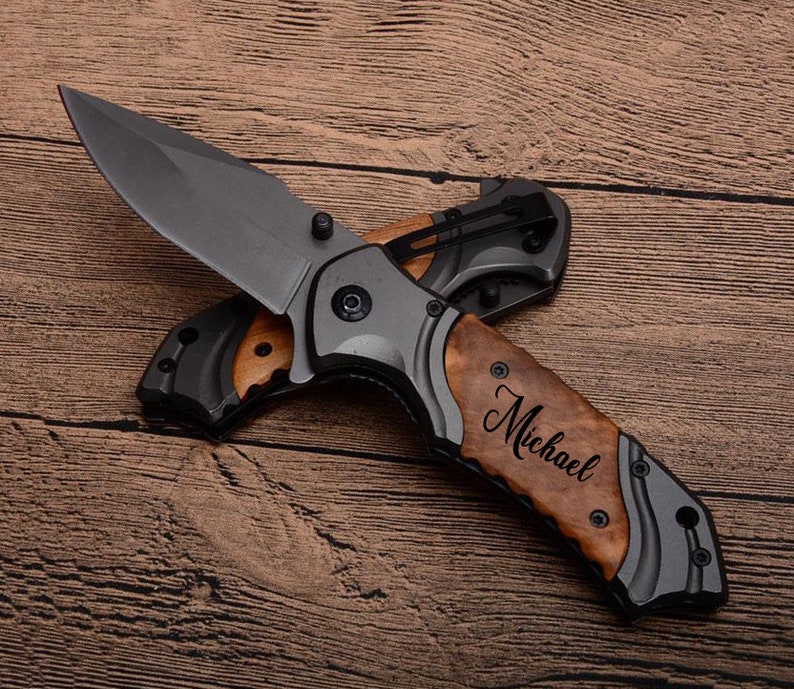 Engraved Pocket KnifeCHECK PRICE
A small, but durable pocket knife which can be customized to your liking. A great gift for the man who enjoys the outdoors, camping or even fishing. Then this knife will come in very handy.
---
Unusual 30th Birthday Presents To Keep Fit
Suspension Trainer System: Lightweight & Portable| Full Body WorkoutsCHECK PRICE
Keeping your fitness levels up during these unforeseen times is very important. It is extra easy to do with this suspension trainer system. The system includes a suspension training strap, indoor/outdoor anchors, 2 workout guides, a training poster and mesh bag. Everything you need for an easy, quick workout at home or the office.
---
The Remington F5-5800 Foil Shaver
Remington F5-5800 Foil Shaver, Men's Electric RazorCHECK PRICE
Shave close with the Remington F5 Foil Shaver with Intercept Shaving Technology. The 3 stage cutting system uses the intercept tool for pre-trimming longer hairs and two flexible foils for close shaving.
Plus, you'll get up to 20 days of shaving between charges with the rechargeable battery that delivers 60 minutes of cordless runtime. The Remington F5 combines power and technology for a great shaving experience.
---
Unusual 30th Birthday Presents For The Shower
Shower Steamers Aromatherapy 15 PacksCHECK PRICE
Little things do matter! Turn your shower into a blissful break with these aromatherapy shower steamers. Known for nasal congestion and relief the heavenly Eucalyptus scent will help your birthday boy revitalize, recalibrate, and feel his personal best.
Just place one in the corner of the shower or on a shelf in the right spot and he will have a home-spa experience like no other.
---
Vintage Beer Glass
1993 Beer Glass 30th BirthdayCHECK PRICE
A beautifully designed vintage '1993' beer glass made of lead free crystal with a thick side and solid base. It is presented in a luxurious gift box all ready for gifting.
---
Personalized Engraved Love Quote Bracelet
Personalized Engraved Love Quote Link BraceletCHECK PRICE
When it comes to unusual 30th Birthday presents, this one definitely says 'I Love You'. This unique bracelet is a great way to remind him just how special he is to you.
---
Fun 30th Birthday Presents For Men
These Cards Will Get You Drunk – Adult Drinking GameCHECK PRICE
Invite a few of your friends around and have fun with this adult drinking game. With its easy rules and quick gameplay, it'll get your party started in no time.
---
Funny Coffee Mug
Coffee Tumbler Mug 14oz – Funny Unique GiftCHECK PRICE
Experience beverage perfection with this double-wall vacuum insulated tumbler. Sip at your own pace as it maintains your drink's ideal temperature – hot or cold. From wine to coffee, this tumbler is your versatile companion.
Crafted from 18/8 food-grade stainless steel, it's your durable, flavor-preserving, and rust-resistant partner. The spill-resistant BPA-free lid keeps every sip secure.
Perfect for daily use or on-the-go adventures – indoor, outdoor, parties, and more. Embrace the joy of sipping with this delightful coffee mug by your side.
---
Magnetic Beer Bottle Opener
Magnetic Beer Bottle Opener Wall MountedCHECK PRICE
This is a fun gift idea if your recipient has a bar or a room 'man cave' in the house where he can relax with friends and have a cold one.
---
Ticket Stub Diary – Unusual 30th Birthday Keepsake
Ticket Stub DiaryCHECK PRICE
With this Ticket Stub Diary you can preserve your precious memories from concerts, museums, movies, sporting events, Broadway shows and more.
This book comes with clear sleeves that fit a variety of ticket sizes, plus space in the margin to write down your memories from the event.
---
30th Birthday Present Ideas
Clever Mesh Grill Bags
BBQ Mesh Grill Bags – Set of 2CHECK PRICE
A great way to keep veggie slices, tofu cubes, and other kebab favorites together, and off the bottom of your BBQ. Less mess, and easy to flip.
---
30th Birthday Cards
Funny 30th Birthday CardCHECK PRICE
Vintage 30th Birthday Card GiftsCHECK PRICE
Don't forget about a birthday card for the special day! I've chosen a funny one which I thought was rather cool, and a vintage one that contains some specific events in 1993, which can help you review interesting events with family and friends.
---
My Thoughts On Unusual 30th Birthday Presents For Men
Get him some fun and unusual 30th birthday presents this year.  A 30th Birthday is a year for making memories, and enjoying time with family members and close friends.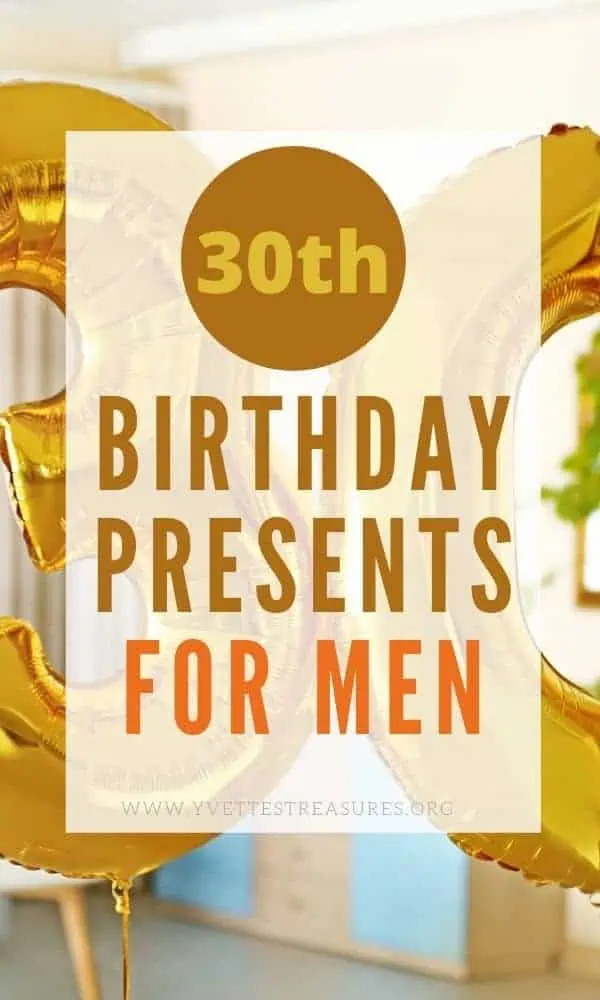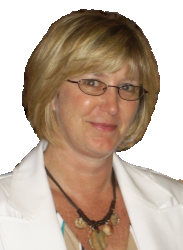 Latest posts by Yvette's Treasures
(see all)
Summary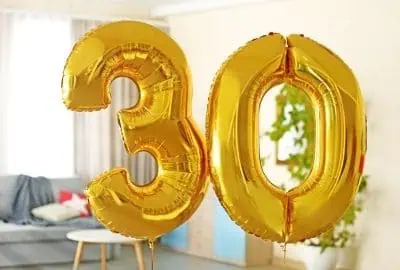 Article Name
Unusual 30th Birthday Presents For Men That Are Super Cool
Description
Turning 30 is a great milestone in anyone's life, male or female, and one that should be celebrated in style! We have put together a list of unusual 30th birthday presents especially for the men in your life.
Author