This post may contain affiliate links. I may receive commissions for purchases made through these links with no extra cost to you. See full disclosure.
Last Updated on November 20, 2021 by Yvette's Treasures
Wooden Face Watches Make Awesome Gifts
Wooden watches are my favorite that's why I've put together a list of the best wooden face watches for you. I am a total watch nut and I have quite a collection.
I love any watch that is unique and different. Something you wouldn't see every day. When I wear a watch I always get compliments because I love to choose totally different and unusual looking watches.  They also make fantastic gifts.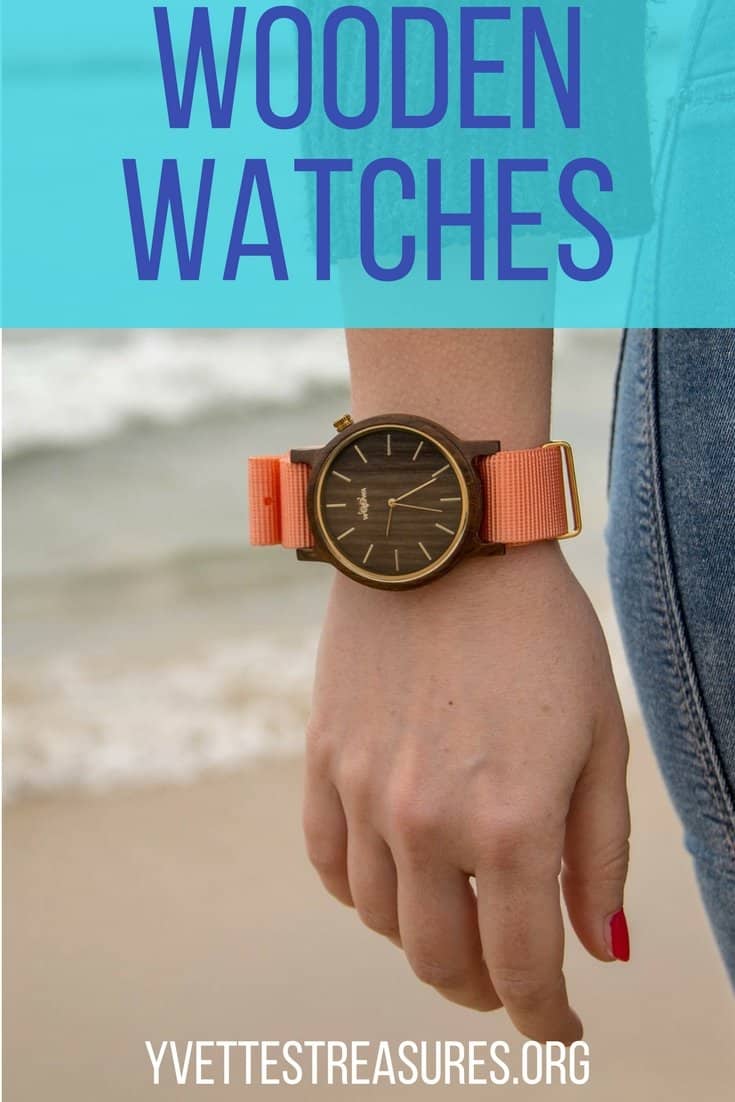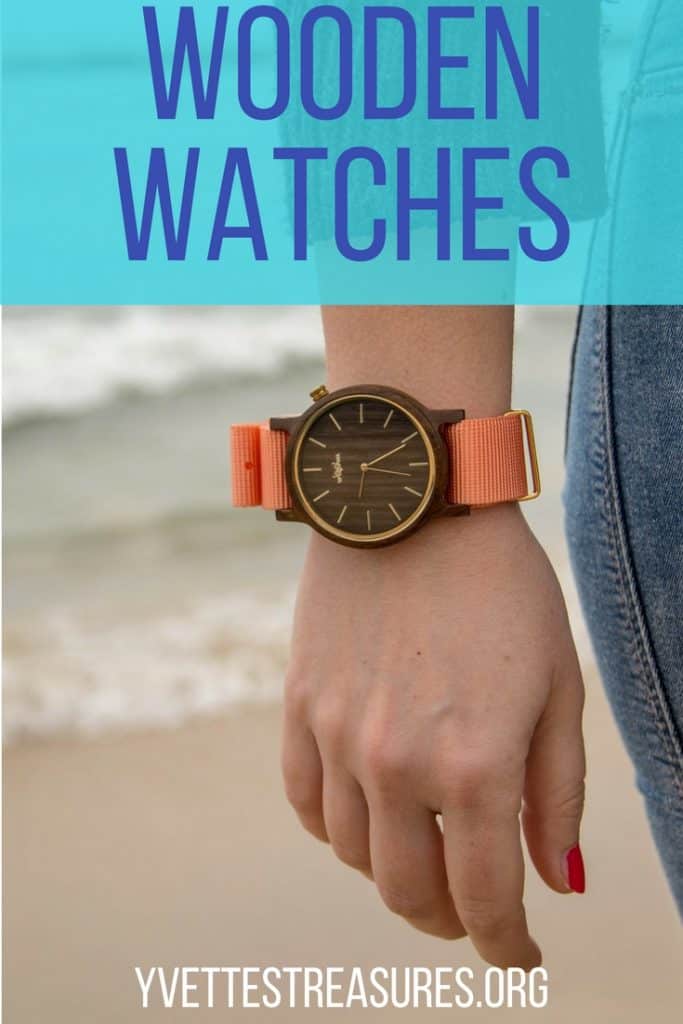 My absolute favorite at the moment is the wooden faced wrist watch. I'm in love.  My third one is on its way from Amazon and I can't wait.
Related: 40+ Super Cool Gift Ideas For Mom
What I like about wooden face watches is that they are organic and made out of different types of wood. They have such character because all wood is different and therefore no two watches will look exactly the same.
---
Benefits Of A Wooden Faced Wrist Watch
A wooden faced wrist watch is extremely comfortable and doesn't perspire on a hot day like some watches.  They are perfect for people with sensitive skin or if you have allergies to certain metals. They are also extremely light on your wrist.
What I also like about wooden face watches is that the strap is rather long in order to fit most wrists. My wrist is quite small so I had to have a few of the links removed, but I like that this option is available instead of receiving the watch and it ends up being too small.
The only downside is that although wooden face watches are splash proof, they are generally not waterproof because they are wood.
Here is my second wooden faced wrist watch. I'm putting together a collection of all types of wooden watches…..I can't help myself. LOL!  This one is a Bewell Ecowatch and is 100% natural.  I've had this one for over a year already and I am really happy with my purchase.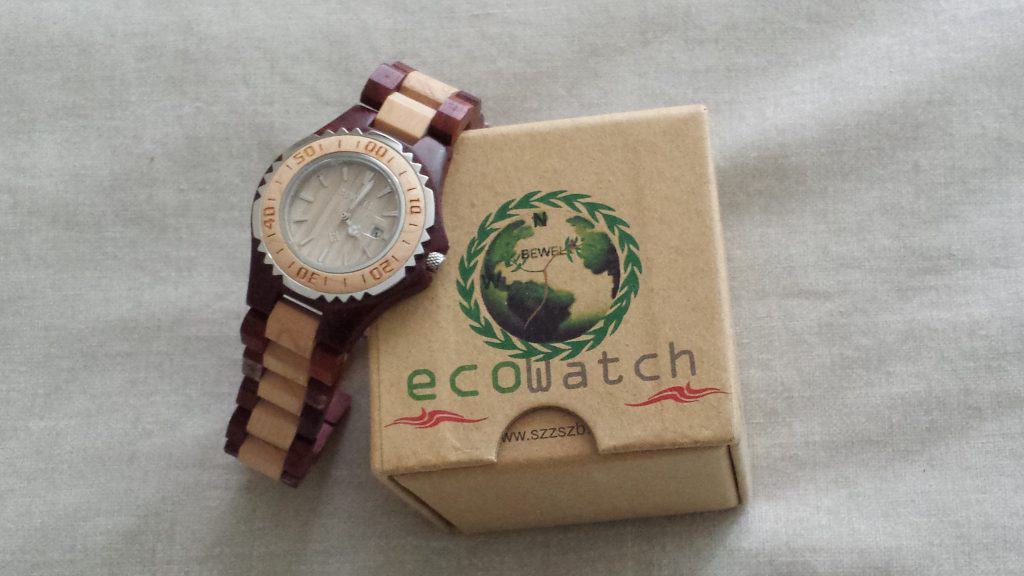 Wooden Face Watches Come In Different Woods
These beautiful Eco watches are made out of four main types of wood, namely:
Bamboo – has good mechanical properties, filter materials, high strength, good flexibility and low density.
Sandalwood – from ancient times in China and India white sandalwood was used to make expensive furniture and statues.
Maple Wood – is considered to be one of the most valuable species.  It is used mainly for furniture, floors and staircases, and more interestingly it is used to manufacture string and wind musical instruments.
Black or Ebony Wood – has high strength and density.  In Egypt, Ebony is considered as a jewel along with ivory and gold.
Read:  Organic Bamboo Pajamas, the perfect gift for women
---
Wooden Face Watches For Women
I'm totally dreaming again.  Amazon has just received new wooden face watches for women.  These are absolutely gorgeous.  I especially like the Sandalwood side-triangle one.  I've just ordered it for myself for Christmas and I'm going to choose another one for my sister in-law.
Wooden Wrist Watches for Women / Analog Quartz Movement – Includes Watch Box
ECVILLA Sandalwood Wooden Watches Genuine Leather Strap Watch Quartz Movement
CUCOL Womens Wooden Bamboo Watches Leather Strap with Gift Box
Bewell Handmade Womens Wooden Watch Quartz Movement
FunkyTop Women's Wooden Watch Bamboo Analog Quartz Lightweight
Bewell Women's Handmade Wooden Analog Quartz Zebra Wood Retro Wrist Watch
Women's Handcrafted Wood Wrist Watch Sandalwood
Rose Gold Red Sandalwood Women's Wooden Bracelet Watch
Wooden Bamboo Watch Brown Genuine Cowhide Leather Strap with Gift Box
Related:  Unique Golfing Gifts For Women
---
Wooden Face Watches For Men 
There are some really great styles for men when it comes to wooden face watches.  I think there's probably more variety when it comes to the wooden faced wrist watch for men than for the women.  You lucky men!
Bewell Mens Zebra Wood Watch Quartz Movement Dual Time
JORD Wooden Wrist Watch – Includes Wood Watch Box
BIOSTON Natural Walnut Wood with Gift Box
JORD Wooden Watches Conway Series Chronograph / Wood and Metal Watch Band with Box
JORD Wooden Watch Dover Series Skeleton Automatic / Self Winding Movement – Includes Wood Watch Box
Uwood Eco Friendly Sandal Wood Japan Quartz Movement Waterproof Wooden Watch
Men's Wooden Watch, Sentai Handmade Vintage Quartz Watch, Natural Wood
Bewell Wooden Watch Analog Quartz Light Weight Vintage (Zebra Wood)
Bewell Men's Wooden Quartz Watch, Analog Handmade (Maple and Red)
---
Wooden Watch Boxes A Thoughtful Gift
Wooden watch boxes are a great place to keep your watches safe from getting damaged or lost when you're not wearing them.  For me it's not always something that one would buy for yourself that's why it makes a great gift.
Solid Espresso Wood Watch Box Organizer with Glass Display Top 12 slot
Mele & Co. Peyton Glass Top Wooden Watch Box (10 Sections, Burlwood finish)
Mele & Co. Emery Glass Top Wooden Watch Box (5 Sections, Cherry Finish)
Solid Light Wood Watch Box with Glass Display Top
12 Slots Mens Wooden Watch Display Case Glass Top
Mele & Co Christo Glass Top Wooden Watch Box
Read:  30+ Gifts For Women Who Love Wine
Wooden Face Watches – A Special Gift Of Love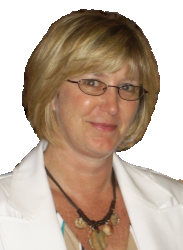 Latest posts by Yvette's Treasures
(see all)