This post may contain affiliate links. I may receive commissions for purchases made through these links with no extra cost to you. See full disclosure.
Last Updated on October 20, 2023 by Yvette's Treasures
Easy Cricut Personalized Gift Ideas
Do you love being creative and making unique homemade gifts that you won't find anywhere else? Then I've got some really special Cricut personalized gift ideas just for you!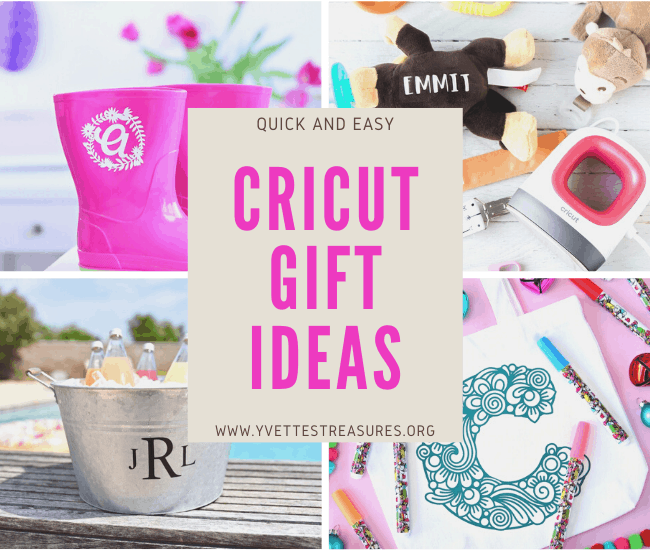 This is a sponsored conversation on behalf of Cricut, but all opinions are my own.
​The Cricut Maker is the perfect gift this holiday season, making it easy to create personalized, unique gifts in your favorite colors. With its intuitive Cricut Design Space software, crafting becomes a breeze, adding that personal touch to your favorite things.
Whether you're making a custom gift basket or crafting one-of-a-kind presents, the Cricut Maker's versatility and precision make it a fantastic choice for adding a special touch to your holiday gifting.
In a hurry to make some holiday gifts or to receive this special gift as your own, pop over to Cricut.com. They are offering some truly awesome discounts for this time of year! 
What Is The Cricut Maker?
​The Cricut Maker is a remarkable crafting tool that empowers creative minds to bring their artistic visions to life with ease and precision.
This versatile machine is every DIY enthusiast's dream come true. It operates as a cutting and crafting powerhouse, turning various materials into beautifully detailed creations.
At its heart, the Cricut Maker is a precision cutting machine. It employs a small, ultra-sharp blade that moves along paths designed on a computer or tablet.
This allows you to effortlessly cut through a wide range of materials, from paper and fabric to leather and wood. The Maker's Adaptive Tool System intelligently controls the blade's pressure and depth, ensuring flawless results every time.
The Cricut Maker's brilliance shines in its software, Design Space. This user-friendly platform lets you create, customize, and manipulate designs in minutes.
You can import your own graphics, access an extensive library of pre-made templates, or even draw and write with Cricut's compatible pens.
Click here for my full review on Cricut Machines and the fantastic features they offer!
What sets the Maker apart is its unmatched versatility. It accommodates a variety of cutting tools, including rotary blades for fabric, knife blades for thick materials, and scoring wheels for precision folding.
Additionally, it can emboss, engrave, and even score delicate creases, making it a truly all-in-one creative solution.
In essence, the Cricut Maker is a game-changer for DIY enthusiasts, artists, and crafters. It transforms Cricut projects into professional-looking masterpieces, opening up a world of creativity and innovation.
Its precise, user-friendly operation and adaptability make it the go-to tool for those seeking to turn their ideas into tangible, beautiful creations.
Whether you're crafting for personal enjoyment, making great gifts or running a small business, the Cricut Maker is your trusty companion for all your creative endeavors.
DIY Personalized Gift Ideas For Grandpa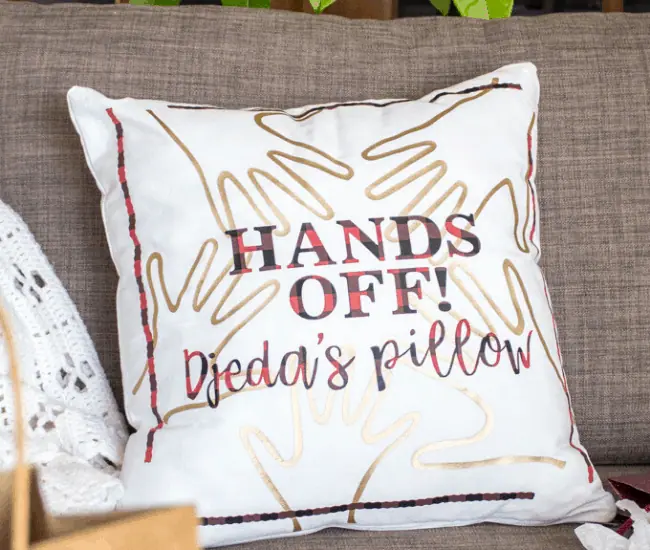 This personalized pillow is a great Cricut gift idea for grandpa or dad if he needs just that little bit of extra back support when he is watching his favorite television shows. Sonja & Jane will show you just how easy it is to make this cool pillow for Grandpa's birthday or even Father's Day!
DIY Garden Markers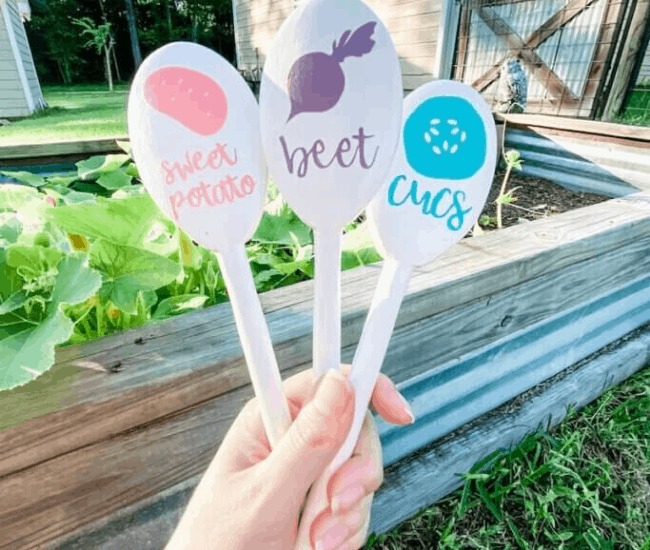 These DIY garden markers will make wonderful gifts for the avid gardener. Pop over to thesoccermomblog to find out exactly how these handmade gifts are made!
Beautiful Cricut Personalized Gift Ideas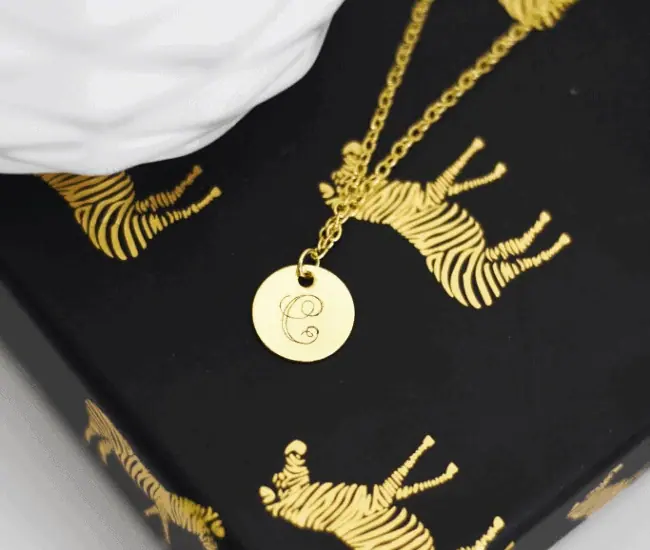 I absolutely love jewelry, and if I received a beautiful monogram necklace like this one as a personalized Christmas gift I would be over the moon. You'll find everything you need over at pineapplepaperco.
Personalized Wood Serving Tray – Cricut Gift Ideas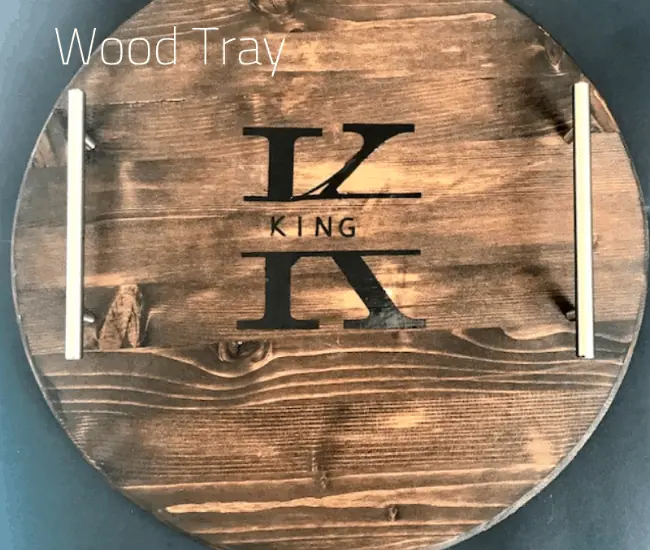 Add a little creativity to your home with this personalized wood serving tray. It would also make a wonderful wedding or anniversary gift for loved ones.
Personalized Cricut Gift Ideas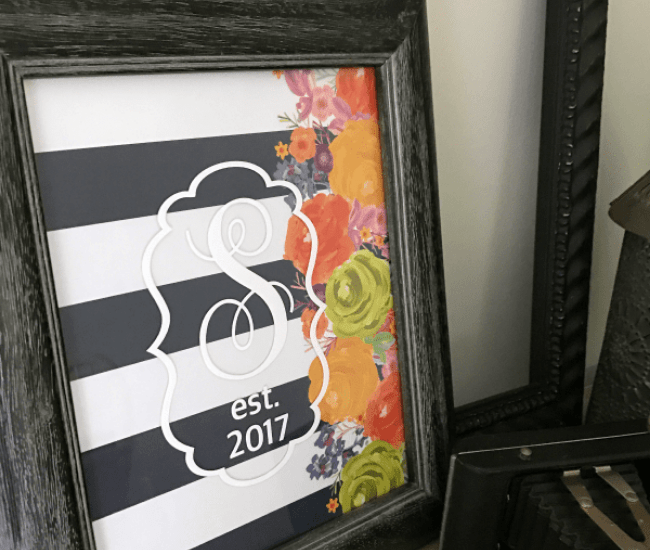 Frames never go out of fashion and they make really great wedding and bridal shower gifts. Days that are to be celebrated and remembered by all so why not make it extra special by making it a monogrammed frame! Add your own colors, design and special wording. This is a gift that keeps on giving.
Easy Homemade Gift Ideas With Cricut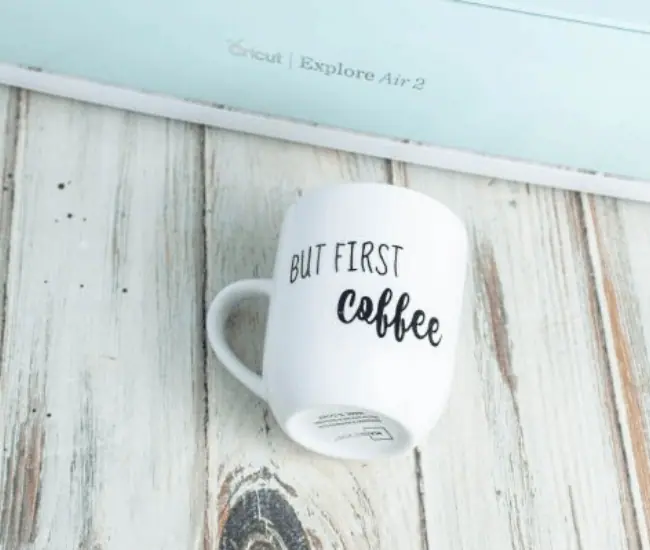 Coffee mugs are always a great gift idea for any occasion, and a wonderful addition to the home.  Make yours unique by choosing your own special wording, the script and color. You can add anything your heart desires with this homemade Cricut coffee mug. 
Personalized Picture Frame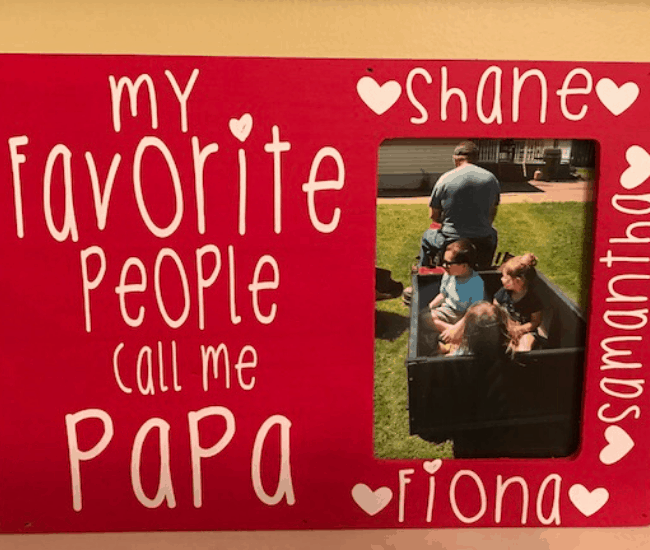 You can do so much to personalize a picture frame. Add your families name to it or just the grandchildren. Make it a fun color and choose your favorite photo to put inside. Jenny will show you just how easy it is to make, and loads of fun too!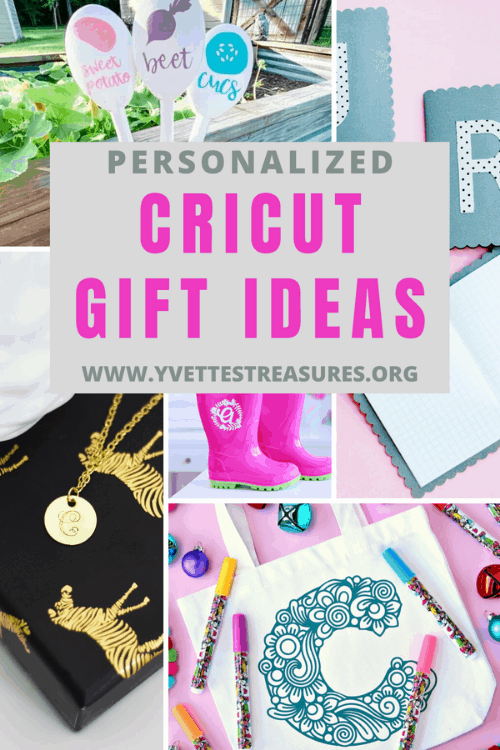 Homemade Gifts To Make With Cricut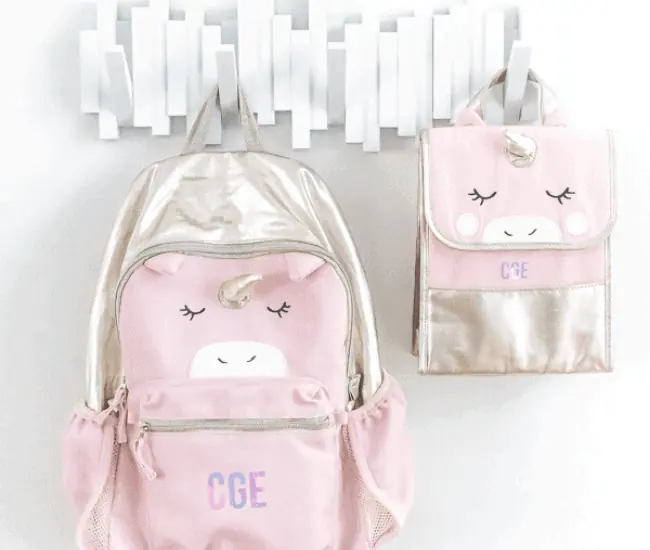 Aren't these back to school unicorn backpacks super cool? You daughter will love these. Make it her very own by using Cricut to put her name on it! April will show you how to make these custom gifts.
Beautiful Monogrammed Stationery Box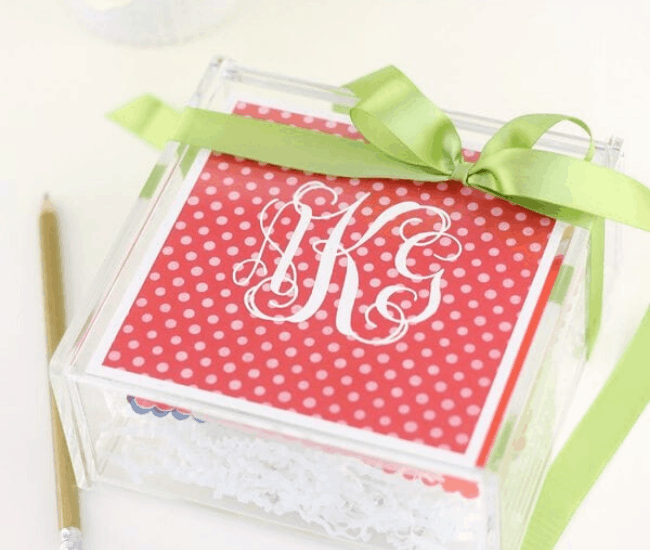 This beautifully monogrammed stationery box designed by Damask Love would make the perfect 'Boss Lady Gift'. 
Personalized Baby Gifts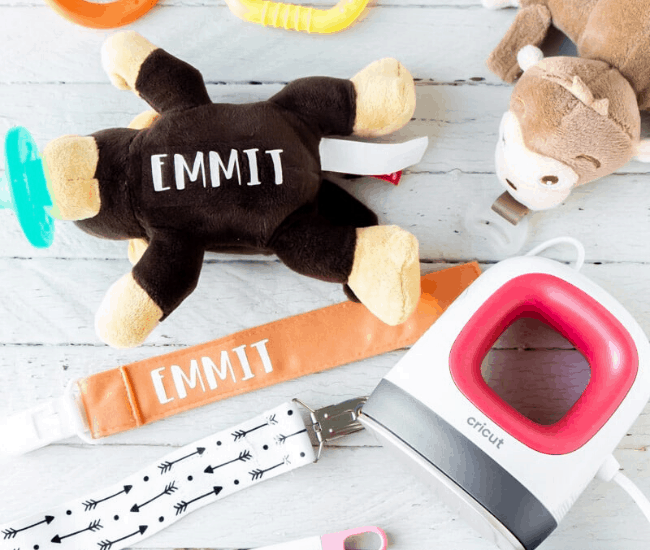 You can personalize the cutest baby gifts with your Cricut. Go the extra mile and give a unique baby gift this year. I'm sure the new mom will love it! Britni can help you with the designs and project ideas.
Create Your Own Personalized Gift Bags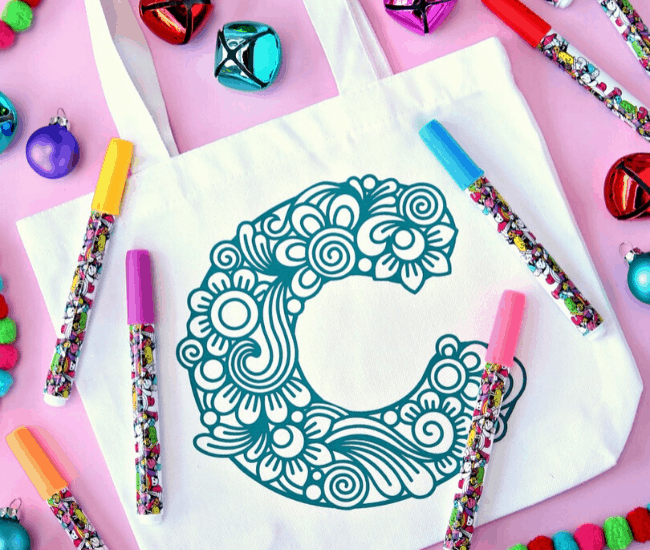 Another awesome Cricut gift idea is to make your very own unique gift bags. Use whatever color and designs your heart desires to make them extra special.
You can give  customized tote bags as hostess gifts or DIY Christmas gifts, just add a gift card or handwritten note and you've got yourself some wonderful and affordable gifts.
DIY Monogram Ice Bucket – Homemade Gifts To Make With Cricut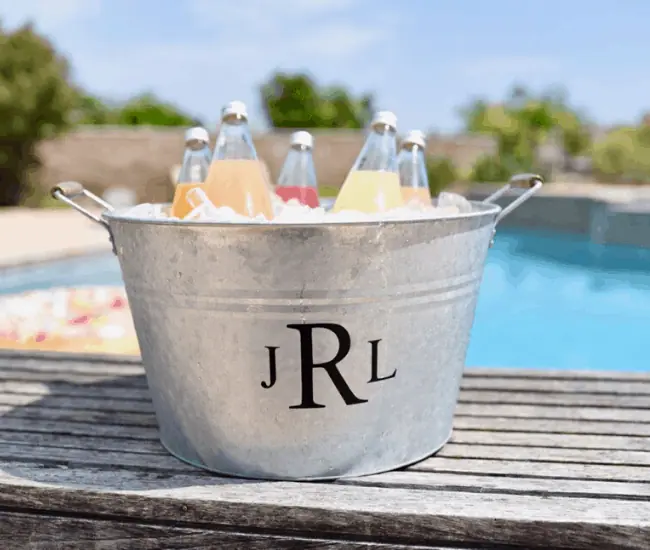 Looking for a special housewarming gift or perhaps a gift for the lady who loves to celebrate with a glass of wine. This personalized ice bucket will look fantastic next to the BBQ.
DIY Monogram Rain Boots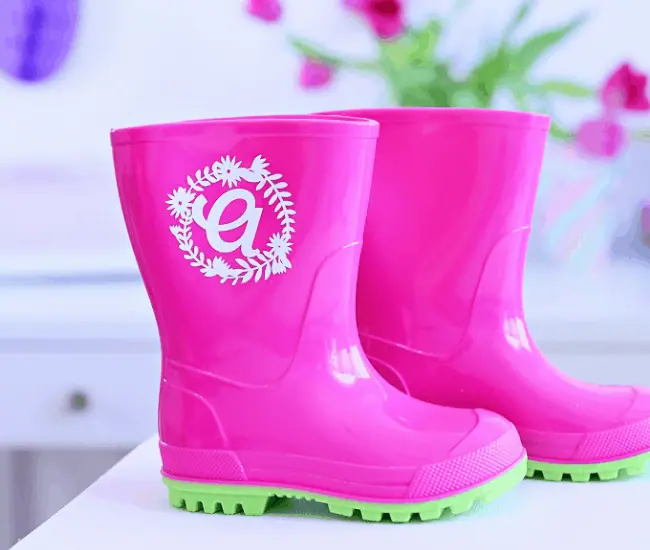 Oh my, I'm crazy in love with these super cute monogram rain boots. Not only do they look cool, but they will be really easy to spot at school.
I would even consider printing the words 'left and right' on the boot to teach little ones which foot goes into which boot…just a thought! This is definitely one of my favorite Cricut gift ideas.
DIY Graduation Cap Ideas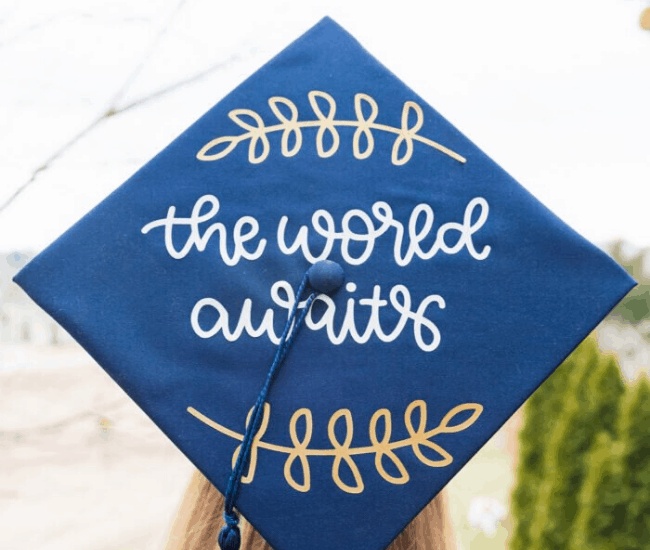 I know this is not allowed at all schools, but decorating a graduation cap is so much fun, and would make a wonderful keepsake! It's a great way to display some inspirational wording for what's to come. See how it's done here.
Thoughtful Monogram Journals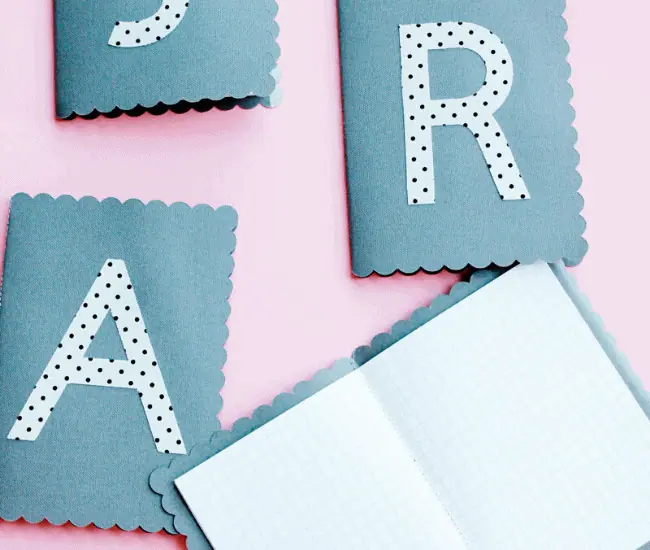 I love journaling, it gives me a place to organize my thoughts. I have plenty of 'to do' journals, a fitness journal and a gratitude journal (this one is my favorite). They make wonderful gifts, and even better if they have been personalized with your Cricut Machine.
My Thoughts On Cricut Personalized Gift Ideas
The Cricut Maker is a must-have for your gift list this holiday season. Its endless potential for creating unique, handmade gift ideas is truly exceptional. From customized water bottles with the person's name, or wine glasses to beautifully designed gift tags, the possibilities are endless.
Whether you're planning to craft individual presents or heartwarming family gifts, these amazing machines provide great ideas that will leave your loved ones in awe of your thoughtful and creative touch. Embrace the holiday spirit and bring joy to your gifting with the Cricut Maker. It's a gift that will bring so much joy!
​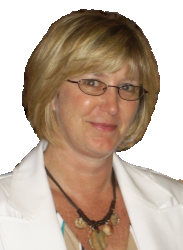 Latest posts by Yvette's Treasures
(see all)
Summary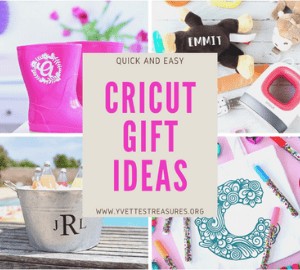 Article Name
15 Cricut Personalized Gift Ideas - Easy DIY Gifts They Will Treasure
Description
Do you love being creative and making unique homemade gifts that you won't find anywhere else? Then I've got some really special Cricut personalized gift ideas just for you!
Author