This post may contain affiliate links. I may receive commissions for purchases made through these links with no extra cost to you. See full disclosure.
Last Updated on May 21, 2022 by Yvette's Treasures
Awesome Bridal Shower Gifts The Bride Will Treasure
Quick Links to Info on this Page
If you are looking for awesome bridal shower gifts, you don't have to go far to find exactly what you need. In fact, all you need to do is hop onto Amazon to find some of the most uniquely adorable gifts around that any bride-to-be would love. From personalized hostess gifts to fun bridal tumblers to items to celebrate the upcoming wedding with their fur baby, Amazon has it all.
To help you grab some cost effective, but great gifts for all of the brides in your life, I researched some of the most popular bridal shower gifts for you. Of course, I found the best rated items to help you choose the very best gift for any bride this upcoming wedding season.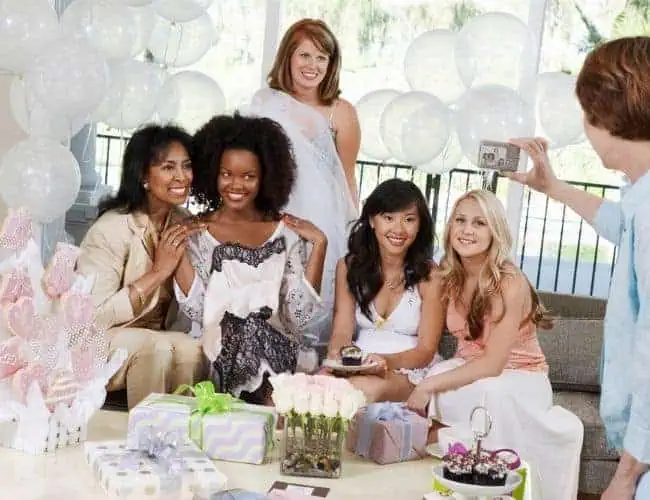 Curious to see what made the list of awesome bridal shower gifts? Keep Reading…
Online Bridal Shower Invitations
If you're still in the planning stage of organizing the bridal shower then a great way to save you time and money is online bridal shower invitations.
This bridal shower invitation is unique and very pretty. Not only can all the words be edited, but you can also choose your very own font and color, personalizing it. You can edit the invitation on any device and even send it from your phone. How fantastic is that? It certainly makes life much easier.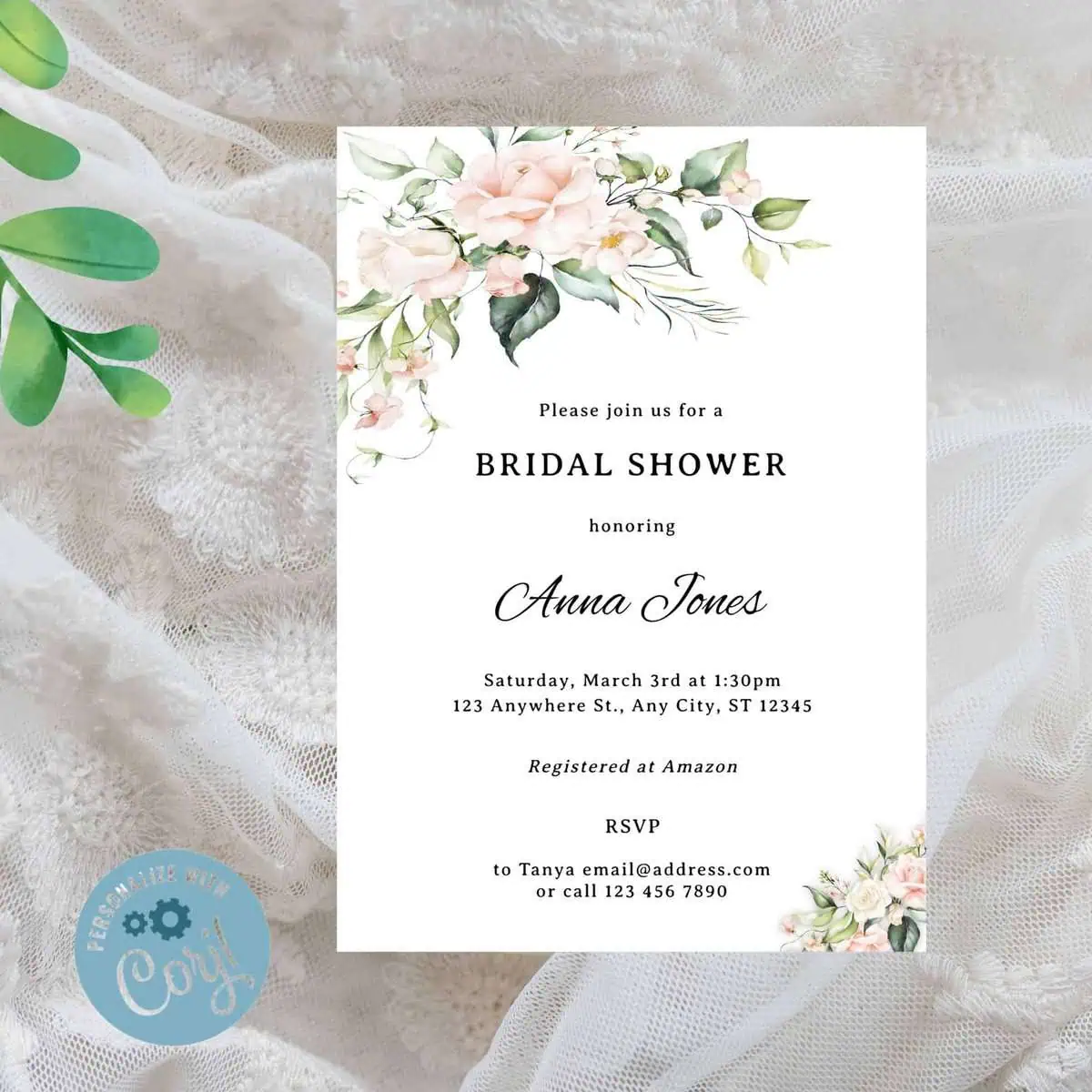 INSTANT DOWNLOAD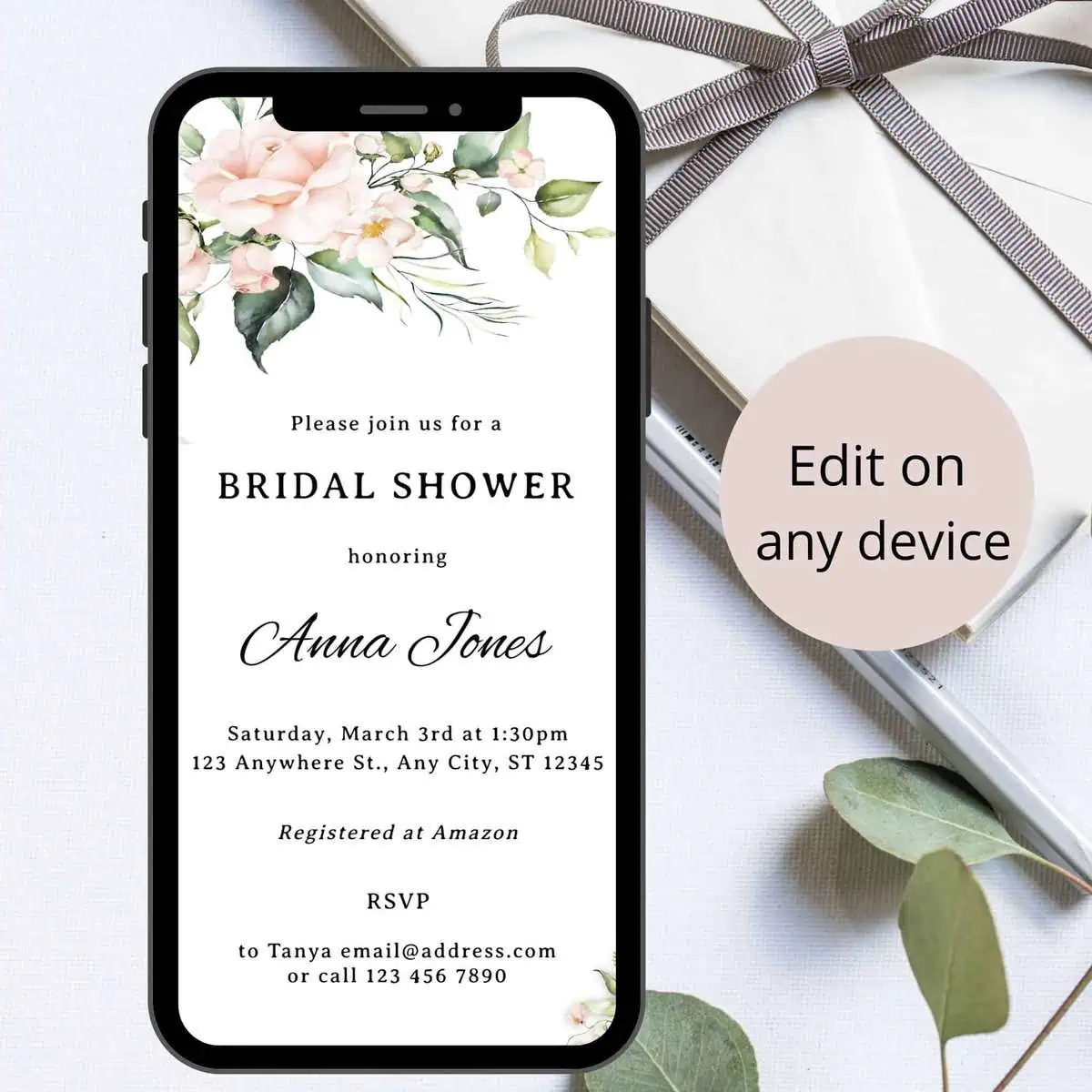 INSTANT DOWNLOAD
Kate Spade New York Bridal Insulated TumblerBUY ON AMAZON
This tumbler is the perfect gift to get any soon-to-be bride! It's cute and functional so that she can stay hydrated for her wedding and on her honeymoon. Since it's Kate Spade you know its good quality and she will love showing off her (almost) name change from Miss to Mrs.
---
Personalized Wedding Cutting BoardBUY ON AMAZON
One of the best gifts you can get a woman at her bridal shower is something personalized with the encouragement to host gatherings in the future. The solution? A personalized charcuterie board, of course! These are adorable and will make any bride excited for the upcoming get togethers that she and her partner will have.
---
Marriage Survival KitBUY ON AMAZON
This kit is so funny and, well, practical! Filled with a bunch of silly items marked Mr. and Mrs., this marriage survival kit is the perfect way to have fun at the next bridal shower. Filled with things like cup holders and a do not disturb door hanger, any bride-to-be would love this fun gift.
---
Wifey SweatshirtBUY ON AMAZON
Anyone planning a wedding is looking forward to the day when they can wear clothes that brag about the title 'Wifey'. If they deny this, I don't believe them. Either that, or they haven't seen this adorable wifey sweatshirt on Amazon.
This is the perfect gift for the bride to wear on her honeymoon, when she is opening wedding presents, and just doing day to day married activities.
---
Hand Casting Kit for 2BUY ON AMAZON
This gift is so sweet and thoughtful any bride would love this hand casting mold kit. Basically, the couple getting married hold hands and put it in this clay to create a mold of their hands. Then, you pour a rubber-type liquid into that mold. Wait 24 hours and they have a beautiful statue of their hands holding!
For sentimental brides, this is a great gift.
For more wonderful gift ideas head over to Amazon's Wedding Registry!
Essential Oil Shower Steamer Set Of 15BUY ON AMAZON
For the bride always looking for a little self care, these shower steamers are the perfect present. Since wedding planning can be one of the most challenging times for a future bride, these aromatherapy shower steamers can help her relax as the stress mounts on the days leading up to the big event.
This kit comes with 15 mint and eucalyptus scented aromatherapy vapor steam tablets so if she needs to be energized or calm down, she will be ready to go.
---
Wedding Day Emergency Kit, Bridal Shower GiftBUY ON AMAZON
This gift is fun but also the perfect gift to help the bride feel prepared for the big day. This cosmetic bag is a great way to help the bride pack any emergency items that would come in handy on her wedding day.
You can even personalize this gift by adding a few items like cotton swabs, extra mascara, or some mini wine bottles.
---
My Humans are Getting Married Dog BandanaBUY ON AMAZON
For every dog mama getting married this year, this is the sweetest way to help her include her best friend! This dog bandana is an adorable gift that the bride's pet can wear at all of the events leading up to the wedding. This might be the gift that makes her cry- she'll love it that much!
---
Pajamas Womens Sexy LingerieBUY ON AMAZON
Who knew that Amazon sold such wonderful silky pajamas? You know the kind… ones that work well on a honeymoon. This super soft pajama set will have her ready to board the plane and have a great time doing what honeymooners do best.
---
Wedding Time CapsuleBUY ON AMAZON
As far as awesome bridal shower gifts go, I love this one. A wedding time capsule is the perfect keepsake. Save your most important mementos and memorabilia from your first year of marriage.
Then, on a date of your choosing, decades in the future, open the time capsule again and reminisce about what life was like the first year you were married.
---
My Thoughts On These Awesome Bridal Shower Gifts
Amazon has some of the best gifts for bridal showers around. I love how you can personalize them and find exactly what the bride will want for her big day.
Whether it's a practical cosmetic bag, a super cute sweater, or something to decorate the dog with you'll find not only unique bridal shower gift ideas, but some of the most popular bridal shower gifts right at your fingertips.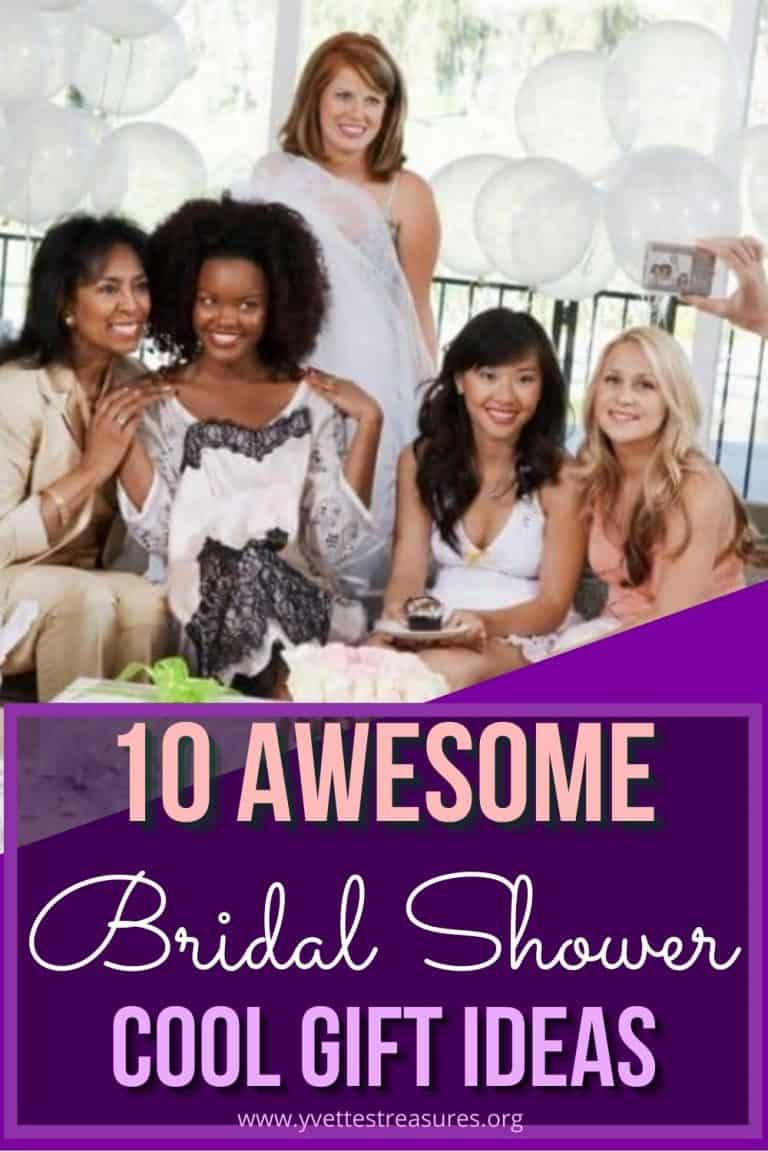 Summary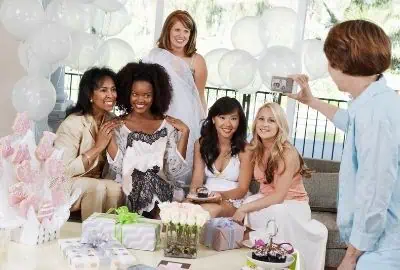 Article Name
10 Awesome Bridal Shower Gifts The Bride Will Absolutely Love
Description
If you are looking for awesome bridal shower gifts, you don't have to go far. We have some of the most uniquely adorable gifts around that any bride-to-be would love.
Author