This post may contain affiliate links. I may receive commissions for purchases made through these links with no extra cost to you. See full disclosure.
Last Updated on May 21, 2022 by Yvette's Treasures
Must-Have Good Wedding Registry Gifts
Quick Links to Info on this Page
It's an exciting time in their lives when two people get married and start a new life together. If you're looking for good wedding registry gifts that are perfect for the newlyweds, then look no further.
We have compiled a list of some of our favorite registry gifts. From kitchenware to outdoor furniture, these gifts will certainly help them with the transition that will make living on their own easier.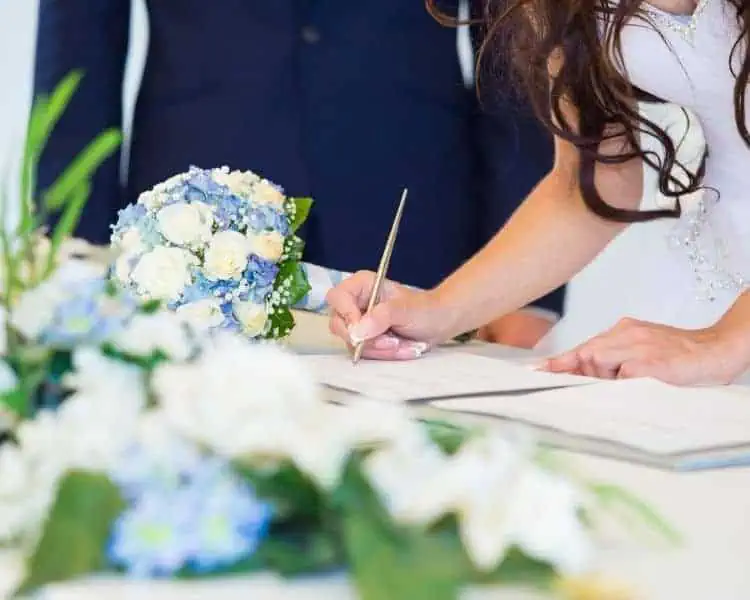 What Is A Wedding Gift Registry?
A wedding gift registry is a list of wedding gifts that the bride and groom want to receive from their guests. The couple creates a list together, which typically includes items for their home, kitchenware, bedding, towels and other household items as well as wants for furniture or appliances.
The idea behind having an online registry is convenience: guests can find what they need in one place without having to spend hours going store-to-store trying to figure out what couples would like most.
It also reduces the number of duplicate gifts that are given because people can see if someone else has already purchased the same item as them before they buy it themselves!
Online Bridal Shower Invitations
If you're still in the planning stage of organizing the bridal shower then a great way to save you time and money is online bridal shower invitations.
This bridal shower invitation is unique and very pretty. Not only can all the words be edited, but you can also choose your very own font and color, personalizing it. You can edit the invitation on any device and even send it from your phone. How fantastic is that? It certainly makes life so much easier.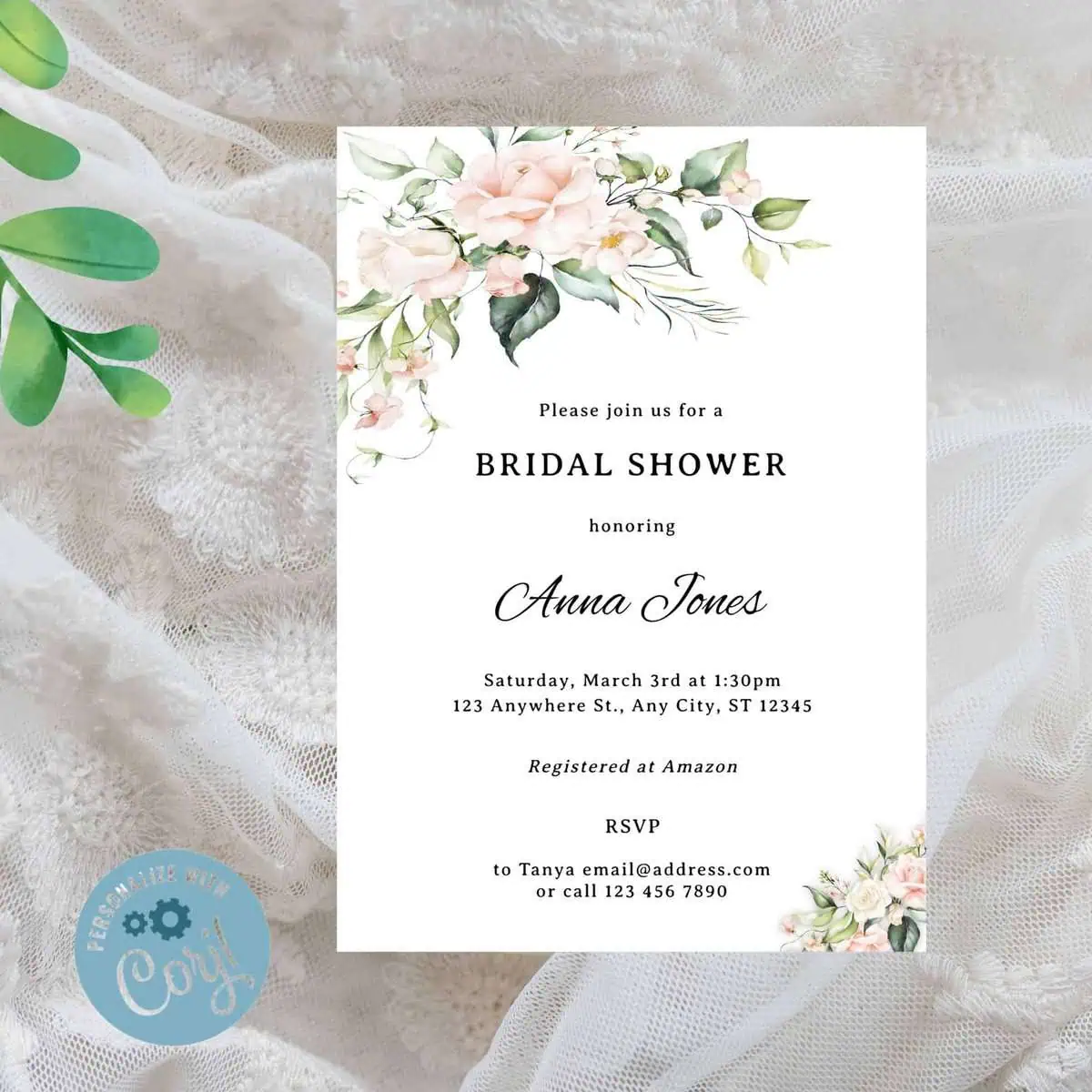 INSTANT DOWNLOAD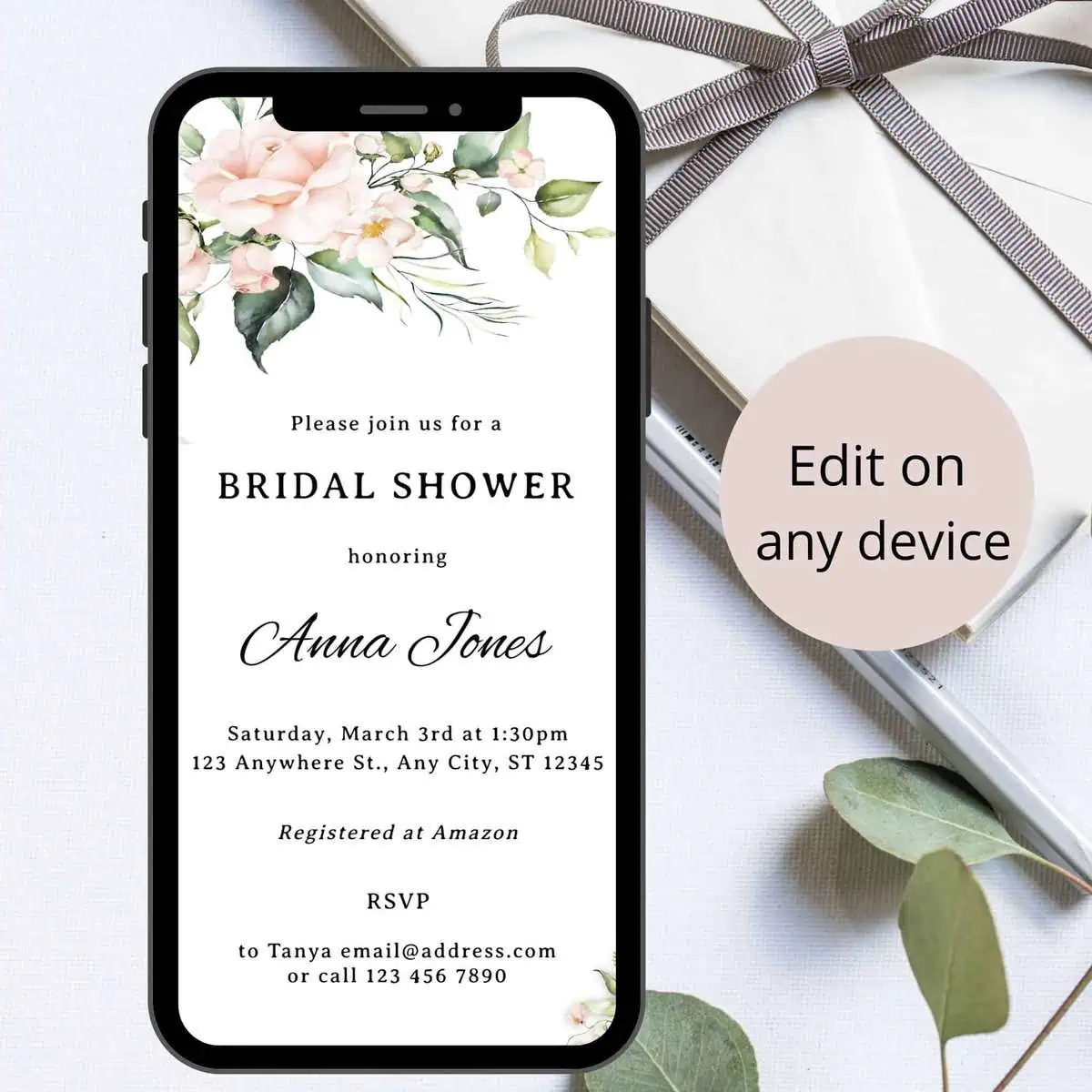 INSTANT DOWNLOAD
Best Wedding Gifts Registry List
Wedding Thank You Cards with Envelopes & Stickers
Thank-you cards for the newly married were never this quirky! Made from a thick and heavy-duty paper, these cards are perfect for thanking all of those important friends and family members who made your wedding day possible.
The inside of each card is fitted with an envelope with the phrase "Just Married" printed on it, which makes them not only classy, but still fun to look at. A practical gift idea, but a must!
---
Crushed Diamond Mirrored Vase
The elegance of this delicate high end mirrored vase will surely be the center piece in any home. The Silver Crush Diamond Mirror Vase is perfect for those who want to give their room a sophisticated and refined look with an elegant, stylish design that never goes out of style!
---
Cake Knife and Server Set Make Good Wedding Registry Gifts
This is a practical wedding cake server and knife set. It looks beautiful on the table, but is something that you can hand down through generations.
A true heirloom in your family for years to come. It has forged stainless-steel blades with faux crystal handles to add just the right amount of elegance.
---
Rachael Ray Cucina Nonstick Cookware
With the Rachael Ray Cucina Nonstick Cookware, you get a cookware set for every culinary occasion-from sautéing vegetables to making biscuits.
This 12 piece set includes 1-quart and 3-quart saucepans with lids, 6-quart stockpot with lid, 8.5-inch and 10-inch frying pans, 3-quart sauté pan with lid. And did I mention, it also comes with a slotted turner and spoon.
Plus, with nonstick surfaces this dishwasher-safe set is effortless to use and cleanup will be a breeze!
---
Ninja 10-Cup Specialty Coffee Maker
The Ninja Specialty Coffee Maker is more than a just coffee maker. You can create everything from hot or iced lattes, macchiatos, and cappuccinos to your favorite specialty drinks right at home with this machine's 6 brew sizes, 4 different brewing types (including cold), and built-in frother that lets you steam milk for any drink in seconds!
---
Quart Air Fryer Oven with Rotisserie
The newest member of the Innsky family is here with a big appetite for cooking and dish-making. The 10.6 Quart Air Fryer Oven has all your needs in one helpful machine, including an air fryer, rotisserie, dehydrator, pizza grill and toaster oven.
With ten programmed pre-sets that have you eating delicious meals at the touch of a button – like Roast Chicken and Asparagus Omelet – as well as more innovative options such as Pizza Bites or Pecan Pie from the dehydrator function, this device has something to offer everyone who appreciates easy meal prep!
---
Add A Wine Decanter To Your Wedding Gifts Registry List
Keep wine fresh and at the perfect temperature with this deliciously hand-blown glass Wine Decanter.
It features a slanted spout so pouring is easy, has no dishwasher hazards (and won't cause any pesky breakages either), and looks fabulous in your kitchen or on display as a centerpiece for your home bar!
---
Tableware Cutlery Set
This set brings modern elegance to your tabletop. Durable stainless steel and sleek design makes this a must-have for every kitchen. Each piece is ergonomically designed for convenience, in addition to being dishwasher safe!
A 20-piece set of cutlery encompasses everything you need to assemble the perfect meal, without unnecessary extras.
---
Square Stoneware Dinnerware Set
We know you'll love the earthy, organic feel of the Stone Lain Grace Square Stoneware Dinnerware, but this set has more to offer than looks.
Having company? No worries this dishware will do justice to any occasion. Dishes are durable enough for everyday dining, and will fit right in no matter what kind of table setting you're after: fancy family dinners, casual backyard barbecues, or just relaxing at home.
And don't sweat it if anything needs washing up, this dinnerware is dishwasher and microwave safe!
---
Home Décor Centerpiece Wedding Registry Ideas
Add modern flair to your home décor with these beautiful tabletop sets! The home décor tray and orbs balls set will have the perfect accents for any room in your house, and are perfect for giving you that sleek look wherever they're placed.
---
Mr And Mrs Embroidered Blanket
This embroidered Sherpa blanket is a perfect wedding registry gift. It can be customized to include your own Mr and Mrs design, name or monogram for the ultimate personal touch!
This cozy Sherpa throw also makes an excellent couch decoration that's sure to keep you warm on chilly winter nights.
---
Tineco A11 Hero Cordless Lightweight Stick Vacuum Cleaner
The Tineco A11 Hero Cordless Lightweight Stick Vacuum Cleaner is a practical and useful product that can clean all types of flooring, with powerful suction power in Max mode.
It's also lightweight and compact so you can easily carry it around the house, making cleaning easy.
Not only is this cordless vacuum cleaner great because of its innovative design, but it also has a detachable high performance battery which lets you decide how much run time to have!
---
Le Creuset Signature Cast Iron Round Casserole
The best of all casserole worlds. This round Le Creuset Signature Cast Iron Casserole is perfect for those who love to cook – from fifteen-minute pasta Ragus to slow cooked stews with fragrant herbs, the cast iron surface ensures your dish will come out just right every time!
Perfect for quick weeknight meals or holiday feasting alike – it's ideal especially if you're busy during the day and not always able to put together complex dishes before dinnertime rolls around!
And the energy efficient design ensures your dish cooks more efficiently, saving you time and money.
---
Ariete Conical Burr Electric Coffee Grinder
The Ariete Conical Burr Electric Coffee Grinder is the ultimate machine for the coffee lover. Designed in Italy by passionate experts, it brings together years of know-how and innovation. It's beautiful design, ultra-fine grinds, and adjustable cups size are sure to make it your favorite new addition to your kitchen!
---
Creative Pillar Candle Holder Set
These candle holders are perfect for your living room. They have a delicate, mosaic design that will add charm to any space. These sturdy pillar candles will fill your home with a warm atmosphere and light up the night sky.
You'll love how beautifully they complement so many styles of décor, from classic chic to rustic farmhouse. Put these on either side of a window you often enjoy sitting by or near the fireplace, and the aesthetic statement couldn't be more inviting!
---
Outdoor Patio Conversation Set
This versatile 4-piece patio conversation set will add that certain je ne sais quoi to your backyard, balcony, or patio. All weather wicker and hand woven over a steel frame ensures this furniture will stand up to the test of time.
With removable cushion covers for easy washing, and a sleek coffee table with an included tempered glass top, you are sure to have all your needs met right at home in style!
---
Custom Doormat – Good Wedding Registry Gifts
I personally love the idea of putting a custom doormat on my wedding gifts registry list. It has such a warm , personal feel to it, and a friendly reminder every time you step on it to open the door.
This one in particular is handmade, it is UV printed, has a bold finish and PVC non slip backing.
---
Outdoor Steel Fire Pit
For quality and convenience, this steel fire pit is the perfect fit. With a mesh screen to keep embers from flying out, it takes just minutes to put together and take apart for cleaning.
Let the summer evenings glow with new warmth so you can spend more time with friends and family, making memories that will last!
---
BBQ Grill Tools Set
The OlarHike set is perfect for cooking up a barbecue, no matter the season. This kit will have you grilling in style and making quick work of all your favorite food.
With easy to use devices and a delicious BBQ prepared with ease, this grill accessories set includes everything you need to get started.
Or if you're more of a cook who prefers their grill empty, then these stylish black enamel items fit right into any kitchen design scheme.
The marks on the kebob skewers are made specifically for newbie cooks (or those with small hands), so whether it's steak or salmon that your family loves best, they'll do great every time!
---
Engraved Cutting Board
These personalized cutting boards make good wedding registry gifts. Beautifully made with Maple and Walnut wood. They come in all sizes and are cut with top of the liner laser technology to make a precise long lasting design!
Personalize it by adding the two names and a date you would like on the cutting board to make the perfect wedding gift.
---
Hilife Handheld Garment Steamer
A practical gift, but definitely a gift the newlyweds will get a lot of use out of.  The Hilife 700W steamer produces soft and long lasting steam. It is light and portable. Also includes 1 cup, brush, power cable and an instruction manual.
---
Mr & Mrs Personalized Candle
The Mr & Mrs Personalized Candle is the perfect wedding keepsake. Share your joy on top of a delightfully scented candle that comes complete with your family name and the date of your special day. Add your personal message to make it one of a kind!
---
Hand Blown Crystal Champagne Glasses
Celebrate in style with these hand blown crystal champagne glasses. Made from 100% lead free premium crystal, with a slender stem and intimately designed to direct the wines sparkles towards all your taste buds.
---
Watercolor Wedding Venue Sketch
A stylish watercolor illustration of your wedding venue is such a unique wedding registry gift idea. It is hand-drawn and personalized with a message – a wonderful, sentimental gift.
You can have any variety of buildings drawn including churches, castles, stately homes and hotels, beach wedding venues… the choice is yours!
---
First Christmas Married Ornament
Your first Christmas as Mr and Mrs needs to be celebrated in style. This beautiful personalized ornament will make a wonderful keepsake. Each year that you hang it on your Christmas tree will bring back fond memories of your special wedding day.
---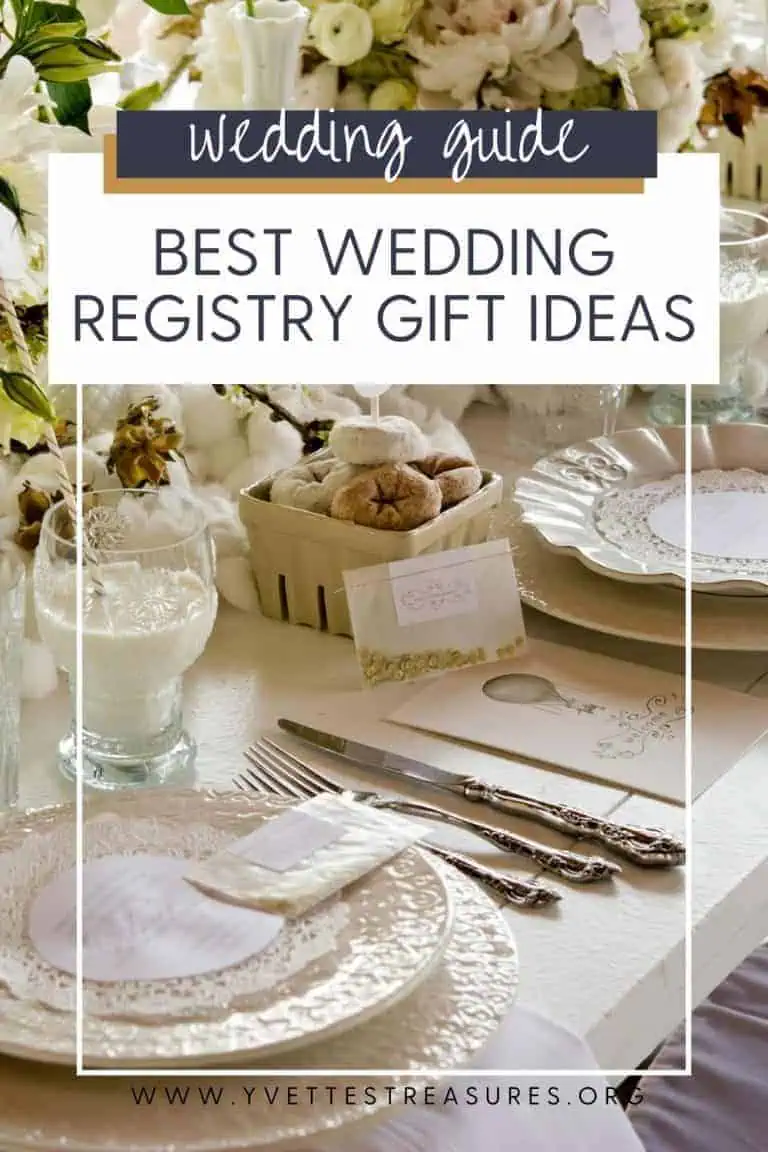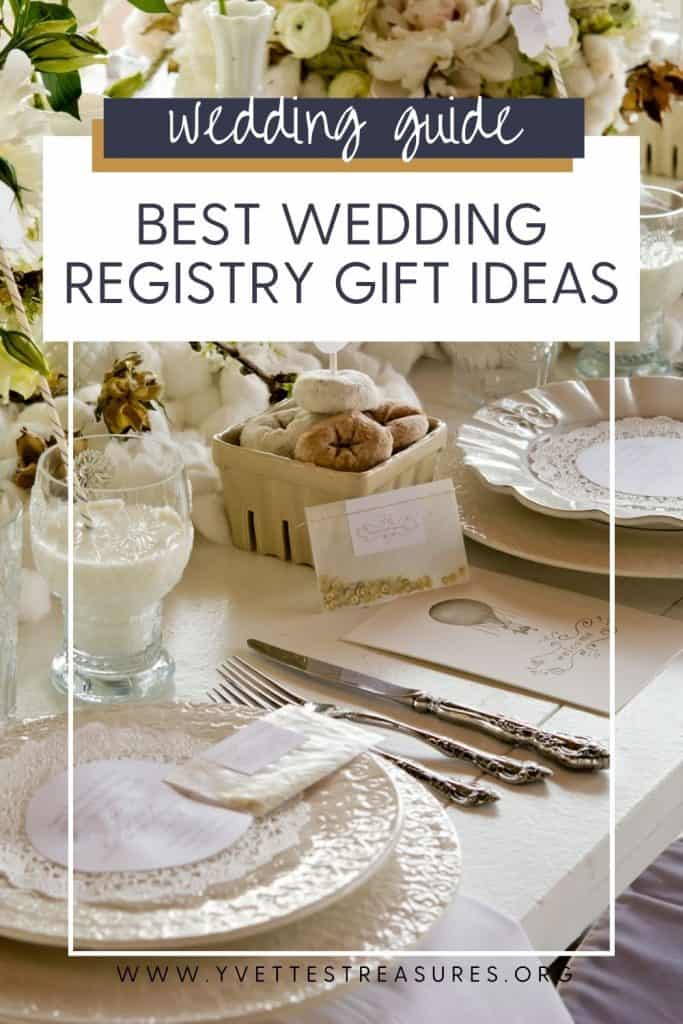 Summary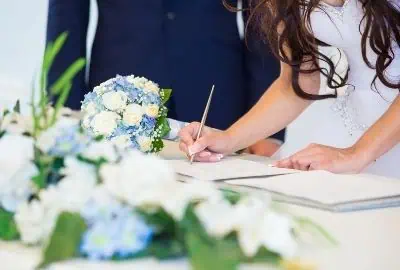 Article Name
15 Good Wedding Registry Gifts To Add To Your Special List
Description
A wonderful list of good wedding registry gifts for the newlyweds. A variety from kitchenware to outdoor entertainment. These will all go perfectly on the wedding gifts registry list.
Author