This post may contain affiliate links. I may receive commissions for purchases made through these links with no extra cost to you. See full disclosure.
Last Updated on September 22, 2021 by Yvette's Treasures
Super Cute DIY Halloween Costumes For Kids
At our house we love to dress up so I just had to share my cute DIY Halloween costumes for kids. On this page not only will you find super cute DIY Halloween costume ideas, but they are real easy to make. There are also one of two for the moms who love to sew.
Halloween Costumes For Kids    
It's Halloween night! You're planning to go to a party, but you don't know what kind of costume to wear.
One option is to dress as your favorite character from Harry Potter, like Hermione Granger or Draco Malfoy, the other is dressing up as something more creative and original.
I would recommend going with an original costume because it will be way more memorable than just any old Harry Potter outfit.
For example, I once went as a chicken nugget for Halloween and people were so confused by my choice that they took pictures of me all night long!
It was such a great time and I gave out tons of candy because people loved taking photos with me.
Easy Unicorn Halloween Costume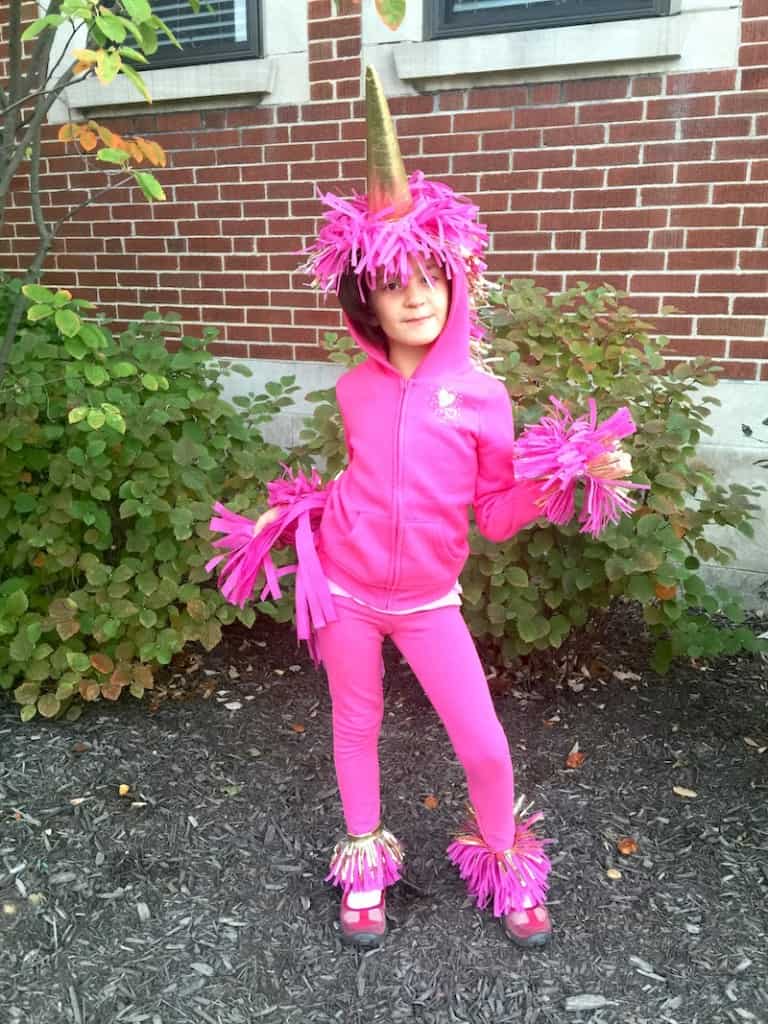 The little unicorn in your family comes to life with this easy costume. With just a pair of leggings, a hoodie, and a few crafty materials, and this easy to make costume is ready to make your child's life magical – at least for one evening!
Easy No-Sew Baby Lion Costume  
This sweet little baby lion costume is completely charming, especially when completed by your child's smiling face. This costume is easy, requires no sewing, and yet delivers in a big way, turning adorable children into fierce beasts in no time at all!
Cute DIY Halloween Costumes For Kids
Here at our online gift site we absolutely love anything DIY. Whether it be fun Halloween crafts or homemade Halloween costumes for kids. These homemade kids Halloween costumes are ever so cute!
Click here for more super cute Halloween costumes for kids
Simple Shark Costume with Dorsal Fin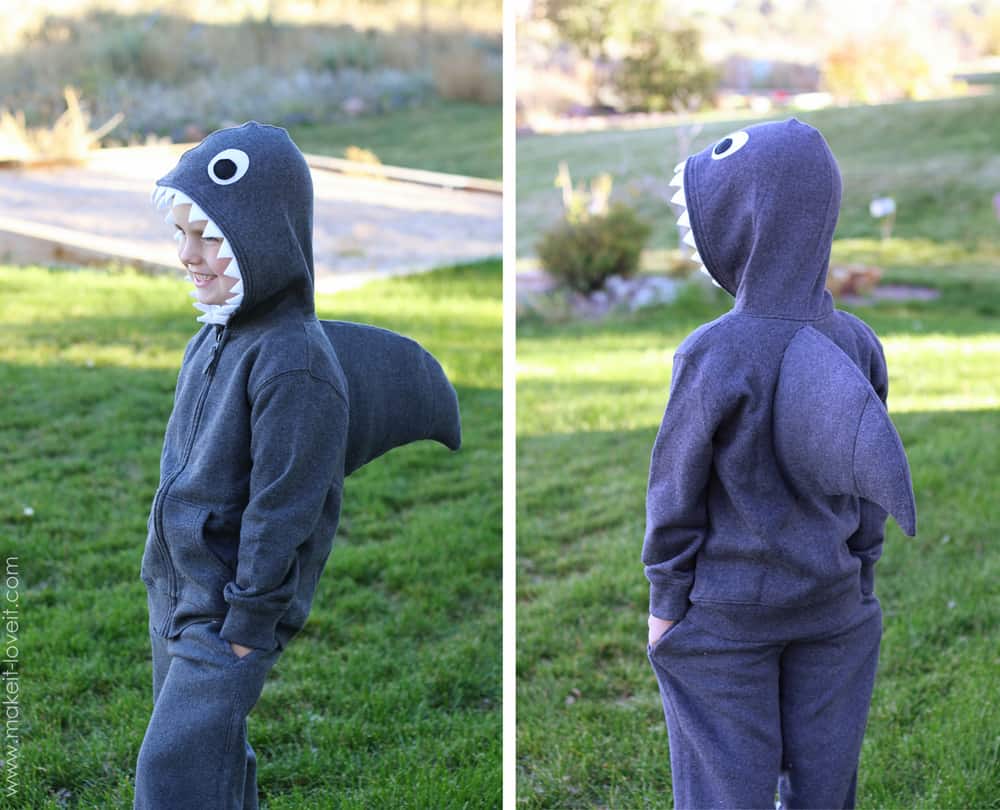 If your kids are into looking fierce, this simple shark costume will have them in style in no time. It starts with grey sweatpants and shirt.
Simple and inexpensive, you also won't have to worry about your kiddo being cold on Halloween night. And embellishing the sweats to bring out the shark is much easier than you might imagine.
Click here for free Halloween printables for kids
DIY Mermaid Under The Sea Costumes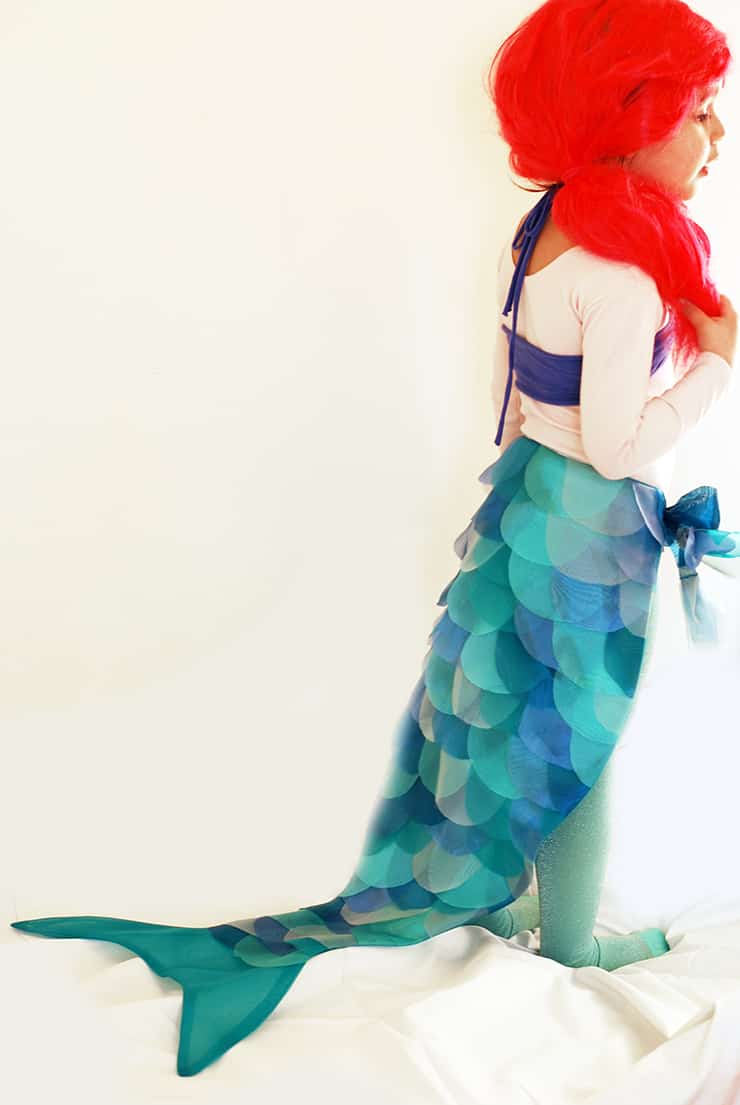 This is the costume every young mermaid has dreamed of. The shimmery mermaid tail looks like it would be right at home in the sea. Although the costume allows dry-land mermaids to walk around, they are sure to feel like they are swimming the whole time.
DIY Felt Monarch Butterfly Wings Tutorial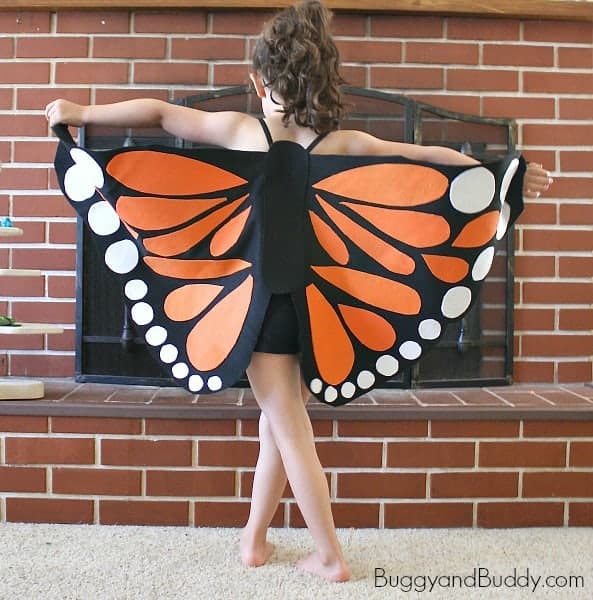 Is there anything more delicate and graceful than a Monarch Butterfly? When you turn your young child into a butterfly, watch all their natural grace come out, too. This cute Halloween costume is pure enchantment!
DIY Minion Costumes    
If you are an intermediate to advanced crafter, you'll have fun creating this adorable minion costume. There's a guy and a gal minion, so your kids have their choice. And both are so cute your kids will love pretending to be minions all evening. Be sure to remind them – no slap fighting!
Click here for some scary Halloween Gift Basket ideas
Star Wars Costumes For Kids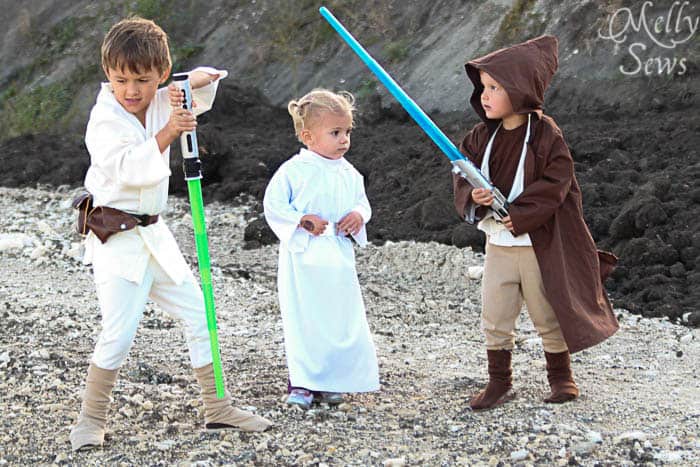 I think that these are some of the cutest Star Wars costumes I've ever seen. Perfect for families with a few children who want to stick with a single theme, these are also awesome for their parents who've dreamed of fighting for good their whole lives.
DIY Disney Elsa Dress Up
If you love to sew, you couldn't ask for a more beautiful project than creating this lovely Elsa dress up costume. Your little princess will love pretending to be the lead character from Frozen. Even better – find a way to incorporate an Olaf costume too!
Kids Maleficent Halloween Costume    
Now that we've come to know the truth about Maleficent, and how she really just wants to take care of nature, this kids Maleficent Halloween costume has taken on a whole new level of cool. It is truly stunning, and one sewing project you're sure to be proud of!
Cinderella Costume – Cute Halloween Costumes For Kids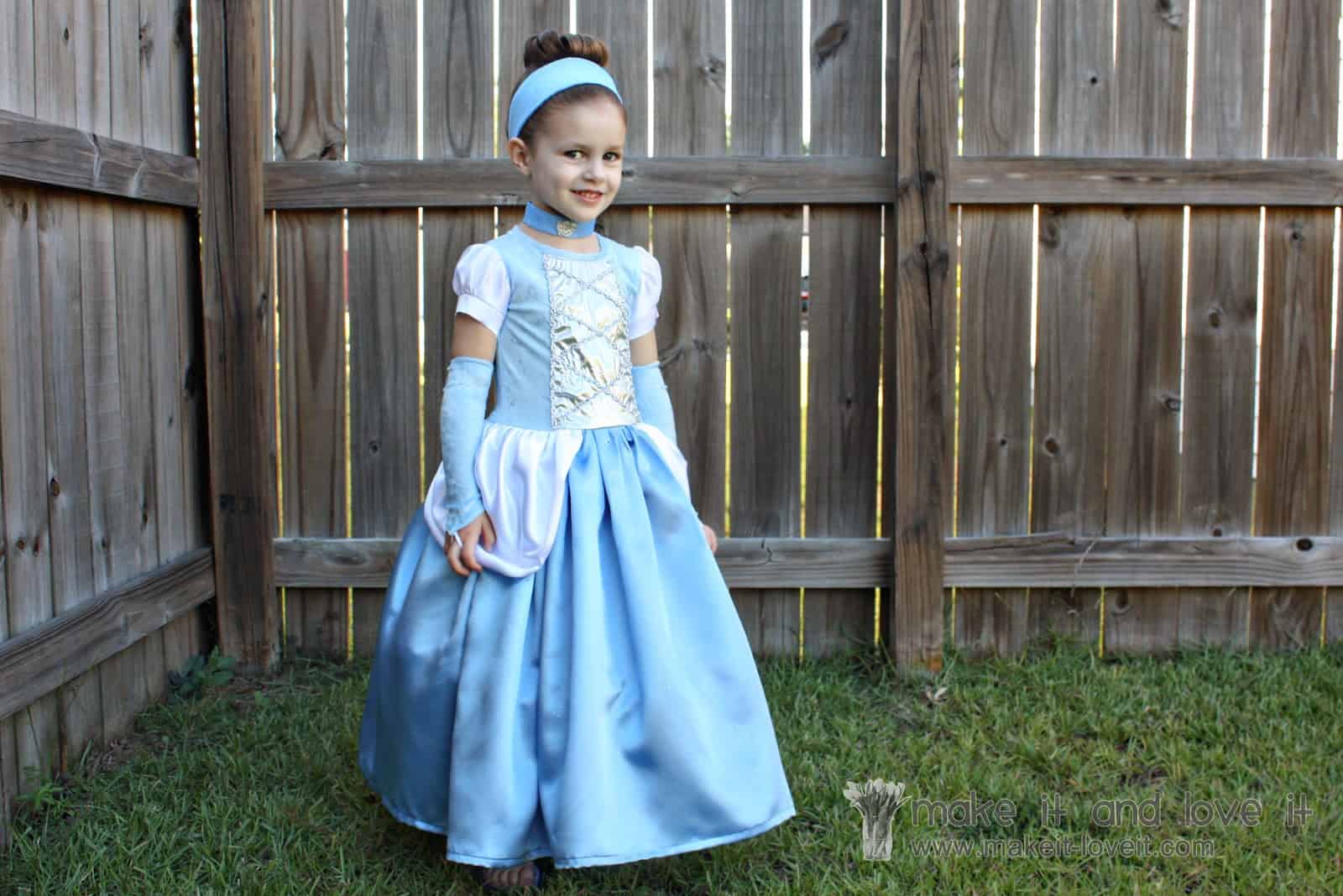 This Cinderella costume is simply stunning. High quality and with loads of attention to detail, your child will feel and look like true royalty in her beautiful gown. Unfortunately, there's no way to make it change from blue to pink, and back again, but it's still pretty magical!
Jake and The Neverland Pirates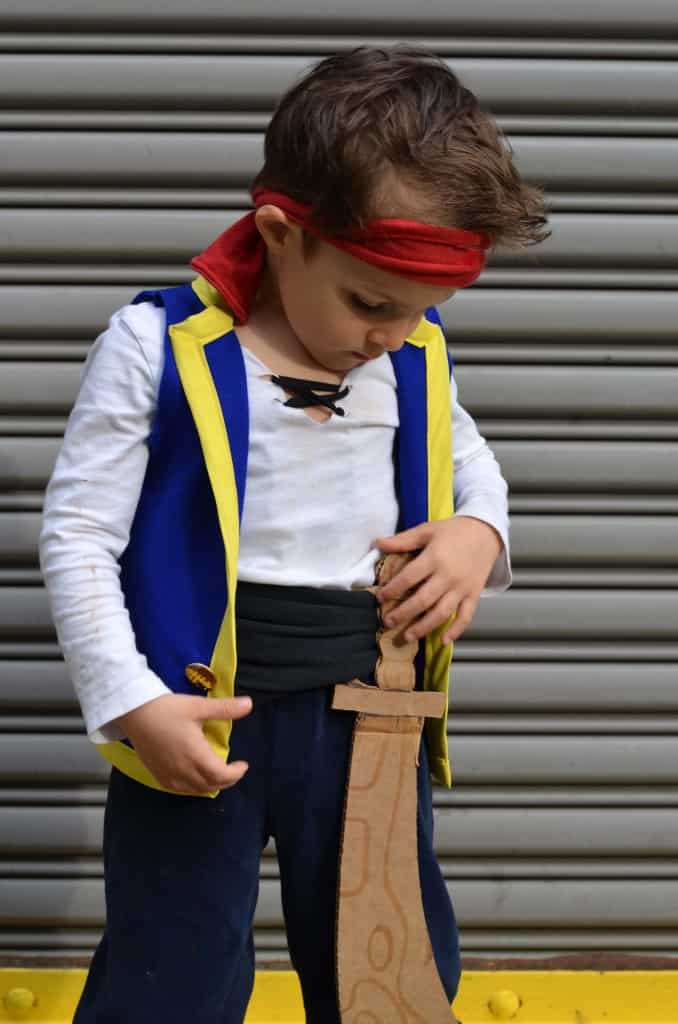 Do you have a little pirate in your life that just can't wait to go hunting for pirate treasure in the form of Halloween bootie? If so, you know how much you need this Jake and the Neverland Pirates Costume! This thing will give your kid swagger!
If you're going to a Halloween party and you need to take a gift then take a look at these fun Halloween toys. The recipient will love them!
DIY Baby Bee Costume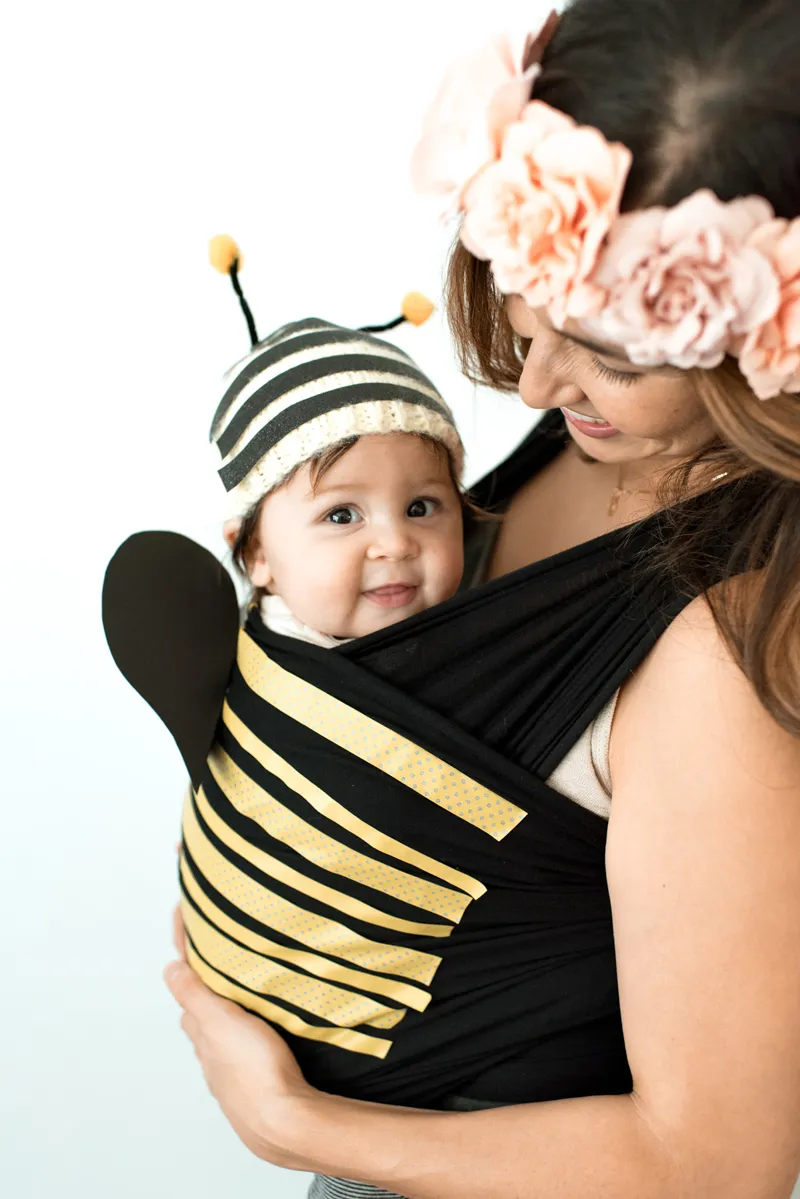 Little ones grow up much too fast and that is never more obvious then when they are babies. And when else in your child's life can you dress them up as an adorable little bee? And with you as the flower, your little bee can nestle safe and sound all evening long. How precious is that? Talk about cute Halloween costumes!
Homemade Garden Gnome Costume    
This cute little homemade garden gnome costume looks so real, your child will look quite at home in a garden. But this little gnome can walk around getting lots of Halloween candy, which makes this a truly magical costume!
DIY Scuba Diver Halloween Costume
This costume will make the cutest little scuba diver you have ever seen. It looks so good, you can almost imagine your child being followed by random marine life, swimming through the air!
Peacock Tutu Tutorial
Is there any bird more bright and cheerful than a peacock? When your little one puts on this peacock mask and awesome tutu, they will be imagining all those feathers belong to them for real. No one can resist giving a peacock all the candy in the basket!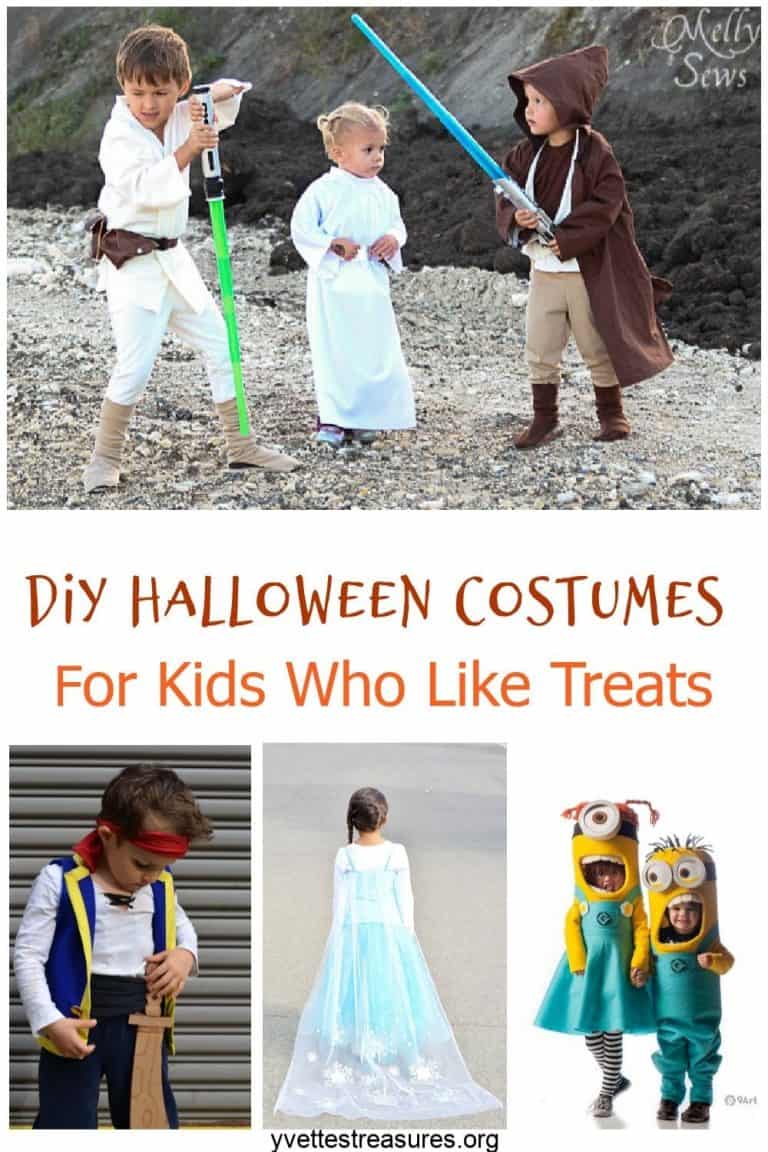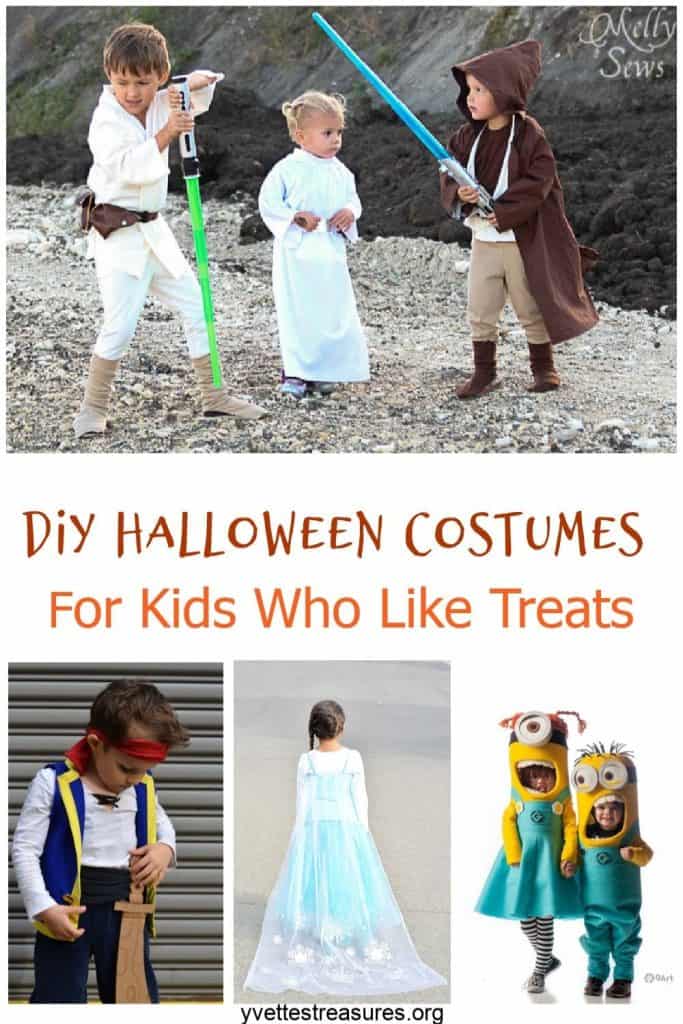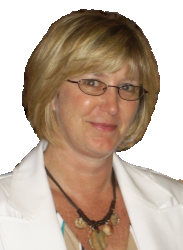 Latest posts by Yvette's Treasures
(see all)
Summary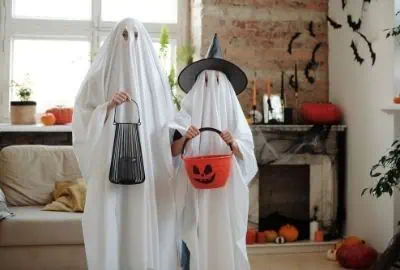 Article Name
15 Cute DIY Halloween Costumes For Kids Who Love To Dress Up
Description
We have really Cute DIY Halloween Costumes For Kids of all ages. So easy and simple to make. Some Halloween costumes require no sewing at all.
Author