This post may contain affiliate links. I may receive commissions for purchases made through these links with no extra cost to you. See full disclosure.
Last Updated on August 11, 2021 by Yvette's Treasures
DIY Spooky Halloween Crafts For Kids
This page has a wonderful selection of spooky Halloween crafts for kids to keep them busy and happy. When it comes to DIY and crafts you can never go wrong.
Not only is there plenty of fun to be had, but creative learning as well. Try out one (or even a few) of these great Halloween craft ideas for kids.
Simple Accordion Fold Paper Bat Craft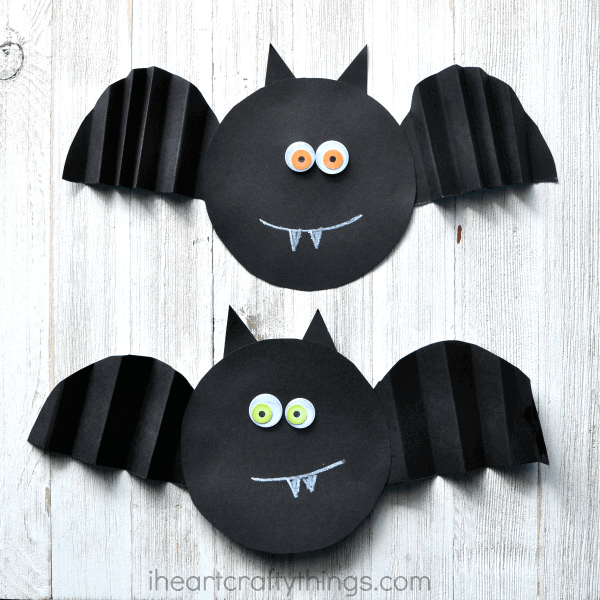 This adorable craft makes the cutest little bat. Small children get the chance to practice folding to make the little accordion folded wings. But it's really the eyes and the little sharp teeth that sells this bat!
Spiderweb Window Clings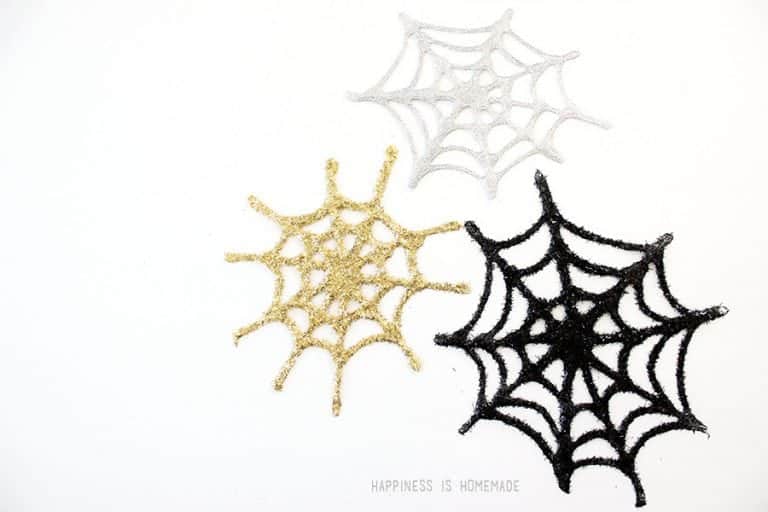 These window clings are really cool and creative. They are made with glue and glitter and when completed, allow you to put sparkly spider webs on all the windows of your house. Your kids will be so proud of these!
Fun Spooky Halloween Crafts For Kids
Here on our gift site we love to celebrate Halloween, and what better way to do that than with a party? Check out these brilliant ideas for a Halloween party, and add some of these easy Halloween party recipes. They are to die for, your guests will absolutely love them!
If you're looking for some fun DIY Halloween costume ideas then you will just love these. They are so quick and easy to make.
Spooky Spider Craft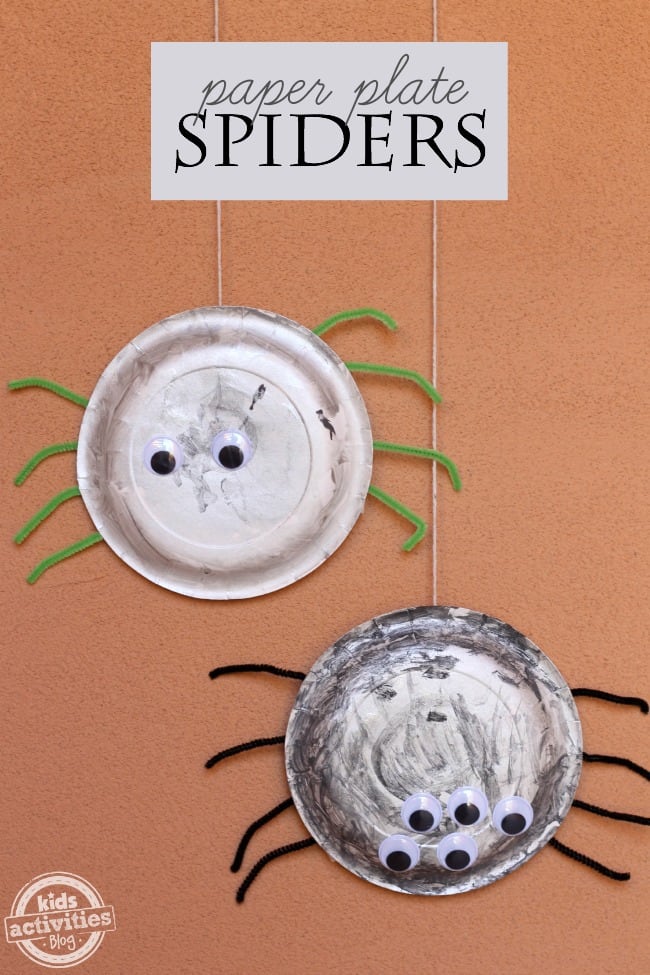 It's so much fun seeing all the things you can do with a paper plate. And this craft shows you how easy it is for your kids to turn simple paper plates into spiders. Their long pipe-cleaner legs look ready to carry these creatures right across the table!
Click here for some free Halloween printables kids will love to color in
Pumpkin Mummies
There are all kinds of cute ways to decorate pumpkins, but this is one of the easiest for even the smallest child. When wrapped in gauze, complete with googly eyes, these cute little mummies are ready to celebrate the holidays!
Super Easy Ghost Craft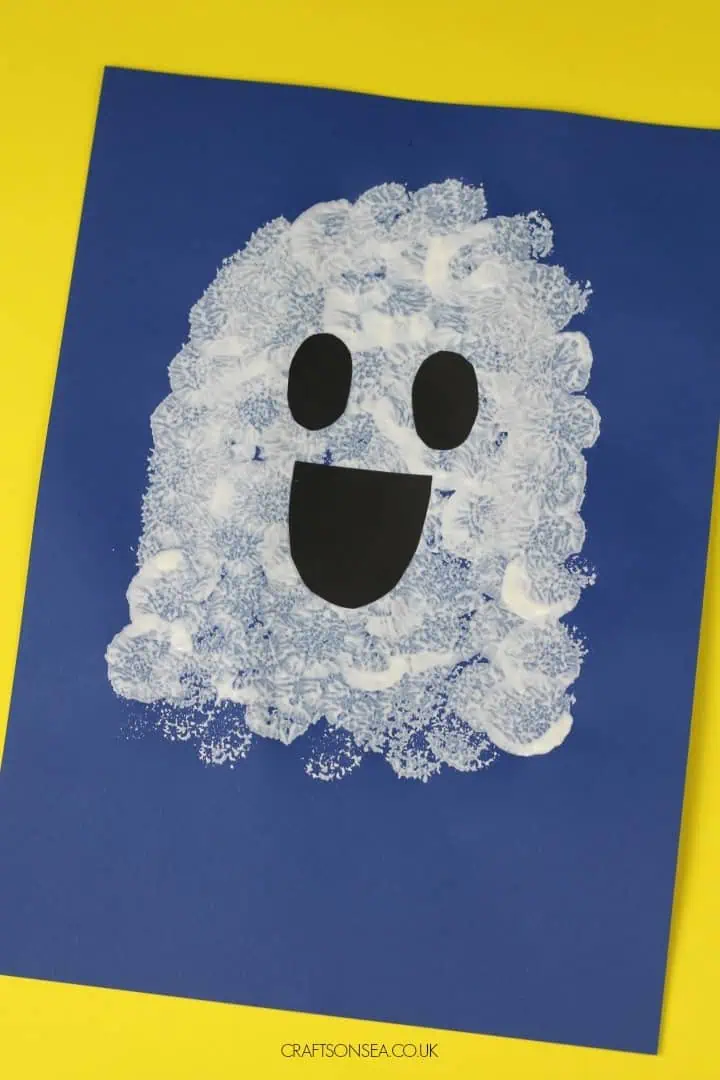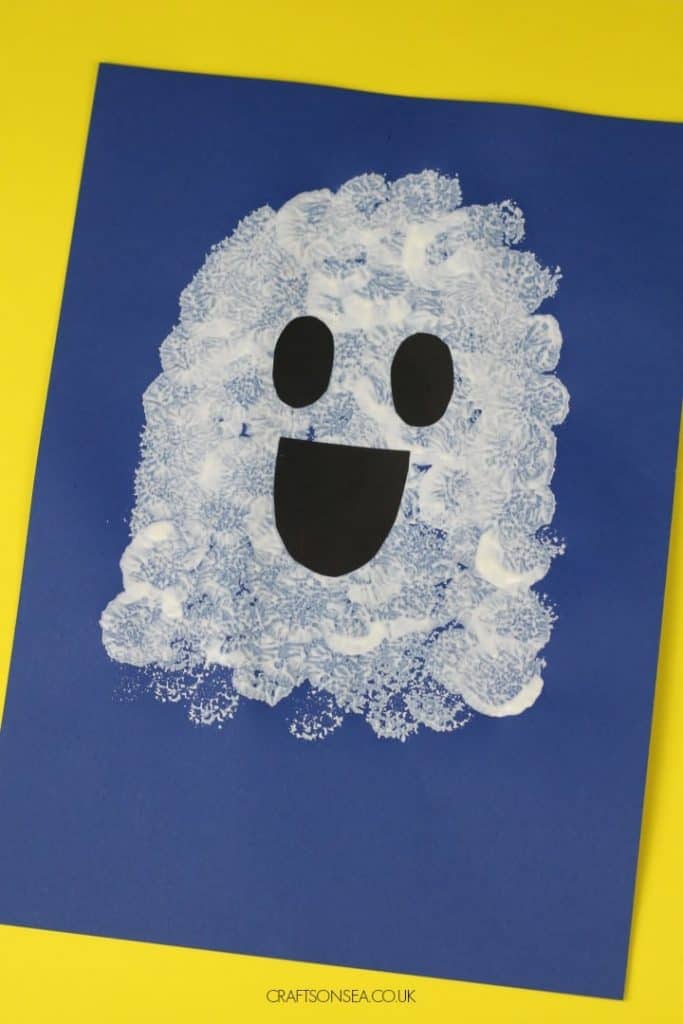 This friendly little ghost craft is so adorable. It's easy to make, even for small children. And the ghost looks so happy and friendly, your kids may want to make even more new ghost friends to join him!
Toilet Roll Bat Buddies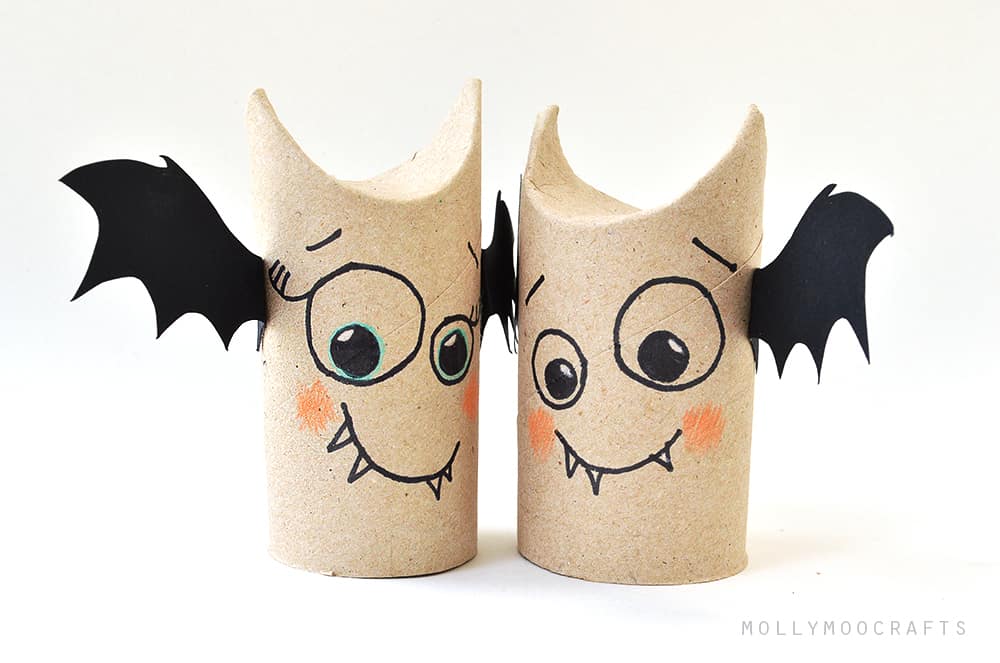 I bet you never knew that toilet paper rolls could look so cute! These little bats are so wonderful, I want to start collecting toilet paper rolls now so I can have a nice collection of bats filling my window sills between now and Halloween. This is a great craft for kids – and kids at heart!
Click here for some scary Halloween gift basket ideas
Cupcake Liner Bats Halloween Craft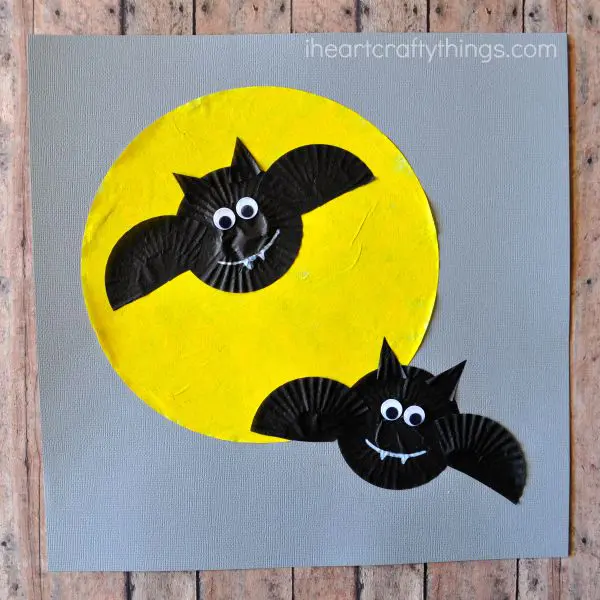 I think that cupcake liners are my new favorite crafting supply. For years, I just thought of them as something to fill with brownie or muffin batter. And of course, I still do. But if I can make bats with them as well as delicious desserts, why not?
Spooky Spider Soap Halloween Crafts For Kids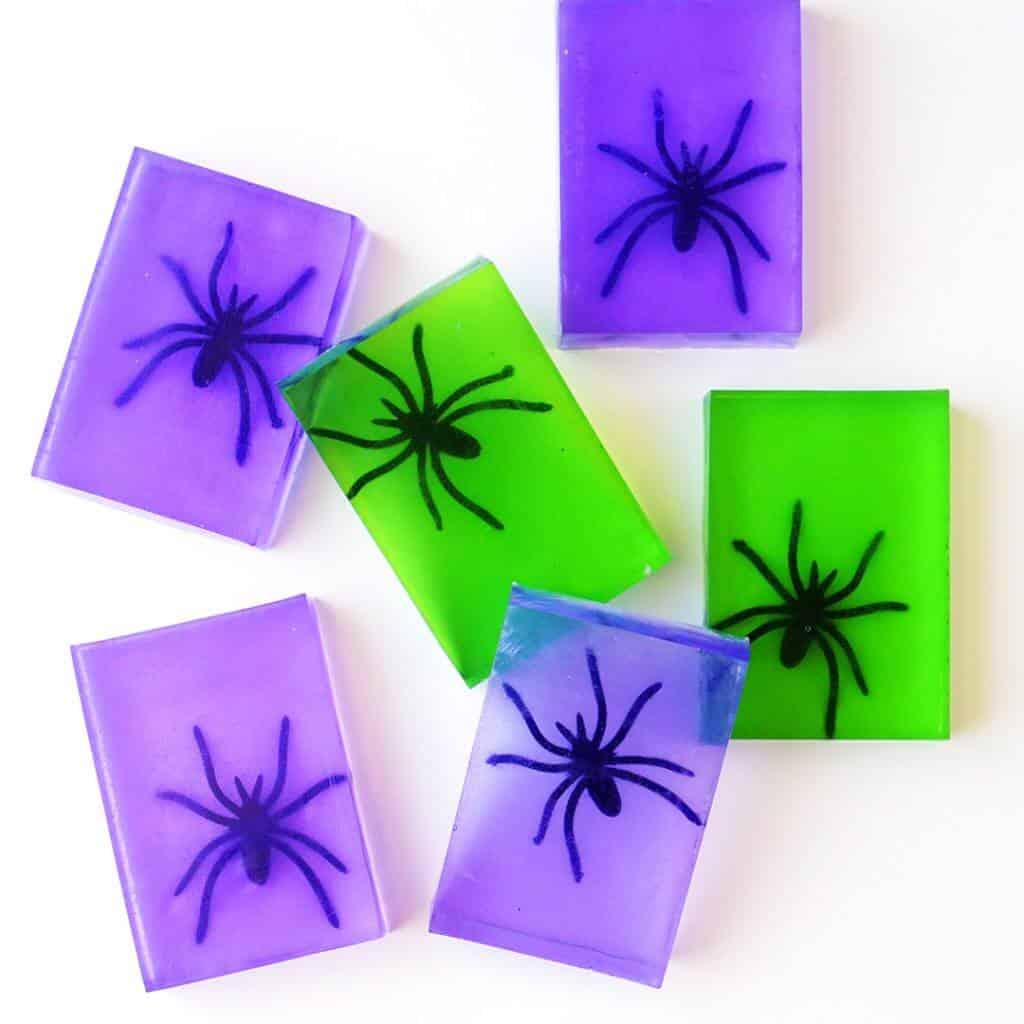 This craft is great for older kids, but younger ones will need your help. Even the smallest child can have fun dropping spiders into the soap molds, though, especially if you make a game out of it. And how cool looking is that soap?
Paper Plate Black Cat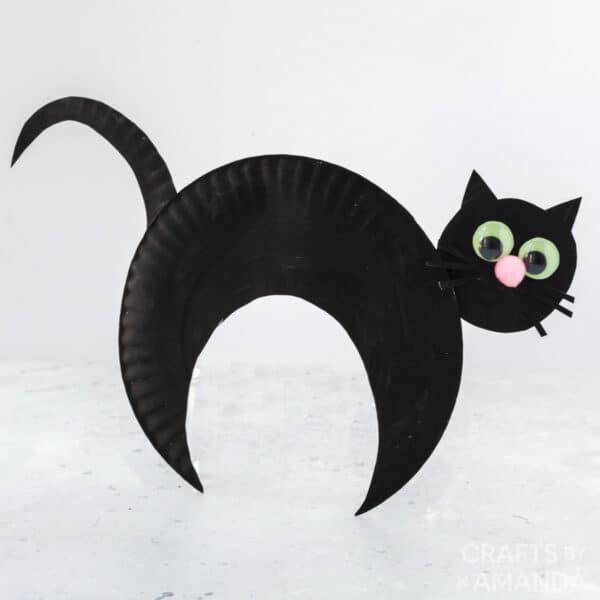 I just love this black cat craft made out of a paper plate. Kids will have a lot of fun with this one, making the perfect fierce kitty with an arched back, looking all kinds of tough and scary, as black kitties are supposed to do on Halloween!
Click here if you're looking for the best Halloween toys for kids
Spider Web Craft for Kids for Halloween Using Yarn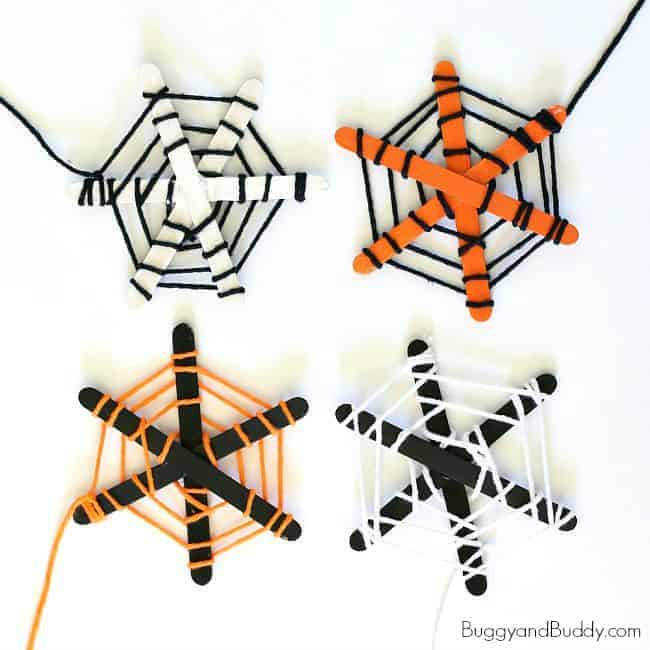 Teach kids the beginning stages of making string art with these cute little spider webs. Yarn and popsicle sticks make the perfect dexterity-building craft for little fingers. Plus they are super cute!
Tissue Paper Black Cat Spooky Halloween Crafts For Kids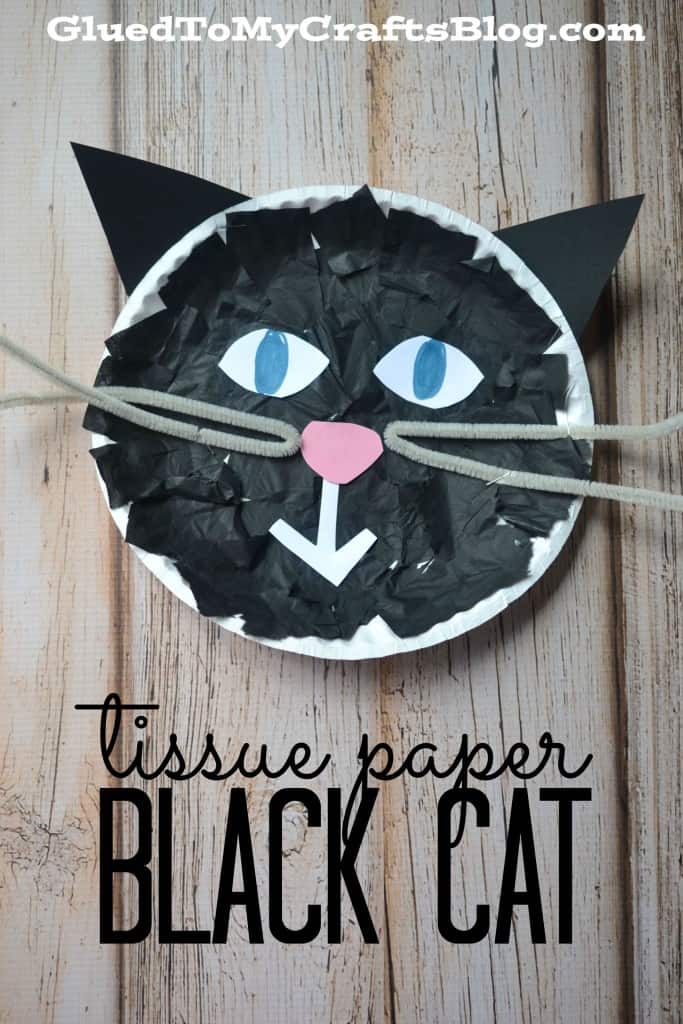 This is another black cat made from a paper plate. But this one focuses in on the super-sweet kitty face. And it's so much fun to make, your kids will probably want to make more than one!
DIY Bat Corner Bookmarks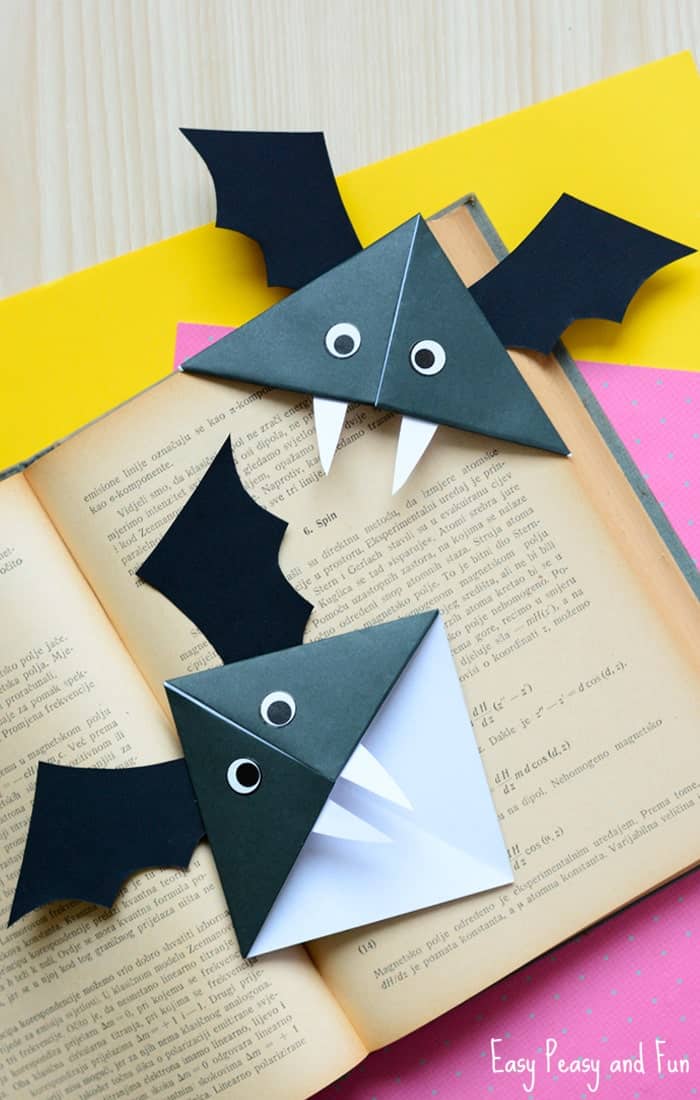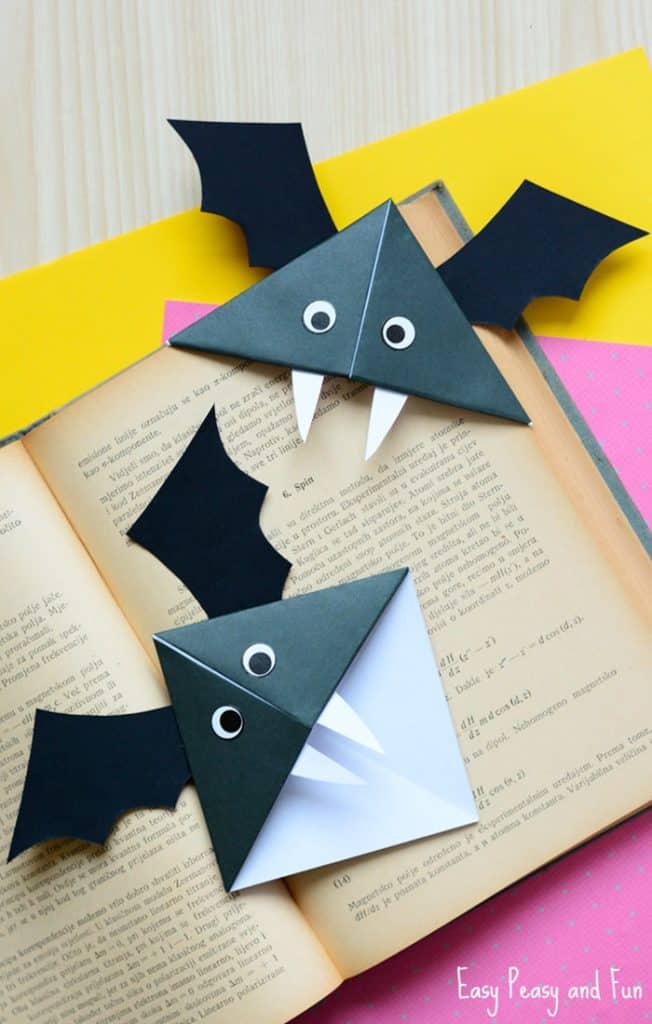 These cute little bats are such adorable bookmarks. And kids with good paper folding skills can happily make these for themselves and every book-loving friend in their life. Even non-readers might be tempted to pick up a book after they see these bats!
Click here for unique Halloween gifts for women
How to Make Halloween Pumpkin Salt Painting with Kids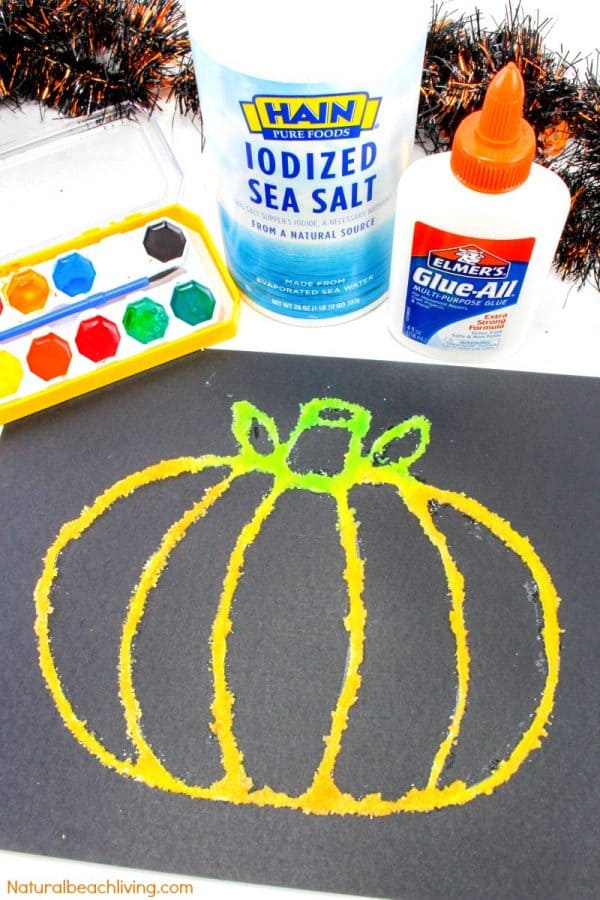 Salt painting is a fun craft and when you get your kids busy making this sweet little pumpkin, they may not stop with one pumpkin. This cool project is full of 3D personality and if your kids can imagine it, they can create it!
Pumpkin Fairy Garden for Halloween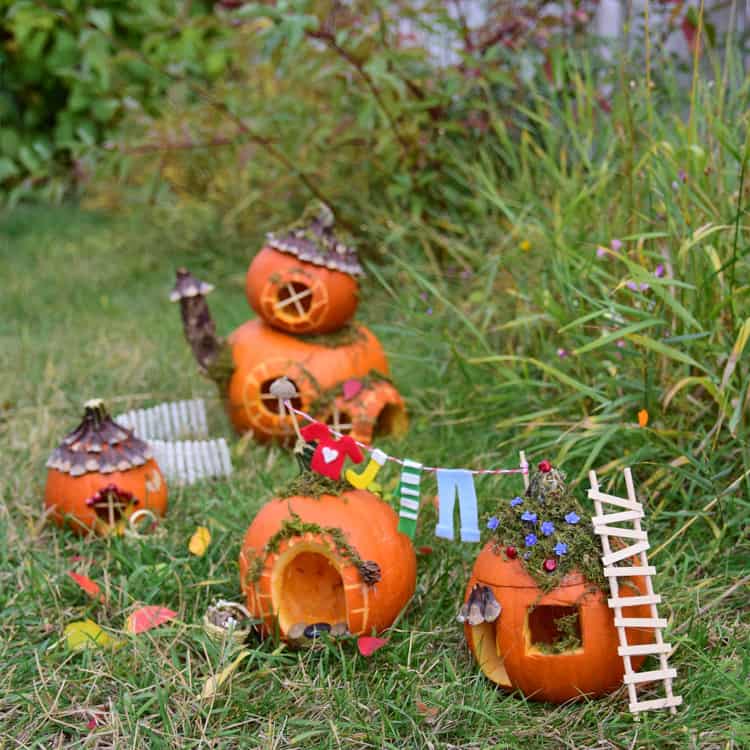 This pumpkin fairy garden is one of those family projects that kids can participate in based on their abilities. There are all kind of cool ways to create a little fairy pumpkin village, and no way to do it wrong. Plus, it's a fun change from the typical jack-o-lanterns!
Cute Clothespin Button Bat Halloween Craft Idea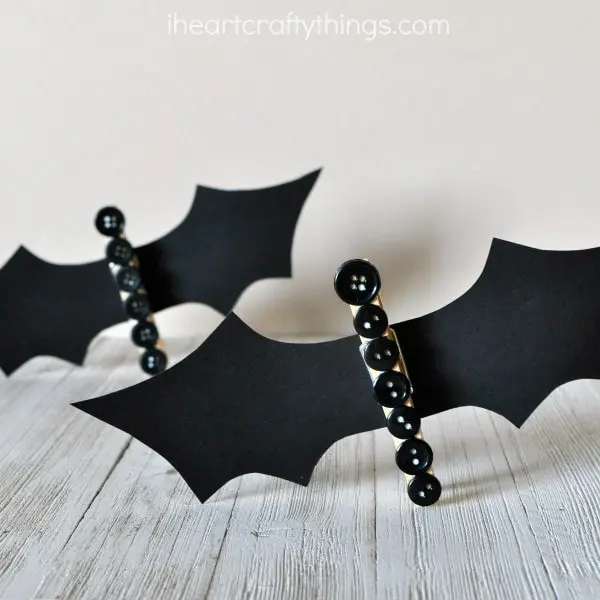 With just a few simple things – buttons, a clothes pin, and some craft paper, your kids can create these wonderful bats. Even better, the clothespin means that you can attach your bats anywhere you want, covering your house inside and out with adorable little creatures of the night. You can even wear one in your hair!
Click here for more creative Halloween craft ideas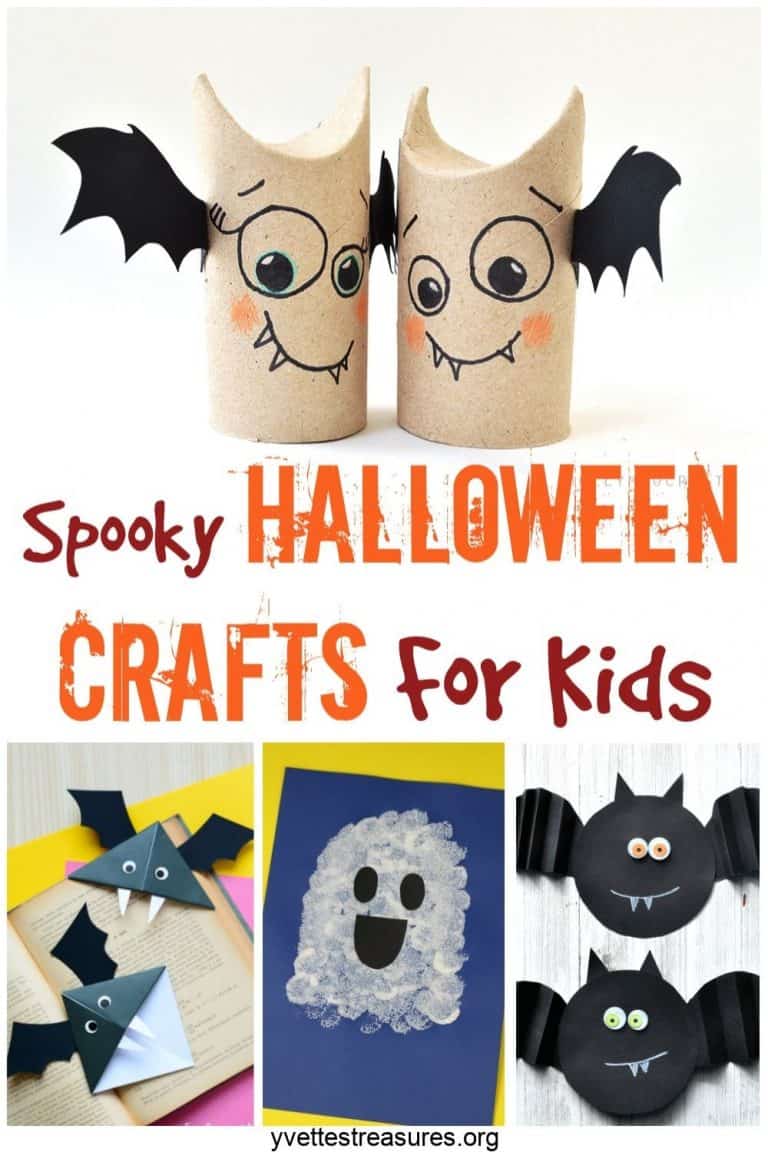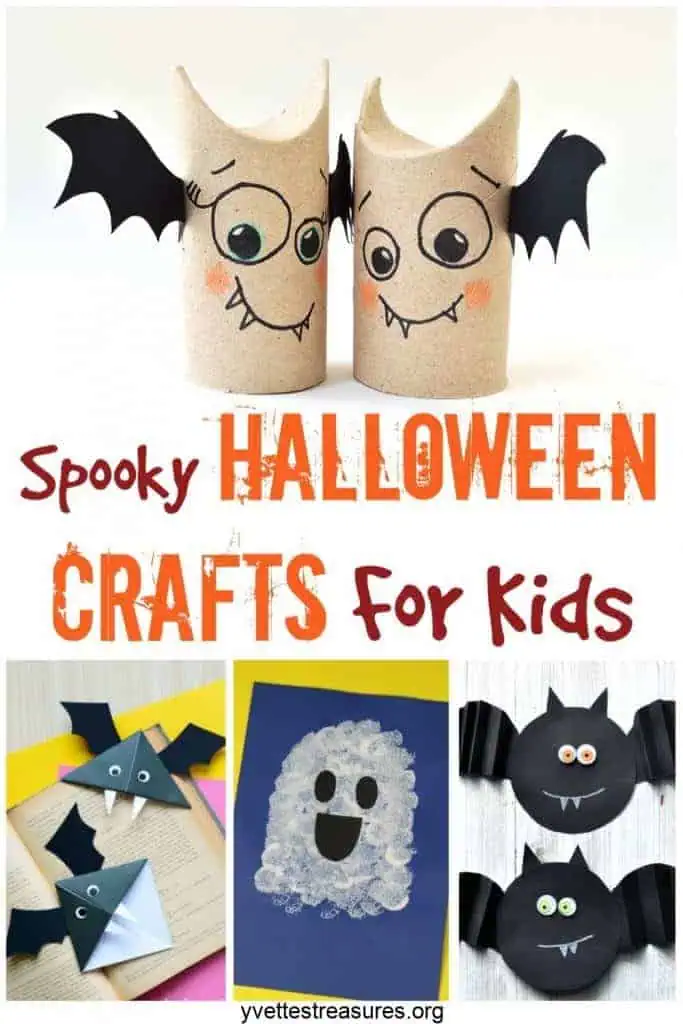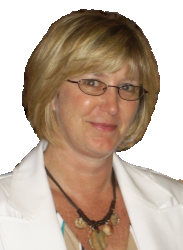 Latest posts by Yvette's Treasures
(see all)
Summary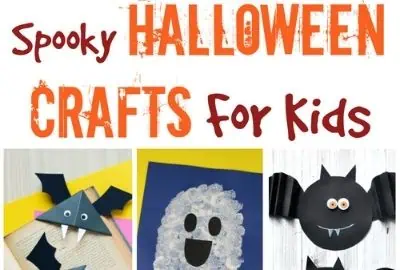 Article Name
15 Spooky Halloween Crafts for Kids (Quick And Easy To Make)
Description
A wonderful collection of Spooky Halloween Crafts for Kids. DIY Halloween crafts they will love!
Author