This post may contain affiliate links. I may receive commissions for purchases made through these links with no extra cost to you. See full disclosure.
Last Updated on August 14, 2022 by Yvette's Treasures
Unique Halloween Gifts For Women
Quick Links to Info on this Page
It's Halloween season and if you're looking for Halloween gifts for women that are special and unique we have a wonderful selection with plenty of Halloween gift ideas especially for her. We can also help you with scary gift basket ideas for those loved ones that are further away and not so easy to visit. It's a great way to wish them a Happy Halloween!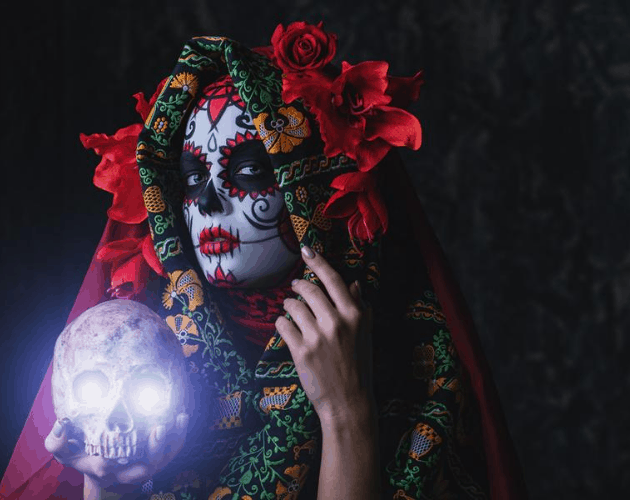 Let's not forget the little ones. We have some really spooktacular Halloween toys for little ghouls if you're looking for gifts for family members. After all, Halloween is a holiday to be enjoyed by all, and who loves a spooky gift more than the kids? 
Halloween Gifts For Her
Sugar Skull Compact Mirror
Vintage Sugar Skull Design – The front of each mirror compact features the colorful, "smiling" face of a Day of the Dead skull! Not only does this cute Halloween compact mirror have dual mirrors, the playful patterns and colorful rhinestones will truly astonish. It also comes with a stunning gift box all ready to go!
Compact Personal Mirror for Makeup (Sugar Skull) Vintage, Antique Day of the Dead Decorations
---
Midnight Witch Coffee Mug
This beautiful extra large midnight mug can be used for your hot chocolate, Keto coffee, or your spicy pumpkin soup on those cold Winter nights.  Hidden within is a magical galaxy design that will transport you to the moon and back with every sip.
It comes in the most enchanting box surrounded by Moons and Stars, making it an amazing festive gift for all your friends whether they are into Harry Potter, witchcraft, occult, astronomy, constellations or Wicca.
Large Midnight Coffee Mug in Gift Box – 17.6oz 500ml Porcelain
---
Glow In The Dark Bat Necklace
This beautiful sterling silver bat necklace contains a luminous bead that can be recharged under sunlight or a UV light. The glowing bat necklace makes it especially vibrant and eye-catching in the dark. Why not get the matching bat earrings to complete the gift.
925 Sterling Silver Bat Necklace That Glows In The Dark
---
The Witch's Book of Self-Care
This Witch's Book of Self-Care is such a wonderful Halloween gift idea for women. Self-care is a necessity for any modern woman, and this book helps you prioritize #1 with a little help from the magic of witchcraft.  
Learn how to nourish your body and spirit with these recipes of herbal remedies, spells, and rituals with this enchanted guide on Halloween night!
The Witch's Book of Self-Care: Magical Ways to Pamper, Soothe, and Care for Your Body and Spirit
---
Nightmare Before Christmas Socks
These Nightmare Before Christmas themed socks come in assorted prints and colors. A great idea for Halloween themed gifts for goody bags.
Nightmare Before Christmas Women's 5 Pack No Show Socks
---
Magic Witch's Brew Bath Bombs – Halloween Gifts For Women
Add this Wicked Addition to your bath routine. What woman doesn't like to relax in a warm bath with a blend of essential oils. These witch's brew bath bomb is so invigorating, and has a wonderful relaxing smell.
Just put the cauldron right into the bath, and watch as the magic happens when the colors create a new color in your bath tub!

---
Sugar Skull Daypack And Purse Set
Secure your belongings in this super cool Sugar Skull daypack with its drawstring magnetic snap closure. The single compartment is spacious, lined with fabric  and has a zippered pocket.
The front pockets have a magnetic snap closure. The matching purse also has a removable extra strap. There are plenty of reasons why this gift would make a great addition to the spooky season.
Sugar Skull Day of the Dead Daypack And Purse Set
---
Skull-Shaped Lip Balm – Halloween Gifts For Her
FUNCTION MEETS DESIGN with this pack of 3 Skull-Shaped Lip Balm. Enjoy 1 mint, 1 passion fruit and 1 vanilla. The bottom of the balm is embossed with the quotation: "Be all my sins remember'd"- Hamlet!  These would make a great addition to Halloween gift baskets or as party favors.
Skull-Shaped Lip Balm Shine-Free Moisturizing Gift Set – Mint, Vanilla & Passion Fruit
---
The Beauty of Horror Coloring Book
Get that red crayon ready! With this coloring book for adults channeling The Walking Dead meets The Secret Garden, comics creator/rock star Alan Robert invites fans of horror to discover their inner-colorist. 
The Beauty of Horror 1: A GOREgeous Coloring Book
---
Halloween Body Butter
This Halloween body butter is so moisturizing (and smells delicious) that you will only need a little bit compared to your usual body butter. The jar will therefore last you a lot longer. 
---
Human Skull and Roses Trinket Box
Check out this spooky trinket box for your jewelry or keepsakes that provides any room with a deathly Gothic flavor!
Lifting the lid of this stunning star shaped accent piece will reveal a clever surprise. Not only is this a chilling Halloween gift idea for her, but it also does double duty as a cleverly concealed stash box!
Decorative Human Skull and Roses Trinket Box with Hidden Storage Compartment
---
Book of Shadows Journal
A beautiful, high quality, handmade journal with 220 pages. A great place to write down your thoughts or even use as a sketchbook. Book of Shadows fans will be impressed with this fun holiday gift..
---
Skull Makeup Brush Holder
Oh I just love this wicked vanity skull makeup brush holder! Don't you? Your vanity or even desk will be an instant show stopper! A perfect way to organize your brushes, lip glosses, mascaras, hair tools, office supplies, pens, paint brushes, and more in a stylish way.
Skull Makeup Brush Holder, Pen Holder, Vanity, Desk, Office Organizer, Stationary, Decor Planter
Related: 39 DIY Halloween Craft Ideas
Battie Bookmark – Great Ideas For Halloween Gifts
This Battie bookmark is a really unique Halloween gift idea. It has a silver tone moon charm with pink rhinestones and a cute silver tone bat charm. It will work especially well with planners and journals.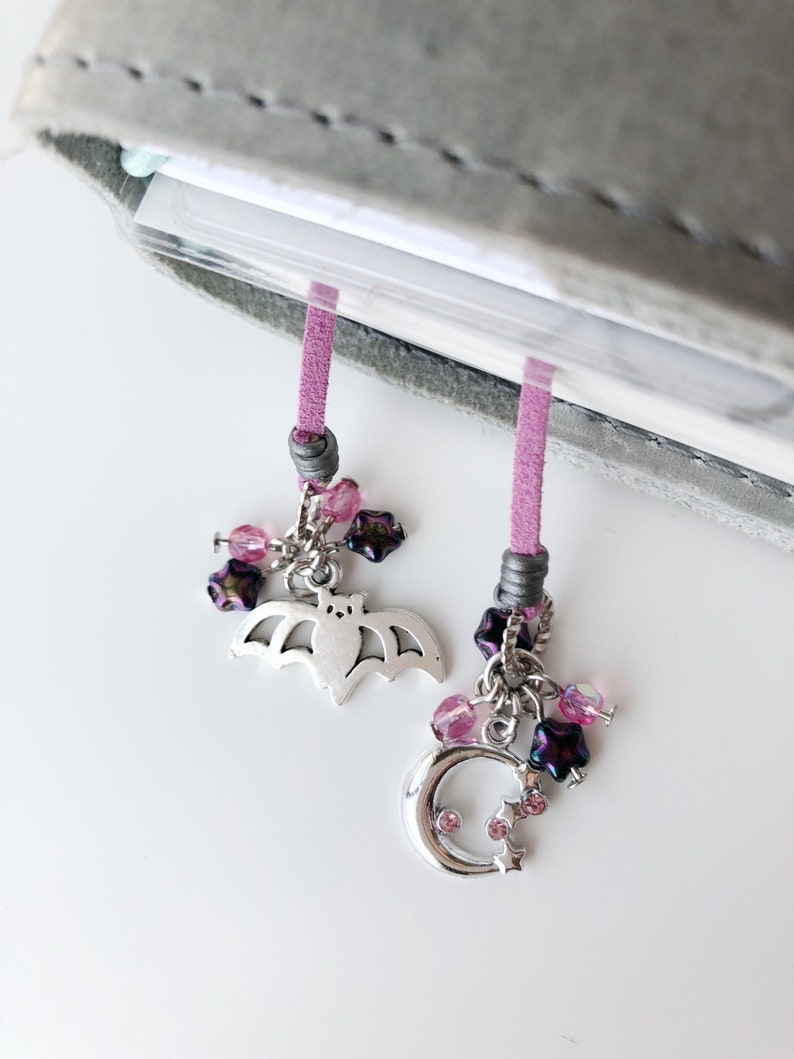 Battie Travelers Notebook Bookmark

---
Unique Halloween Gifts For Women – Day of the Dead Chocolate
6 Adorable chocolate covered Rice Krispie treats with flower Sugar skulls. The perfect Halloween treat for the girl who loves delicious treats.
---
Sleepwish Sugar Skull Blanket
Perfect for cold nights watching TV, reading a book or scary movie night. Super soft reversible crystal velvet on one side, and plush super warm lambs wool Sherpa fleece on the inside.
This blanket is 100% polyester, so perfectly fine for people with sensitive skin or allergies, is also completely resistant to shrinking.
Sleepwish Sugar Skull Blanket – Soft Fleece
---
PyroPet Candle
When it comes to gift ideas for Halloween night who doesn't like candles or a cat? Put the two together and you've got the best combination. This cute cat shaped candle reveals the wild Beast inside her, a grinning metallic skeleton with fire blazing in her eyes.
It burns for approximately 20 hours, is available in 5 different colors, and comes in a beautiful grey color gift box.
---
Wristband For

Fitbit Charge 2
Are you looking for ideas for Halloween gifts for women who love to work out, then this skull replacement wristband for the Fitbit Charge 2 is just what you've been looking for.
I have a plain wristband, I didn't realize that there were so many wonderful replacement ideas until I came across this one. Imagine getting one for each holiday. Awesome!
Compatible with Fitbit Charge 2, Replacement Accessory Wristbands
---
Halloween Earring Gift Sets
I love silver jewelry, and these Halloween earrings are just stunning! They would make a wonderful gift for my best friend. You can even put them in goody bags for your female guests if you're having a Halloween party, I'm sure they will love that.
---
Day of The Dead Throw Pillow Cushion Cover
Add a little color to her room with this creative throw pillow cushion cover. High quality fabric with double sided print and a zipper for easy washing. It will make a great addition to the spooky holiday.
Ambesonne Day of The Dead Throw Pillow Cushion Cover
---
Women's Skull Scarf
Scarves are always a great Halloween gift idea for women. This one is super soft, light and will make a wonderful accessory for fall or summer.
Women's Skull Scarf, Black, One Size
---
Damon Salvatore Vampire Candle – Halloween Gifts Women Will Love!
Who here can say they don't think Damon Salvatore is super sexy (sorry guys)? Ladies if you're a Vampire Diaries fan then you will know exactly what I'm talking about…hunky! 
So when I came across this Damon Salvatore scented hand poured soy candle with a hint of leather jacket and vanilla cedarwood I just had to add it to my list of Halloween gifts for women.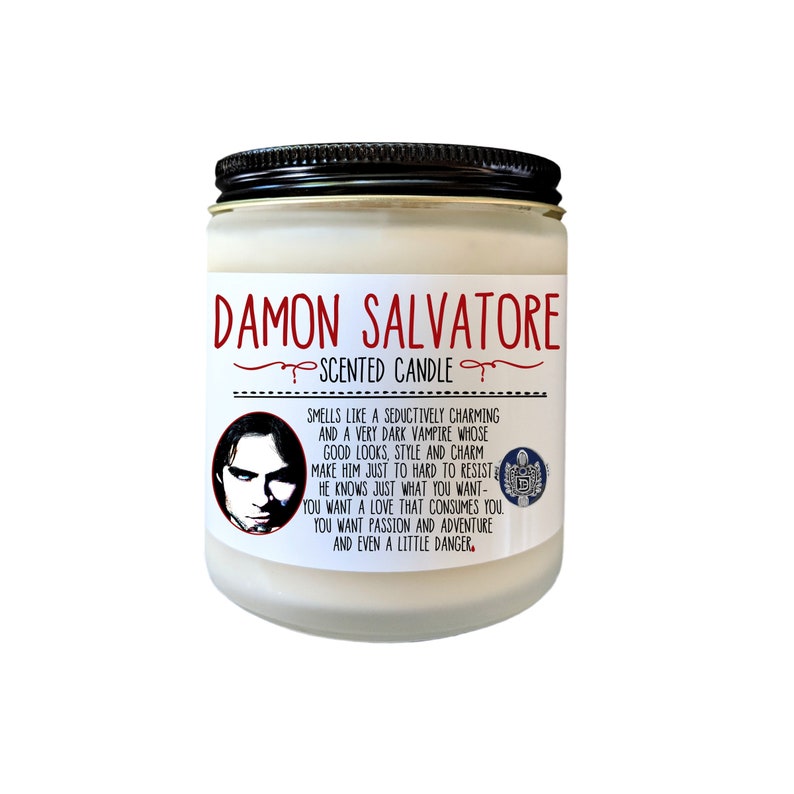 Damon Salvatore Vampire Candle

---
Halloween Pumpkin Shirt
Short sleeve Halloween t- shirts made from a soft, breathable premium cotton blend, that will keep you comfy all day long. 
---
The Starry Night Cosmetic Bag
Cosmetic bags are such useful Halloween gift ideas. Keep all your makeup tools organized and in one place. Also the perfect size for traveling.
Cosmetic Bag, Waterproof Travel bag, Dead The Nightmare Before Christmas (The Starry Night)
---
Halloween Apothecary Labels – Cool Halloween Gifts For Women
Looking for gifts for women who enjoy a glass of wine then you will love these printable Halloween wine labels. A special Halloween gift idea that will surprise.  Also a great hostess gift idea. Add a bottle of wine to the gift and you're all sorted.
---
Vampire Blood Vial Necklace – Halloween Gifts For Her
A (fake, well obviously) blood filled glass vampire vial necklace in the shape of a fang. The perfect gift idea and accessory for vampires, witches and goths! It comes on a silver necklace or an adjustable choker with sliding knots to fit any size, and looks gorgeous on. 
---
Pumpkin Lantern

Airpods Case
This 3D Halloween pumpkin design makes your AirPods look so much more attractive and unique. It also gives you easy access to the lightning port, so there's no need to take it out of the case when charging…BONUS!
New Pumpkin Lantern Case for Airpods 1&2, Shockproof Premium Silicone Cover and Skin for Apple Airpods Charging Case
Related: Get your free Halloween Printables
Nightmare Wooden Spoons Set
Add a unique touch to your kitchen with these high quality eco-friendly bamboo utensils. No more scratching of your expensive pans, and can also be used for high heat sautéing, baking and more.
---
The Nightmare Before Christmas Apron
This fun Nightmare before Christmas apron is made of 100% breathable polyester, it is very soft and lightweight. It is also waterproof therefore making it easy to clean off any spills or splatters that may occur during all the spooky fun you're having cooking Halloween treats in the kitchen.
The Nightmare Before Christmas Aprons Waterproof
---
Oven Mitts and Pot Holders Set
These oven mitts and pot holders will go perfectly with your Nightmare Before Christmas apron. No more burns when using these waterproof and heat resistant gloves.
The extra soft, breathable lining in these kitchen gloves adds heat resistance and allows you to wear them comfortably without sweating. A must-have in any kitchen.
The Nightmare Before Christmas Oven Mitts and Pot Holders Set
---
Fuzzy Feet

Halloween Gifts For Women
These ultra-soft, warm indoor slippers with super-fluffy fleece interior lining, and nonslip soles make wonderful Halloween gifts for women. They are so comfortable and perfect for lounging around the house, late nights, and lazy mornings with your favorite cuppa joe.
Related: Easy Homemade Halloween Costumes 
Black Leather Bracelet
A stunning New York designed black genuine leather snap bracelet featuring sleek, multi-colored stone skulls. With an antique gold tone finish and adjustable strap this would make a very unique Halloween gift.
Pink and Gold Black Leather Bracelet
---
Magic Makeup Brushes
Each beautifully packaged set comes with 10 unique wizard wand makeup brushes. With aluminum handles ensuring they last longer, and dense soft synthetic fibers that dispense the products evenly and are not easy to shed.
The variety of soft bristles allows for more precise application of your makeup giving you more choices.
---
Nightmare Before Christmas Halloween Crossbody Bag
An imported crossbody bag made of a durable faux leather material with printed details. It measures roughly 9 inches wide, 9 inches tall, and 5.5 inches deep. It has a clip-on tassel, enamel bag charm and a chain strap.
The bag is fully lined and has one interior zippered pocket with a magnetic snap closure to keep your valuables safe.
Nightmare Before Christmas Halloween Town Crossbody Bag
---
Halloween Floral Skull Earrings 
Halloween Floral Skull Earrings
---
Disney Jack Skellington Mug
Why not celebrate Halloween all year long with this Jack Skellington mug? The perfect gift idea for Nightmare fans!
Related: Fun DIY Halloween Crafts For Kids 
Funny Halloween Gifts For Women
Grab your pumpkin spice latte and this t-shirt to complete your fall look. Wear this funny and cute witch costume shirt to your Halloween parties this year.
The 80% cotton and 20% polyester make it breathable, stretchy and super soft. You'll be comfortable all night while dancing to your favorite Halloween song.
---
Pick Your Poison Card Game
The 'Would You Rather' board game you've been waiting for finally exists". Sparking plenty of fun conversations. You won't believe how messed up some of your friends' preferences are.
With over 300 Poison Cards there are millions of possible card combinations. A board game that will keep you going and having fun all night long.
Pick Your Poison Card Game: The "What Would You Rather Do?" Party Game
---
My Thoughts On Halloween Gifts For Women
Buying Halloween gifts are so much fun whether you're buying for your BFF or your sister, sister-in-law, mom or a hostess that has invited you to the best Halloween party on the street.
Surprise them with something a little scary (unless they love VERY SCARY) and different this Halloween. I hope you found something you liked from my collection of Halloween gifts. Happy Holidays!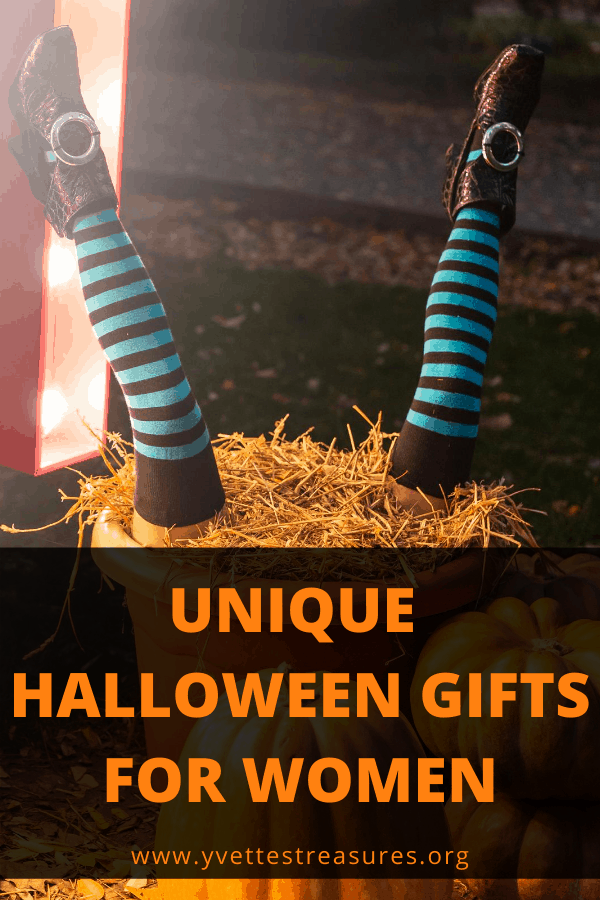 Summary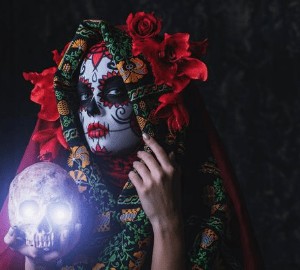 Article Name
20+ Halloween Gifts For Women - Scary Gift Ideas To Surprise Her!
Description
If you're looking for Halloween gifts for women that are special and unique we have a wonderful selection with plenty of Halloween gift ideas especially for her.
Author