Last updated on
The Best Spooky Halloween Toys For Kids 
As the moon shines bright and the werewolves howl, a witch or two can be seen on the horizon, Halloween is lurking.  Kids everywhere wait in anticipation for their annual trick-or-treat.
If Halloween happens to be your kids favorite holiday or perhaps they are celebrating a birthday, then take a look at our spooktacular Halloween toys for kids.  Yvette's Treasures has some of the most unique and thrilling children's Halloween toys and gifts available.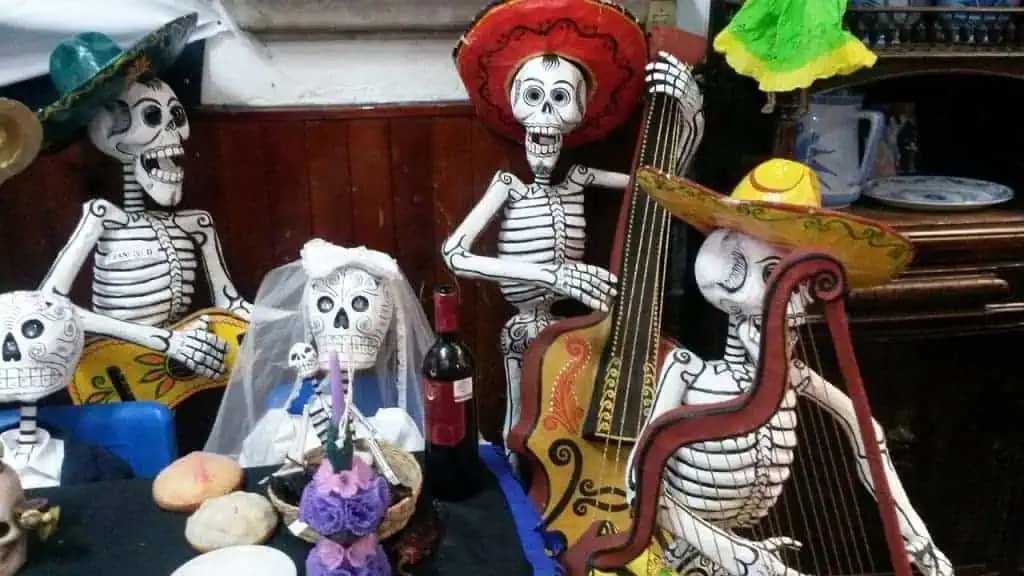 This post may contain affiliate links. I may receive commissions for purchases made through these links with no extra cost to you. 
Halloween Goodie Bags For Kids
This year I have found some really great party favors to fill the Halloween goodie bags for kids.  I wanted to add some cheap, but durable and fun kids Halloween toys to this year's Halloween goodie bags.
So after researching, I found some great toys small enough to fit into the goodie bag and still have enough space for candy.  Toys are great, but candy is a must for Halloween celebrations.
If you haven't yet bought your Halloween goodie bags for kids, you'll find some nice ones on Amazon.  If you prefer something a little more specialized, there are these beautiful handmade bags. You can't go wrong with either choice.
Here is my list of cheap Halloween toys for kids that I think you will like and that will suit the goodie bags just fine.
Halloween Rubber Ducks – Set of 12
Make a Pumpkin Jack-o-lantern Stickers
Witches Broom Pens – 24 ct
12 Assorted Bendable Zombie Theme Action Figures
Glow in the Dark Halloween EYE Bouncy Balls
Zombie Warning Sign Necklaces,2
Halloween Stamps – 24 per unit
Halloween Neon Stretchable Skeletons
Mini Emoticon Keychain Decoration
☑  Amazon Prime – Sign Up For 30 Days FREE Trial – Get Free Shipping!
Fun Halloween Toys For Kids
Tattoos are always fun.  You can put them on before you go trick-or-treating.  You can put them into the goodie bags for your party guests or you can hand them out with the candy.
---
Fisher-Price Imaginext Mini Figures, Halloween
Kids will love these 5 collectible Imaginext Monster figures. The pack includes Dracula, a Zombie, a Witch, Frankenstein and Mummy figures.
Each figure has at least one accessory included and they are the perfect size for little hands.
---
Monster High First Day of School Draculaura Doll
Draculaura, the daughter of Dracula looks boo-tiful in a pink and black dress with ruffled sleeves and bat-inspired print. Her signature look is fangtastic with touches inspired by her vampire legacy. She is totally ready for the first day of school!
This to-die for outfit comes with some amazing accessories such as a collared necklace, a black peplum belt, blue earrings, pink lace-up booties and a pink bow-shaped purse.
Did you know?  Jack-O'Lanterns were once made out of turnips, beets and potatoes – not pumpkins
Monsteroos Beeper is 12 inchs in height. He is so soft and cuddly.  Perfect for ages 1 years up to 5 years.  Take him to bed at night and he'll scare away the boogie man and keep you safe.
GUND Monsteroos Beeper Stuffed Animal
---
Best Halloween Toys For Kids
Enter the Zombie Lab of Doctor Dreadful – but be warned: you may be shocked! Inside this lair or horrifying, terrifying nightmares are a few delicious treats! Famous for disgusting-looking, yet delicious-tasting candy experiments, Doctor Dreadful has a whole slew of new concoctions!
Drink out of a zombie head, cook up bubbling brains, or take a bite of some zombie flesh! Kids get hands-on as they make their own terrifying afternoon candy snack!
Doctor Dreadful Dr.Dreadful Zombie Lab
---
Melissa & Doug Monster Plush 6-Pin Bowling Game With Carrying Case
Get a few friends together and have loads of fun with this wacky children's bowling set! It comes with six soft monster pal pins that are brightly colored and easy for small hands to grasp and lift. This bowling set also includes a durable carrying case perfect for taking away with you on holiday.
Toddlers and preschoolers will love playing with this set. Besides all the fun they will have knocking the pins down, Monster Bowling also helps to nurture fine motor skills, improve balance, hand-eye coordination, and dexterity.
Use the pins to encourage early counting skills and color recognition. Young children gain self-esteem as they learn to knock over the pins, and improve communication skills when they play bowling games with others.
---
WWE Zombies rule!  Favorite WWE Superstars have now become "undead" and are ready to roam the earth in zombie form.  Frightfully fun to play with and to collect!
WWE Zombie The Rock Figure
WWE Zombies Triple H Action Figure
WWE Zombie Paige Figure
WWE Zombies Undertaker Action Figure
We Have The Best Halloween Costume Ideas For Kids
Educational Halloween Toys For Kids
Books, puzzles and board games are very educational for kids. I've always been a great believer in teaching my child to read from an early age.  Parents, spend precious time with your kids when you read these fun, spooky stories. They'll love you more for it!
Birthday Monsters!
10 Trick-or-Treaters
The Spooky Wheels on the Bus
One, Two…Boo!
Related Post: The Best Halloween Gift Basket Ideas
---
Vermont Christmas Company Halloween House Cat Kid's Jigsaw Puzzle 100 Piece
Putting together a jigsaw puzzle is an activity that is both fun and educational for kids.
This 100 piece Halloween puzzle is recommended for ages 6 years and up, but my friend's 4 year old loved it.

Gather family and friends together for a night of screams and goosebumps. My family and I love to play board games, and these Halloween games make the night extra special. 
Below I have put together a few of our favorites for all ages.  I would recommend you take a close look at each one as each game offers something special and unique on it's own. Enjoy!
One Night Ultimate Werewolf
Asmodee Spot it! Halloween
Pandemic
King of Tokyo Halloween Expansion Board Game
TRIVIAL PURSUIT: Tim Burton's The Nightmare Before Christmas
Betrayal at House on the Hill: Widow's Walk Board Game
---
Lego toys are always a good choice for any occasion.  They are strong, durable and seem to improve with age.  You can buy one set at a time and add to it when you can.  These are my absolute favorite Halloween Lego sets.
Vampire and Bat Building Kit (150 Piece)
Halloween Haunt (145 Piece), Multi
Scooby-Doo Mummy Museum Mystery Building Kit
Lego Trick or Treat Halloween Seasonal Set
---
Halloween Toys Kids Love!
These Lego mini Halloween figurines are also fun to play with.
LEGO Vampire Minifigure with Bat
LEGO Minifigure Skeleton Guy
LEGO Vampire Bride (Glow In The Dark Head!)
LEGO Monster Frankenstein
LEGO Wacky Witch with Broom
LEGO Minifigure Werewolf (Halloween)
---
Get ready for thrilling action and adventure with this Jurassic World electronic mask!  When Velociraptor Blue open his jaw you will hear three different levels of sound effects that really make the mask ROAR into action!
Jurassic World Chomp 'n Roar Mask Velociraptor
---
Kids will have loads of fun when they mold this foam putty into Jack O' Lanterns. There are some small parts so not suitable for toddlers.
---
#15

Zombie Action Figures
Zombie action figures are always a big hit!  Each one of these figurines is hand painted making each zombie special. Each one has a detachable body and arms so you can take them apart and swap the pieces around making it even more fun.
6 Pcs Zombie Action Figures 3.75 inch Detailed Walking Dead Toys
---
Scary Halloween Toys
Barbie has been a favorite for many years so it stands to reason that she would also want to celebrate Halloween.
---
Halloween isn't complete without a Friday the 13th action figure to scare things up. Comes with loads of accessories. 
Friday the 13th – Ultimate Part 4 Jason
---
Take this haunted house wherever you go in its convenient take a long case. It comes with a scientist, monster, vampire figures, desk, potion bottles, quill, spider web, torch, coffin, skull, lantern, and lots of other accessories.
PLAYMOBIL® Take Along Haunted House
---
Three vampire-themed buildable Minion character figures with interchangeable parts, including cloaks, goggles, arms, feet and hair. A great gift for any Despicable Me or Minions fan!
Mega Construx Minions Vampire Surprise Pack
---
Great for ages 1 year and up, and sure to please Sesame Street fans. High-quality, soft and definitely huggable.
Gund Sesame Street Count Stuffed Animal, 14 inches
Halloween Toys for Kids are Great Fun
If you would like to make something for your Halloween goodie bag then try these.  I found this great resource for making Halloween Monster Pencils. Enjoy!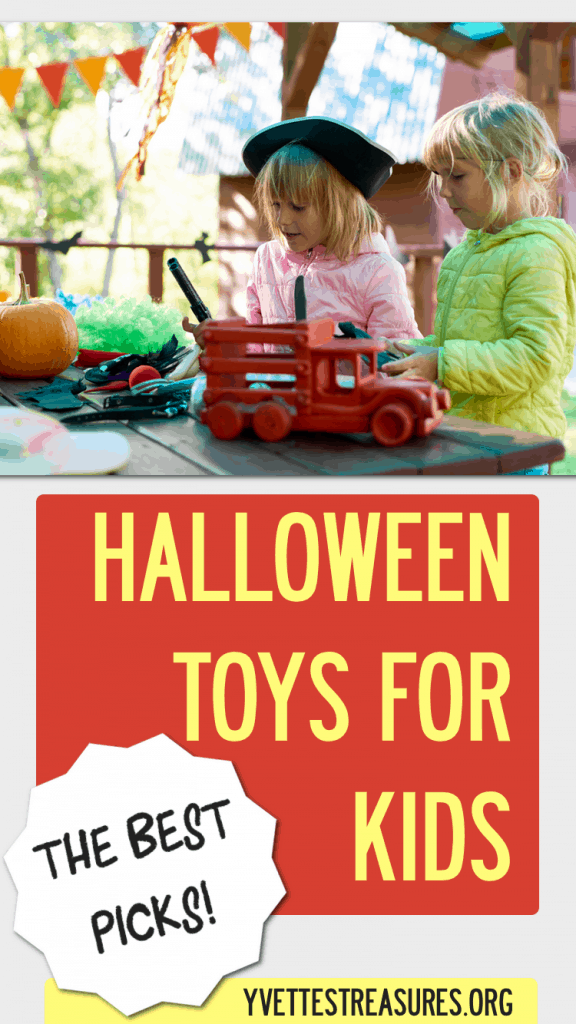 Summary
Article Name
The Best Spooky Halloween Toys For Kids 
Description
As the moon shines bright and the werewolves howl, a witch or two can be seen on the horizon, Halloween is lurking.  Kids everywhere wait in anticipation for their annual trick-or-treat.
Author