This post may contain affiliate links. I may receive commissions for purchases made through these links with no extra cost to you. See full disclosure.
Last Updated on September 26, 2021 by Yvette's Treasures
Easy DIY Halloween Craft Ideas
A fun filled post with plenty of Halloween gift ideas and DIY Halloween craft ideas for you to make and give as thoughtful gifts to family and friends, or keep them for yourself, and add to the magic of Halloween at home.
Fun DIY Halloween Craft Ideas
#1. Paint Pour Pumpkins
This is a great pumpkin painting project that is a lot of fun for the whole family. You will love creating a paint pour pumpkin. You will need some of this acrylic craft paint which is non-toxic and perfect for the kids.
#2. Milk Jug Ghosts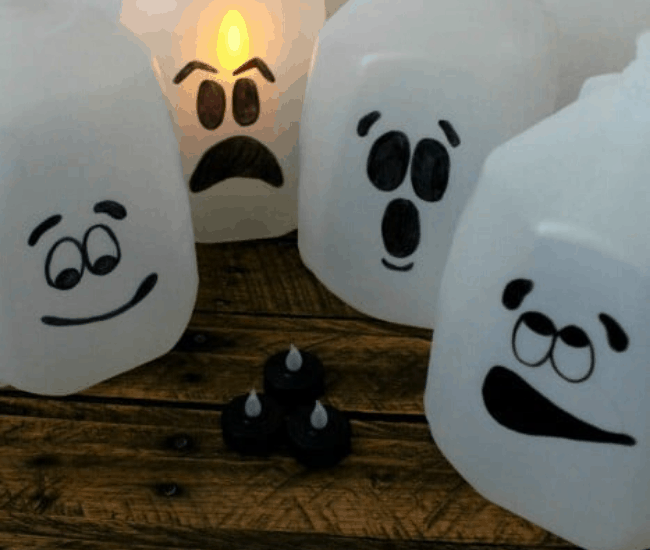 Create Milk Jug Ghosts to use as a Halloween decoration this year with your kids with your used milk or water jugs! This is a fun and simple craft to make with the kids, and a very frugal activity with loads of fun and laughter guaranteed!
#3. DIY Halloween Favor Bags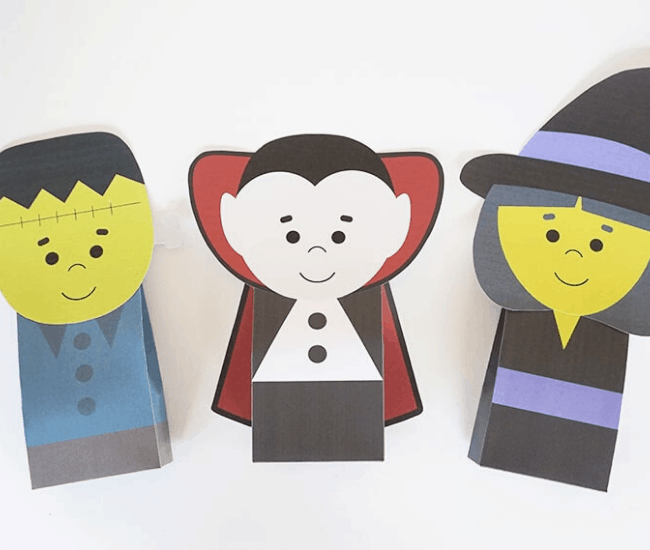 These cute Halloween printable gift bags are fun DIY Halloween Craft Ideas and a great way to gift some Halloween treats.
#4. Hand Painted Pumpkin Bath Bombs 
Hand painted Pumpkin bath bombs are a great project for kids to make and gift for Halloween. Unleash your creativity, while also learning chemistry.
#5. Halloween Candy Bouquet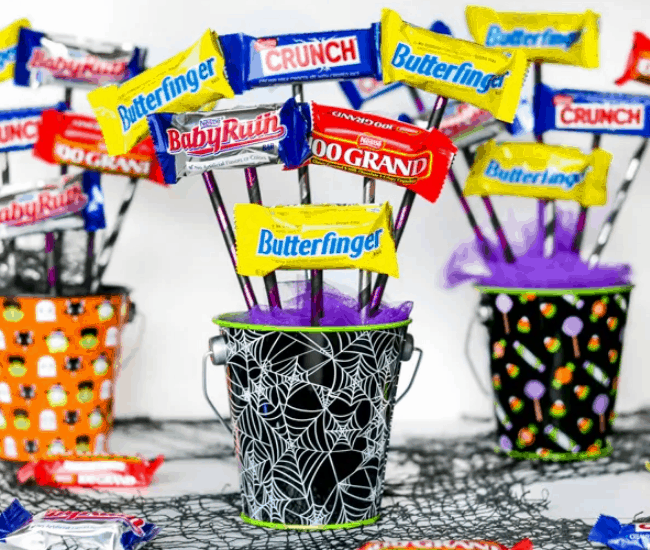 Candy bouquets take just a few minutes to make and are a terrific Halloween gift idea for friends, family, teachers, and neighbors. They work great as Halloween party centerpieces as well!
#6. Halloween Glitter Wine Glasses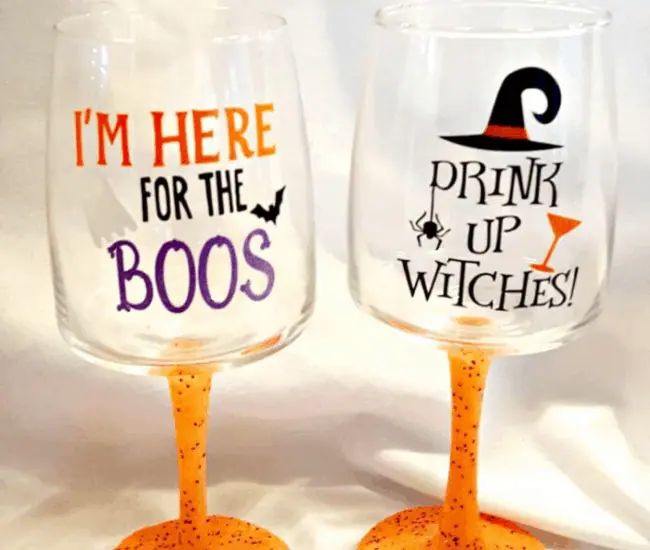 An easy and fun project! Learn how to make personalized glitter wine glasses for your Halloween party. You can really be creative with your designs and your guests will love it!
#7. Halloween Pine Cone Flowers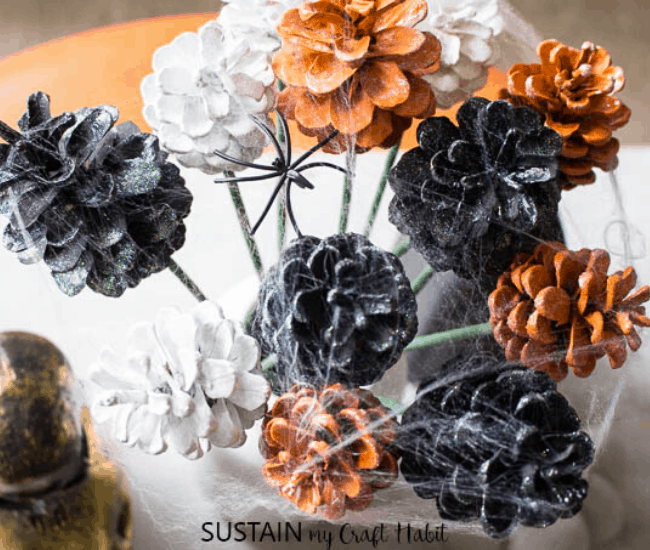 These pine cone flowers are so cool. Add a spider with a touch of web and they will be the focal point of any Halloween centerpiece.
#8. Creepy Crawly Spider Soap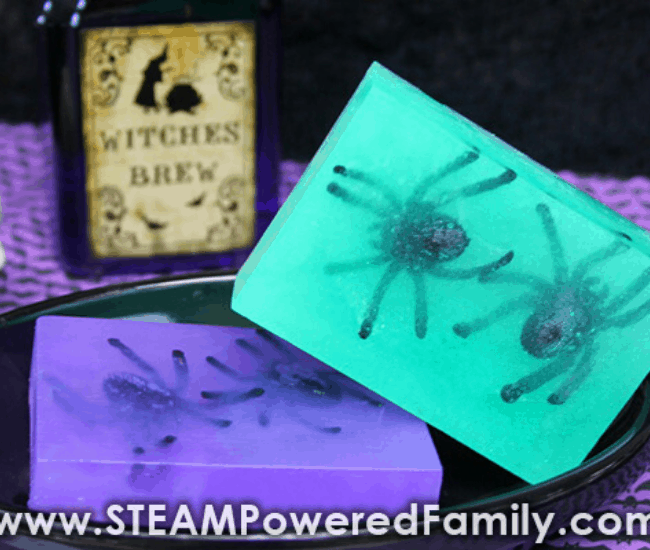 A creepy crawly way to encourage clean hands for Halloween with these easy to make Spider Soaps. Do you dare to wash your hands…eeek!
#9. Halloween Clay Pots – DIY Halloween Craft Ideas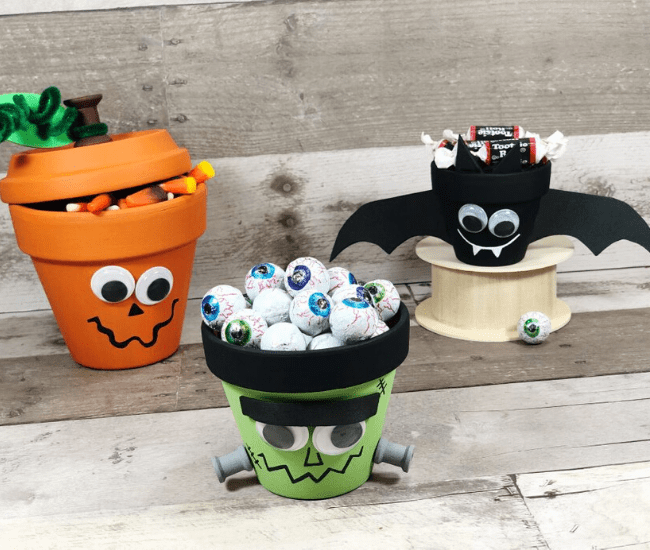 These easy and affordable Halloween Clay Pot Candy Bowls are a perfect craft to try and then give away as gifts! These are such a lot of fun to make! If you don't have any old clay pots lying around the yard then these are great to use. 
#10. DIY Halloween Vignette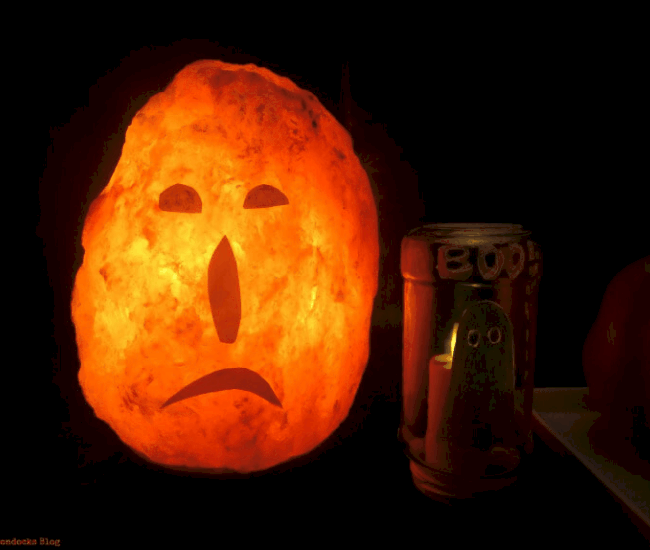 Boo…this easy and thrifty Halloween vignette is created with re-purposed items. Saving you money, saving you time. 
Related: Best Halloween Gift Basket Ideas!
#11. Homemade Halloween Witch's Cauldron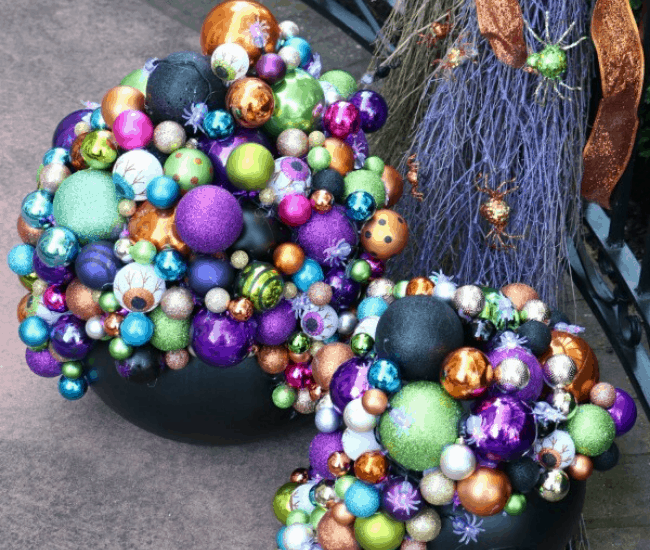 This is such a colorful, fun DIY Halloween craft idea. This homemade Halloween witch's cauldron is great for Halloween décor, delight trick-or-treaters, or as a fabulous Halloween party prop.
#12. Felt Halloween Ornaments – Great DIY Halloween Craft Ideas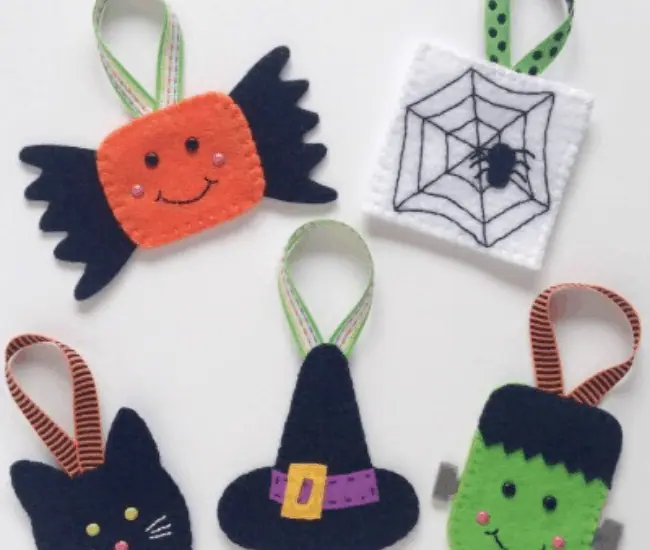 Hang these Halloween felt ornaments on a spooky looking tree or anywhere in the home. If you're keen on trying these yourself, you'll find the pattern here.
#13. DIY Zombie Halloween Cookies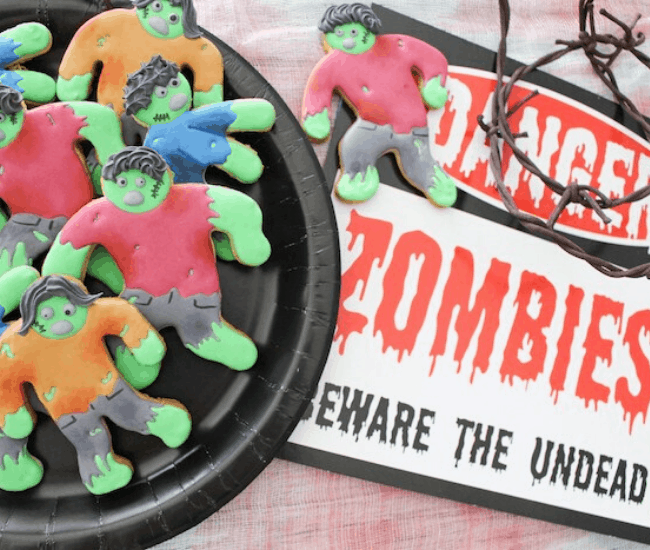 Looking for a creepy Halloween treat, sure to haunt and taunt?! You won't be disappointed with these Halloween zombie cookies. Give them out to trick-or-treaters, or as gifts to classmates. 
#14. Halloween Treat Bag Idea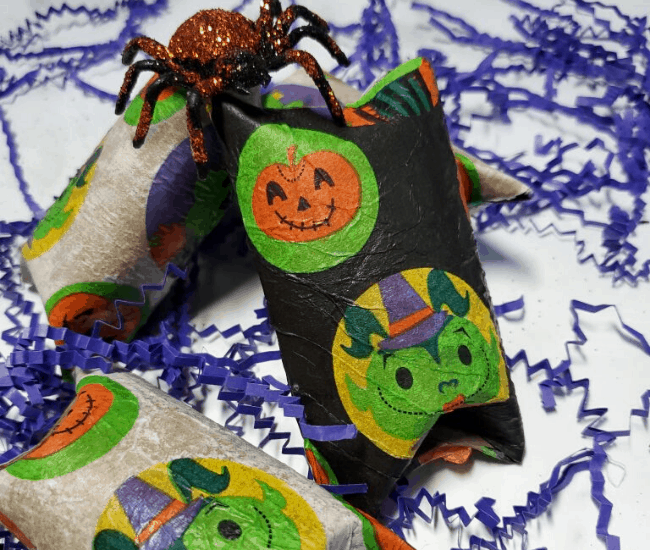 These Halloween Treat Bags are easy to make and look adorable. Kids are going to love getting these DIY Halloween Treats Bags.
#15. DIY Minion Costume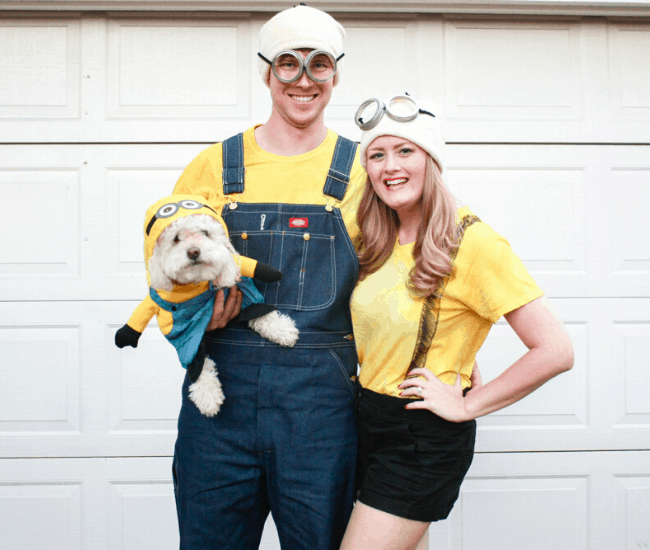 Homemade DIY Minion costumes for the whole family, yip even the furry member. Bright, colorful and fun, especially if you loved the movie.
Related: Great Savings With These Halloween Costume Ideas!
#16. Halloween Pajama Buckets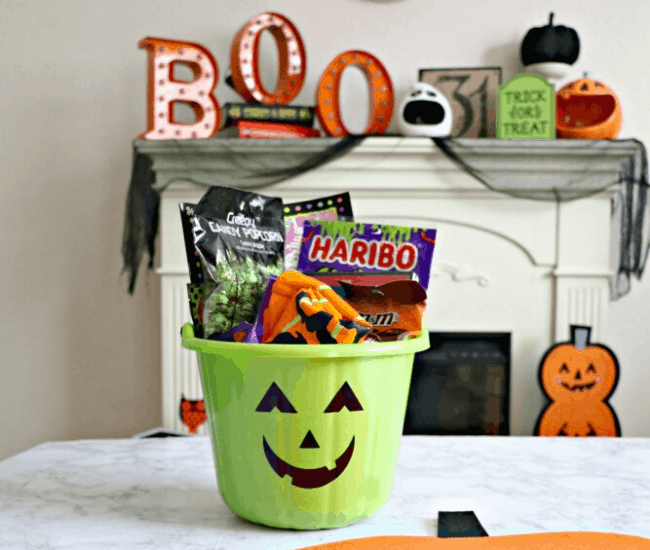 When it comes to Halloween gift basket ideas, these Halloween Pajama buckets are a definite winner. They are fun for the whole family, and a cute way to celebrate Halloween. Fill a bucket with Halloween pj's, snacks, and activities for fun all month long.
#17. Easy Halloween Wooden Spoon
A very clever, but super easy Halloween craft idea.  Just buy a couple of wooden spoons, a few accessories and you're done. Tie a piece of colorful ribbon to the top of this spooky wooden spoon and you've got a wonderful gift for the kitchen.
#18. DIY Duck Tape Jack O'Lantern Candy Dispenser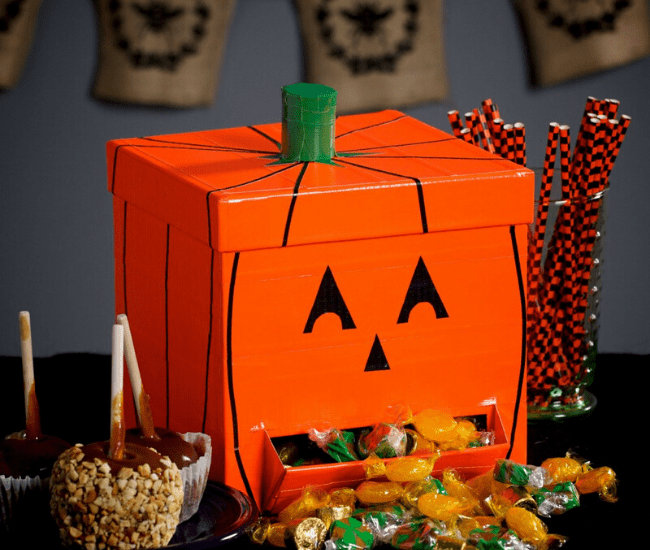 This Jack O'Lantern candy dispenser is such a great idea for the table. It uses upcycled materials and is very inexpensive. All you'll need is some bright orange duck tape and you're done.
#19. DIY Halloween Cross Stitch Canvases
Make this Halloween cross stitch in just a few simple steps! If you can hold a needle, you can do this project. Easy holiday decor in minutes!
#20. Spooky Witch's Kitchen – DIY Halloween Craft Ideas
A no spend, eco-friendly Halloween decoration. Find out more at Compost and Cava. 
Related: Best Spooky Halloween Toys For Kids!
#21. DIY Halloween Soap With Googly Eyes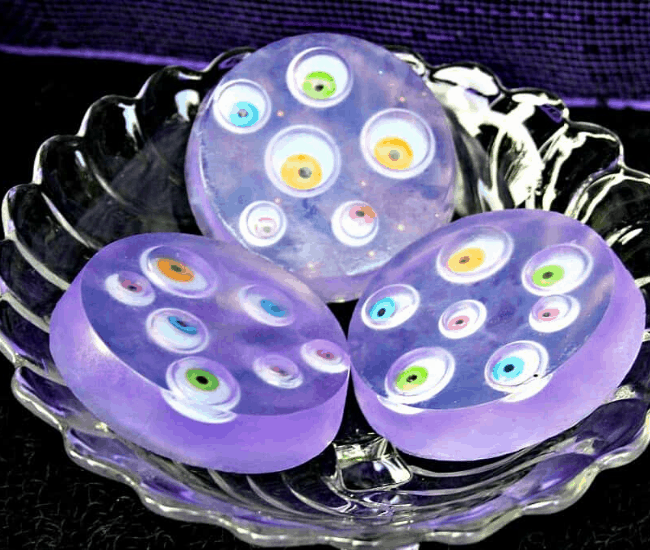 Instead of giving sugary treats out this year for Halloween, why not give a super spooky DIY Halloween Soap with googly eyes to each trick-or-treater. This recipe is also a great science experiment that teachers could do at school. I love these, they are so cool. Why not put them in the bathroom for your Halloween party, guests will be so impressed!
#22. DIY Halloween Craft Ideas – Spooky Treat Bags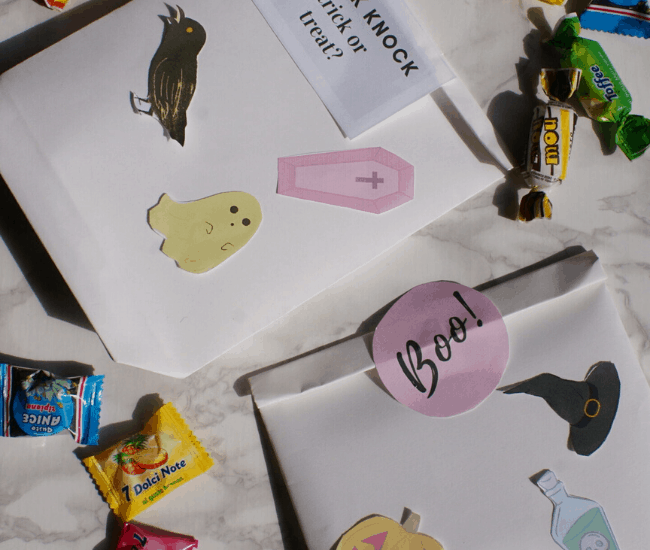 Here's a quick and easy Halloween idea! Find out how to make these DIY paper treat bags and decorate them with the free printable tags and stickers I've made for you.
#23. Zombie Apocalypse Kit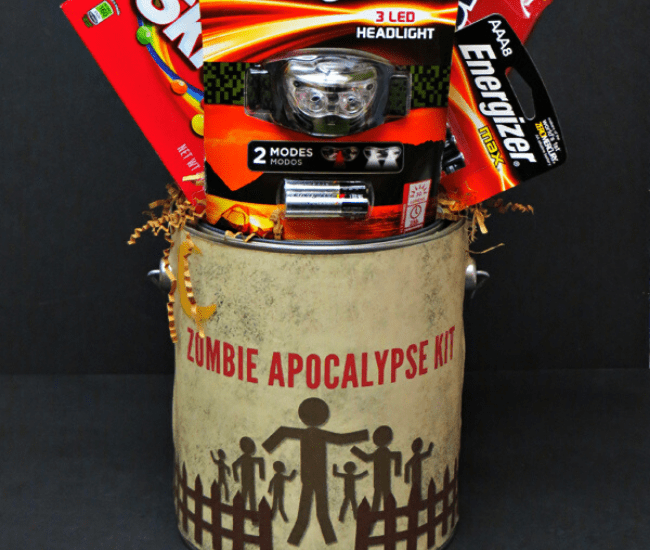 Looking for a great DIY gift idea for a zombie fan? This Zombie Apocalypse Kit is easy to put together with items of your choice depending on the age of the child. 
DIY Halloween Crafts Kids Will Love To Make
#24. Erupting Pumpkin Activity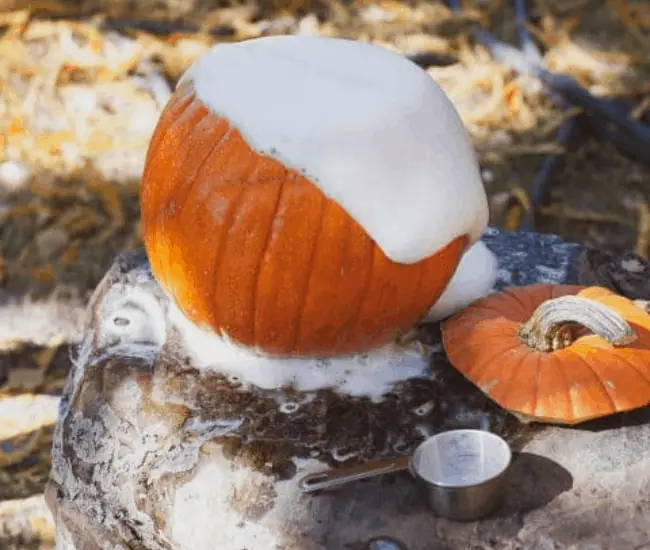 How fun is this Erupting Pumpkin Activity?! This is a great science activity for kids any time during the fall season, but especially on Halloween!
#25. DIY Halloween Monster Slime
Your children will love making this ooey gooey monster slime. Buy a few small plastic containers and they can give it to their friends at the school Halloween party.
#26. Halloween Popsicle Stick
These popsicle stick pumpkins are so cute. Kids will love painting these Jack-O-Lanterns.This easy pumpkin craft involves painting and making a Jack-O-Lantern face, great for hands on young children that are preschool and early elementary age. 
#27. Easy Halloween Ghost Lollipops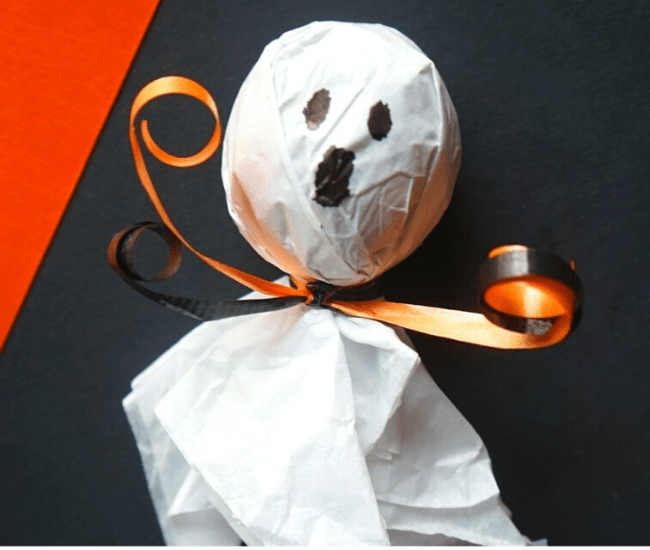 These easy ghost lollipops will make really cute Halloween treats for school. If you don't have time this year to make elaborate treats, then this one will be perfect. You will be done in no time at all, and the kids will love it.
#28. Halloween Egg Carton Spiders
Get kids involved with Halloween decorating this year by showing them how to make classic Halloween creepy-crawly egg carton spiders.
#29. Kids, Why Not Make a Scary Jack o' Lantern?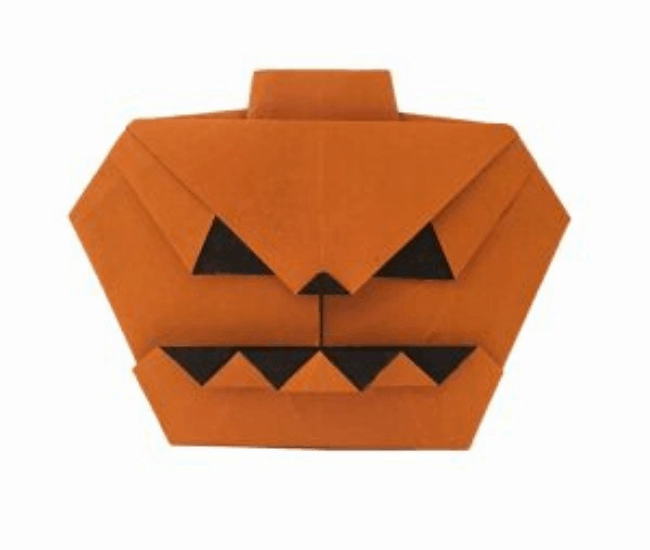 This is something that kids will enjoy making in the run up to the day. Three or four of them (or even just one big Jack o' Lantern) would look great stuck to the outside of the front door, or in the kitchen window. 
#30. Fun Halloween Kids Snacks (Perfect for School Lunches)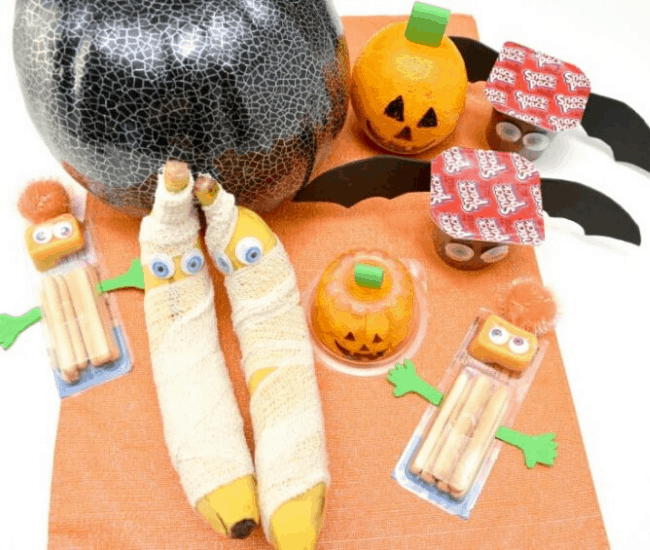 Your kids will love these fun Halloween snacks in their lunch boxes at school. They are super easy to make and will bring a smile to any child's face! 
#31. Spooky Spider Craft – DIY Halloween Craft Ideas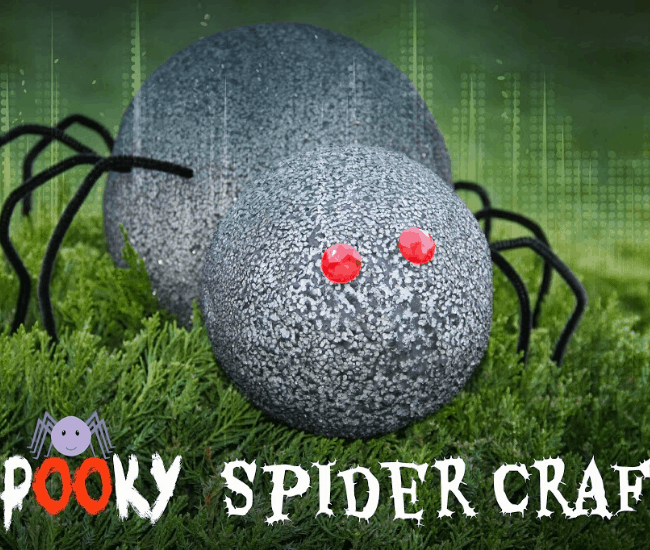 DIY Halloween Craft Ideas come in all forms, and this spider is a simple project to do with your kids that they'll absolutely love. Do it after school or on a weekend. It is easy and quick to make. Sara will show you how.
#32. How to Sculpt a Jack-O-Lantern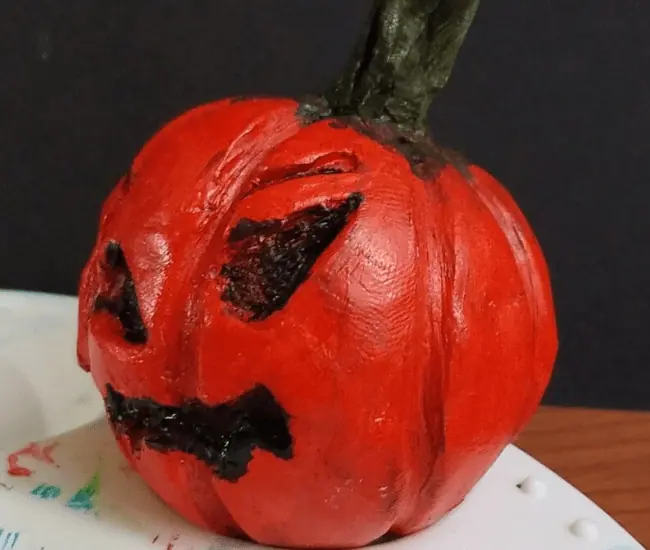 Learn how to make a 3-dimensional pumpkin or jack-o-lantern. This is a really fun lesson to do with elementary and junior high students.
#33. Paper Plate Witch Craft – Kids Halloween Craft Ideas
This paper plate craft is perfect for toddlers and school aged children. This one requires simple supplies you likely already have and comes together in a flash!
#34. Magic Play Dough Halloween Treat Bags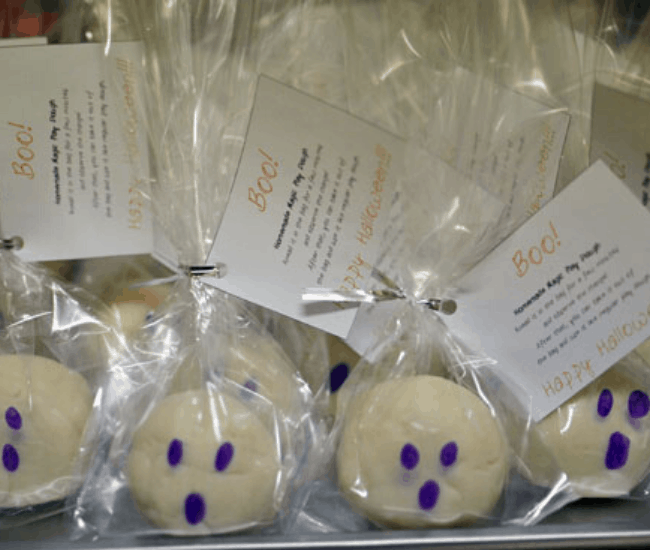 Spooky play dough treat bags, great for handing out to friends at school even trick-or-treaters. 
#35. DIY Paint A Pumpkin Kit
These paint a pumpkin kits are a great family friendly Halloween activity. Paint a friendly face or a scary one, it's up to you.
#36. Flying Ghosts – Spooky DIY Halloween Craft Ideas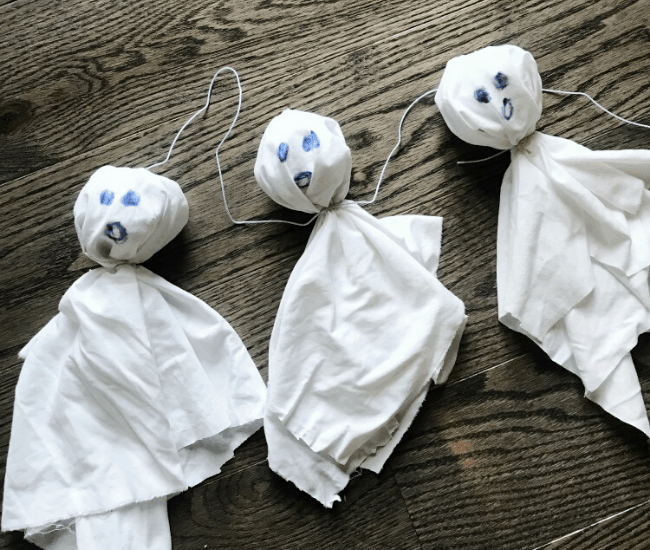 If you are looking for a last minute quick and easy Halloween craft to make with your child, this flying ghosts Halloween decoration is perfect! It's zero mess and takes about 10 minutes total plus, your child will LOVE them! 
Related: Free Halloween Printables Kids Will Love!
DIY Scary Halloween Decorations
#37. Halloween Porch Decorations
If you're looking for cheap Halloween porch decorations, this simple DIY project is for you! See how you can transform old fence boards and recycled materials and turn them into adorable Halloween porch decor that will have your neighbors jealous.
#38. DIY Indoor Halloween Decorations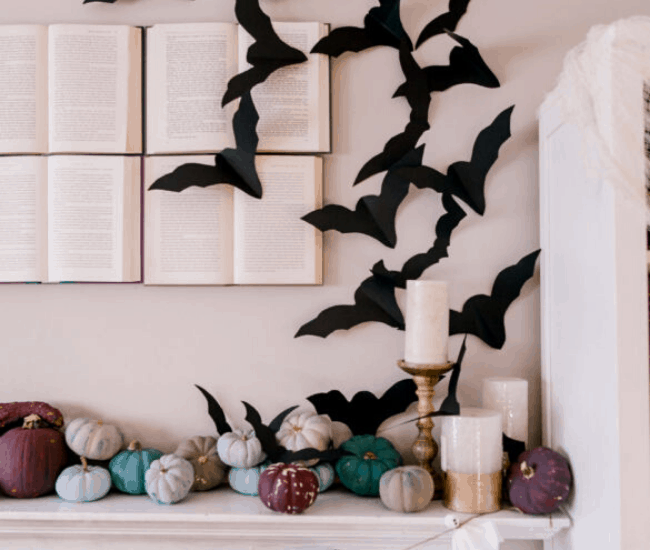 Here are a few ideas of DIY indoor Halloween decorations to give guests that eeery feeling. If you don't have a lot of time then these DIY Halloween decorations are quick, easy and cheap!
#39. DIY Halloween Craft Ideas – White Pumpkin Decor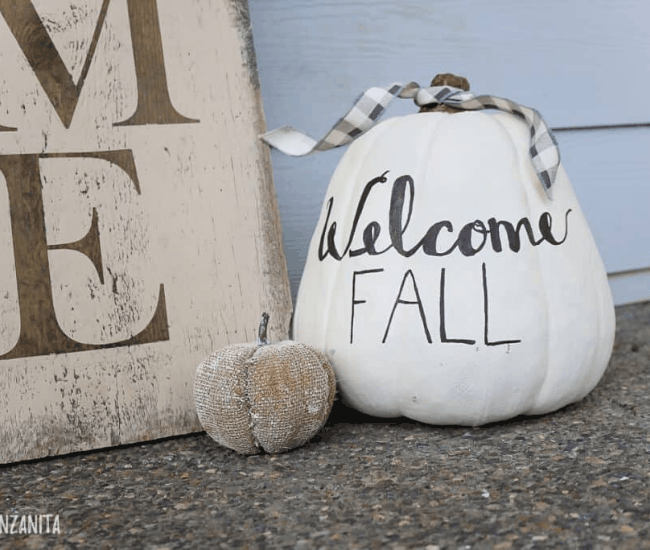 Making white pumpkin decor from cheap thrift store foam pumpkins couldn't be easier. This white pumpkin decor fits right in with farmhouse style fall decorations and can be used all the way through Thanksgiving because they are more neutral and not that classic "Halloween" orange.
Do you love DIY projects as much as I do? If the answer is 'YES' then you have to take a look at these –  I know you'll just love them!
My Thoughts On DIY Halloween Craft Ideas
I had such a great time putting together all these DIY Halloween craft ideas. I especially love the DIY home decor ideas (because that's just my thing), and the Halloween crafts that you can make with kids. My kids love getting involved with DIY projects, it's a way for us to spend quality time together and have some fun!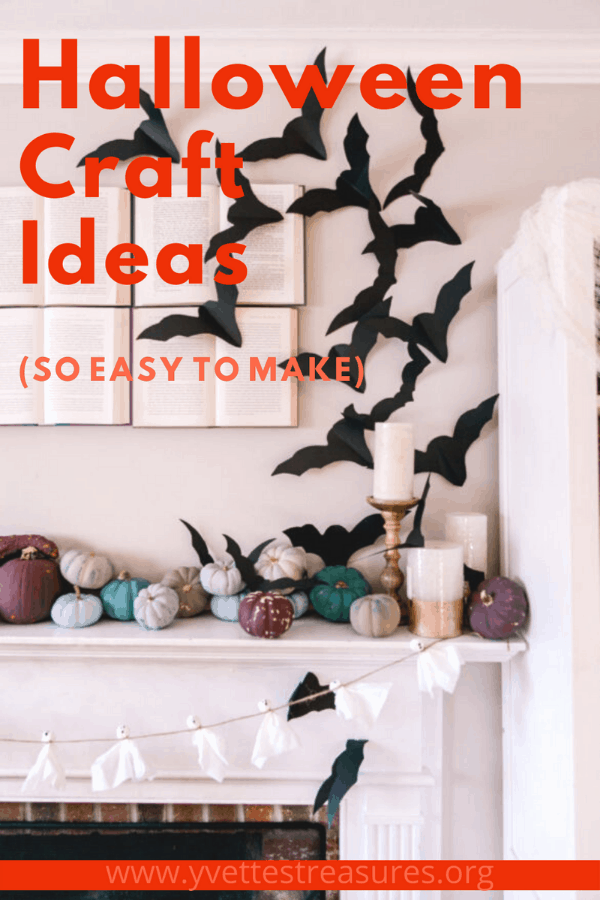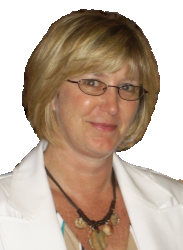 Latest posts by Yvette's Treasures
(see all)
Summary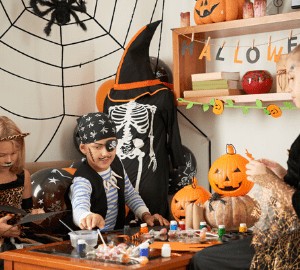 Article Name
39 DIY Halloween Craft Ideas You'll Love (So Easy To Make)
Description
A fun filled post with plenty of Halloween gift ideas and DIY Halloween craft ideas for you to make and give as thoughtful gifts to family and friends, or keep them for yourself, and add to the magic of Halloween at home.
Author