Last updated on
20+ Top Ugly Christmas Sweaters
Quick Links to Info on this Page
How can we celebrate Christmas without these top ugly Christmas sweaters ?  I know, I know – they're ugly, but don't we just love them anyway?
They're fun and they make the perfect Christmas gift for family or friends. Whether you're buying ugly Christmas sweaters to wear as a couple or to wear while hanging out with your family around the tree on Christmas morning, they're always a good laugh.  We have some great ones for you this year.  Hope you enjoy browsing our list.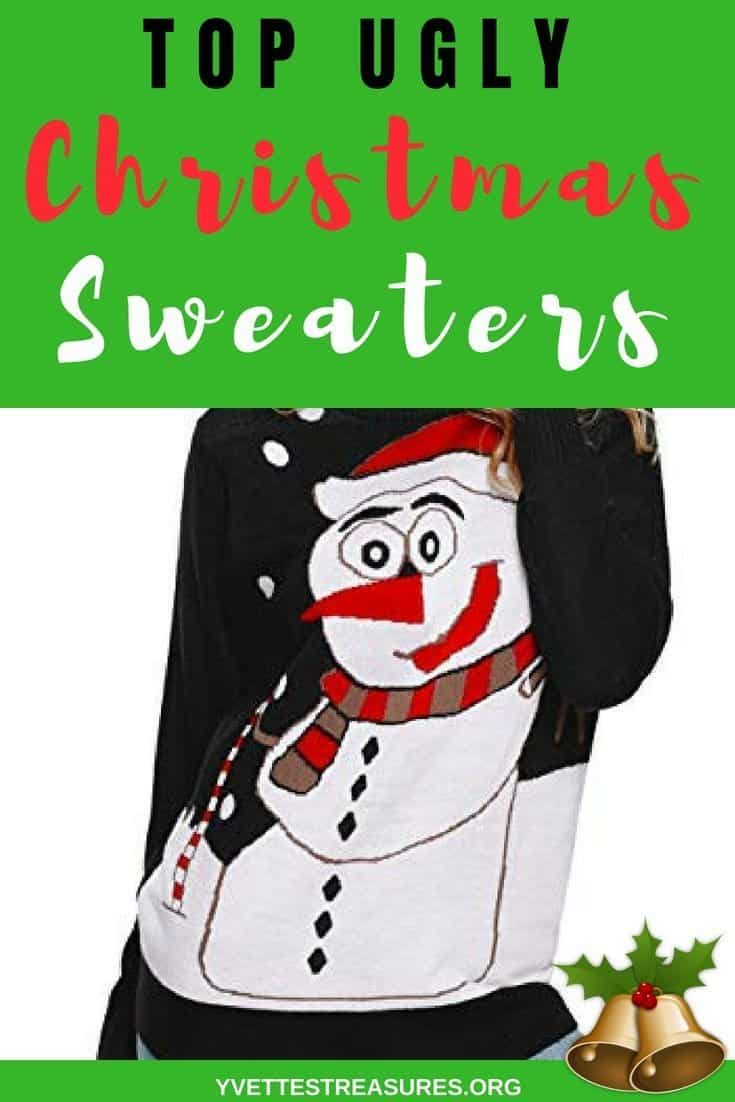 This post may contain affiliate links. I may receive commissions for purchases made through these links with no extra cost to you. These earnings help us keep this wonderful website going so that we can continue to bring you great gift ideas.
Kids Top Ugly Christmas Sweaters
Top ugly Christmas sweaters are for the whole family, kids included.  They also want to be a part of the fun so we've started with a list of our favorite kids ugly Christmas sweaters first.  Hope you like these fun and festive holiday designs.
Boys' Santa Video Game, Green/Blue
Boys' Three Wise Raptors Xmas Sweater, Blue, Red/Green
Ugly Christmas Sweater, Cute Unicorn
Girls' Happy Kitty Xmas Sweater, Red Combo
Check Out These Cool Kids Gifts To Go With Their Super Cool Ugly Sweaters
---
Womens Ugly Christmas Sweaters
Ladies I have some pretty top ugly Christmas sweater designs just for you.  Bright, colorful and comical. Just right for Christmas and perfect for that ugly Christmas sweater party. You never know, you might just win the top ugly Christmas sweater prize. Check out these women's ugly Christmas sweaters.
Women's Santa Claus Octopus Ugly Christmas Sweater, Blue
Pink Christmas Wreath Light Up Sweater
Women's Ugly Christmas Sweatshirt, You Crack Me up
Womens Oversized Christmas Reindeer Cardigan
Women's Christmas Reindeer Snowflakes Sweater Pullover
Festive AF Ugly Christmas Sweater Off Shoulder Top
Mens Ugly Christmas Sweaters
Guys, we haven't forgotten about you. We have some classic mens ugly Christmas sweaters this year.  These are the ones my husband likes.  My brother on the other hand has a wild sense of humor and would rather opt for the naughty ugly Christmas sweaters I've showcased below.
Men's Christmas Reindeer Snowman Penguin Santa and Snowflake Sweater
Men's Santa's Candy Cane Throne Ugly Christmas Sweater
Men's Traditional Dinosaur Fairisle Ugly Christmas Sweater
Men's Festive Llama Ugly Christmas Sweater
Men's Slothy Christmas Ugly Christmas Sweater
Men's 8 Bit Santa Holiday Sweater, Green Beret
For more awesome Sloth gift ideas like the sweater above, visit us here!
---
Naughty Ugly Christmas Sweaters
Naughty ugly Christmas sweaters are for those of us with a great or some would say 'strange' sense of humor, but at the end of the day we just want to make people laugh and naughty ugly Christmas sweaters is a great way to do that.  Have a blast!
Tipsy Elves Ugly Christmas Sweater
Unisex Naughty Santa Novelty Christmas Sweater
Bad Santa Longsleeve Christmas T-Shirt
Women's Winter Whale Tail Funny Ugly Christmas Sweater
Men's Frisky Reindeer Naughty Ugly Holiday Sweater
Women's Ugly Christmas Sweatshirt, Black Elphie
Related Post: Popular Christmas Gifts For Teenage Girls