This post may contain affiliate links. I may receive commissions for purchases made through these links with no extra cost to you. See full disclosure.
Last Updated on June 24, 2023 by Yvette's Treasures
Spooky Halloween Activities for Teens
Are you a teenager looking for fun Halloween activities to do with your friends or family? Halloween is a holiday that is enjoyed by people of all ages, but it can be especially exciting for teenagers who are looking for a little bit of spooky fun.
From costume parties to scary movie marathons, there are plenty of ways to celebrate Halloween that will keep the older kids entertained.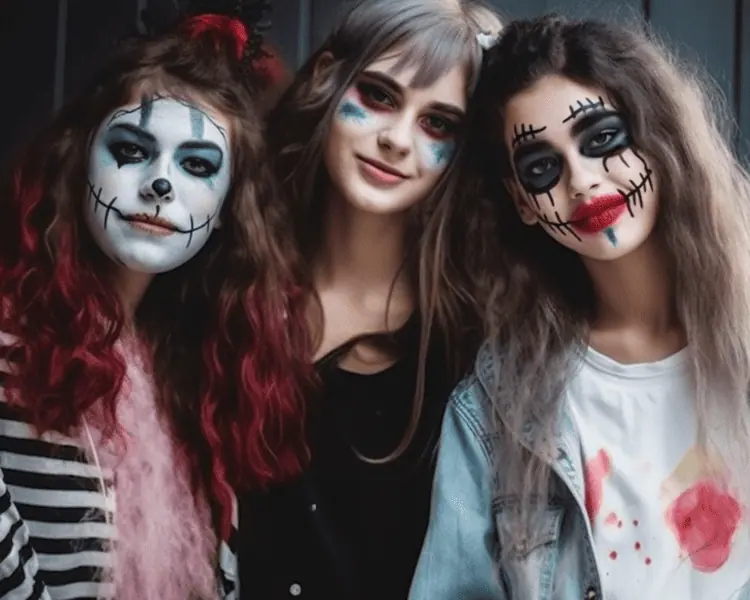 One of the most popular Halloween activities for teens is throwing a costume party. This is a great way to get together with friends and have a great time while showing off your creative Halloween costumes.
You can decorate your house with spooky decorations, play fun Halloween games, and serve Halloween treats like candy apples and pumpkin pie.
Another fun activity is going trick-or-treating with your friends. Even though you might think you're too old for this, it can still be a fun way to get into the Halloween spirit and score some candy.
Halloween Party Planning
Planning a Halloween party for teens can be a lot of fun, but it can also be a lot of work. Here are some tips to help you plan a party that your party guests will love.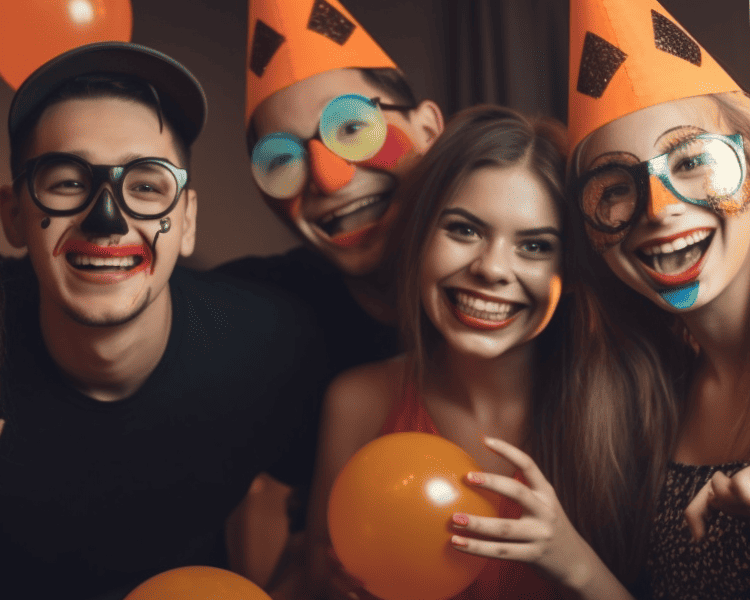 Decorations
Decorations are an important part of any Halloween party. You can go all out with spooky decorations or keep it simple with some mini pumpkins and a few spider webs.
Here are some great ideas to get you started:
Hang plastic spiders and fake spider webs around the room
Put up Halloween-themed posters and banners, and include some orange balloons
Use orange and black streamers to decorate the walls
Set up a table with a Halloween-themed centerpiece
Carve pumpkins and use them as Halloween decorations
Food and Drinks
No Halloween party is complete without some spooky treats and drinks. Here are some Halloween party food ideas to get you started:
Serve Halloween-themed snacks like candy corn, pumpkin seeds, and popcorn
Make Halloween-themed cupcakes or cookies
Serve drinks in Halloween-themed cups and glasses
Make a punch with dry ice to create a spooky effect
Fun Games and Activities
Games and Halloween party activities are a great way to keep your guests entertained whether it's for a small group or a large group. Here are some fun ideas to get you started:
Set up a photo booth with Halloween-themed props
Play Halloween-themed games like bobbing for apples or a mummy wrap relay
Have a costume contest and give out prizes for the best costumes
Set up a scavenger hunt with Halloween-themed clues
Watch a scary movie like the Blair Witch Project or have a virtual Halloween party with friends on social media
Remember to plan your party and Halloween activities for teens well in advance to ensure that everything goes smoothly.
With a little planning and creativity, you can throw a Halloween party that your guests will never forget.
Haunted House Visits
Halloween is the perfect time to visit a haunted house or other spooky attraction.
As a teenager, you may be looking for a thrill, and there's nothing quite like the fear and excitement of a haunted house.
Here are some ideas for haunted house visits that you can do with your friends or family on Halloween night.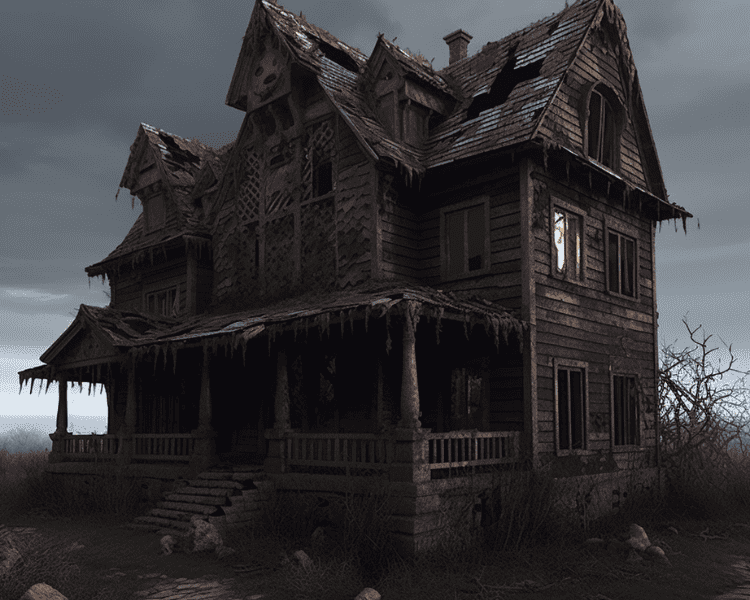 Haunted House Attractions
Haunted houses come in all shapes and sizes, from small local attractions to large-scale, high-tech experiences.
Some of the best haunted houses are located in amusement parks, where you can experience a variety of spooky attractions all in one place.
These parks often have multiple haunted houses, as well as other Halloween activities for teens like hayrides, pumpkin patches, and more.
If you're looking for a more intense experience, consider visiting a haunted house that specializes in extreme horror.
These attractions are not for the faint of heart and often require a waiver to be signed before entering.
They may include physical contact, loud noises, and other intense experiences designed to scare you to your core.
Ghost Tours
In addition to haunted houses, ghost tours are another great way to experience the spooky side of Halloween.
These tours take you to historic locations that are said to be haunted, where you can learn about the history of the location and hear scary stories about ghosts from the past.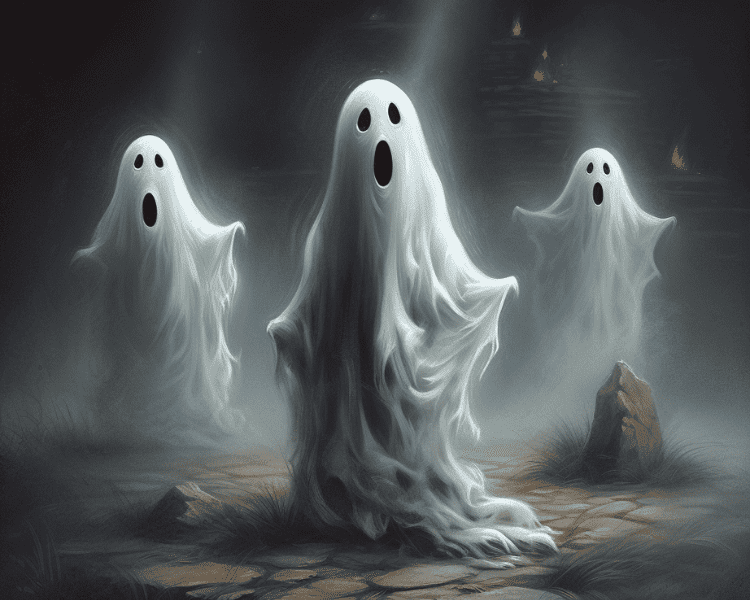 Some ghost tours are walking tours, while others are conducted by bus or other transportation. These can be lots of fun!
Ghost tours are a great way to combine history and Halloween, and many cities offer them year-round.
Some popular ghost tours include those in historic towns or battlefields, which can be especially spooky when visited at night or by candlelight.
I find visiting a haunted house or taking a ghost tour can be a fun and memorable way to celebrate Halloween as a teenager.
Whether you're looking for a scare or just want to learn more about the spooky history of your area, there's sure to be a haunted house or ghost tour that's right for you.
Trick-or-Treating Halloween Activities For Teens
Trick-or-treating is a classic Halloween activity that many teenagers still enjoy. It's a fun way to get into the Halloween spirit and collect some sweet treats.
Here are some tips to help make your trick-or-treating experience safe and enjoyable.
Safety Tips
Plan your route ahead of time and stick to well-lit areas with sidewalks.
Wear comfortable shoes and bring a flashlight or glow sticks to help you see and be seen.
Always walk with a group of friends or a trusted adult.
Stay alert and be aware of your surroundings. Look both ways before crossing the street and be cautious of strangers.
Avoid eating any candy that looks suspicious or has been opened.
Creative Costume Ideas
One of the best parts of trick-or-treating is dressing up in a creative costume. Here are some ideas to help you stand out: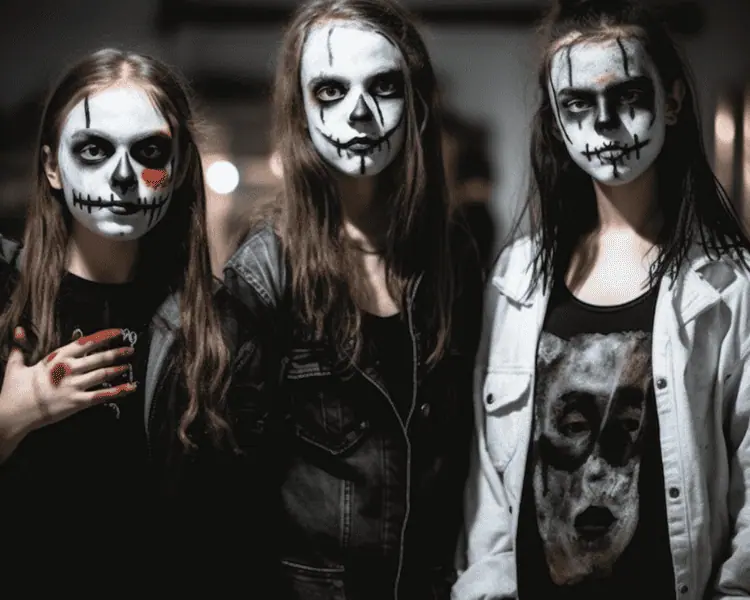 DIY costumes: Get creative and make your own costume using items you already have at home. You could dress up as a scarecrow using old clothes and straw.
Pop culture costumes: Dress up as your favorite TV or movie character. A fun one would be to dress up as Eleven from Stranger Things or a character from the Marvel Cinematic Universe.
Group costumes are the perfect way to get all your friends involved. Coordinate with your friends and dress up as a group. You could dress up as the characters from Scooby-Doo or the cast of Friends. This would be great fun for all!
Remember, Halloween is not just about collecting candy. It's also about having fun and being creative.
So, whether you're trick-or-treating with younger kids or participating in a costume contest, make sure to enjoy the spooky season safely and responsibly.
Halloween Games and Activities
Are you looking for fun and spooky Halloween games and activities for your teen party? Look no further! Here are some ideas that will keep your tweens and teens entertained throughout the night.
Halloween Scavenger Hunt
Scavenger hunts are always a hit at Halloween parties. Create a list of spooky items for your teens to find, like a witch's hat, a black cat, or a pumpkin carving kit.
You can also hide candy around the house or yard for an added treat. Make sure to set some ground rules and boundaries for the hunt to keep everyone safe.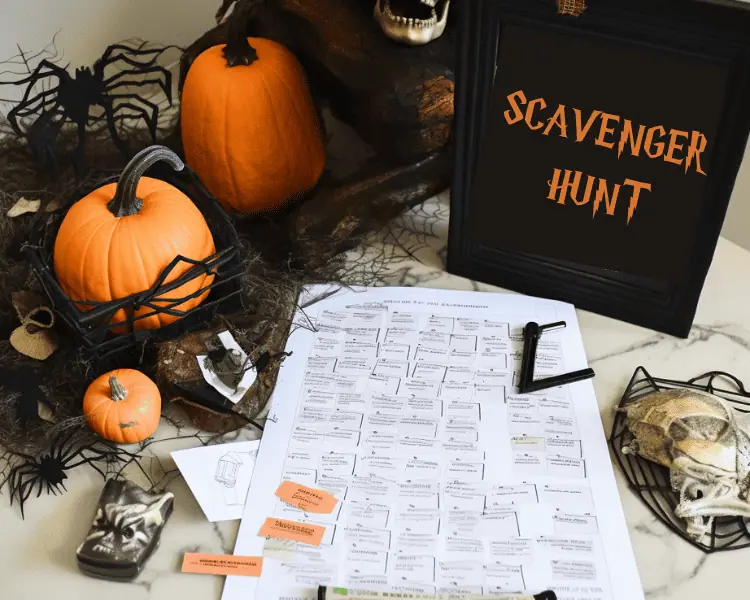 Printable Games With A Spooky Theme
Halloween printables, such as Halloween word scrambles, mazes, word searches, and monster food coloring pages, can add a fun and engaging element to a Halloween party for teenagers. Here's how you can incorporate them into the festivities:
Use Halloween word scrambles or word searches as icebreaker games to get the teens mingling and interacting. Hand out the printables and challenge them to solve the puzzles together or compete in teams. It's a great way to break the ice and create a lively atmosphere.
Set up activity stations where the teenagers can engage with the printables. Create a station dedicated to word scrambles, another for mazes, and a separate one for coloring pages. Provide pens, pencils, and crayons for coloring activities. This allows the teens to move around, socialize, and enjoy the different challenges at their own pace.
Organize friendly competitions. Set a time limit for completing the word scrambles or mazes and offer prizes for the first few individuals or teams to cross that finish line. This adds an exciting element of competition and encourages active participation.
Create a designated relaxation area where the teens can unwind and enjoy coloring the monster food coloring pages. Provide comfortable seating, coloring materials, and encourage them to let their creativity flow. It serves as a calming activity and allows for some downtime during the party.
As the party winds down, allow the teens to take home completed printables as souvenirs. Offer them the opportunity to collect their word scrambles, mazes, and coloring pages as a keepsake of the fun-filled Halloween party. It's a great way to ensure they leave with a tangible memory of the event.
Remember, the key is to make the Halloween printables accessible, engaging, and integrated into the overall party experience.
By incorporating them in various ways, you'll provide entertainment, encourage interaction, and create lasting memories for the teenagers at the Halloween party.
Escape Rooms
Escape rooms are a great way to get your teens working together to solve puzzles and escape before time runs out.
You can find Halloween-themed escape rooms at many local venues or even set up your own at home.
Create clues and puzzles that are spooky and challenging, but not too scary for your tweens and teens.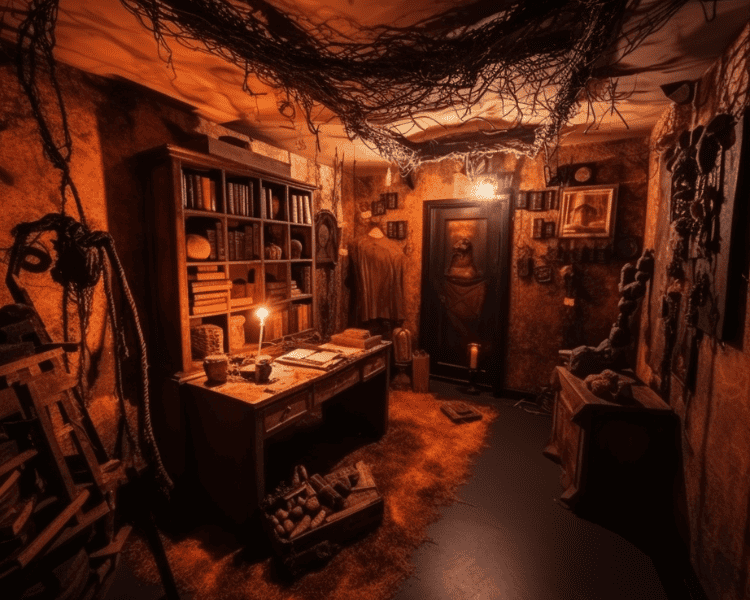 How To Set Up An Escape Room At Home
Follow these friendly steps to create a thrilling and memorable experience at home for your teens' Halloween party!
Choose a Theme: Select a Halloween-themed storyline for your escape room. It could be a haunted house, a spooky laboratory, or a witch's lair. Let your imagination run wild!
Plan the Layout: Identify a suitable area in your home to set up the escape room. It could be a basement, living room, or even a large bedroom. Make sure there's enough space for the puzzles and challenges you'll create.
Create Clues and Puzzles: Brainstorm a series of puzzles, riddles, and challenges that will engage and challenge the teens. Make them Halloween-themed, incorporating elements like pumpkins, witches, ghosts, or cryptic spells. Consider using hidden objects, codes, and wordplay to keep them guessing.
Gather Props and Decorations: Enhance the ambiance by decorating the room with eerie props and dim lighting. Hang cobwebs, place spooky masks, black balloons and scatter some fake spiders around. If you can organize it, fog machines would be a great addition to making the room scary. Create an atmosphere that feels mysterious and immersive.
Set the Stage: Begin the escape room experience with an engaging introduction. Set the scene, explain the mission or story, and provide any necessary background information. Get the teens excited about the challenge that awaits them.
Time and Flow: Determine the time limit for the escape room. It should be challenging, but achievable within a reasonable timeframe. Design the room's layout and puzzles to create a logical flow, ensuring that solving one clue leads to the next.
Teamwork and Collaboration: Encourage the teens to work together in teams to solve the puzzles. Foster cooperation, communication, and critical thinking skills. Make sure that no single puzzle or clue can be solved by just one team member, promoting group engagement.
Provide Clue System: Prepare a clue system that can assist the teens if they get stuck. You can offer written hints, provide a designated clue-giver who can provide verbal hints, or even use a digital platform to reveal clues when needed.
Reward and Celebrate: When the teams successfully escape or complete the challenge, celebrate their accomplishment! Provide small rewards like Halloween treats or certificates for their efforts. It's essential to acknowledge their hard work and make the experience enjoyable for everyone.
Capture the Moment: Don't forget to capture the Halloween fun! Take photos or videos of the teens during the escape room experience. They'll appreciate having those memories to look back on.
Pumpkin Decorating
Pumpkin decorating is a classic Halloween activity that never gets old. Set up a pumpkin patch and let your teens pick out their own pumpkins to decorate.
Provide paint, glitter, and other craft supplies to let their creativity run wild. You can even host a pumpkin carving contest and award prizes for the best designs.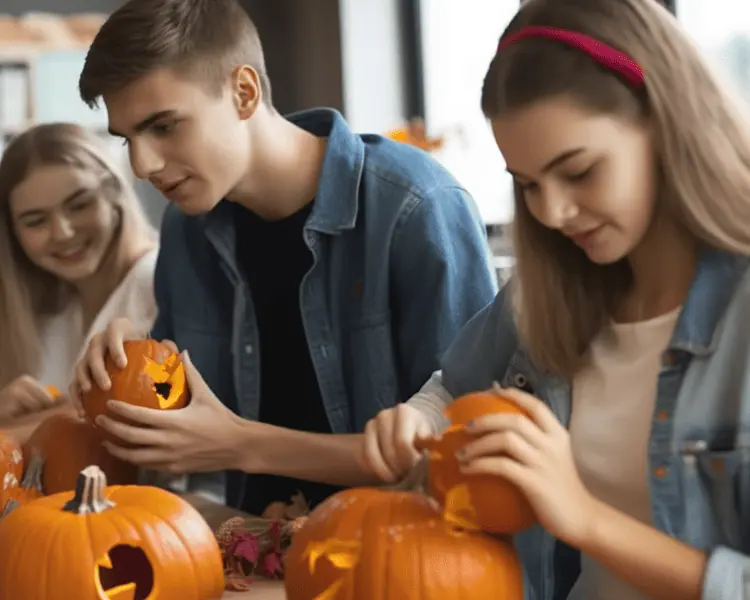 Movie Marathons
A scary movie marathon is a great way to get your teens in the Halloween spirit. Pick out some classic horror movies or newer releases that are appropriate for their age group.
Set up a cozy viewing area with blankets and pillows and provide plenty of snacks to keep everyone fueled throughout the night.
Charades and Fear Factor
Charades and Fear Factor are two classic Halloween party games that are perfect for tweens and teens.
For Halloween charades, write down spooky words or phrases on index cards and have your teens act them out for their team to guess. The first team to win gets a prize!
For Fear Factor, create a series of gross or spooky challenges, like bobbing for apples or eating creepy crawly gummy worms.
Whether you're hosting a small gathering or a larger event, this list of Halloween games are sure to keep your tweens and teens entertained all night long.
Spooky Fun for Teens
Halloween is the perfect time for teens to have some spooky fun! Whether you're looking for a low-key night in with friends or a thrilling party, there are plenty of activities to choose from. Here are some ideas to get you started:
Ghost Stories and Tarot Card Reading
One classic Halloween activity is telling ghost stories. Gather your friends around a campfire or in a dark room and take turns sharing spooky tales.
For an added twist, try incorporating a tarot card reading. Tarot cards can be a fun way to explore your future and connect with the supernatural. I highly recommend these Tarot cards and they come with a guidebook.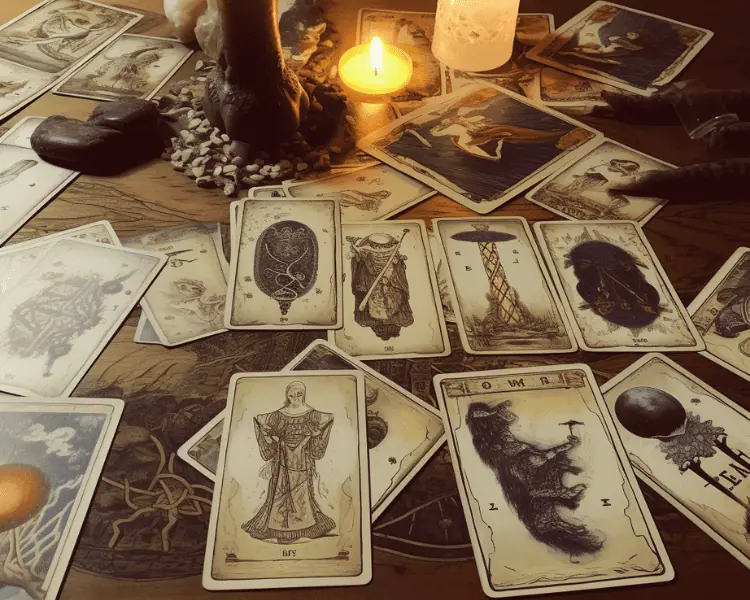 Murder Mystery Parties
If you're looking for a more interactive experience, consider hosting a murder mystery party.
These parties involve guests playing different characters and trying to solve a fictional murder.
There are plenty of murder mystery kits available online, or you can create your own storyline.
More Halloween-Themed Posts I'm Sure You'll Love!
My Thoughts On Halloween Activities For Teens
Halloween activities for teens offer a world of excitement, creativity, and unforgettable moments.
Whether it's setting up an immersive escape room, organizing thrilling scavenger hunts, or enjoying the fun of Halloween printables, there are endless possibilities to make this spooky season truly special.
By encouraging teamwork, unleashing their creativity, and providing engaging challenges, we can create Halloween memories that will last a lifetime.
So, let's embrace the magic of Halloween and create an atmosphere where teens can have a blast, express themselves, and immerse themselves in the spirit of the season.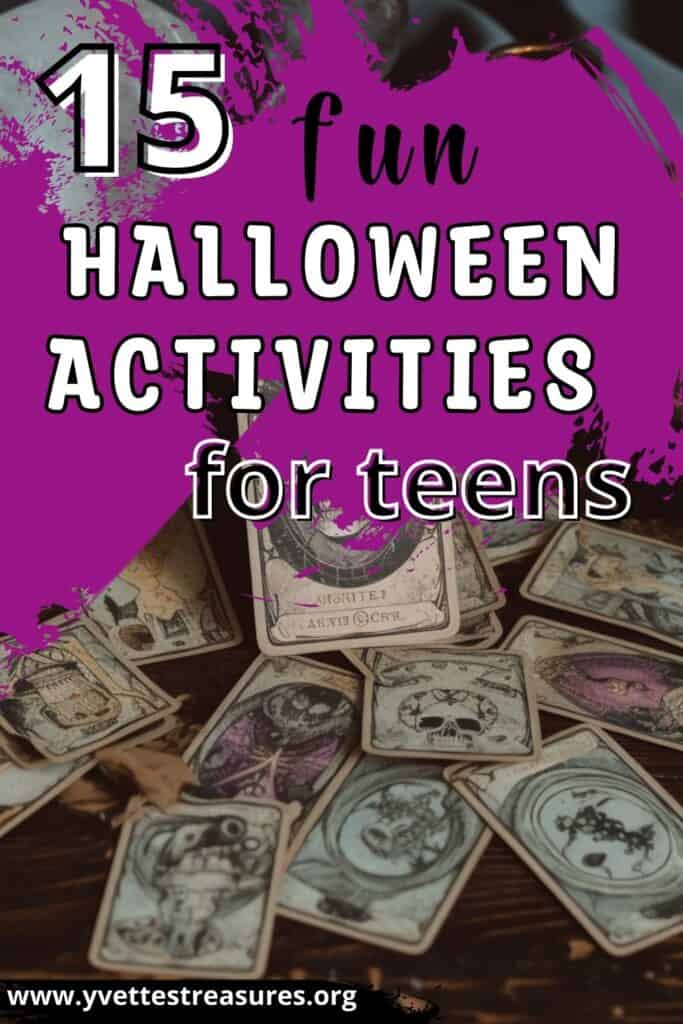 Frequently Asked Questions
What are some fun and spooky Halloween party games for teens?
Hosting a Halloween party for teens can be a lot of fun. Some popular party games include bobbing for apples, mummy wrap relay, and pumpkin carving contests. You can also set up a scavenger hunt with spooky clues or have a costume contest with prizes for the best dressed.
What are some scary movies to watch on Halloween with friends?
If you're in the mood for a spooky movie night with friends, there are plenty of options to choose from. Classics like "Halloween," "Nightmare on Elm Street," and "Friday the 13th" are always popular choices. For a more recent scare, try "The Conjuring," "Get Out," or "Hereditary."
What are some Halloween-themed crafts for teens?
If you're feeling crafty this Halloween season, there are plenty of fun DIY projects to try. You could make your own spooky decorations like paper ghosts, spider webs, or Halloween wreaths. You could also try your hand at Halloween-themed baking, like making Halloween cupcakes or cookies.
How can teens decorate their homes for Halloween?
Decorating your home for Halloween is a great way to get into the spooky spirit. You can hang up spider webs, carve pumpkins, and put out spooky decorations like skeletons or ghosts. You could also create a haunted house in your home with spooky decorations and props.
What are some haunted attractions or events for teens on Halloween?
If you're looking for a frightful night out, there are plenty of haunted attractions and events to choose from. Many cities have haunted houses or hayrides that are perfect for teens. You could also check out local Halloween festivals or events, like costume contests or pumpkin carving contests.
What are some Halloween-themed baking ideas for teens?
If you're in the mood for some Halloween-themed baking, there are plenty of recipes to try. You could make Halloween cupcakes with spooky decorations like ghosts or spiders. You could also try making Halloween-themed cookies with fun shapes like bats or pumpkins.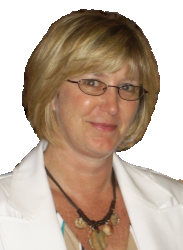 Latest posts by Yvette's Treasures
(see all)
Summary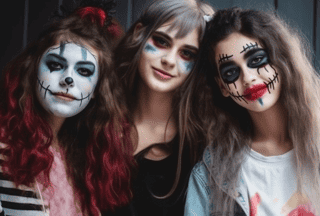 Article Name
15 Halloween Activities For Teens A Scary Good Time
Description
Fun and scary Halloween activities teens can enjoy. From haunted houses to camp fire ghost stories. Teenagers will love sharing these activities with friends and family!
Author