Last Updated on September 20, 2021 by Yvette's Treasures
Whether you have ideas for a Halloween party for the kids, and need Halloween party snack ideas or you're hosting a Spooktacular sit down Halloween dinner for the adults, these easy Halloween party recipes are the way to go. They are fun to make and will look absolutely scrumptious on any table.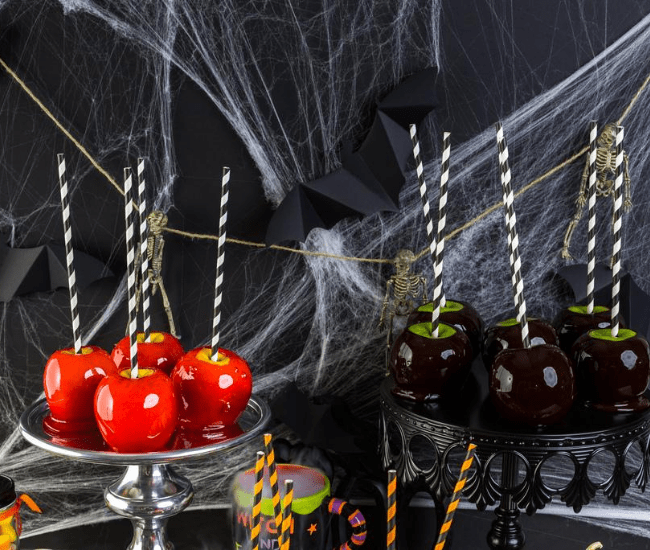 Halloween is my favorite holiday – I love the spooky atmosphere, the scary decorations everywhere, and of course the festivities.
This year I'm throwing a Halloween party! My friends are going to be so excited when they find out that we're having a fun costume contest and plenty of delicious food.
Best Halloween Party Recipes
First on my menu of spooky Halloween party recipes are Pumpkin Pie Jello Shots! They are seriously so cute and festive.
Ingredients:
1 envelope unflavored gelatin
1 cup cold water
1/3 cup canned pumpkin
1/4 cup sugar
1/2 teaspoon pumpkin pie spice
1/3 cup butterscotch schnapps liqueur
1/4 cup vodka
1-1/2 teaspoons heavy whipping cream
Sweetened whipped cream
Directions:
In a small saucepan, sprinkle gelatin over cold water, let stand 1 minute. Heat and stir over low heat until gelatin is completely dissolved. Stir in pumpkin, sugar and pie spice. Cook and stir until sugar is dissolved. Remove from heat. Stir in liqueur, vodka and cream.
Pour into twelve 2-oz. shot glasses; refrigerate until set. Top with sweetened whipped cream. Enjoy!
Easy Halloween Party Recipes
Halloween Party Snack Ideas – Fun Easy Halloween Party Recipes
Halloween Party Food Ideas Kids Will Love
Halloween Party Drink Recipes
My Thoughts On Easy Halloween Party Recipes
There are so many creative and easy Halloween party recipes online nowadays that you could spend hours upon hours going through just a small portion of them to find what you're looking for.
Don't get me wrong, this could be loads of fun if you have the time. Hopefully the few easy Halloween party recipes that I have added here will help you if you need some quick recipe ideas.