This post may contain affiliate links. I may receive commissions for purchases made through these links with no extra cost to you. See full disclosure.
Last Updated on September 20, 2021 by Yvette's Treasures
Whether you have ideas for a Halloween party for the kids, and need Halloween party snack ideas or you're hosting a Spooktacular sit down Halloween dinner for the adults, these easy Halloween party recipes are the way to go. They are fun to make and will look absolutely scrumptious on any table.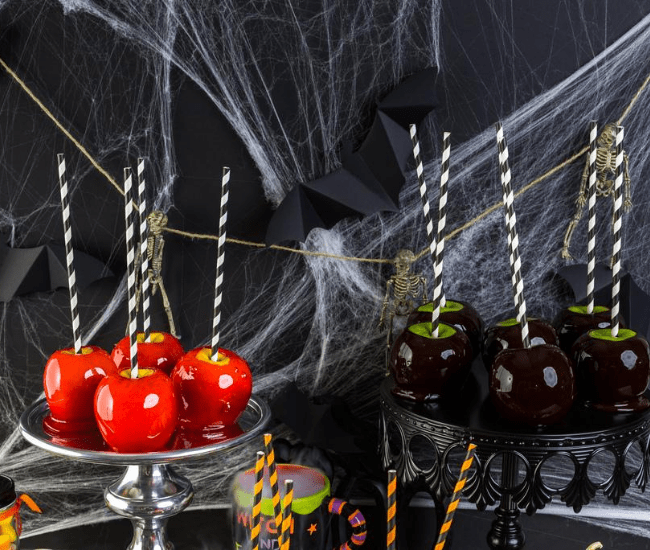 Halloween is my favorite holiday – I love the spooky atmosphere, the scary decorations everywhere, and of course the festivities.
This year I'm throwing a Halloween party! My friends are going to be so excited when they find out that we're having a fun costume contest and plenty of delicious food.
Best Halloween Party Recipes
Quick Links to Info on this Page
First on my menu of spooky Halloween party recipes are Pumpkin Pie Jello Shots! They are seriously so cute and festive.
Ingredients:
1 envelope unflavored gelatin
1 cup cold water
1/3 cup canned pumpkin
1/4 cup sugar
1/2 teaspoon pumpkin pie spice
1/3 cup butterscotch schnapps liqueur
1/4 cup vodka
1-1/2 teaspoons heavy whipping cream
Sweetened whipped cream
Directions:
In a small saucepan, sprinkle gelatin over cold water, let stand 1 minute. Heat and stir over low heat until gelatin is completely dissolved. Stir in pumpkin, sugar and pie spice. Cook and stir until sugar is dissolved. Remove from heat. Stir in liqueur, vodka and cream.
Pour into twelve 2-oz. shot glasses; refrigerate until set. Top with sweetened whipped cream. Enjoy!
Easy Halloween Party Recipes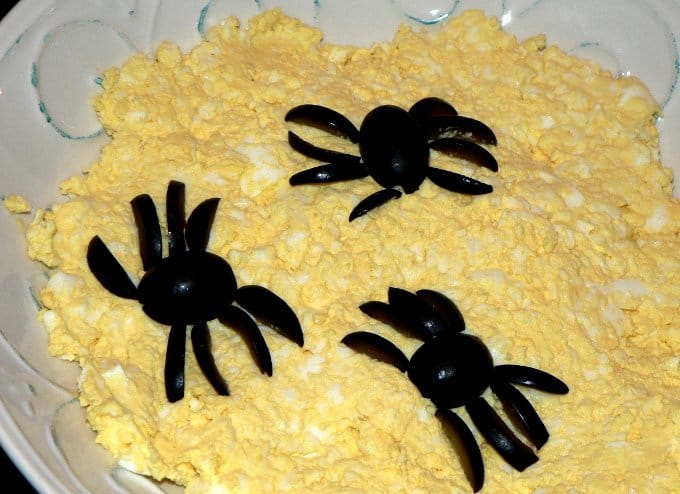 Halloween Egg Salad With Spiders
This Egg Salad with Spiders is the perfect recipe for an egg salad to serve at the Halloween Party! Made with just a few ingredients, you won't believe how easy it is to make this delicious and spooky salad. Bonus…it is also Keto, Low Carb and Gluten Free.
Get the recipe from Tasty Galaxy.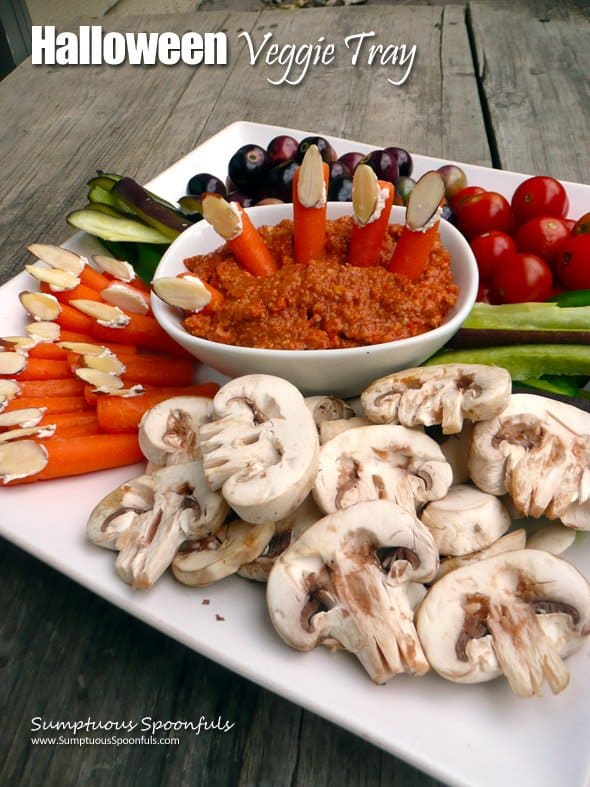 Halloween Veggie Tray
If you're looking for a healthier option, then this Halloween veggie tray is great. Add an almond slice to the top of a carrot and you've got nice "fingers" that can be used for dipping.
Get more veggie ideas from Sumptuous Spoonfuls.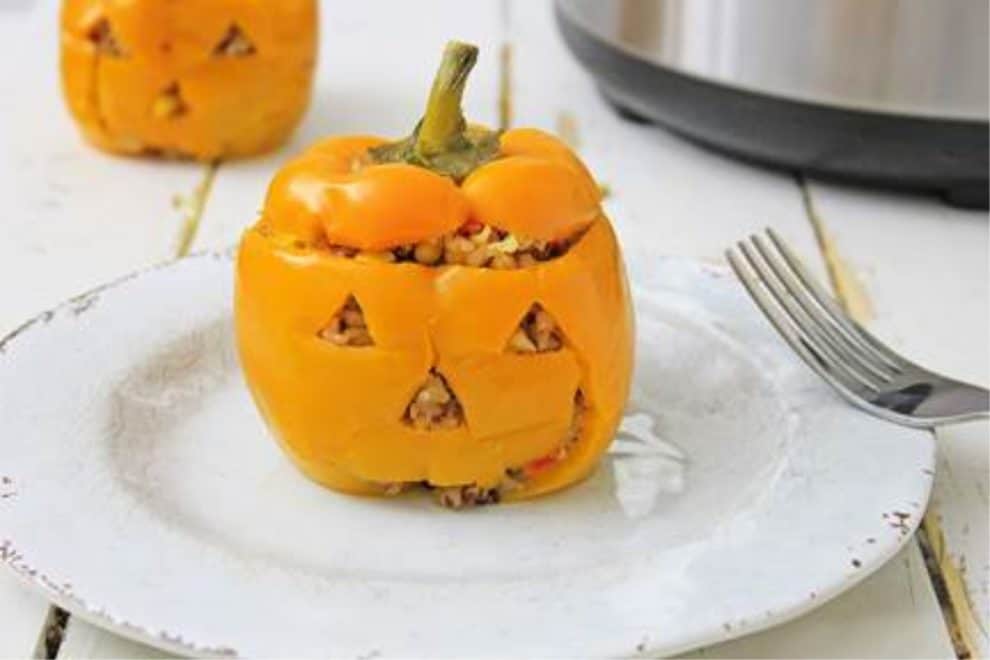 Jack O Lantern Stuffed Peppers
These stuffed peppers are healthy and extra festive for this time of year. This recipe can be made in both the oven and instant pot if you don't have much time.
Find out here exactly what yummy stuffing filler goes inside these Halloween peppers.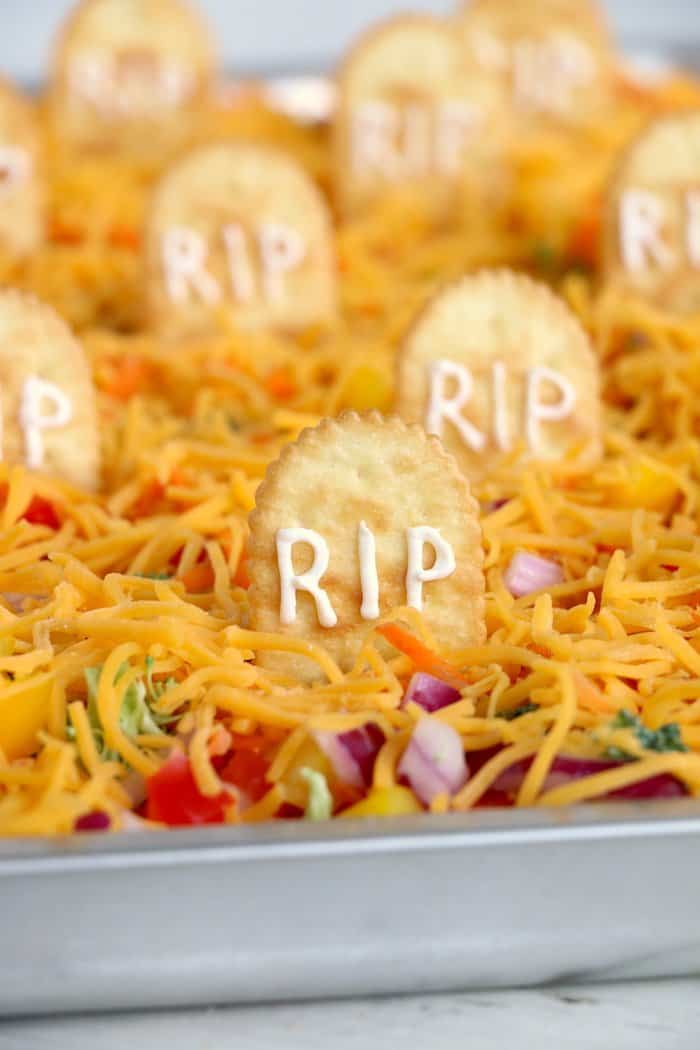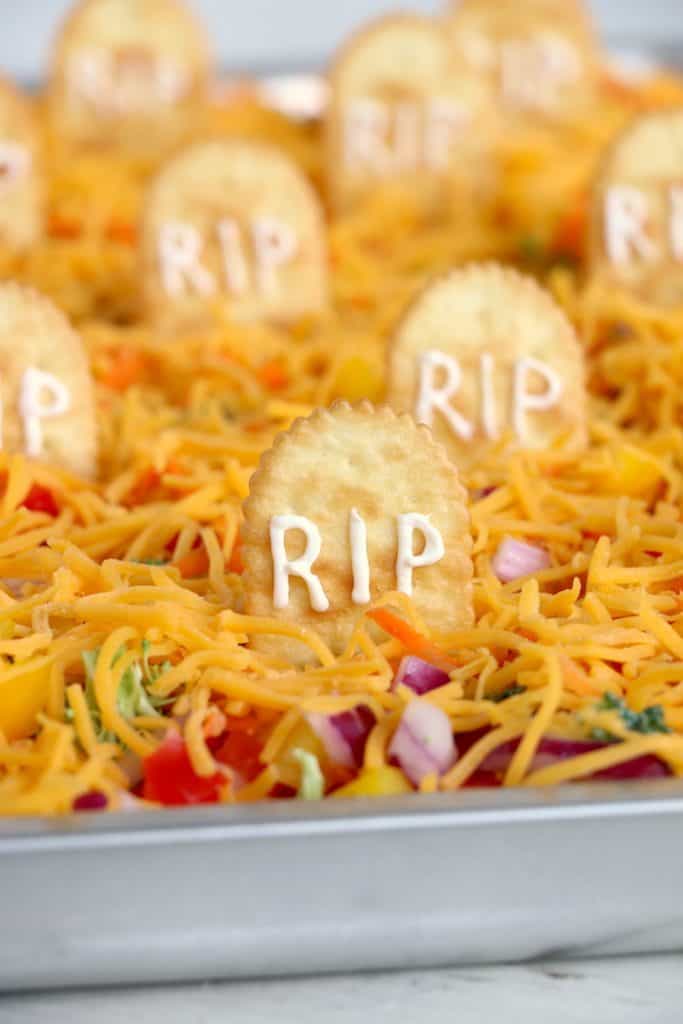 Halloween Veggie Pizza
A spooky themed graveyard pizza featuring a flavorful ranch cream cheese covered crust, topped with colorful veggies and "tombstone" crackers.
Bitz & Giggles will show you how it's made.
Halloween Party Snack Ideas – Fun Easy Halloween Party Recipes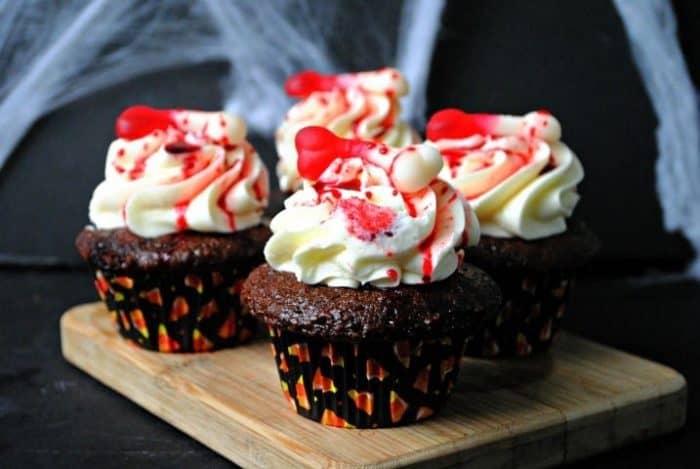 Halloween Bloody Bone Cupcake
The Bloody Bone Cupcake recipe is not for the faint-hearted! It's a delicious chocolate cupcake with a butter cream vanilla frosting and topped with a gummy bone. Perfect for Halloween parties.
Get the complete recipe from Ottawa Mommy Club.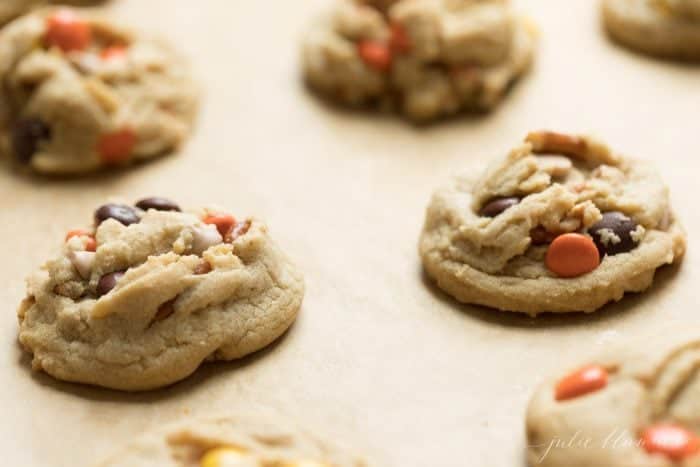 Monster Mash Cookies
Monster Mash Cookies are a fun twist on Monster Cookies for Halloween.
Thick, chewy Monster Cookie recipe loaded with pretzels, salted caramel chips, Reese's Pieces and candy corn that will make you feel like a kid again.
Get the recipe from Julie Blanner.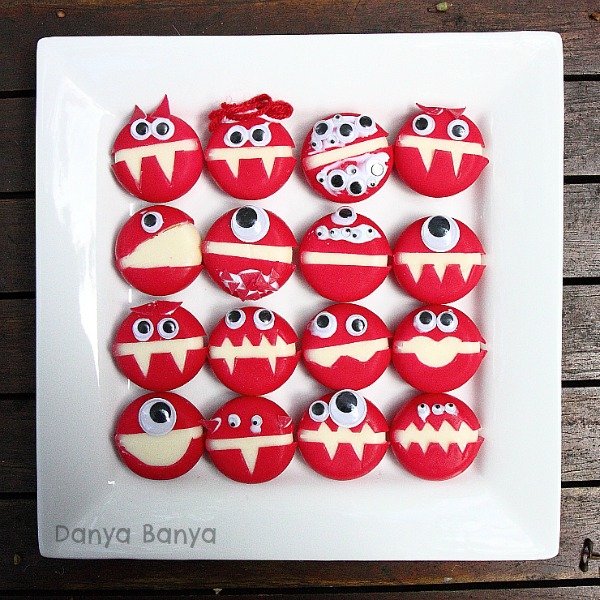 Cheese Monsters
This is one party snack you're kids would love to get involved with. They can be as creative as they want.
Fun, healthy Halloween party snack ideas suitable for both kids and adults alike.
Danya will show you how to put these little cheese monsters together.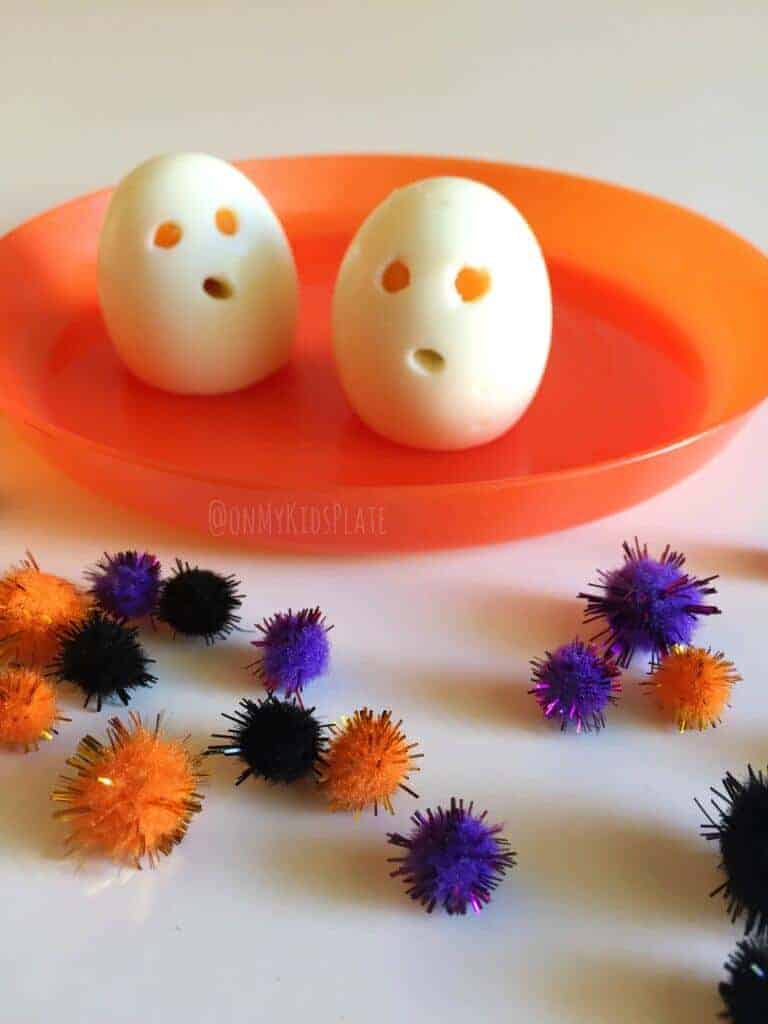 Spooky Ghost Egg Snacks
When you only have a few minutes to spare, these spooky ghost eggs are the perfect Halloween party snack.
For more quick and easy Halloween party snack ideas head over to On My Kids Plate.
Halloween Party Food Ideas Kids Will Love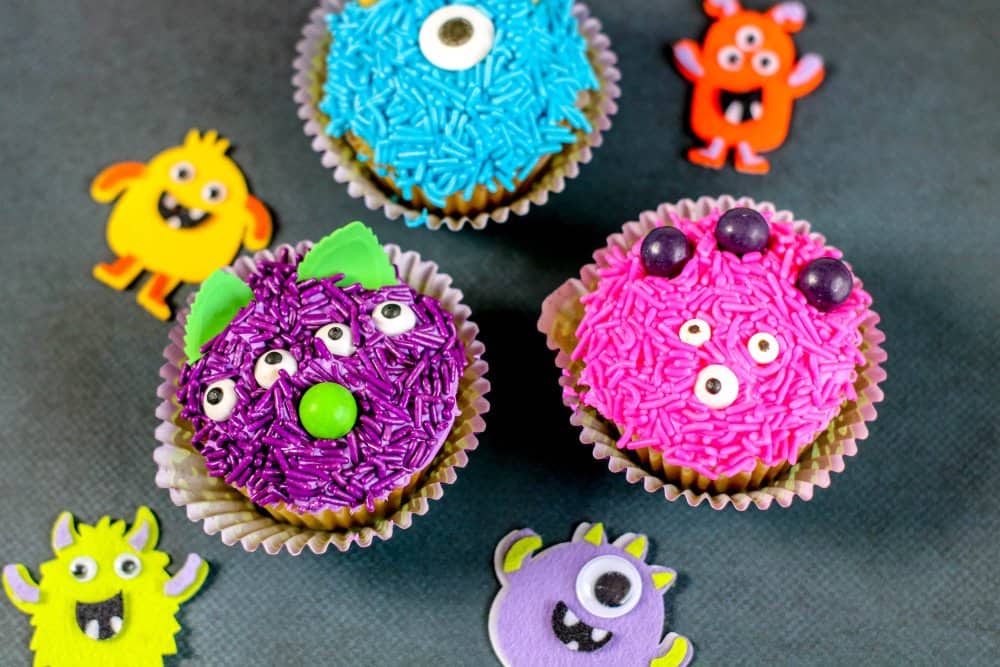 Monster Cupcakes
Planning a scavenger hunt or a not-so-spooky kids' Halloween event? Get your little monsters involved with decorating and creating their very own monster cupcakes.
Recipe for the awesome cupcakes can be found here.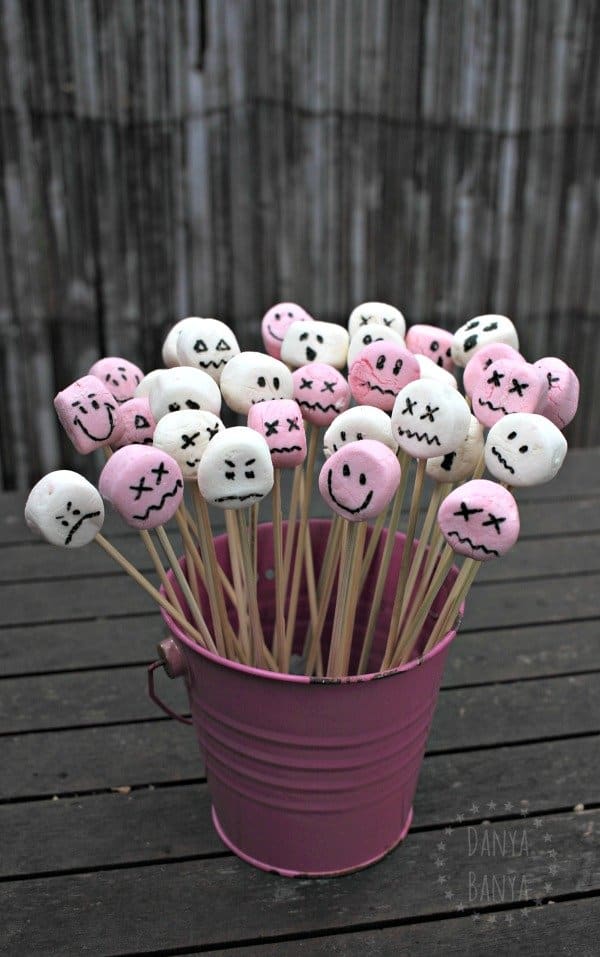 Spooky Marshmallow Treats
So much fun and easy to make. What kid isn't mad about marshmallows? Simply draw faces on the marshmallows, and add a skewer! Make the faces mean, scary or zombie like.
Get more ideas from Danya Banya.
You might also like: 47 Of The Best Spooky Halloween Toys For Kids
Halloween Party Drink Recipes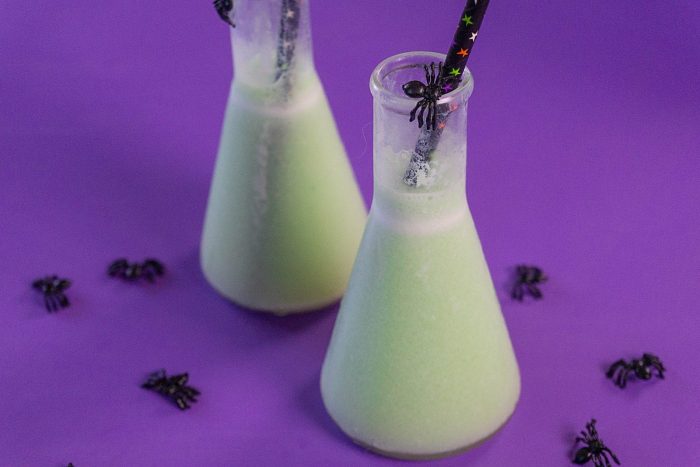 Halloween Spiked Toxic Tonic Recipe
I love this Halloween spiked toxic tonic recipe. Doesn't it just look so cool? It's very easy to prepare and so delicious! You can omit the wine to serve it to kids.
Pop over to Ottawa Mommy Club to find out what is in this toxic tonic recipe.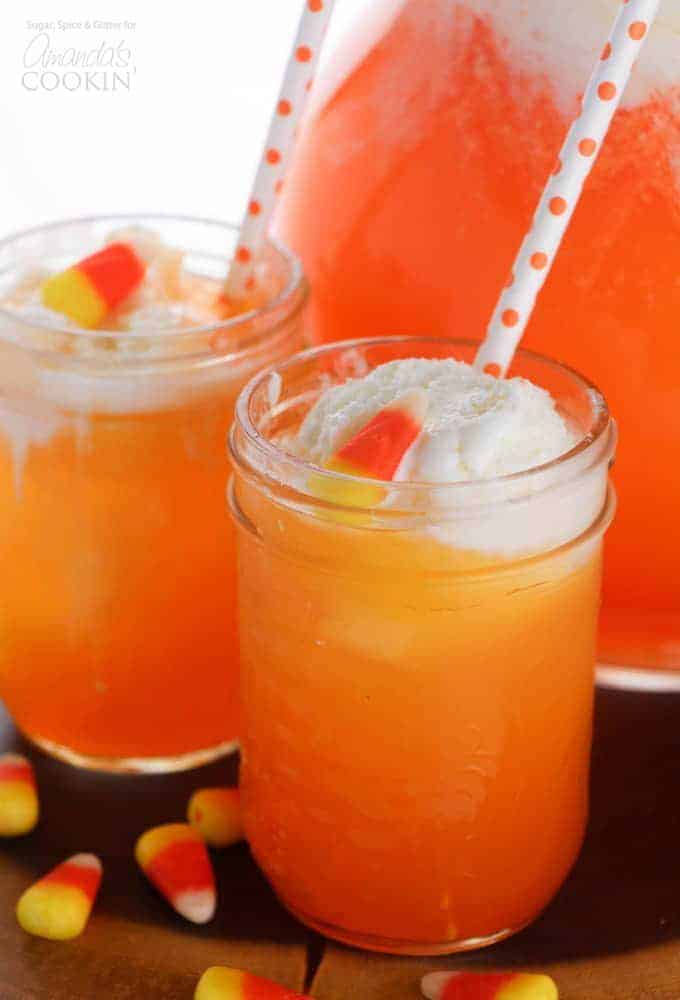 Candy Corn Punch
A colorful, festive non-alcoholic Candy Corn Punch that can also be enjoyed by the kiddos.
If you want to turn it into a delicious cocktail then head over to Amanda's Cookin to find out what you will need to add.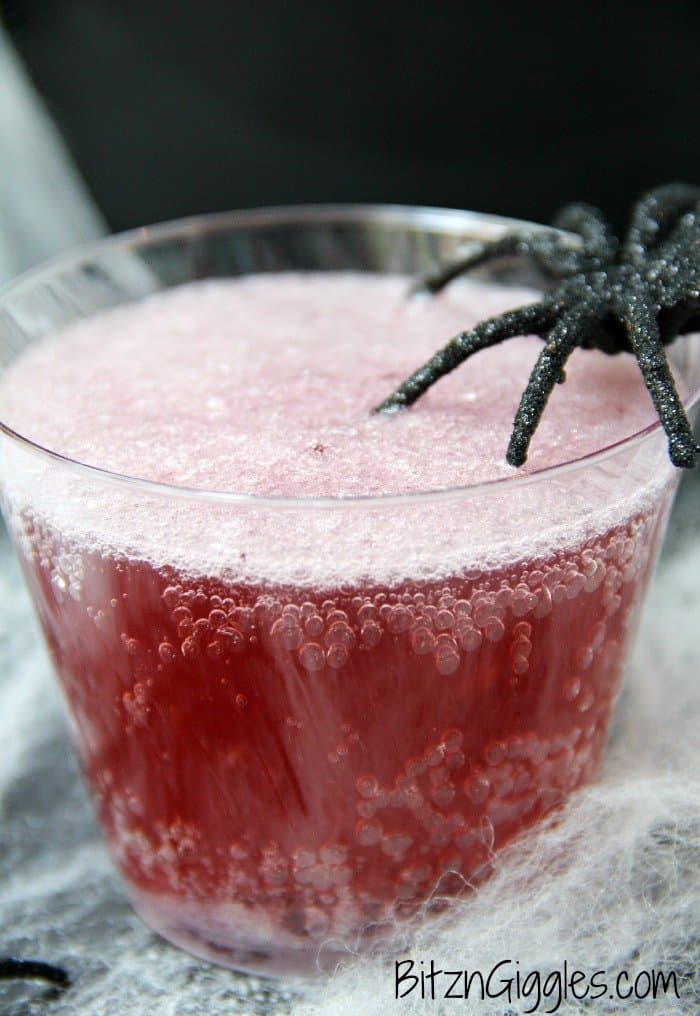 Magic Potion Punch
A magical punch that fizzes and bubbles when you add the secret ingredient. Tastes delicious, too! Great for mad scientist and Halloween parties or just anytime you need a little magic.
Find out here what that secret ingredient is.
You might enjoy this one too: The Best Halloween Gift Basket Ideas
My Thoughts On Easy Halloween Party Recipes
There are so many creative and easy Halloween party recipes online nowadays that you could spend hours upon hours going through just a small portion of them to find what you're looking for.
Don't get me wrong, this could be loads of fun if you have the time. Hopefully the few easy Halloween party recipes that I have added here will help you if you need some quick recipe ideas.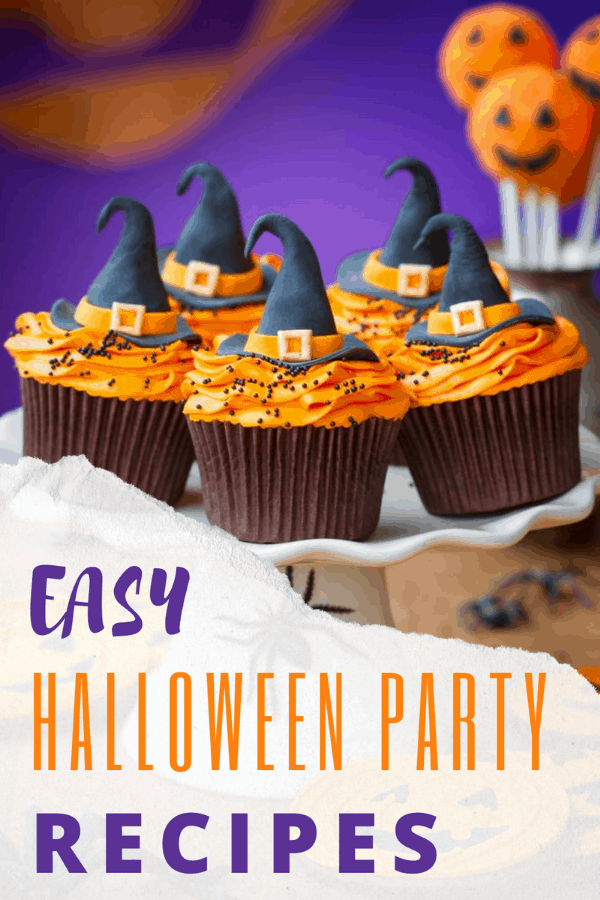 Summary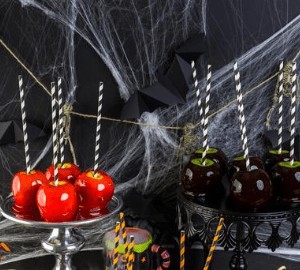 Article Name
Easy Halloween Party Recipes - Fun Halloween Recipe Ideas
Description
Whether you're organizing a Halloween party for the kids and need Halloween party snack ideas or you're hosting a sit down Halloween dinner for the adults, these easy Halloween party recipes are the way to go.
Author