This post may contain affiliate links. I may receive commissions for purchases made through these links with no extra cost to you. See full disclosure.
Last Updated on January 2, 2022 by Yvette's Treasures
Best Pirate Gifts For Kids
Ahoy mateys! You've just been invited to a fun pirate party, and you're looking for pirate themed gifts for the birthday boy or girl. You'll definitely want the gift to be a super cool surprise. Hearties, don't go worrying your sweet little heads now, we've got just what you need, a selection of the best pirate gifts for kids. Shiver Me Timbers!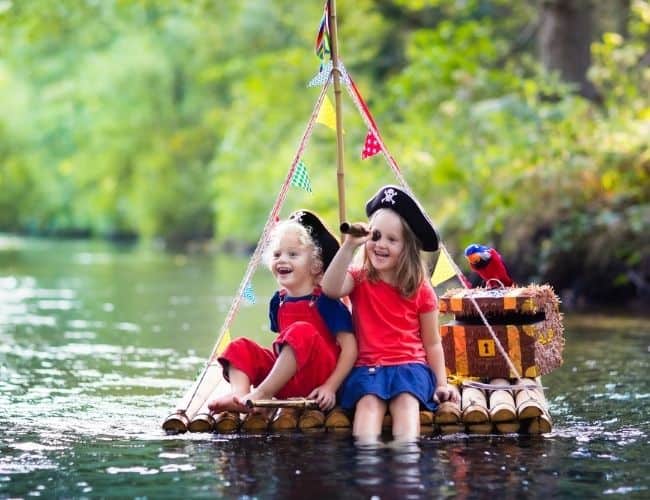 Pirate Toys Children Will Love
Whether your child is a girl or boy, all kids love to dress up as pirates. And when they get a chance to dress up for a pirate themed party, even better. Take a look at these pirate toys children would love to have.
Pop Up Pirate Gift Ideas
Pop Up Pirate Gift IdeasBuy Now From Amazon
Get a few of your friends together and try out the fun Pop-up Pirate action game. It is suitable for 2 – 4 players. Push the pirate into the barrel and take turns sliding your swords into the slots.
But, be careful you could end up walking the plank if your sword pops the pirate out of the barrel! Great fun for 4 year old's and up.
---
Melissa & Doug Wooden Pirate Chest
Melissa & Doug Wooden Pirate Chest Pretend Play SetBuy Now From Amazon
All Melissa & Doug toys are made from high quality materials, and encourage creative, imaginative play. This Melissa & Doug's Wooden Pirate Chest is no different.
The set includes a hinged wooden treasure chest with a secret compartment (the perfect place for kids to hide their treasure), an eyepatch, bandana, gold coins, and a handy loot bag. A great pirate gift for kids ages 6 to 8 years.
Add the Melissa & Doug Pirate Role Play Costume Set to round out the hands-on, screen-free play experience.
---
Custom Treasure Map – Awesome Pirate Gifts For Kids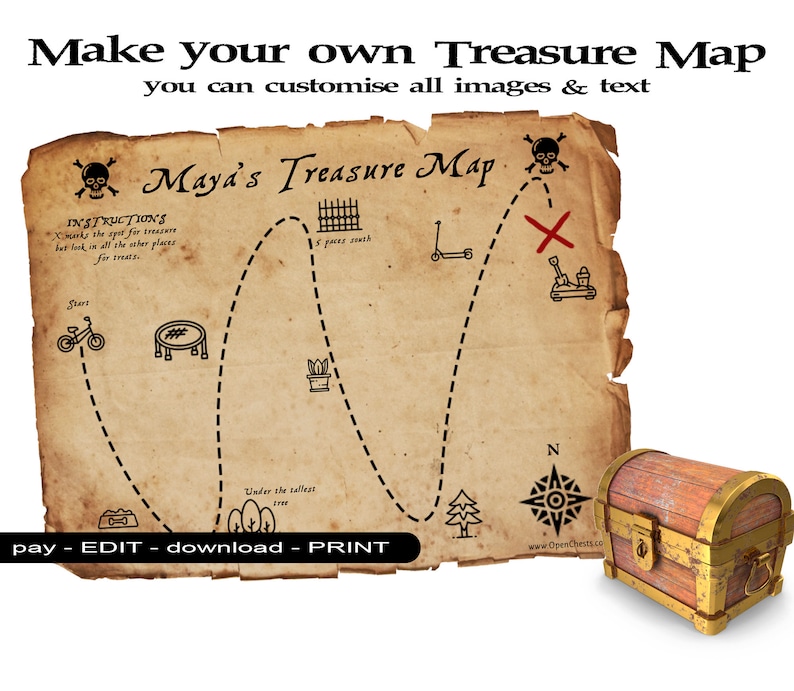 Custom Treasure MapBuy Now From Etsy
Create your very own treasure map, great for indoor our outdoor play. The images and text are editable allowing you to create the perfect map for your desired location. What fun!
---
Temporary Pirate Tattoos
Temporary Pirate Tattoos (96Pcs)Buy Now From Amazon
96 Piece super cool pirate tattoos. Each tattoo is pre-cut making it very easy to peel them off and stick them on the face, body, ankle or even on your party goodie bag.
They are also waterproof, and will last for 3 – 5 days depending on how many showers you take. All good swashbuckling sailors wear these tattoos!
---
Pirate Action Figures Playset
Bucket of Pirate Action Figures PlaysetBuy Now From Amazon
A bucket of pirates with 8 pirate figurines in different postures holding various weapons. Each figurine measures 3" tall making them a perfect fit for little hands. All are durable and non-toxic.
The set also Includes a pirate ship painted with the classic high seas logo, a real firing cannon and plenty of accessories. There is even a battery operated shark that makes noises and has eyes that light up. There are a few small pieces so I would only recommend these unique pirate gifts for kids ages 3 and up.
---
Pirate Theme Wooden Train Set
Kids Pirate Theme Wooden Train SetBuy Now From Amazon
Are your kids ready for a pirate themed train set journey where the imagination is limitless? This is a pirate toy children will absolutely love to play with.
With 72 incredible wooden pieces including a pirate ship, haunted tunnel cave, pirate figurines, sea animals, and a puzzle map for serious adventurers. It also comes with 2 fishing poles with magnets accessories enabling them to be 'hooked'. Unique pirate gifts for kids for plenty of adventurous play.
---
Pirate Costume
Boys Pirate CostumeBuy Now From Amazon
Have your child searching for buried treasure in this cool pirate outfit. Also included with the outfit is a pirate hat, strip shirt with black waistcoat, red belt, black pants, an eye patch and a sword.
---
Personalized Pirate Beach Towel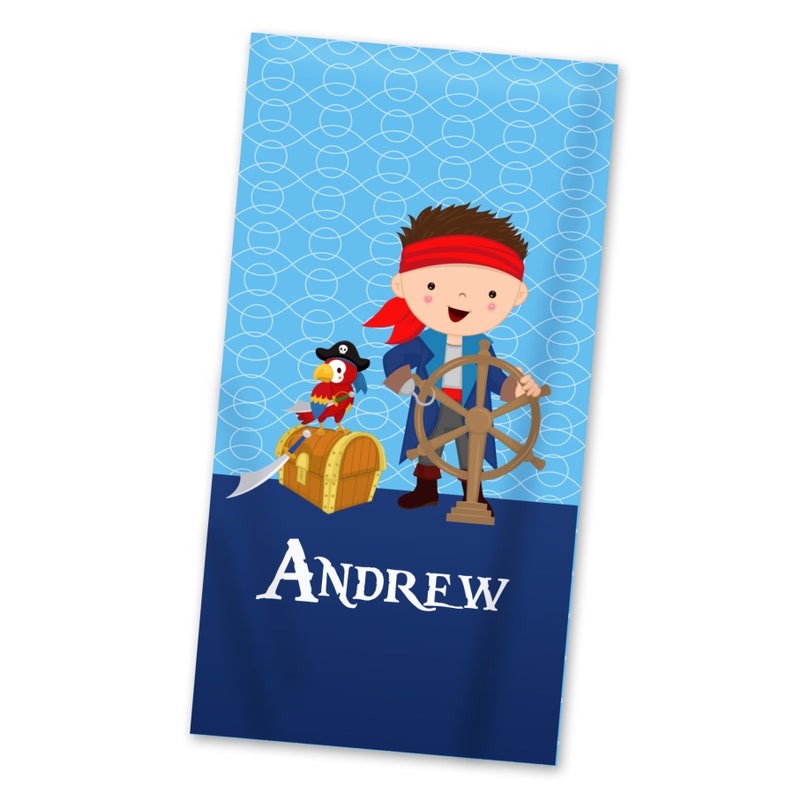 Personalized Pirate Beach TowelBuy Now From Etsy
This pirate beach towel is super cute and can be personalized with the recipient's name. It is lightweight, absorbent and comes in various sizes. Only eco-friendly water based dyes are used, so they do not fade or alter the texture of the fabric. The fabric stays silky smooth, it won't crack, chip or peel. 
---
Pirate Wooden Stacking Toy Game
Wooden Pirate Stacking Toys Game Educational Development SetBuy Now From Amazon
Improve your child's ability to fine movement, hand-eye coordination, problem-solving and independent thinking with these well-made and durable wooden stacking toys. The goal is to connect all 12 pirate blocks in various ways while maintaining balance.
Because children grow at different levels these pirate blocks offer a variety of level challenges so they can go at their own pace. Each product is printed with environmentally friendly paint. While the combination of multiple colors adds to the fun of the product.
---
---
Personalized Pirate Step Stool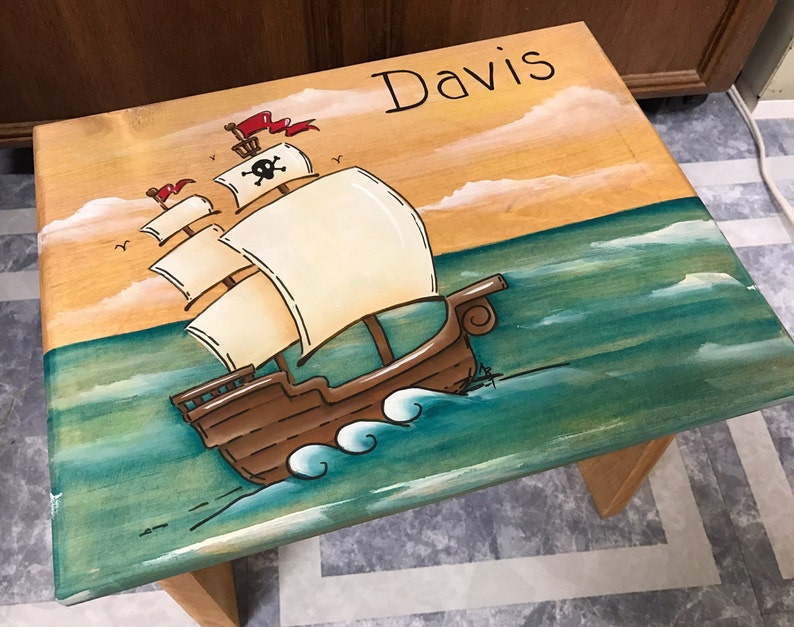 Pirate Step StoolBuy Now From Etsy
I love this pirate gift idea! It's totally unique and personalized. You won't find another like it anywhere. Your very own pirate step stool. Made of Pine with premium wood paint and 2 coats of varnish to give it that extra protection to hold up to moisture.
---
Jolly Roger T-Shirt
Pirate T shirt Jolly RogerBuy Now From Amazon
A super cool jolly Roger t-shirt perfect for your next pirate party. It will also look good on Halloween when you go trick or treating.
---
Children's Play Rug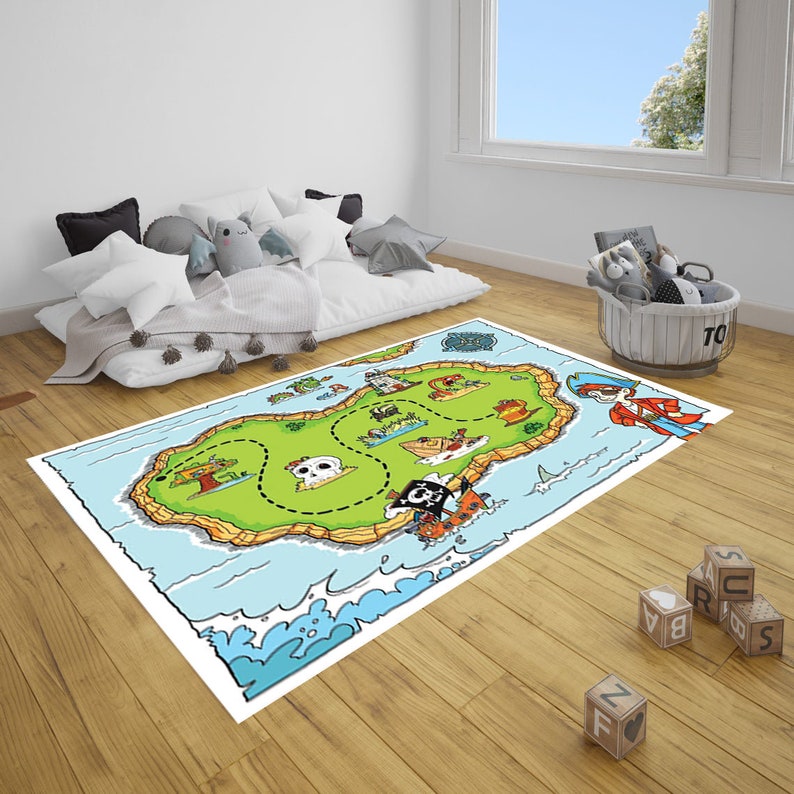 Children Play RugBuy Now From Etsy
A fun pirate play rug that is also hypoallergenic, high quality printed and washable. Safe for the kiddies. The rug is flexible and can be easily rolled up and tucked away if needed. 
---
Pirate Ship For Kids
You can't be a real pirate without a ship! Here are a few fun pirate ship toys to choose from for the kiddos! Something for all kids ages 18 months right up to 8 years.
Kids Inflatable Pirate Boat
3-in-1 Pool Floats for KidsBuy Now From Amazon
Kids will have a summer blast with this Pirate-Themed inflatable boat. It comes fully equipped with a built-in water gun that draws water straight from the pool so the Captain of the Pirate Ship will never run out of water. How cool is that?
---
Pirate Ship Ride-On Toy
Little Tikes 2-in-1 Pirate Ship Ride-On Toy and PlaysetBuy Now From Amazon
Develop your child's motor skills while he or she sails the pretend seas on this fun 2-in-1 pirate ship ride on toy. With all the realistic pirate ship sounds, this pirate ship for kids will be loved no doubt.
---
Read Related Gift Ideas: Best Ride On Toys For Boys
Shark Bite Pirate Ship
Fisher-Price Imaginext Shark Bite Pirate ShipBuy Now From Amazon
Preschoolers will have plenty of exciting adventures with this shark-themed pirate ship playset. It has two power pads, one for awesome shark-biting action. Turn the other power pad left to reveal the treasure's hiding spot. Turn it right to launch the cannons and capture the prisoners.
The playset comes with 2 pirate figures both with removable swords, 2 cannon balls, plus additional play pieces and projectiles. Kids from the age of 3 right up to 8 will love this pirate gift idea.
---
Lego 3 in 1 Pirate Ship
LEGO Creator 3in1 Pirate Ship (1,260 Pieces)Buy Now From Amazon
Lego is loved by all no matter how young or old. This Lego pirate ship is perfect for the older kids, 9 years and up. Kids can stretch their building and creativity skills with the super-detailed Pirate Ship. Visit the Pirates' Inn for a bite, explore Skull Island or create a totally new model. The choices are endless.
---
Pirate Scavenger Hunt Activity Sheet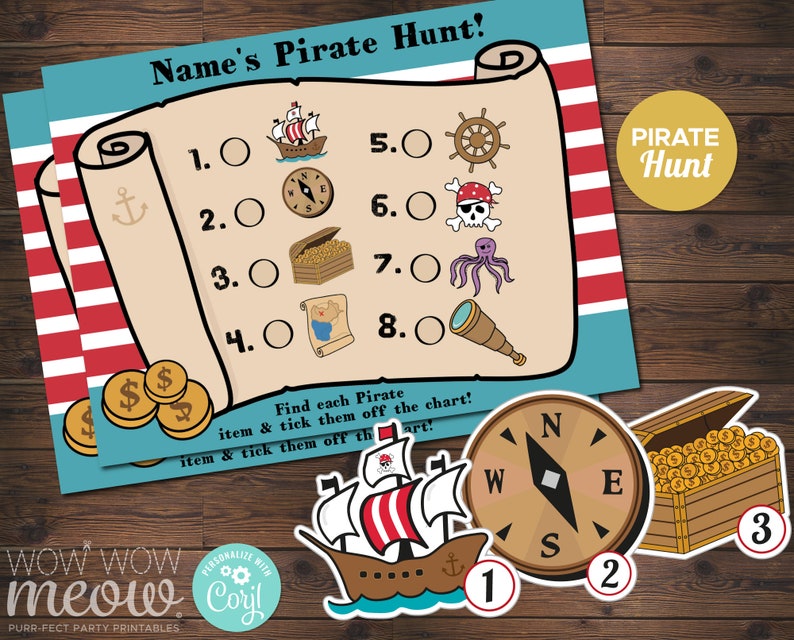 Pirate Scavenger Hunt Activity SheetBuy Now From Etsy
Get a few friends together or have a pirate scavenger hunt at your next pirate party. So much fun will be had by all! This is an instant download.
So all you need to do is edit it to make it personal, and then download as many times as you want. Included are 8 pirate items to hide around your home or garden, and cool pirate hats. Because no pirate hunt is complete without pirate hats!
---
Educational Pirate Gifts For Kids
Why not get the kids to learn a little something while having fun with their pirate toys? They won't even realize just how much they are learning.
Pirate Treasure Dig Kit
Pirate Treasure Dig Kit for KidsBuy Now From Amazon
This is a really fun, educational gift for kids. This pirate treasure excavation kit comes with all the tools you'll need to dig out the pirate. Not only is it fun for kids, but they can also learn a lot about relics from the instruction sheet. An educational gift that stirs the imagination and helps a working mom avoid so much screen time.
---
ThinkFun Potato Pirates
ThinkFun Potato Pirates Coding Card Game and STEM ToyBuy Now From Amazon
A fun filled card game. Potato Pirates teaches key programming concepts in a hilarious, easy to understand way. Battle the other players to eliminate their Potato Crews and seize their Potato King Cards. Collect all seven Potato King Cards OR be the last player sailing and you win! Perfect for 7 years and up.
---
Don't Rock The Boat
Don't Rock The Boat Skill & Action Balancing GameBuy Now From Amazon
A fun game you can play over and over again with friends or family. Ages 5 years and up will thoroughly enjoy Don't Rock The Boat. Test your skills with this balancing game. Try to balance as many pirate pieces on the ship as you can without sending any overboard. Includes fun pirate Penguins, a canon, treasure chest, ship wheel, anchor, Octopus and crab!
---
Crafty Pirate Gifts For Kids
Crafts are always a great way to keep kids entertained, especially if they are stuck indoors. Here are a few pirate gifts for kids that they can make from scratch, stick on or paint.
Wooden Pirate Chest Craft Kit
Melissa & Doug Decorate-Your-Own Wooden Pirate Chest Craft KitBuy Now From Amazon
An exciting arts-and-crafts activity that will appeal to kids with a sense of adventure. The set includes a wooden pirate chest, 27 stickers, 4 pots of paint, a paintbrush and 2 glitter glues. There are small parts so not suitable for kids under 3 years.
---
Pirates Sticker Activity Book
Melissa & Doug Puffy Sticker Activity Book: Pirates – 51 Reusable StickersBuy Now From Amazon
This Pirates Puffy Sticker play set with 51 reusable stickers is an exceptional gift for kids 4 to 8 years. The puffy sticker activity book even has a convenient carrying handle which makes it very useful when traveling, camping or when you're out for a nice family drive.
---
My First Paint With Water
Melissa & Doug My First Paint With Water Kids' Art Pad With PaintbrushBuy Now From Amazon
As I'm sure you know, Melissa & Doug toys are legendary. This paint with water activity book is no exception. It includes 24 pages and a paintbrush. All kids between the ages of 3 and 5 years will have a great time with this pirate craft toy.
---
Glow in The Dark Lock and Key Diary
Pirate Ship Glow in The Dark Lock and Key DiaryBuy Now From Amazon
Aargh! Pirates Ahead! This glow in the dark diary gives landlubbers a perfect place to keep thoughts and secret treasure maps safe from mischievous scallywags. Diary includes 104 double-sided pages, a sturdy padlock lock and 2 keys. Great for 5 years and up.
---
Jewelry Pirate Gifts For Kids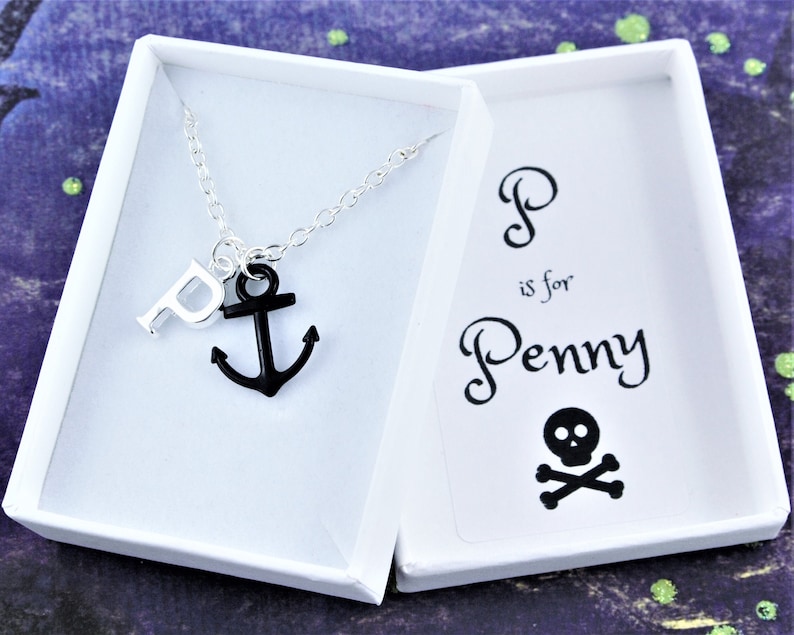 Children's Pirate JewelryBuy Now From Etsy
A lovely silver initial necklace with a black anchor charm. The necklace is boxed inside a beautiful organza gift bag, all ready for gifting.
---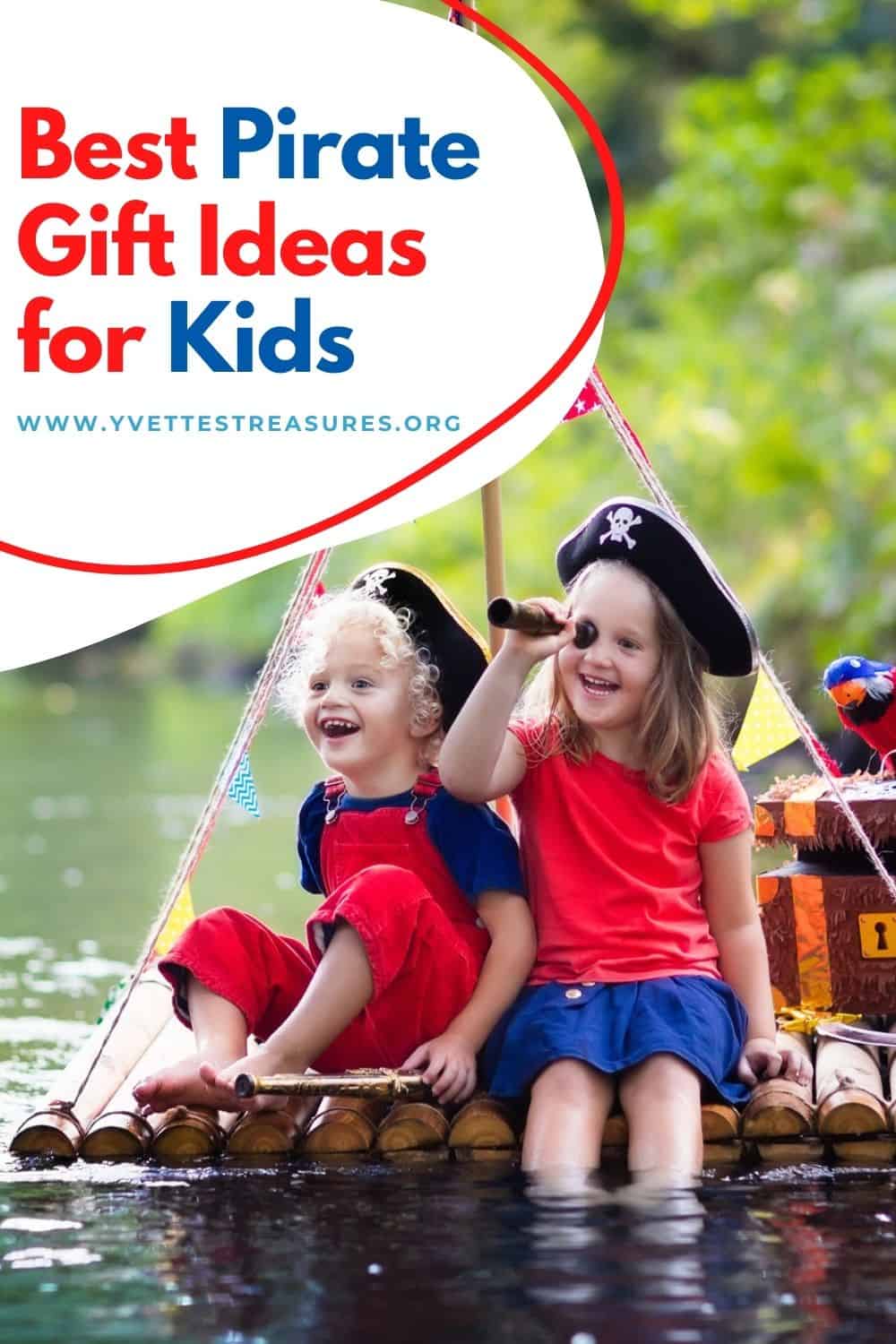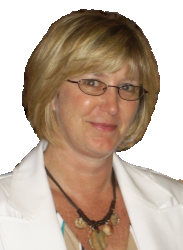 Latest posts by Yvette's Treasures
(see all)
Summary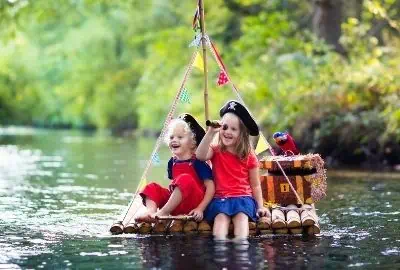 Article Name
25 Fantastic Pirate Gifts For Kids To Enjoy Playing With
Description
Going to a pirate party, and you're looking for pirate themed gifts for the birthday boy or girl. We've got just what you need, a selection of the best pirate gifts for kids. Shiver Me Timbers!
Author