This post may contain affiliate links. I may receive commissions for purchases made through these links with no extra cost to you. See full disclosure.
Last Updated on September 1, 2021 by Yvette's Treasures
The bridal shower was a blast, but now it's time to get creative with some of the top gifts for newlyweds. Although I'm sure they had a registry, there are bound to be plenty of household appliances or furniture items that they didn't consider at the time. After all, one has so much on your mind when planning a wedding. Just ask the best man…lol!
If you have no idea what to buy for the newly married couple, we've got you covered with these top gifts for newlyweds.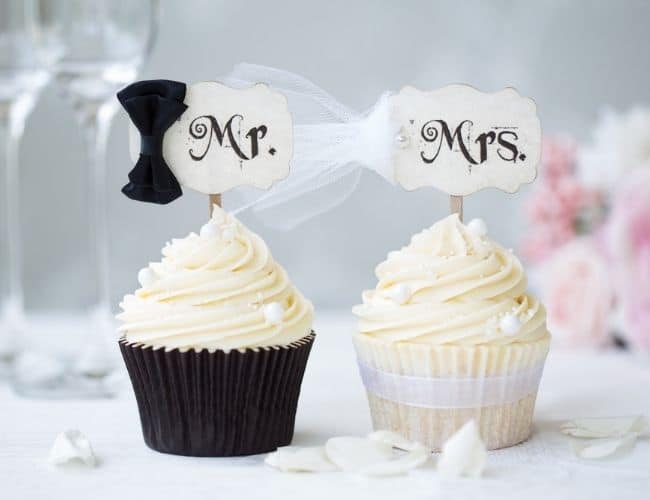 What to Buy For Newlyweds?
Newlyweds will be showered with gifts at their wedding, but often there are essential items that they forget to put on their wedding registry. Only once you settle down into married life do you realize what you are still missing in the home as a couple.
Some of the wedding gifts will be extremely useful like kitchen appliances, some will be keepsake mementos to remember your special day, while others will be cute newlywed gifts that they can use together as a new couple.
Best Newlywed Gifts
Thumbprint Keepsake Photo Frame
Keepsake Photo FrameBUY ON AMAZON
The perfect keepsake to remember your special day. Personalize this elegant wedding frame with your very own thumbprint and create a heart to last a lifetime. Place it on the table or hang it on a wall so that everyone can admire it.
---
Mr And Mrs Aprons Make Cute Newlywed Gifts
Mr and Mrs Aprons For Happy CoupleBUY ON AMAZON
The perfect wedding gift idea for the happy couple that love to cook together, and you know what they say 'those that cook together, stay together'.
---
Mr And Mrs Luggage Tags
Mr and Mrs Luggage Tags And Passport HolderBUY ON AMAZON
A wonderful honeymoon gift or perhaps your newlywed couple are adventurous and just love to travel. Then these luxurious luggage tags and passport holders will definitely come in handy. Allowing them to travel in style.
---
Hand Painted Newlywed Statue
Hand Painted Romantic SculptureBUY ON AMAZON
The couple on a swing statue is meticulously hand painted, cute and beautiful. It will also make a wonderful wedding gift for the newlywed couple. A symbol of their love, honor and respect towards one another.
---
Molcajete With Tortilla Basket
Molcajete with Tortilla BasketBUY ON UNCOMMONGOODS
The molcajete, is a traditional Mexican mortar and pestle. Ideal for hand-smashing components of spicy salsas or chunky guacamole to make your favorite Mexican dish. It also comes with a hand-woven straw basket called a tortillero, traditionally used to keep tortillas warm before serving.
---
Photo Album Scrapbook
Our Adventure Book Wedding Photo AlbumBUY ON AMAZON
An elegant and unique wedding photo album made of superb hard cardboard that is extremely sturdy and durable to last for years to come. Designed specially to protect your memorable photos and keep them safe.
Pour a glass of wine, get comfy and enjoy going through the memories together of your very special day!
---
Love Tokens Make Great Presents For Newlyweds
Love TokensBUY ON UNCOMMONGOODS
Do your newlyweds seem to have everything, and you really don't want to get them another salad or spoon set? Then why not surprise them with these tokens of love and affection. It's a brilliant idea for something new. Each set contains two tokens of each design, and comes in an attractive pouch. All ready to be gifted.
---
Cheese Board Gift For Newlyweds
Mr and Mrs Cheese Board – Perfect Gift For CouplesBUY ON AMAZON
This beautiful deluxe cheese tray is handmade with 100% quality bamboo material. The nonporous surface makes it the perfect choice for cheese lovers as it does not stain or absorb odors.
It comes already packed with four professional slicing and serving tools, as well a secret compartment to conveniently hide your professional Cheese Tools when you're not using them.
---
Large Outdoor Blanket
Extra Large Picnic BlanketBUY ON AMAZON
A handy outdoor blanket large enough for a picnic. Stylish and beautifully made with a waterproof PEVA backing in order to keep out the wet, and making it very easy to clean.
When you're done and you've polished off all your delicious picnic snacks, simply fold up this picnic mat with adjustable bronze metal buckles, and use its handy strap to conveniently carry it.
---
Matching Presents For Newlyweds
Sometimes it's great fun to buy matching presents for newlyweds. Being so in love we want to be part of a team so dressing alike and having matchings gifts is loads of fun. Let's stand out newlyweds!
Wedding Baseball Caps And Beer Holder
Mr. & Mrs. | Matching Newlywed Wedding Baseball Caps and Beer Holder (Coolie)BUY ON AMAZON
Low profile classic twill baseball caps with an adjustable, brushed metal slide-closure buckle that gives a classic, stylish look from behind. While Mr and Mrs is embroidered across the front giving the caps an elegant companion look.
The can holders are screen printed with quality inks which will stay on and in-tact for years to come.
---
Groom and Bride Newlywed Matching Shirts
Groom and Bride Newlywed Matching Couple ShirtsBUY ON AMAZON
These matching t-shirts are such cute newlywed gift ideas. They are comfortable, fit well and made from high quality blend fabric. You'll find double needle stitching on both the sleeve and the bottom of the shirt. And bonus, they can be washed and dried as you see fit.
---
Vintage Spoon Wedding Ring Dishes
Vintage Spoon Wedding Ring DishesBUY ON UNCOMMONGOODS
You remove your wedding band and place it gently on this vintage silver spoon imprinted with the prefix "Mrs" and "Mr". Two hearts, two rings and two spoons.
---
The Ultimate Game for Couples
The Ultimate Game for CouplesBUY ON AMAZON
What makes a better date night than great conversations and fun, romantic challenges? Spend quality time with your partner by connecting one-on-one or play together with other couples in two different gameplays.
---
More Top Gifts For Newlyweds
Smart Digital Picture Frame
Smart Digital Picture FrameBUY ON AMAZON
I absolutely adore this unique wedding gift idea. Share your photos and videos to the Nixplay smart frame from your phone or by e-mail no matter where you are.
When it comes to the top gifts for newlyweds, you definitely can't go wrong with this one. You can connect to Google photos, Dropbox, Facebook or Instagram to ensure that your frame is always up to date.
A wall-mountable smart frame that is truly smart. The motion sensor turns the frame on/off automatically. You can even add voice control by combining with it with an Alexa device then all you have to do is ask for whichever playlist you want. How cool is that?
---
Mr And Mrs Mug Set
Mr and Mrs Mug SetBUY ON AMAZON
Such an elegant newlywed couples gift set. These beautiful mugs are made of durable and high quality ceramic that is microwavable and dishwasher-safe. If you are looking for unique gifts for couples, these couples mugs would make an unforgettable gift.
---
Personalized Gifts Newlyweds
I've always loved personalized wedding gift ideas. It just makes the gift that much more special and meaningful. Here are a few of my best choices for personalized gifts for newlyweds. Hope you enjoy them as much as I do.
Engraved Rustic Log Plaque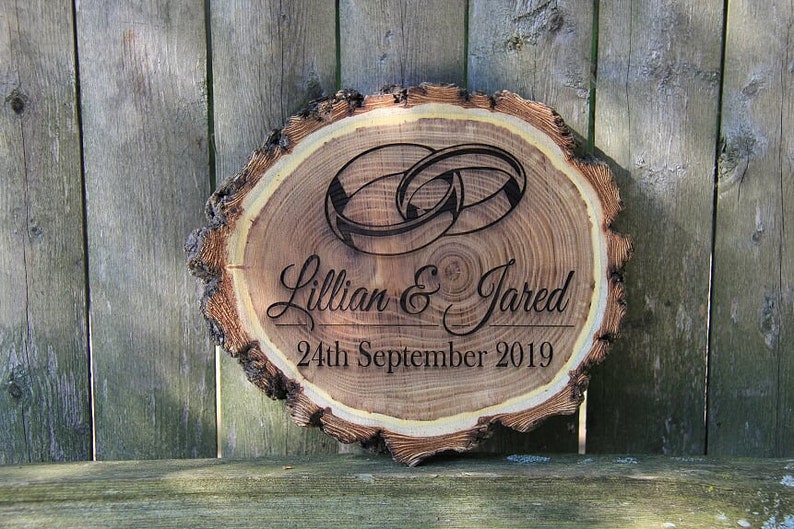 Engraved Rustic Log Plaque,BUY ON ETSY
A lovely rustic wedding decor gift for the newlyweds. Not only will they own a unique piece of art, but they will have a lovely keepsake memory of their big day. The log slices also have a thin layer of clear seal to protect and maintain the natural rustic features.
---
Watercolor Wedding Venue Sketch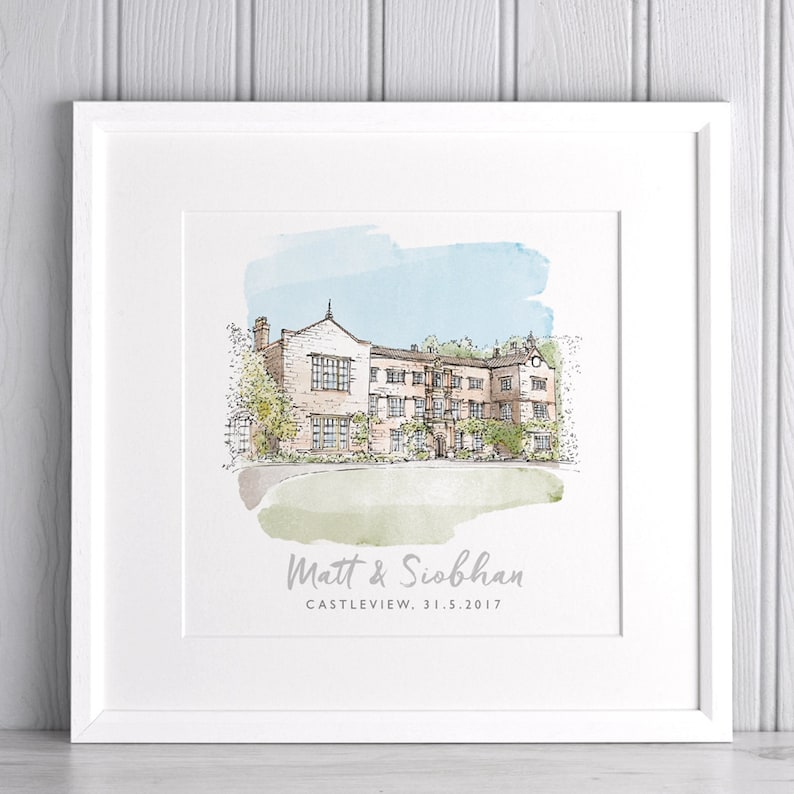 Watercolor Wedding Venue SketchBUY ON ETSY
This hand drawn watercolor wedding venue sketch is such a wonderful gift idea for the new couple. Not only will it be a great talking point, it will go beautifully in their new home. A gift so unique, and certainly one to treasure.
---
Mrs and Mr Beach Towels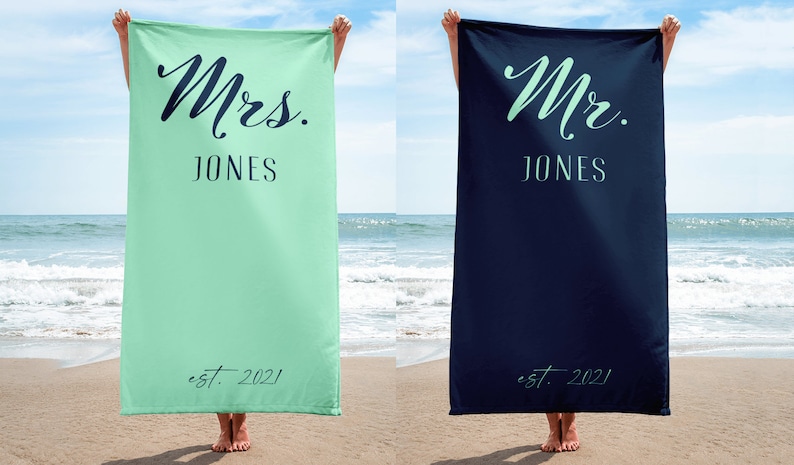 Mrs and Mr Beach TowelsBUY ON ETSY
Here's a really fun gift, Mr and Mrs beach towels. Perfect for the honeymoon or the newlyweds first vacation together, of which I'm sure there will be many.
---
Personalized Wooden Wedding Card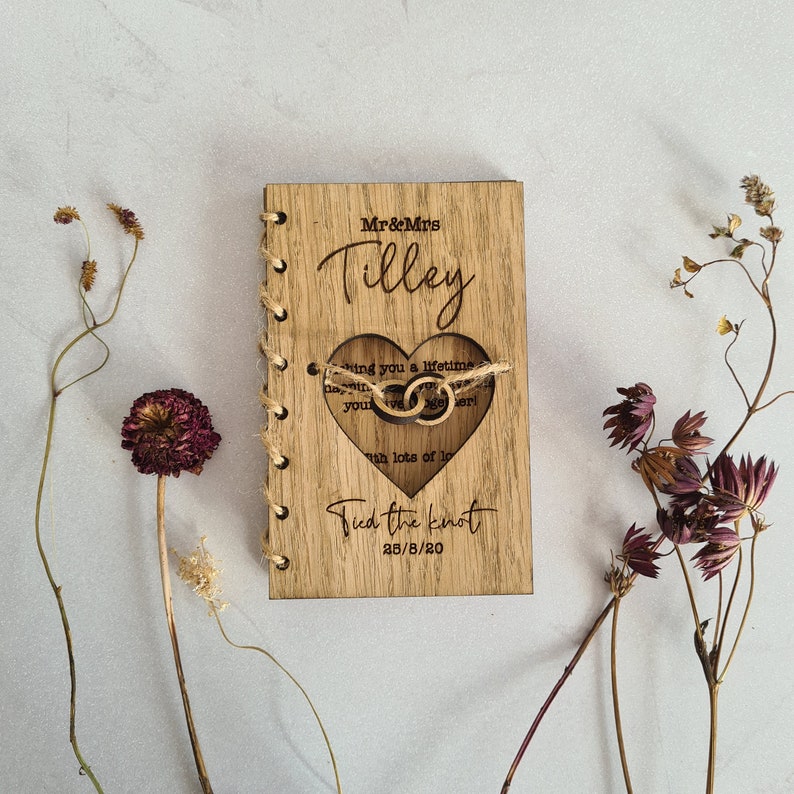 Personalised Wooden Wedding CardBUY ON ETSY
A handmade newlywed keepsake, and a really unique one at that. This personalized wedding card is available in cherry, maple, oak or black walnut. It is made from the highest quality veneered MDF and comes with a cute set of rings to symbolize the coming together of two people. The card is then bound by hand using twine. A truly magnificent newlywed gift idea even if I say so myself!
---
Personalized Champagne Wedding Vase
Personalized Champagne Wedding VaseBUY ON UNCOMMONGOODS
Made from an upcycled champagne bottle, this keepsake wedding vase is a reminder to always celebrate with bouquets and bubbly. Personalize the deep green glass with the couple's names and wedding date. This is a gift that will always be used and seen around the home. A wonderful reminder of a very special day!
---
Engraved Cutting Board – Best Newlywed Gifts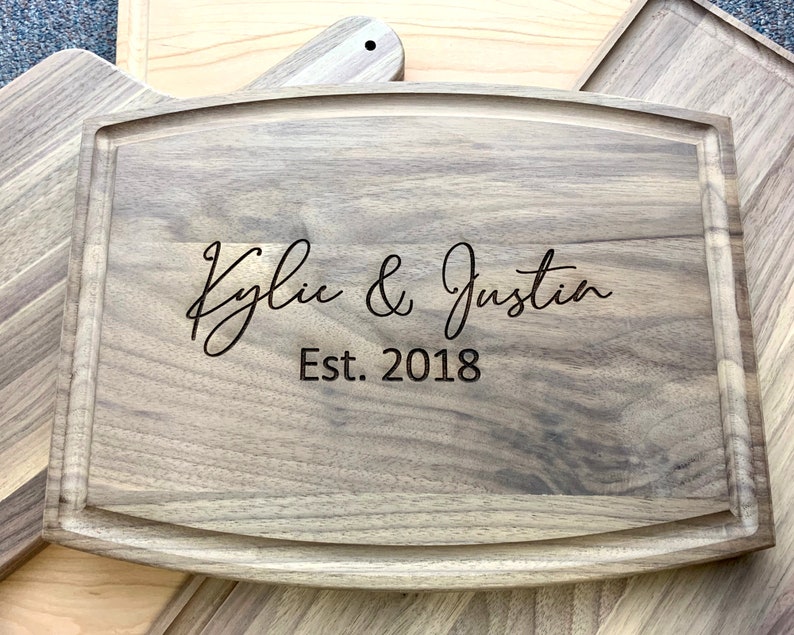 Engraved Cutting BoardBUY ON ETSY
Have the new couples names and date of the wedding engraved on this lovely Maple and Walnut cutting board. They can use it in their kitchen, out by the BBQ, and even take it with them when they go camping if they are the outdoors type. A very useful and memorable gift.
---
Personalized Street Sign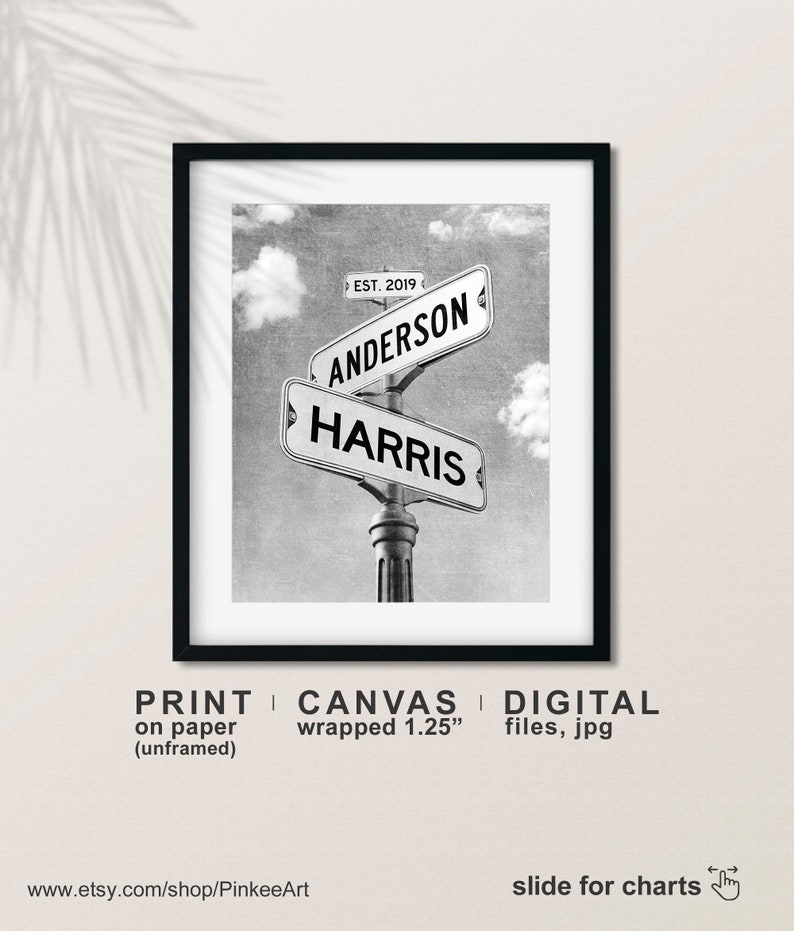 Personalized Street SignBUY ON ETSY
A Personalized Street Sign. Now that's certainly something different. 2 Black and white names can be added onto paper or canvas. This will make a great addition to the home.
---
Rainbow Glass Infinity Sculpture
Rainbow Glass Infinity SculptureBUY ON UNCOMMONGOODS
Add some color to the newlyweds home with this stunning rainbow glass infinity sculpture. When it comes to love, the infinity symbol represents an eternal connection to your soulmate.
---
Funny Newlywed Couple Gift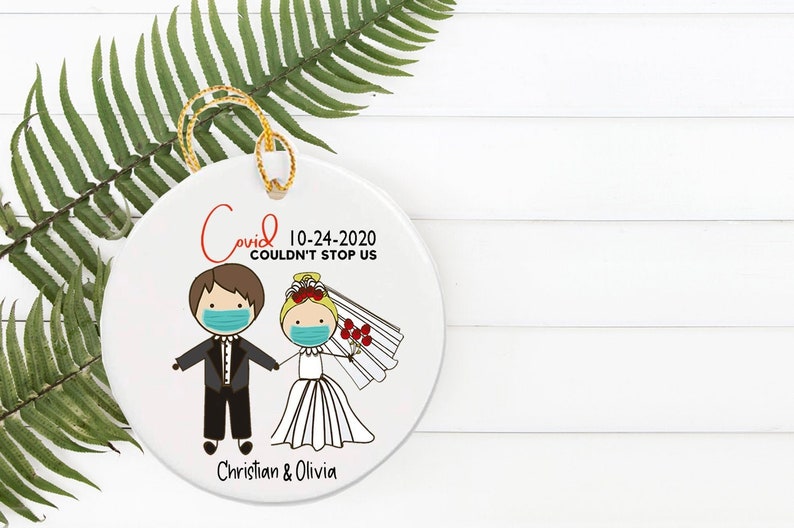 Funny Newlywed Couple GiftBUY ON ETSY
Let's be honest, it's been an incredibly trying year to say the least. A wedding certainly brings a lot of joy and hope to ones lives and those we share it with. Going forward let's rejoice and remember it as a challenge we overcame.
This funny little memento will be a reminder of those times, and also the good times to come. All moments in life are precious, we need to celebrate them all.
---
Row Boat Serving Bowl
Row Boat Serving BowlBUY ON UNCOMMONGOODS
Why not add a little pizazz to the kitchen with this fun serving bowl shaped like a rowboat. It comes complete with "wooden oars" that are a pair of serving tools, carved from Sheesham, a variety of rosewood which is renowned for its intricate, marbled grain.
---
Engraved Decanter Set
Yours, Mine, and Ours Engraved Decanter SetBUY ON UNCOMMONGOODS
A beautifully crafted Art Deco decanter, especially designed for couples. The two rocks glasses are etched "Yours" and "Mine," while the decanter that unites them is inscribed "Ours." An unforgettable gift for newlyweds.
---
Best Gifts For Newlyweds
Smoky Cocktails Class
Smoky Cocktails Class and Drink Smoking KitBUY ON UNCOMMONGOODS
Why not give your newlyweds a super cool gift, I'm sure others wouldn't have thought of this. The gift of experience where they will learn the skill of deluxe mixology, making tasty, touched-by-fire drinks.
The couple can have loads of fun learning how to create hauntingly delicious smoky drinks in this live, online class taught by twirly-mustachioed Brooklyn bartender Matt Levy. And, it comes with his famous Glass Topper Cocktail Smoker.
---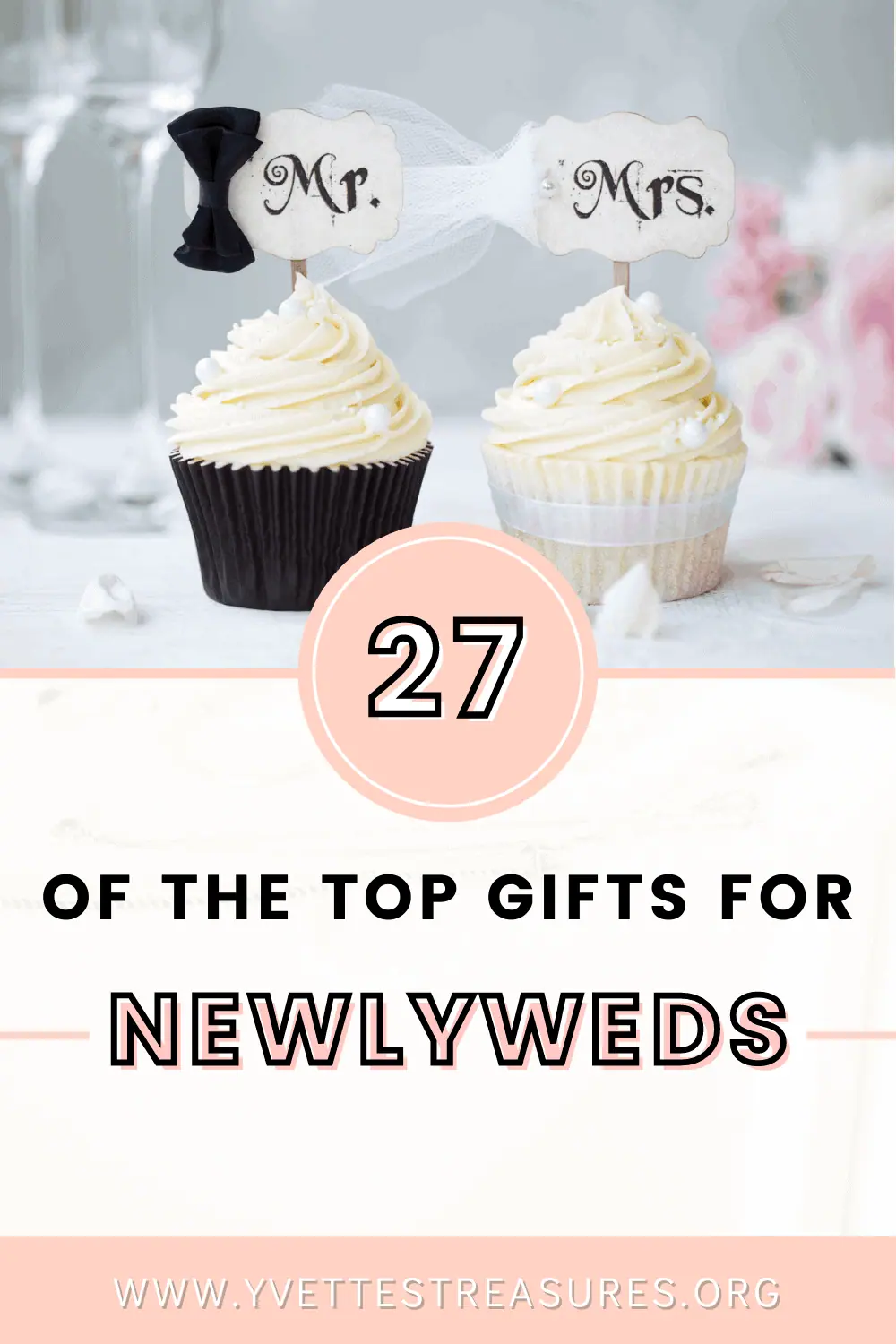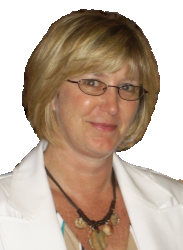 Latest posts by Yvette's Treasures
(see all)
Summary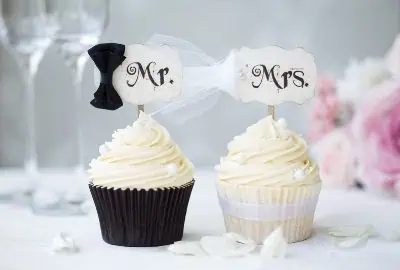 Article Name
27 Top Gifts for Newlyweds - What Should You Buy?
Description
If you have no idea what to buy for the newly married couple, we've got you covered with these top gifts for newlyweds.
Author