This post may contain affiliate links. I may receive commissions for purchases made through these links with no extra cost to you. See full disclosure.
Last Updated on May 21, 2022 by Yvette's Treasures
Unique Baby Shower Gifts Ideas For The Expectant Mom
A thoughtfully chosen baby shower gift will be cherished, both for the sentiment attached to it, and the need it is likely to fill.  Whether you prefer something unique or creative, or take the practical road, the vast collection of unique baby shower gifts ideas and unique baby shower gift baskets available, will provide you with just the right idea.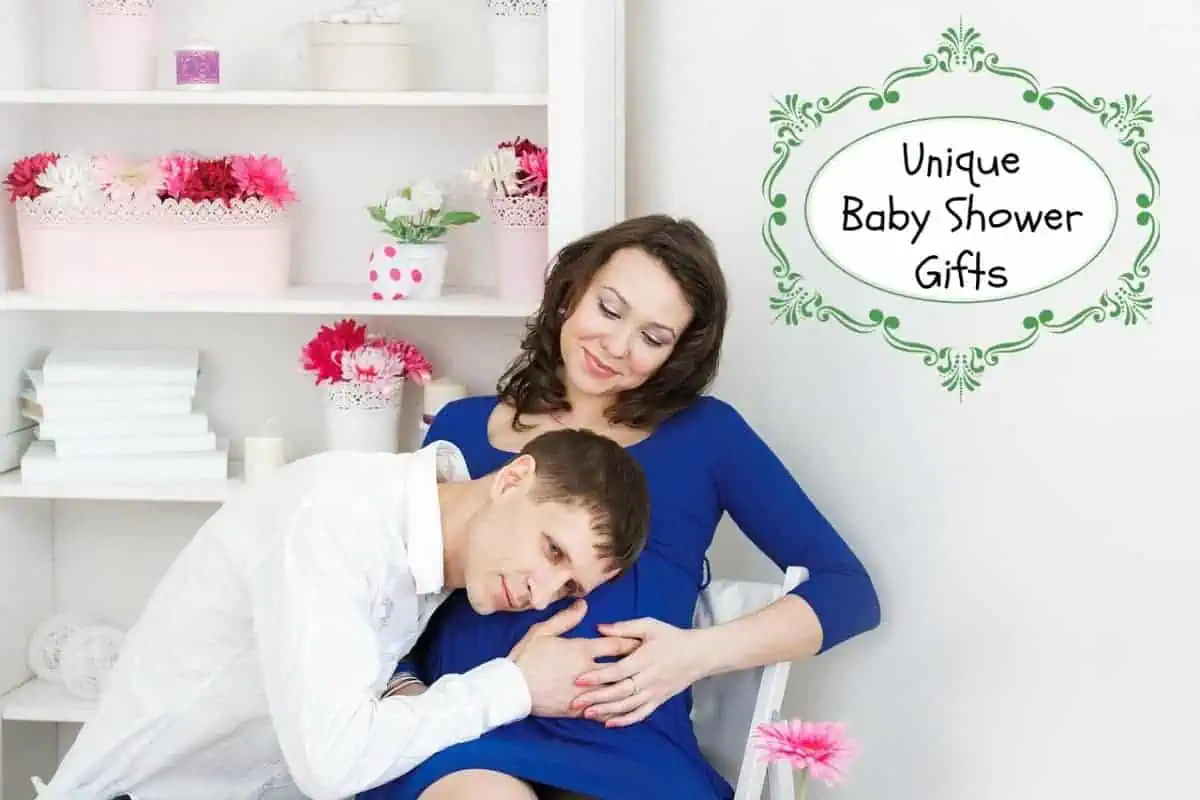 Pregnancy Gift Box
This gift box is perfect for any mom-to-be in her third trimester! Filled with healthy products that will help her relax and feel comfortable, it's a great way to show your support during this exciting time.
From essential oils to coconut eye treatment, there's something inside for every expectant mom. So why not give her the gift of peace of mind? She'll appreciate it more than you know!
3rd Trimester Pregnancy Gift Box
---
Burt's Bees Mama Belly Pregnancy Lotion
This is a gift that mama will definitely want! Burt's Bees Belly Butter is a richly blended belly butter that gently and safely moisturizes and nourishes mama's stretching skin.
This 99.0% natural origin, fragrance free formula can keep your skin smooth and supple as your belly stretches throughout pregnancy and even after baby arrives.
Burts Bees, Belly Butter Mama, 6.5 Ounce
---
Pregnancy Gifts for First Time Moms
If you are looking for a gift for someone who is pregnant for the first time, then look no further, this practical new parents gifts will make their day to day a little easier, we are sure that every mom and dad to be would love to get.
Pregnancy Gifts for First Time Moms
---
Unique Baby Shower Gift Ideas For Mom
These socks make the perfect funny gift for new moms. They are soft, comfortable, and well-fitting, and you can jus pop them into the washing machine when they're dirty. No special treatment needed.
Growing a Tiny Human Mom Socks
---
3 in 1 Diaper Bag Backpack with Changing Station
Isn't this just a brilliant gift idea?  I love this all in one diaper bag. Not only has it got a pocket for everything you could possibly need, it also has a detachable sunshade.
Did I mention it comes with it's very own changing station making it easy for mom to stop anywhere to change a wet bum. You no longer need to worry about changing diapers and waking baby up when they are sleeping. How awesome is that. This is a gift I would have loved when I had my little one!
3 in 1 Diaper Bag Backpack with Changing Station, Waterproof Baby Bag with Auto Foldable Crib, Travel Bassinet with USB Charging Port and Shade Cloth
---
Furniture Favorites Are Cool Baby Shower Gift Ideas
If you want to contribute a big ticket item to the baby nursery, help with the crib, crib mattress and indispensable items such as a changing table, will be particularly welcome as unique baby shower gifts ideas.
In this case, however, it will be sensible to find out exactly what is needed. You will have to ascertain whether a classic, sleigh design will fit in with the nursery décor, or if a more contemporary look will be suitable.
This is just the sort of baby shower gift that family members might want to contribute to.
 Stork Craft Portofino 4-in-1 Fixed Side Convertible Crib and Changer, Espresso
This beautiful crib is a 4 in 1 convertible crib and changer with three much needed drawers under the changer.
What really caught my attention was the fact that this crib converts from a full size crib to a toddler bed, a daybed and a full size bed. This means that you don't have to spend any more money as your little one grows up.
The changing table can also be detached and used as a nightstand when converting the crib.
The reviews on this crib are excellent and it is definitely money well spent.
Unique Baby Shower Gift Ideas For Mom
Are you in need of some baby shower party invitation ideas? Then you'll love these.  They are easily editable and there's no waiting because you can download them instantly.
BONUS….Not only can all the words be edited, but you can also choose your very own font and font color, personalizing it. The invitation can be edited on any device, and you can even send it from your phone. How awesome is that? It certainly makes life much easier.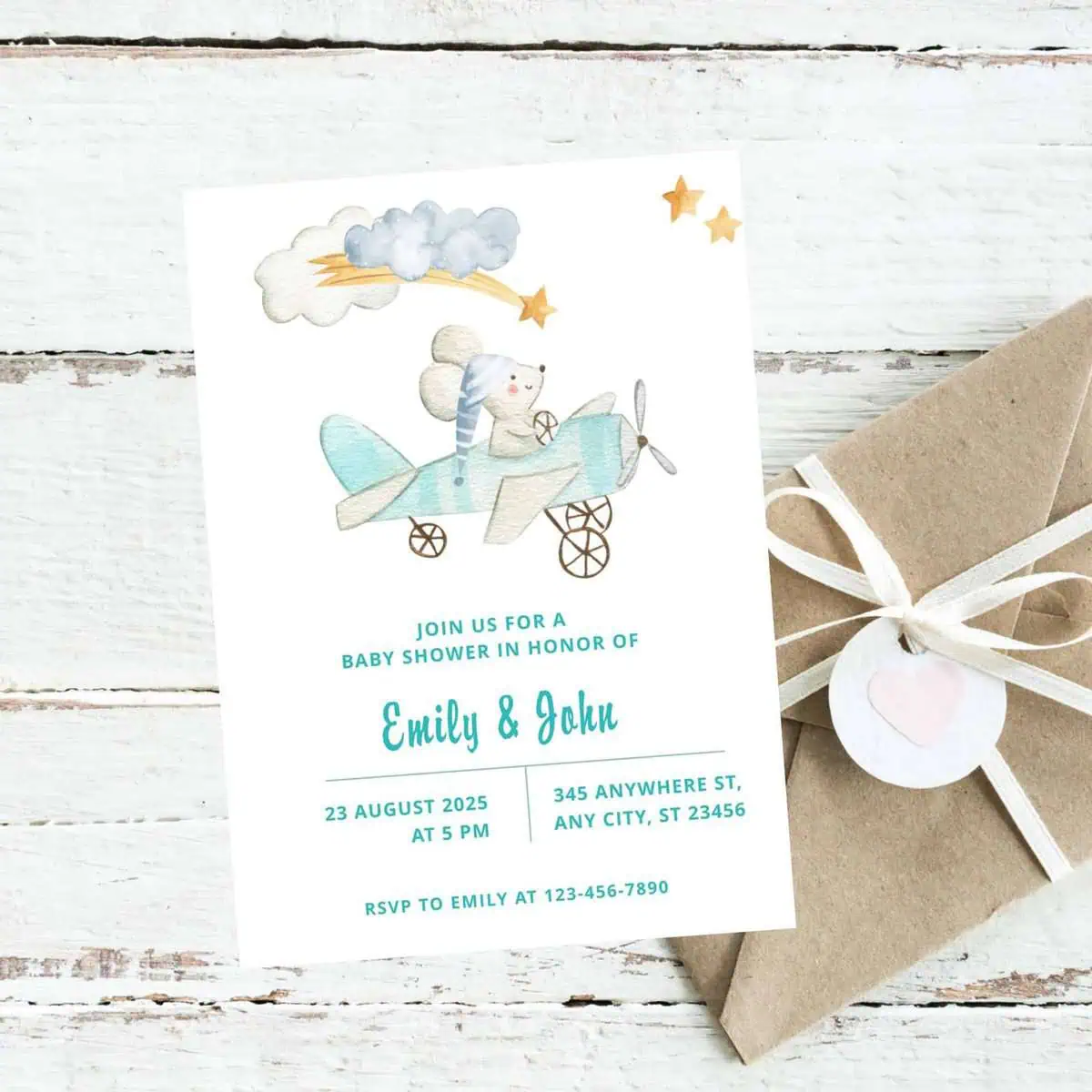 INSTANT DOWNLOAD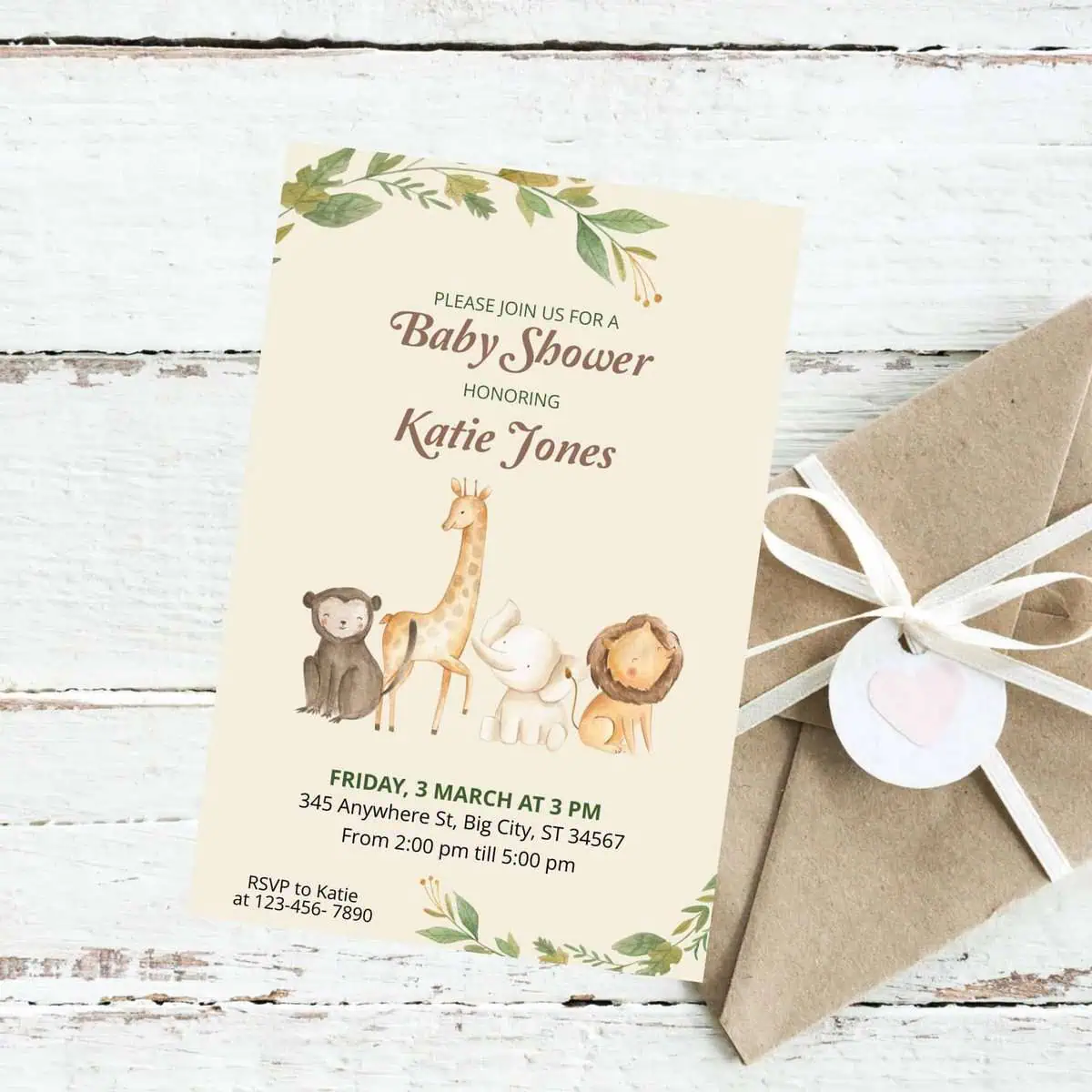 INSTANT DOWNLOAD
Unique Baby Shower Gifts Ideas For Traveling Babies
Another quite expensive, but must-have item for every newborn, is a quality car seat. This is a unique baby shower gift that will be used almost daily for a number of years.
Evenflo Tribute LX Convertible Car Seat, Saturn
Graco Nautilus 65 3-in-1 Harness Booster Car Seat
Graco My Ride 65 LX Convertible Car Seat, Coda
Unique Baby Shower Gift Basket Ideas
Click on the picture below and search these beautiful, unique baby shower gift basket ideas.  There are some really special ones. You can even put a personal touch to the baby gift basket and create your own HERE!
Click Picture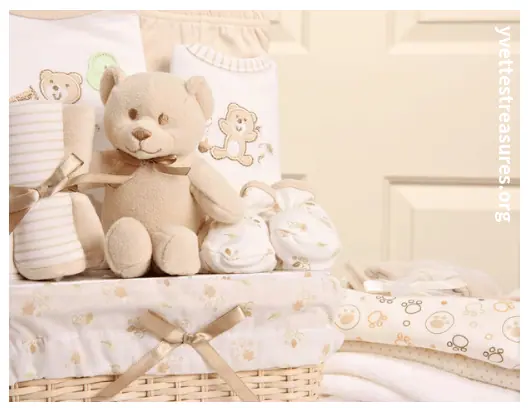 Unique Baby Shower Gift Ideas For Mom
Buying from a reputable manufacturer is vital, to ensure durability and the necessary safety standards. Other items in this category, are strollers, jogging strollers, with carriers as a less costly option.
Urban Glide 1 Sport Stroller, Dark Shadow,1 Child
Summer Infant 3Dlite Convenience Stroller, Black
JJ Cole Urban Bundleme, Stealth, Toddler
Re
Related Post:  Cool Minnie Mouse Baby Shower Gifts
Cool Bedding Unique Baby Shower Gifts Ideas
If you know what the theme in the nursery will be, you can assist by buying suitable bedding as a baby shower gift. Adorable bedding sets are available, to suit every possible theme and color scheme.
Gray and Turquoise Chevron Zig Zag Gender Neutral Baby Bedding 9 pc
DK Leigh Owl 7 Piece Gender Neutral Crib Bedding Set, Yellow/Green
Heavenly Soft Minky Dot 4-Piece Crib Bedding Set, White
Choose from plaids and patchwork sets, to cute characters, to animals big and small, to cars and trucks, to sea-life themes. Basic sets include sheeting, a bumper, and a quilt.
More extravagant sets cover items such as curtains, lamps, wall paper borders, diaper bags, and many other extras. This is a really thoughtful unique baby shower gifts ideas.
Related Post: 40+ Super Cool Gift Ideas For Mom
Cute Baby Gift Ideas
5 Pairs Baby Crawling Anti-Slip Knee Pads, Baby Toddlers Kneepads
While searching for baby gifts I found these cute crawling anti-slip knee pads. What a simple, but brilliant idea. The knee pads are unisex and fit most babies up to the age of 24 months.
Not only do these make really cute baby gifts for friends, they are also breathable, absorb sweat, deodorization durable and soft to wear. They protect the baby's knees from bruises and scrapes when they are curiously crawling around.
Babies will love them and they come in really pretty colors.
Unique Baby Shower Gift Basket Ideas
Search for unique baby shower gift basket ideas with quality items no nursery can be without, such as pacifiers, bibs, soothers, lotions and potions, hooded towels, mealtime necessities, and all those little things that can ease a new parent over the bumps of the first few months.
If you want to make it more personal, choose a caring collection, and make up your own bountiful basket.
Big Oshi Baby Essentials 9-Piece Layette Basket
Keepsake Basket Five Little Monkeys, Brown
Big Oshi Baby Essentials 9 Piece Layette Basket
Infant Learning Toys Make Unique Baby Shower Gift Ideas For Mom
A wide variety of unique baby shower gifts ideas target development and the stimulation of senses. These include educational toys, textured items that encourage development of the sense of touch, and classical music cd's and videos.
One of these is the 'Baby Mozart' video, which will delight any baby for many hours. This baby shower gift is a useful tool for teaching new words and creating an awareness of color and size concepts.
Friends and family might not be sure of what you still need so a baby registry is a great way of letting them know. Start your own
Baby Registry today!
Cool Baby Shower Gifts Ideas Include Toys And Baby-Gear Galore
Toys and adorable baby clothing are always on the wish list of soon-to-be parents. No baby has ever complained about having too much of these!
The most difficult aspect, is choosing from the vast array of styles, collections, and trinkets.  Another great idea is a personalized baby gift…just a thought.
Baby Einstein Take Along Tunes Musical Toy
Fisher-Price Rattle and Rock Maracas Musical Toy
Sassy Developmental Bumpy Ball
Nuby Octopus Hoopla Bathtime Fun Toys, Purple
Baby Einstein Octoplush
Nuby Icybite Hard/Soft Teething Keys
Related Post: Best Rated Essential Oil Diffusers For Mom
Exhausted Parents Also Deserve To Be Pampered With Baby Shower Gifts
While the main focus at a baby shower is on the baby, a considerate 'extra' may be a gift basket to perk mom and dad up , after yet another sleepless night.
Use your imagination, and collect a few spoil-yourself items, such as chocolate, bubble bath, scented candles, a magazine or two, and any other pampering products. Your gift will be remembered with fondness, and gratitude for your thoughtfulness.
Gift Basket Village Proud Parents Baby Boy Gift Basket
Congratulations on Your New Arrival New Baby Gift Basket
My Thoughts On Unique Baby Shower Gift Ideas For Mom
In the end, it is not how much you spend that matters. What is important, is the thought and care that went into the baby shower gift.
Save
Save
Save
Save
Save
Save
Save
Save
Save
Save
Save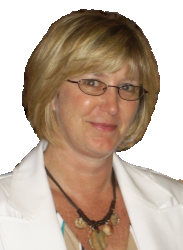 Latest posts by Yvette's Treasures
(see all)