Last updated on
Super Cute Minnie Mouse Toys For Girls
My niece, Sofia is turning two in May.  I can't believe how fast the time has gone.  Just the other day she was visiting for her first Christmas.  I was trying to decide what to get her for her birthday and noticed that she tends to favor Minnie Mouse so I've decided to put a list together of Minnie Mouse toys for girls.
If you have a little girl in the family that loves Minnie Mouse I hope that this gift list will help you with your choice.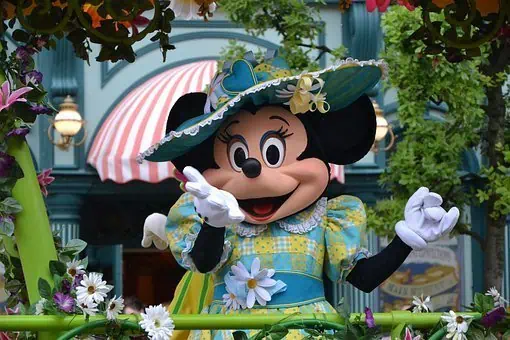 Boys, I haven't forgotten about you.  Here are some awesome Mickey Mouse gift ideas just for you.

Minnie Mouse Toys For Girls – The Little Ones
Here is a wonderful selection of Minnie Mouse toys for the young ones just starting out.  You can be a Minnie Mouse fan from day one.  Perfect for newborn to 2 years old. Learn and have fun with this range of Minnie Mouse toys for girls for the first years.  These will make great baby shower gifts.
The First Years Disney Baby Minnie Mouse 3-In-1 Celebration Potty System
Isn't this First Years Disney Baby Minnie Mouse 3-In-1 Celebration Potty System just gorgeous?
This will certainly take her mind off being scared to going in the potty. This will make potty training fun and effortless. She will want to go all the time, no more accidents mommy.
The First Years Disney Baby Minnie Mouse 4-Piece Feeding Set
Disney Minnie Brush and Comb Set
The First Years Disney Baby Minnie Mouse Easy Grasp Flatware
The First Years Disney Minnie Mouse Baby Bath Tea Set
NUK Disney Teether, Minnie Mouse
The First Years 2 Pack Insulated Sippy Cup, Minnie Mouse
3 Piece Minnie Mouse Bath Squirt Toys
Disney Minnie Mouse
Minnie Mouse Hat, Bib, and Booties Gift Set
Disney Minnie Mouse Baby Hooded Bath Towel 26 in x 30 in
Disney Baby Bath Swaddler, Pink/Red Minnie Mouse
Disney Music and Lights Walker, Floral Minnie Mouse
Another great post:  Activity Toys For Toddlers
---
Minnie Mouse Toy Kitchen
If your daughter, niece or even Godchild love to help out in the kitchen, then getting her her very own kitchen playset and cooking utensils will make a great gift for these little chefs.
Pretending will definitely stimulate creativity.  These toys are suitable for ages 3 and up.
Minnie Mouse Vintage Play Kitchen
Disney Baking Set
Oven Mitt Pot Holder & Dish Towel
Minnie Bowtastic Kitchen Set
Disney Minnie Mouse Gourmet Cooking Set
Minnie Bow-Tique Kitchen Toy
Disney Minnie Bow-Tique Marvelous Microwave
Just Play Minnie Bow Tique Teapot
Disney Minnie Mouse Mini Appliances – Hand Mixer
Another favorite learning toy for toddlers is the Leapfrog Lovin Oven.  The Leapfrog Lovin Oven is perfect for preschoolers as it prepares them with catchy tunes, phrases and numbers.

The Best Minnie Mouse Toys Ever!
These playsets are fabulous.  They are sturdy and made so lifelike with plenty of small details just like the originals.
Kids will be entertained for hours with all the accessories that come with the playsets. From shopping malls to fashion boutiques….it is a little girls dream toy.
Fisher-Price Disney Minnie, Fabulous Shopping Mall
Fisher-Price Disney Minnie, Home Sweet Headquarters
Fisher-Price Minnie Mouse – Minnie's Bow Sweet Home
Fisher-Price Disney Minnie, Sparkle 'n Spin Fashion Bow-tique
Girls Love Minnie Mouse Soft Toys
Whether you're two years old and like to sleep with a Minnie Mouse plush doll because it's your favorite or if you're a teenager and the boy next door gives you a Minnie Mouse soft toy because he thinks you're pretty.




No matter what age you are, all girls love teddy bears and soft toys.  Here are some great ones to choose from.
Jumbo 27 Minnie Mouse Plush Toy
Disney's Minnie Mouse Plush – 19" H
Minnie Mouse Plush – Pink – Small – 12 Inch
Disney Baby Mini Jinglers, Minnie Mouse
Disney Baby, Minnie Mouse Snuggle Blanky
Personalized Disney's Plush Toy – 18 Inch
---
Headphones Are Fun Minnie Mouse Toys For Girls
These Minnie Mouse headphones are so cute and listening friendly as they have an adjustable volume limiter.
You can connect to any audio device with the line-in jack, however because of the volume limiter they tend to be a little too soft for listening on a plane.
They are well padded with pivoting ear cushions.  The headband is adjustable allowing for a comfortable fit.  This would be the perfect gift for your little one!
Minnie Mouse Headphones for Kids with Built in Volume Limiting Feature for Kid Friendly Safe Listening
These are some of the TOP Christmas Toys
Educational Minnie Mouse Toys For Girls
Learning books, magnets, lights and sounds all assist in the learning process and hands-on play. Learn ABC or problem solving with these colorful toys.  Great gifts for ages 2 and up,  but be careful some of these toys may have small pieces.
Minnie Mouse, My First Learning Book Lights and Sound.
VTech Disney Minnie ABC Fashion Purse
Minnie Mouse Wooden Character Magnets (21 pcs)
Minnie Mouse Mix and Match Dress-Up Wooden Play Set
Minnie Mouse Magnetic Dress-Up Wooden Doll Set (35+ pcs)
Disney Wooden Double Sided Easel With Storage, Minnie Mouse
You might also enjoy the Best Electronic Toys for Toddlers
---
Outdoor Minnie Mouse Toys For Girls Are Great Fun
Why not take Minnie outside?  Get loads of sun and fresh air while playing with your favorite Minnie toy.  From water slides to playhouses the choices are endless.
Minnie Discovery Hut Playhouse
Minnie Mouse Classic Hideaway Play Tent
Minnie Mouse Hopper Ball, Hop ball for kids
Minnie Mouse Large Clear Watering Can (Filled)
Jada Toys Minnie Mouse R/C Vehicle
Minnie Mouse Baby Toddler Ride-on Float Seat, Ring
Water Slide – Disney – Minnie Mouse – 14′
Minnie Mouse Golf Caddy
Minnie Mouse Playland with 15 Balls
These are very popular this year:  Top Unicorn Gifts For Girls
---
Minnie Mouse Puzzles Make Great Gifts
Puzzles are always fun, and puzzles in your favorite character are even more fun.
Puzzles come in all shapes and sizes.  Some are made of wood and some of foam.  Here are some starting puzzles for girls of 2 years old and even some for the older girls aged 6 and up.
Puzzles are a fun way to reinforce critical thinking, creativity, and fine motor skills.
Disney Minnie 25-piece Floor Foam Puzzle Mat
Mickey & Minnie: Minnie & Daisy Puzzle (100 Piece)
Minnie 7 Wood Puzzles In Wooden Storage Box
Minnie Mouse and Friends Wooden Chunky Puzzle (8 pcs)
Minnie Mouse 46 Pieces Floor Puzzle
Minnie Mouse Carry and Go Jigsaw Puzzle in Bags
Minnie Mouse Toys For Girls
You can't go wrong when buying Minnie Mouse toys for girls. Minnie Mouse and Mickey Mouse have been loved by the young and old for generations.
promotes early learning and hands-on play.