This post may contain affiliate links. I may receive commissions for purchases made through these links with no extra cost to you. See full disclosure.
Last Updated on September 4, 2021 by Yvette's Treasures
Perfect Top Gifts For New Moms
Welcome to your one-stop shopping destination for the top gifts for new moms! We've got you covered with items that will keep mom and baby comfortable, healthy, and happy.
From breastfeeding bras to pamper products, we've got it all right here. We have even added some of our favorite books on child care and parenting tips.
Ready to see what top gifts for new moms made the list? Keep reading to find out…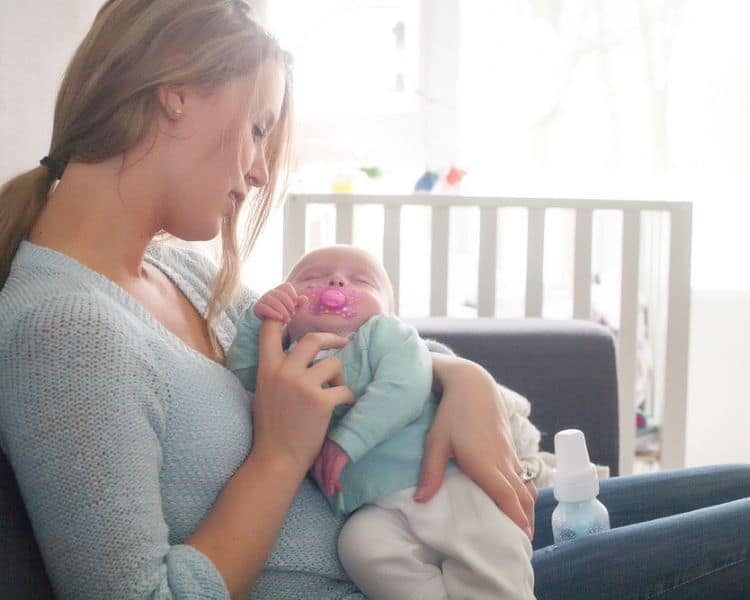 Unique Gifts For New Moms
New Moms Gift Set
Now that her little bundle of joy is born, this care package will help any new mom relax and recharge during any downtime she may get!
This New Moms Gift Set is full of personal pamper products like lotions and bath bombs, snacks and drinks like chocolates and mother's milk tea, and of course a wine glass tumbler and drink tumbler. After giving birth every woman deserved some self-care time.
---
Funny New Mom Socks
Fun novelty socks for mom and dad. These Mommy est 2021 (can customize dates) socks comes in a nicely packed bag and all ready for gift giving.
The socks are unisex and fit sizes 5-13. At the arch of the foot these socks have proper compression to protect your stability when walking, jogging and running. A fun yet practical gift for mom.
---
Amazon Kindle
Whether she is nursing or formula feeding, the new mom in your life is going to be sitting a lot. This fact alone makes an Amazon Kindle Paperwhite edition an excellent gift for new moms everywhere.
It comes with 3 months of Kindle Unlimited so she can read anything and everything under the sun. Plus they come waterproof so that she won't have to worry about any spills. 
---
UGG Slippers
These are my favorite slippers, hands down. UGG shoes are known for their quality and extreme comfort, and these slippers are no exception. Made with sheep and lamb fur, her feet will exhale with relief when she puts them on. 
---
Silver Tiny Baby Feet Necklace
"Sometimes the littlest things take up the most room in your heart". This quote from Winnie the Pooh perfectly sums up the beautiful bond between mother and child.
When she wears this pendant of 2 adorable little baby feet she will have a reminder of those closest to her heart. A sentimental piece that can also be worn every day. Perfect for the new mom in your life, be it wife, girlfriend, sister, or friend.
---
The Sh!t No One Tells You
A laugh-out-loud guide to the first year of motherhood, filled with helpful advice and wisdom from real moms and dads who aren't at all afraid to tell it like it is.
The Sh!t No One Tells You is a must-have companion for every new mother's sleepless nights and poop-filled days.
---
Organic Nipple Butter Breastfeeding Cream
A buttery and botanical-rich herbal nipple cream that's lanolin-free and non-sticky. The result? It moisturizes dry skin, and brings nipples back to their happy place.
And since it just might end up in baby's mouth, it's the first Non-GMO Project Verified nipple cream. So mamas, rejoice, there's no need to wash it off before nursing!
---
Aveeno Daily Bath Time Solutions
The perfect baby and me combination. Helping you care for your little one's delicate skin with a special bonus for you. This baby gift set is ideal for new and expecting moms. Aveeno is a pediatrician and dermatologist recommended brand.
---
New Mama Affirmations
Embrace motherhood with this set of 40 uplifting affirmations (printed front and back on 20 premium heavyweight cards). It is the perfect companion for your first weeks home with baby as you learn each other's cues and settle into a new life as a mom.
---
Rabbit Wine Opener
This super practical gift is the kind that I will be purchasing for all of my mom friends. Normally, a Rabbit Electric Wine Opener can be a little expensive, but Amazon was able to work their magic and reduce the cost. 
This means that almost every Mom on my list will be getting this wine opening kit from me this year, especially any new moms adjusting to their new roll as Mama.
---
Mini Portable Charger
Everyone could use one of these mini portable chargers, making it the perfect gift this holiday season. They can keep it in their car, backpack, or purse and be able to charge their phone in any situation.
New moms will find themselves being so grateful for this gift from you, especially since they will often find themselves with a phone low battery during the fourth trimester. 
True to Amazon style, this portable charger charges your electronics super fast so that you are able to carry on with your day and not worry about a dead battery. 
---
Yeti Rambler Top Gifts For New Moms
Moms need a Yeti Rambler– don't you think? So of course I had to add it to my favorite list of top gifts for new moms. Not only will she use it a lot, but she will also save a lot of money by carrying her own drink. And she gets to drink what she enjoys!
A Yeti Rambler is a high quality tumbler made to keep your drink the right temperature. With its double insulated walls and magnetic lid, this tumbler will keep mom's water cold and her coffee hot.
---
Mom's One Line a Day
Capture the everyday moments of motherhood with this easy to maintain 5 year baby journal and memory book. It has enough space to record a single thought, a memorable milestone, or a special event each day in the 5 year journal, this beautiful keepsake makes sure those precious memories will last a lifetime.
---
RX Bars
When it comes to becoming a new mom, it's easy to forget to do anything for yourself – including eat! This box of RX Bars will come in handy during late night feedings, and those times during the day when she realizes that she hasn't eaten all day.
Filled with protein and hearty nutrients, this snack bar is the perfect gift for anytime. 
---
Neck and Shoulder Massager
After we have a baby, our muscles tend to stiffen up a lot, especially in our upper back and neck. If you know a new mom and you're  looking for a gift that she will use a lot, then why not consider this neck and shoulder massager!
All she has to do is wrap it around her neck and turn it on. The heated massager helps to relax and loosen all those muscle knots. The deep tissue massage that this machine provides will help anyone destress- a gift all new moms could use!
---
Mom Spa Bath Box Set
Pamper the new mom with this wonderful selection of body butters and handmade soaps. It also comes with her very own tumbler. A memorable gift that will make her feel spoiled!
---
Silicone Teething Necklace for Mom 
Tired of lugging around teething toys everywhere you go? This is the cutest teething necklace. You can wear it without looking like you are actually wearing a necklace that is a teether.
This necklace looks like trendy fashion jewelry and complements any outfit. But it's also a teething remedy for baby, with soft silicone beads that ease pain when baby chews on them. What a brilliant gift idea!
---
Hands Free Pumping Bra
A bra for mom that serves two purposes. As a pumping bra it gives breastfeeding mothers the freedom to go about their routine while pumping, hands free.
As a nursing bra it is soft and wireless offering the comfort and support needed while mom is sleeping or nursing. This is the perfect bra to wear both while pregnant or after for nursing.
---
Poonami Survival Kit
The perfect gift for a new mom. A light hearted nod to those rather explosive poos little babies have a habit of unleashing!!
These scenarios need some quick and serious handling, this kit provides a quick grab bag answer to these occasions and saves digging around for the all the individual items lost in the bottom of a large changing bag.
---
Cool Candle Top Gifts For New Moms
The perfect funny gift for "Cool Mom's" Everywhere. With over 30 beautiful scents to choose from. And why not make it extra special by customizing the lid with a name or short sentence.
---
Mama Crewneck Sweatshirt
A great gift idea for the new mom. She can wear it at home to keep warm and comfortable or casually with a pair of jeans.
---
Pairs well with Motherhood
It's been a while (well, actually nine months….hehe) since mom had a glass of wine. Why not buy her a bottle of her favorite wine and add this cute label to it just for fun. She will love the creative gift idea.
---
Hey there Mama Bear!
Remind a mum just how awesome she is with one of these Mama Bear mugs. These beautiful, handmade mugs deliver a boost of positivity at the bottom of every brew! They are decorated by hand in bright, bold colors.
---
Other Gift Ideas You Might Like:
My Thoughts On Top Gifts For New Moms
There are plenty of gifts out there that new moms would love and cherish, it can be difficult to decide which ones she will actually enjoy. 
I must say, I have thoroughly enjoyed putting together this list of top gifts for new moms. I hope you are able to find something your new mom will want to make her new role easier and more comfortable.
---
What Do New Moms Need For Themselves?
New moms are always so busy taking care of their new baby that they hardly ever have time to take care of themselves. There are many ways that close friends or family can assist new moms. These are just a few ideas that would also make wonderful gifts:
Prepare a few homemade meals that can be frozen so when she's hungry she can just pop them into the microwave and she's all ready to go.
Offer to babysit for an hour or two so that mom can relax in a hot bath, I'm sure she'll love this.
Tidy up the house, offer to do the dishes.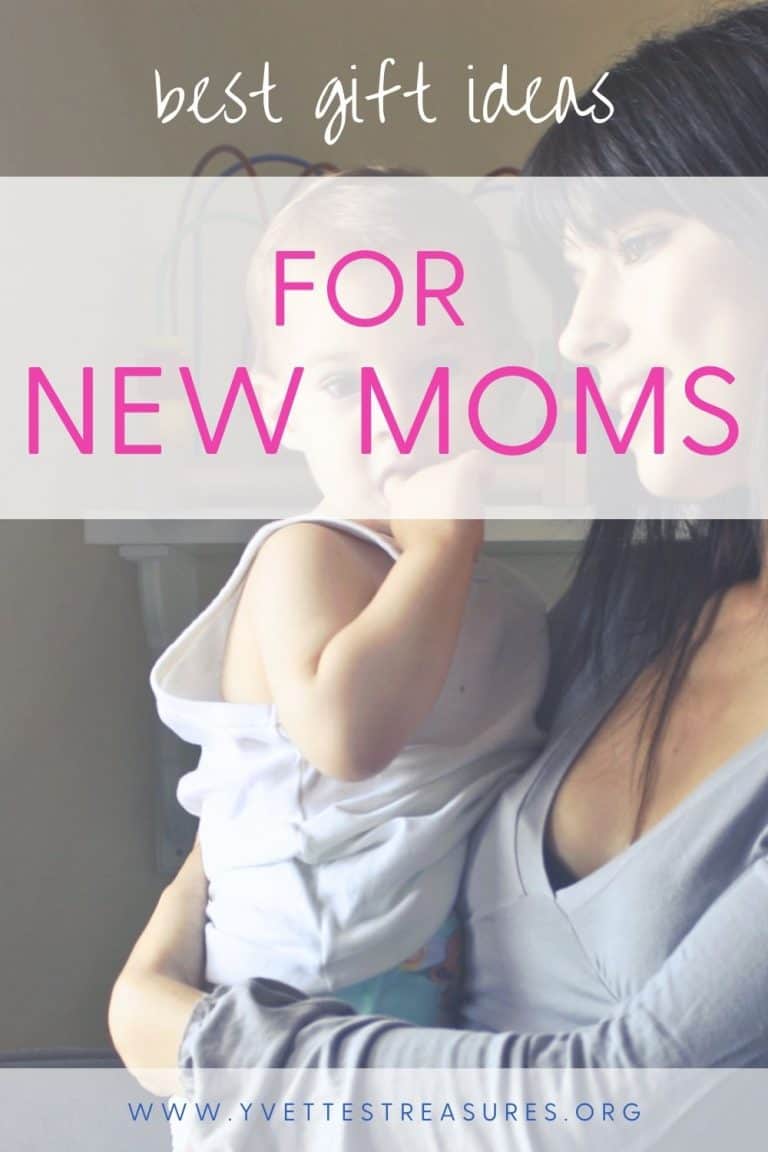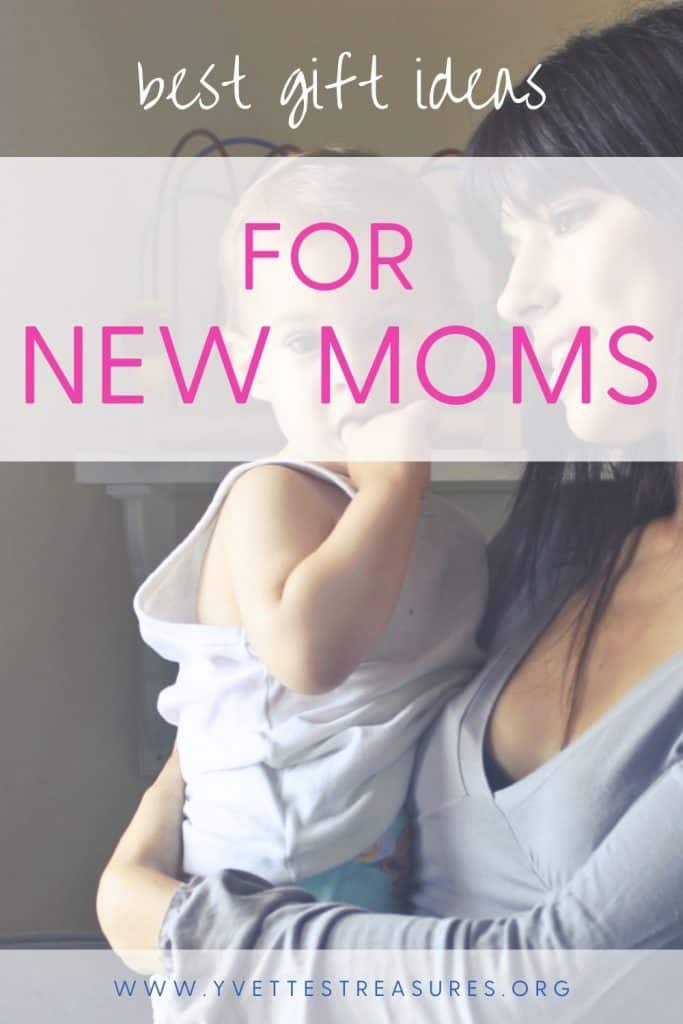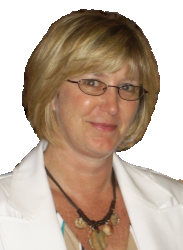 Latest posts by Yvette's Treasures
(see all)
Summary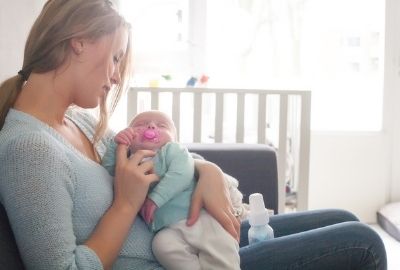 Article Name
23 Top Gifts For New Moms That Are Just Perfect For Her
Description
A wonderful range of top gifts for new moms. She will love these new mom gift ideas which will make her feel special.
Author