This post may contain affiliate links. I may receive commissions for purchases made through these links with no extra cost to you. See full disclosure.
Last Updated on October 4, 2020 by Yvette's Treasures
Top 5 Home Theater Gift Ideas
Home theatre gift ideas – let's face it, having a home theater system is what dreams are made of. Having that perfect movie room in your home that makes everyone jealous used to be just that…a dream.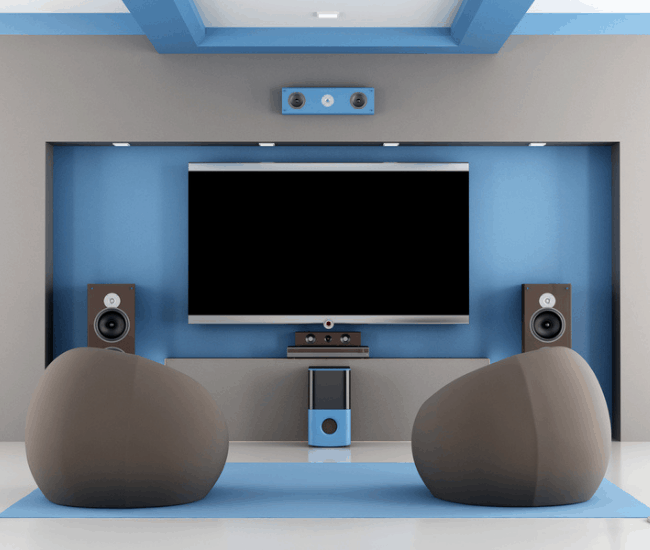 Thankfully times have changed and your dream can now become a reality. At Yvette's Treasures we have found the perfect quality with a cost that will truly tempt. Plus, if you're looking to make an impression this year (perhaps the new in-laws) then these home theatre gift ideas are the perfect choice!
LG BP175 Blu-Ray Player
LG BP175 Blu-Ray DVD Player, with HDMI Port Bundle (Comes with a 6 Foot HDMI Cable)
If you're going to have a home theatre, you're definitely going to be watching movies and TV shows on it. If you have everything set up correctly, from the projectors to the speakers, then you can enjoy all of your favorite entertainment in the highest quality possible.
For most movies and TV shows, if you want to be sure you'll have them forever, you should have them on Blu-Ray or DVD, and of course you'll need a player for those. The LG BP175 is a great option for a DVD and Blu-Ray player.
Right off the bat, it's nice that it does both. Many similar items are just dedicated to only playing DVDs or only playing Blu-Rays, not both. Since this Blu-Ray player does support both, you don't have to set up and keep up with two separate items.
If you don't have an expansive DVD or Blu-Ray collection, this device also supports various streaming services such as Netflix. You can use the apps on the home screen to navigate to the various services, and from there you can log in and start watching your favorite online shows or movies.
In order to access these streaming services and online apps, you are going to need a wired internet connection. This device isn't wireless because it would be complicated to set it up, so it uses a simple and easy wired connection, which plugs straight into your Ethernet ports in your home.
Often times, these connections are much faster than wireless as well, so you'll get a more stable stream. This Blu-Ray player supports all different kinds of surround sound. This is especially important if you have a home theatre.
You wouldn't want to spend all that money getting your surround sound system just right only to discover that your Blu-Ray player doesn't support it. All of the most common forms of surround sound are supported in this device, so you should be covered no matter what.
This player also uses a fantastic feature if you decide to watch DVDs on it. It can upscale them to match the HD quality that you're used to getting from streaming or from a Blu-Ray, so that your favorite DVDs will look brand new on screen again.
This helps save you the money you would otherwise possibly spend on getting new Blu-Ray versions of all the different movies and shows you have. This would make a great gift for the holiday season or to get for yourself, if you're building a home theater.
---
Mdbebbron 120 inch Projection Screen
Mdbebbron 120 inch Projection Screen 16:9 HD Foldable Anti-Crease Portable Projector Movies Screen for Home Theater Outdoor Indoor Support Double Sided Projection
When you think of home theater gift ideas, you're bound to think of a nice big screen. Giant TVs can be expensive, and may not be the best option when setting up a home theatre.
Instead, by using a projector and a projection screen, you can get a large picture in HD quality without spending nearly as much money. While the quality of the projector is important, the quality of the projection screen is just as crucial for having a crisp image.
The Mdbebbron 120 inch projection screen has numerous features that set it apart from other screens, and can be set up in a number of ways, making it ideal for just about any home theatre setup.
First comes the picture quality. This screen supports the standard 16:9 resolution, which is used in almost all computer monitors and projectors nowadays. This means that this screen can support 1080p resolutions, and even as high as 4K resolutions, both of which will give you a clean, crisp picture.
There are a few other qualities that this projection screen has that contribute to a better image quality. One part of it is that it absorbs light very well. Cheaper screens can let some light through, so the projected image ends up looking faded and the colors aren't as vibrant.
This screen is thick and takes on the light very well, letting hardly any pass through. The screen material itself helps in a lot of ways.
When it's fully extended, it almost looks locked into the shape of a rectangle, giving it that exact shape like you'd see on a computer monitor.
Lesser projection screens have fabric that's almost elastic, so when you really try to fully extend it, it ends up looking uneven and web-like. This is both unappealing and distracting.
The screen itself is crease resistant, something that many projection screens don't have. This means that if you fold up and stow this projection screen for awhile, when you unfold it, it won't have any creases left in it, so the picture quality will remain intact.
Other projection screens can crumple and crease up, leaving noticeable lines in the image. This projection screen can be set up in a number of ways to suit your needs.
It can be mounted on the wall with the wall hooks, which are included, and keep the whole screen under tension ensuring the best possible quality. However, it can also be mounted with conventional nails, or to a PVC stand with the included rope.
---
VANKYO Leisure 3 Projector
3 Mini Projector, 1080P and 170" Display Supported, Portable Movie Projector with 40,000 Hrs LED Lamp Life, Compatible with TV Stick, PS4, HDMI, VGA, TF, AV and USB
When you have a home theatre setup with a projection screen, you're naturally going to need a good projector. Ideally you'd want one that's compact, long lasting, provides good picture quality, and so on.
The VANKYO Leisure 3 projector has all of those features and more, making it a perfect projector for a home theatre. This projector is compact, but it doesn't sacrifice performance for size.
Smaller projectors are nice for a number of reasons. First off, if you have to transport it elsewhere for a presentation or to use at a friend's place, a larger projector can be clunky and unwieldy.
This projector, however, is nice and light, at only 2 pounds. Smaller projectors can also help save space, and can be put in more places so that you can find the optimal spot for it.
When you mount up your projector, you have two main options. You can mount it directly in line with the screen, but that may cause issues in that you might see silhouettes caused by the people sitting in front of it.
However, by mounting it up high, you can avoid any shadows and just enjoy the quality picture. With cheaper projectors, this causes a slight image distortion. This projector has a manual keystone corrector, allowing you to adjust and account for the distortion, and making the image look normal again.
It also has a focus so that you can get the perfect crisp image, no matter what distance you're mounting it from. One of the downsides of projectors used to be that the fan inside of it would be a bit loud, and it was often annoying trying to listen to your show or movie while it was running.
However, the Leisure 3 has dedicated cooling and noise suppression features, which help reduce this sound greatly, allowing you to enjoy your home theatre more. It supports up to 1080p resolution, which is full HD.
This means your movies and shows will look very clean and realistic, even if you're sitting a bit close to it. At max size, this projector can display onto screens as large as 170 inches, which should be more than enough for most home theatres.
It accepts all different kinds of inputs, from HDMI and VGA to USB. This allows you to project your computer screen, games, movies, and just about anything that you'd want in your home theatre.
---
More Gift Ideas For The Home
---
Pyle Hi-Fi A/V Amplifier
5.2-Channel Hi-Fi Bluetooth Stereo Amplifier – 1000 Watt AV Home Speaker Subwoofer Sound Receiver W/ Radio, USB, RCA, HDMI, Mic In, Wireless Streaming, Supports 4K UHD TV, 3D, Blu-Ray – Pyle PT694BT
One of the often overlooked components of a home theatre is the A/V amplifier. People get so focused on the projectors and the speaker setups that they forget about this crucial component.
While it's not technically required for a home theatre, it makes life so much easier and takes a lot of the complication out of things. If you're not familiar with these types of amplifiers, you can think of them almost as organizers.
Let's say you have 3 main inputs that you want to use at various times in your home theatre: a game system, a DVD player, and a Blu-Ray player. Without an amplifier, you'd have to switch between each of these manually, by unplugging them from your projector and plugging the other one in.
However, with an amplifier, you can plug in multiple devices, and it all goes through one output to the projector. So instead of having to fiddle around with wires and unplug things, you can simple switch the input with the press of a button and have access to either of your other devices.
The Pyle Hi-Fi amplifier supports both audio distribution and video distribution, making things easier in more ways than one. First, it comes with several HDMI input slots, and one output, which connects to the projector or screen.
This means that you can have 3 different devices all running to the projector off of one cable. It also accepts all of the different audio sources and runs them out to the speakers you have set up, so no matter which device you're using, you're going to get good quality sound.
The amplifier ensures that you're getting the best quality image no matter what. If your screen or projector supports it, and the input supports it, then it'll be passed through just fine.
It can go up to 4K resolution, which is considered ultra HD, and it even works with Blu-Ray video and 3D video. If you didn't already have something set up to allow you to play music through your phone, then this amplifier can help you with that as well.
It can connect to your smartphone via Bluetooth, allowing you to instantly stream your music on your phone through the speakers you have set up in your home theatre.
It supports all of the best audio systems, including 5.2 surround sound, meaning that whether you have a simple or complex speaker setup, this should be able to handle your needs. Home theater gift ideas at their best!
---
JBL Bar 5.1 Ultra HD Soundbars
JBL Bar 5.1 – Channel 4K Ultra HD Soundbar with True Wireless Surround Speakers
If you're going through the process of setting up a whole home theatre, with a room dedicated specifically to that, there's one crucial thing you're going to want that helps recreate the real theatre experience: the sound.
Movie theatres have very nice surround sound systems that make for an incredible experience, and if you really want to feel like you're in one, you're going to need a great sound system as well.
The JBL 5.1 Ultra HD soundbars are a fantastic way to set up full surround sound audio in your home theatre, and they're very customizable, so you can really make it work well with any arrangement.
Other sound systems might be more constraining, leaving you with excess wires or speakers that don't come out far enough. There are three main components in the soundbar setup.
First, there's the main soundbar. It's essentially like a very long speaker that can take inputs from various sources, and output crisp, clear 5.1 audio. The soundbar acts much like any standard speaker, except it takes up much less space and looks much cleaner while delivering the same quality.
Next, there's the subwoofer. This is the part that many speaker setups just can't recreate. When you're in a movie, you can really feel the bass when something loud happens or there's a deep sound.
That's the theatre's many subwoofers at work, though for a home theatre, you just need one. This component can be set down right below the screen, and you'll be able to physically feel the bass when you're watching movies or shows.
Finally, there are the detachable surround sound speakers. They're initially attached to the main soundbar, but they can be taken off and set on each side of the room, giving you a true surround sound experience.
Surround sound is so much more immersive, because if a character in a show starts talking from behind, you'll actually hear it from behind, as opposed to all of the audio coming out in front.
The detachable speakers are wireless, so they do have to be recharged every now and then by being reconnected to the main soundbar for a bit. However, the batteries on those speakers are long lasting, giving you around 10 hours of use before they need to be recharged.
These speakers being wireless is great because you don't have to mess with running a bunch of wires around the edges of your home theatre, and you can easily move and adjust them as needed.
---
My Thoughts On Home Theater Gift Ideas
There are many home theater gift ideas to choose from, the list is endless depending on your needs. The home theater gifts that I have reviewed here today are extremely popular, quality home theatre products, and reasonably priced to suit your pocket. And of course they will make fantastic gifts.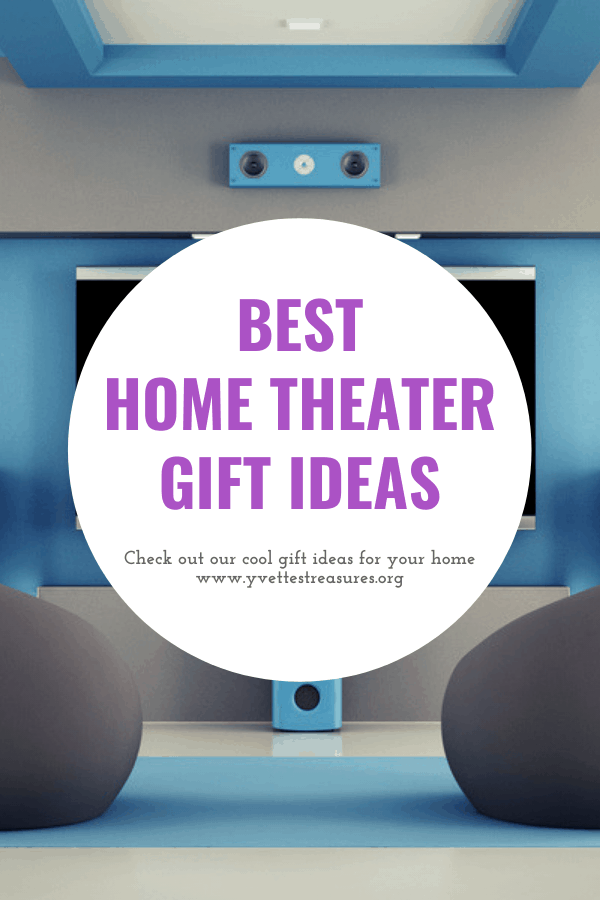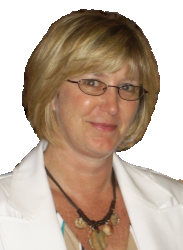 Latest posts by Yvette's Treasures
(see all)
Summary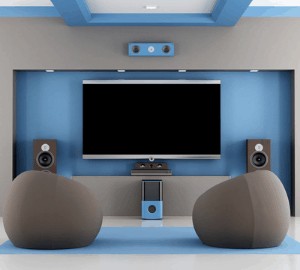 Article Name
Best Home Theater Gift Ideas For 2020 (A Helpful Review)
Description
Home theatre gift ideas - let's face it, having a home theater system is what dreams are made of. Having that perfect movie room in your home that makes everyone jealous used to be just that...a dream. 
Author