This post may contain affiliate links. I may receive commissions for purchases made through these links with no extra cost to you. See full disclosure.
Last Updated on January 8, 2022 by Yvette's Treasures
Top Sports And Outdoor Gifts For 2022
Looking for the perfect gift for the sports lover or outdoorsmen? From hiking, to camping, to keeping fit there are so many unique outdoor gift ideas. That's why I have put together a list of the top 5 sports and outdoor gifts to get you started.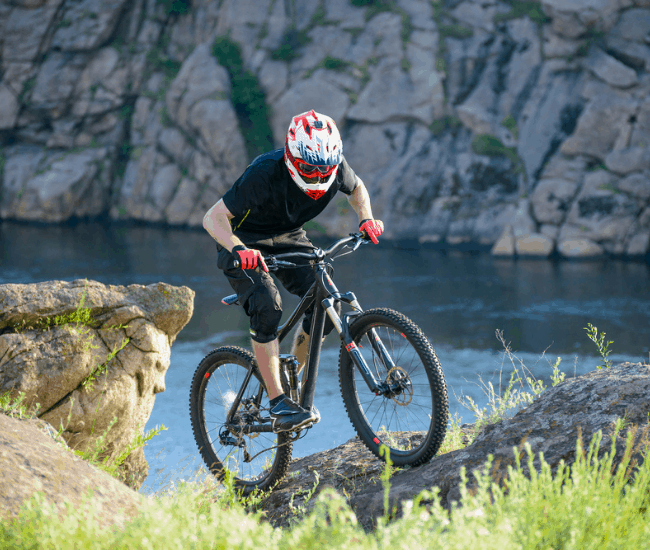 Kent KZ2600 Mountain Bike
Kent KZ2600 Dual-Suspension Mountain Bike, 26-Inch
Plenty of people around the world every year decide that they'd like to get in shape some more or spend a bit more time outside. Being cooped up indoors all the time isn't good for you, so you might want to get outside a bit and enjoy nature.
Whether you're going out on a hiking trail or just around your street, a mountain bike can provide you with a comfortable and stable ride just about anywhere. The Kent KZ2600 is a fantastic introductory mountain bike.
It's not incredibly expensive, but it is comfortable to ride and comes with an array of features that all contribute to it being a quality choice for just about anyone interested in riding a bike around more often, no matter what they're interested in doing with it.
This bike is made with an aluminum frame, which helps it be lightweight while still being durable. When you're having to load it into your car or store it away, you don't want it to be too heavy because it'll be a pain to mess with.
However, you also don't want a material that's so light and flimsy that it gets damaged easily. Aluminum is both resistant and low-weight, so it makes for a perfect bike material.
One feature of this bike that's ideal for hilly areas or hiking trails is that it's a 21-speed bike. This means that it basically has 21 gears that you can shift through depending on your terrain.
It makes things like going uphill easier, and going downhill more controlled so you don't go too fast. In flat areas this isn't too important, but if you intend to ride this on sloping streets or steeper trails, it'll be a lifesaver.
The wheels on the KZ2600 are 26" wheels, and have alloy rims, making for some very strong and durable wheels. Each wheel has 36 spokes in it, giving it plenty of structure, so you don't have to worry about the wheels getting damaged when running over things like rocks or bumps.
One of the biggest selling points on this bike is its suspension system. It has a floating beam suspension that's combined with a suspension fork, which makes the ride much smoother than other bikes.
It takes off a lot of the harshness of riding over rough or uneven terrain, so that you can continue to ride your bike for hours without becoming severely uncomfortable.
---
STRATA Men's Golf Clubs
Callaway Men's Strata Ultimate Complete Golf Set (16-Piece, Right Hand, Steel)
Getting into sports is a great way to get in shape, but some sports require a bit too much time for most people to be able to do.
Team sports require fitting practices and games into your schedule, and one-on-one sports require frequent practice in order to get better.
Golf is a game where you only compete against yourself. You can play and practice whenever, and there's no rush to try to beat a certain opponent on a schedule. The only thing that makes golf difficult to get into is the initial cost.
If you're buying from a lot of the common brands such as Wilson, TaylorMade, Callaway, or Titleist, then those clubs can get pretty expensive. A full set of brand new clubs from the top brands can easily cost over $1,000.
The STRATA set of clubs provides you with a full set of quality clubs at a very reasonable price. Interestingly enough, the STRATA clubs are actually made by Callaway – they just don't carry the brand symbol on them.
They don't feature all of Callaway's newest features, but they're still made with quality materials from a reliable manufacturer, and the cost certainly makes them worth it. This set includes all of the basic clubs that you're going to need to get started.
It has a driver, a 3 wood, a 4 and 5 hybrid, irons from 6 to 9, two wedges, and a putter. For most golfers, that's going to be everything they need, with the possible exception of an additional wedge, which can be bought separately later.
The wood clubs are very forgiving. The driver has a large sweet spot, meaning you're less likely to hit it off to the sides, giving you a lot more control. The other woods are similarly built, so you're going to get plenty of distance off of all of them.
The irons in this set are cavity style, meaning they have thicker bases and a lot more weight in the head. For non-professional players, this means greater distance and more straight shots, which ultimately means a better golf game.
The hybrids have been added to replace the long irons, as many players now find them much easier to use, as they give you a larger face to work with, and more confidence in your swing.
The putter has a milled face, which provides great accuracy, especially on longer putts, and helps with more precise distance control so putts don't go too far.
---
Loowoko Hiking Backpack
Loowoko Hiking Backpack 50L Travel Daypack Waterproof with Rain Cover for Climbing Camping Mountaineering
If you or someone you know is interested in backpacking and long-distance hiking, then they're going to need a high-quality, high storage space backpack. Long camping trips require a lot of supplies, from food and tools to large items like tents and sleeping bags.
The Loowoko hiking backpack provides a comfortable bag that has enough space to store everything that you might need and more. Making this a great sports and outdoor gift. The total storage capacity of this backpack is 50 liters, which is quite a lot.
This gives you enough space to store plenty of food, water, medical supplies, tools, clothes, and anything else you might need. It also has additional storage space on the sides for the larger items you're going to be bringing along.
There are a total of eight straps on the sides of the bag, which are adjustable. These are what you're going to use to store things like your tent or your sleeping bag when they're rolled up tight.
This means everything can be kept on one bag while you're hiking, preventing the need to carry two separate bags over long distances. There are tons of different pockets and compartments, which helps keep things organized.
One of the compartments allows you to store an extra pair of shoes or hiking boots, which can be such a life saver if one of your regular shoes gets a rip or a hole in it.
Other pockets can be used to store things like bandages, cell phones, GPS devices, and more.
The bag itself is fairly water resistant in conditions like light rain or splashes of water, but when the rain really starts coming down, you can use the included rain cover to prevent your stuff from getting soaked.
It slips on over the top of the pack and keeps everything inside dry as can be. This backpack is built to be comfortable. It has a waist strap that's padded, which helps keep the weight from being all on your back.
Some bags don't have these, and it can really start to strain your back after just a mile or two. It also has a breathable design, keeping airflow circulation consistent while you're walking, which helps your back stay cool while the pack is pressed against it.
The Loowoko bag is designed to be durable and long lasting, and is made with a polyester material that prevents rips that can be caused by stray branches or sharp rocks.
Even being as durable as it is, it only weighs just over 2 pounds, making it very light weight and helping keep your traveling load light.
---
More Sports And Outdoor Gifts
---
Great Sports And Outdoor Gift Ideas
Coleman Sundome Tent
Coleman Sundome 3-Person Dome Tent, Green
While people are becoming more reliant on electronics and spending time in bigger, more crowded cities today, there's something increasingly appealing about going out and spending some quality time in the outdoors.
However, you definitely need some protection from the elements. The Coleman Sundome tent is a fantastic, simple, and easy to use tent that provides highly reliable protection from all types of outdoor hazards.
This tent comes in 4 sizes, depending on the amount of space you want. There are 2 person, 3 person, 4 person, and 6 person options. All this does is vary the size of the tent, so whether you're camping out solo or out with the whole family, you can have enough space to camp comfortably.
Coleman is an incredibly reliable outdoors brand, and their tents are certainly no exception. The frame of this tent provides outstanding wind resistance, being able to withstand winds of 35 mph or more.
Cheaper tents would have their frames disassemble or fly off in high wind speeds, leaving you without the shelter you need when you're camping. When it comes to rain, this tent handles things amazingly.
All of the fabric has been made specifically to prevent rain from getting in, mostly due to the inverted seams that help seal it all properly. The included tarp helps keep rain away from the windows, and even in a few inches of rain, the inside of the tent can remain completely dry.
This means you won't wake up wet from the rain at night, and all of your electronics will be safe. This tent is also pretty easy to assemble, even if you're new to putting them together.
The instructions are clear, and the frame locks together easily. Everything clicks into place just as it should, so you don't have to spend hours fiddling around with it while getting annoyed.
There are some great quality of life features found on this tent. For example, if you're camping near an actual visitor's station or somewhere that has a power outlet, it has a dedicated slot for you to run an extension cable through, allowing you to charge up your phone or smart watch while you sleep.
One part that's important for warmer climates is that this tent is well ventilated. Some tents get really stuffy because of the heat outside and your body heat inside, but the ventilation in this tent allows you to cool off nicely while you sleep.
When you're looking for sports and outdoor gifts, you can't go wrong with a tent, especially one as durable as this one.
---
Sports And Outdoor Gifts
NordicTrack T Series Treadmill 
Walking and running is a great way to get in shape, but sometimes it can be difficult to do. Gym memberships can be expensive, and if the gym always has a bunch of people in it, it can be uncomfortable to go to.
You could walk outside, but sometimes the weather doesn't allow for it, and you might live in a dangerous area, where it's not advisable to walk alone. That's where a treadmill comes in handy.
Home treadmills allow you to work out in peace, giving you convenient access to your workouts, which can be done in comfort. The NordicTrack T Series treadmill has tons of features that make it a great treadmill to use at home and to get in shape with.
This treadmill has all of the basic features that you'll need to make some great fitness progress. It can go up to 10 mph, which is a full on sprint for most people, so you'll definitely have the speeds covered.
You can also use the incline on it up to 10 inches, meaning that it'll be like walking uphill, which makes it more difficult and helps build more leg muscles.
There's a convenient place on this treadmill where you can put a tablet, such as an iPad, or even a smartphone in order to enjoy entertainment or follow workout guides while you're exercising.
It uses a headphone jack to connect to two speakers, allowing you to further enjoy your favorite shows or entertainment without having to use headphones, like you would at the gym.
NordicTrack uses their own app, iFit, to help you get the most out of your workout. It connects to the treadmill and communicates your workout data into graphs, so that you can view your progress easily.
It also gives you tons of videos to watch that help guide you through a full on cardio workout. It can even automatically adjust the speed and incline so that all you have to do is keep working out instead of trying to fiddle with controls.
One of the nice things that this treadmill has is NordicTrack's signature FlexSelect cushioning, which helps reduce joint pain.
Other treadmills have hard surfaces that can start to hurt to walk on after hours of exercise, while this one has cushioning that reduces the shock of walking to make it a much more comfortable time. It also has a lift assist and folds up, so that you can save space.
---
My Thoughts On Sports And Outdoor Gifts
My family loves the outdoors, especially camping.  My husband plays golf, unfortunately I haven't mastered this sport yet (but trying my best). Whenever Christmas or birthdays come around we always opt for sports and outdoor gifts because we know we'll get plenty of use out of them.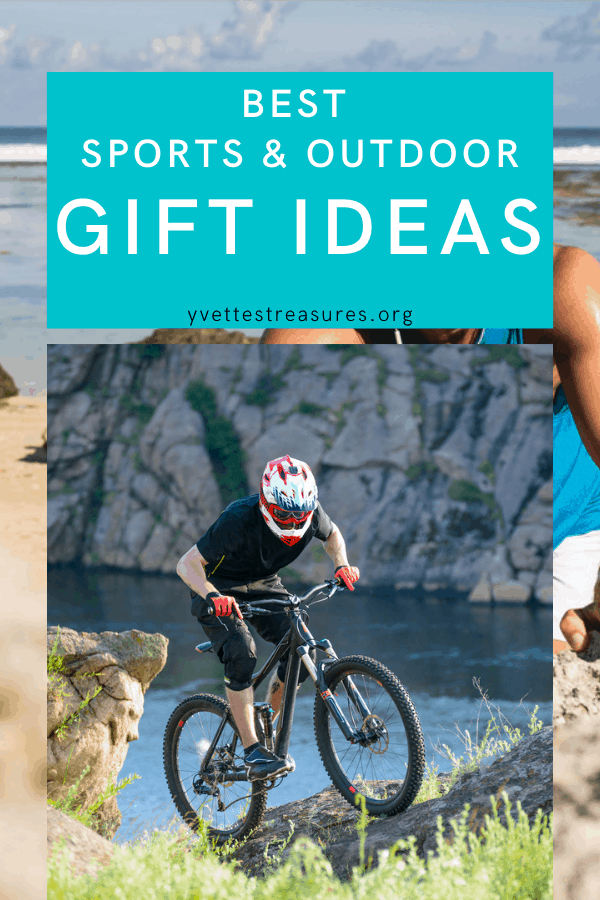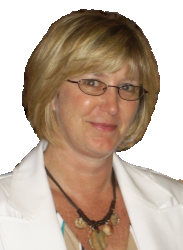 Latest posts by Yvette's Treasures
(see all)
Summary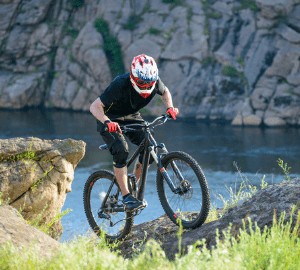 Article Name
Top 5 Sports And Outdoor Gifts For Christmas - Unique Outdoor Gift Ideas
Description
Looking for the perfect gift for the sports lover or outdoorsmen? From hiking, to camping, to keeping fit there are so many unique outdoor gift ideas. That's why I have put together a list of the top 5 sports and outdoor gifts to get you started.
Author