This post may contain affiliate links. I may receive commissions for purchases made through these links with no extra cost to you. See full disclosure.
Last Updated on May 7, 2021 by Yvette's Treasures
Special Mother's Day Gifts Under $25 
Quick Links to Info on this Page
Aren't moms just super special ? When it comes to celebrating mom we feel that you should put as much thought and care into choosing her gifts as possible.  Don't you agree?  To help you find the perfect gift, we have put together a list of some very special Mother's Day Gifts under $25 so that you can show mom just how much you care with a gift you can afford.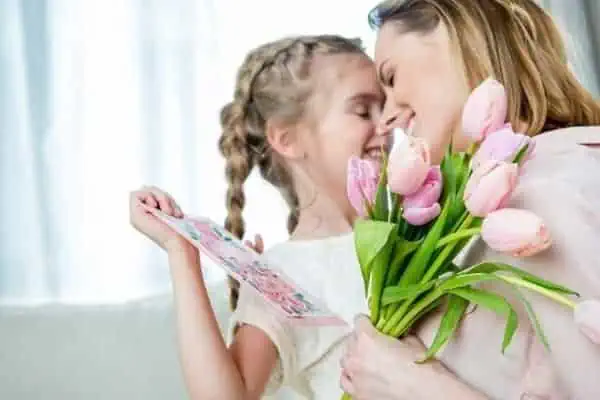 Meaningful Mother's Day Gifts Under $25
Get mom something special that she can keep and treasure always. Show her just how much you care and that she is always in your thoughts!
#1.

Quote Mantra Bracelet For Mom
Rose Gold Bracelets for WomenSHOP NOW
This beautiful bracelet with its secret message hidden on the inside is a wonderful way to remind mom just how much you love her. It has a guaranteed life-time color retention which means no fading and it is non allergic.
I just LOVE the rose gold color, and it comes in a pretty gift box with a gift card. No extra wrapping needed.
---
#2. Decorative

Mother's Day Gifts Under $25 
Gifts for Mom Ring Trinket DishSHOP NOW
Does mom need somewhere to keep her rings and small jewelry? This Decorative Trinket Plate is the perfect place.
Not only will she always know where to find her rings, but every time she puts them on she will remember just how much you love her!
---
#3. One Dozen Rainbow Roses Especially For Mom
One Dozen Rainbow Roses (Free Vase Included)SHOP NOW
Does mom love roses, kidding…what mom doesn't! Instead of having to decide on which color she loves best, this arrangement comes with 12 fresh roses in a variety of colors. You can include a gift card message and BONUS it comes with a free vase.
---
 #4.

Message in a Bottle
Capsule Message in a BottleSHOP NOW
The message in the bottle is one of my favorite gifts! I bought my mom one about 5 years ago, and she loves it. Every year on Mother's Day we open the bottle together and go through all the secret messages.
It's a great way to spend quality time with mom, and have a good laugh when reading all the hidden messages. It also lets you reflect on all that happened during the year.
---
#5. Mother's Day Gift Box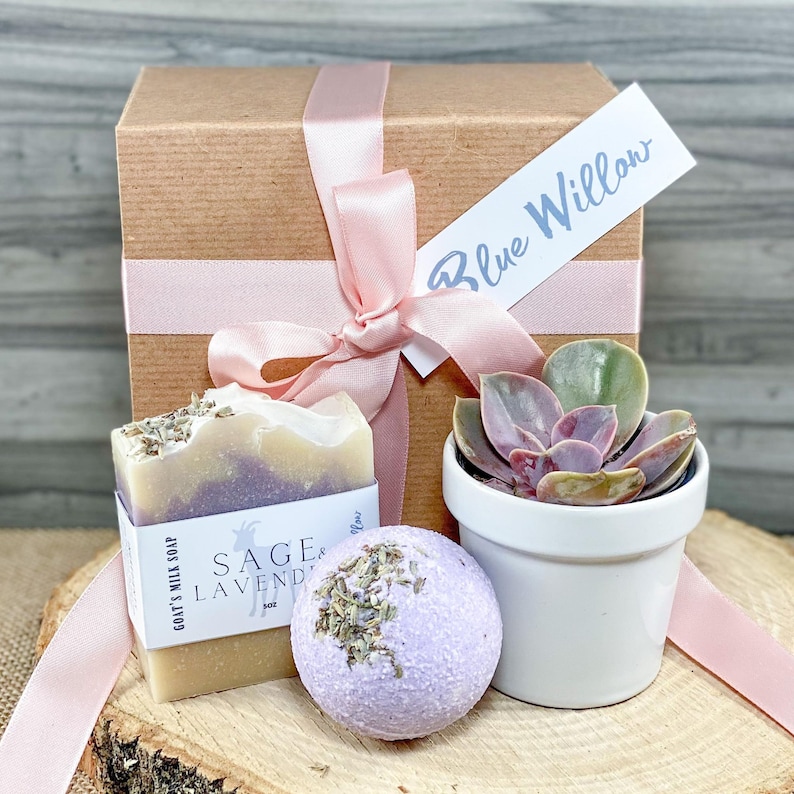 Mothers Day Gift BoxSHOP NOW
Spoil mom this Mother's Day with this beautiful spa gift box. It includes your choice of a handmade bar of soap that is perfect for the bathroom sink or great for scrubbing in the shower. A Bath bomb and a mini succulent! Give the gift of relaxation she will love you for it!
---
#6. Macarons – Tasty Mother's Day Gifts Under $25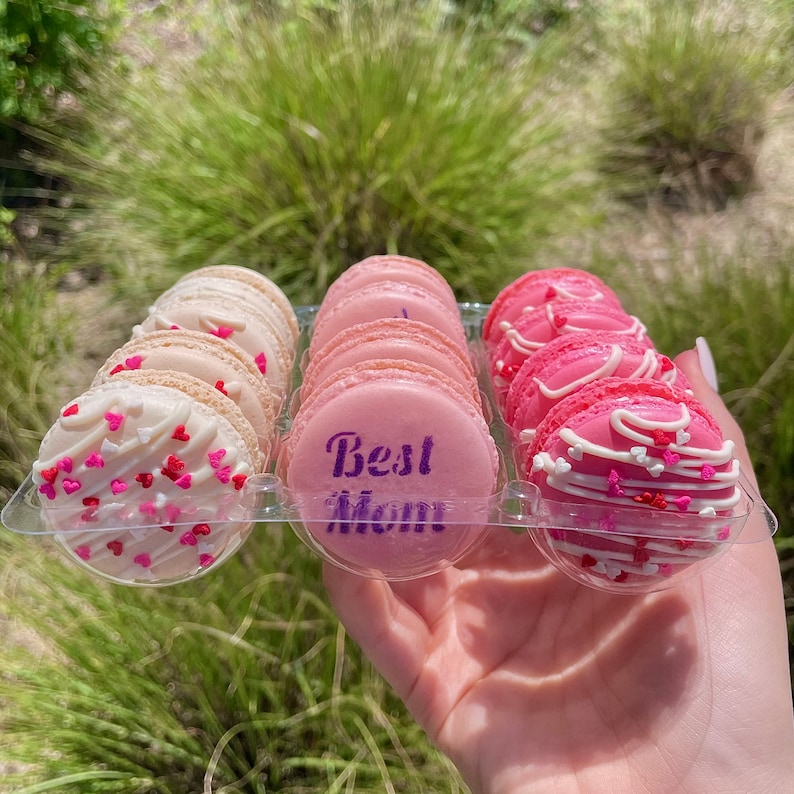 Mother's Day MacaronsSHOP NOW
Give mom a tasty treat this Mother's Day with these fun, colorful Mother's Day macarons. Choose from any of the 9 flavors (vanilla, chocolate, rose, fruity pebbles, mint chocolate, lemon, coconut, peppermint, and orange).
The filling inside will consist of buttercream or a chocolate ganache, depending on which flavor you choose. Good news – these treats are gluten-free as well.
---
#7.

Mom Butterfly Suncatcher
Mom Butterfly Suncatcher with Pressed Flower WingsSHOP NOW
Mom can easily hang this beautifully engraved suncatcher inside by the window using the suction cup and hook that comes with it. This unique design comes with real flowers pressed between the glass making it nice and colorful.
---
#8.

Cute Candle For Mom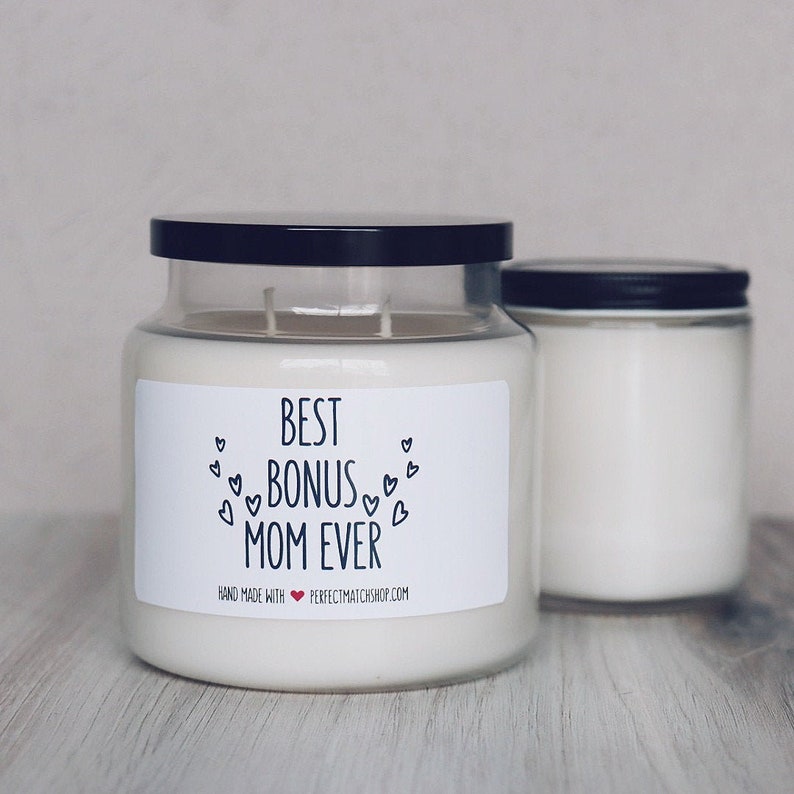 Cute Candle For MomSHOP NOW
Tell mom how much you love her with this cute candle. Made from 100% Soy wax and hand poured into glass jars. The candle has a cotton wick which means no lead, zinc or other metals, and the fragrance is phthalate free! Win – win all round.
---
#9.

Personalized Sign Board For Mom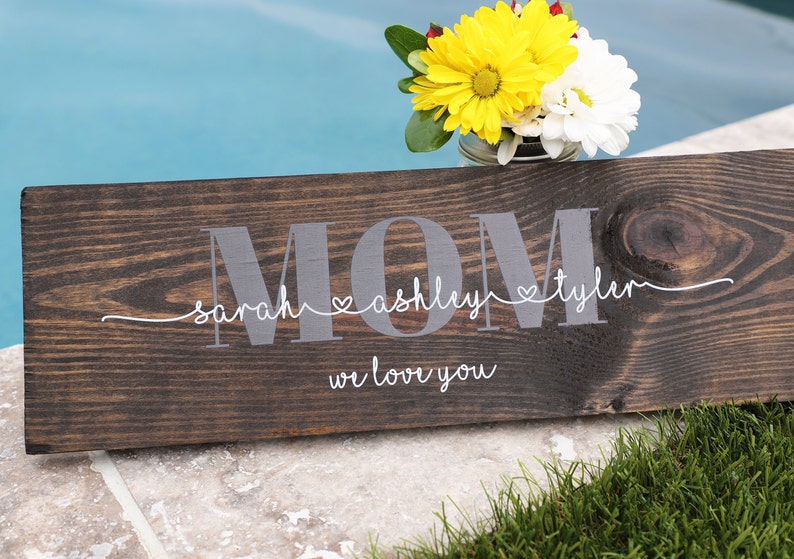 Personalized Sign Board For MomSHOP NOW
Get all your siblings together and get mom this beautiful, handmade sign. Made from stained dark wood, and the personalized description will not peel or fade making it an everlasting keepsake.
---
#10. Leather Shoulder Bag
Rebecca Minkoff Leather Shoulder BagSHOP NOW
A beautiful Rebecca Minkoff leather shoulder bag would make a wonderful Mother's Day gift. It is soft and elegant with a divided interior, a zip pocket and card slots, great for keeping items beautifully organized.
---
#11. Supersonic™ Hair Dryer
Supersonic™ Hair Dryer Fuchsia Gift EditionSHOP NOW
Mom's love to style their hair, but they don't always have the time. The new Supersonic™ Hair Dryer can help with that! 
The small, powerful digital motor with Air Multiplier technology produces a high-velocity jet of controlled air. It also helps to protect hair from extreme heat damage with fast drying and controlled styling.
---
#12. Fragrance Mother's Day Gifts Under $25 
Flowerbomb Eau de Parfum Fragrance SpraySHOP NOW
This opulent, sensual and ultra-feminine perfume is a floral explosion anchored by the warm scent of patchouli and a soft vanilla perfume to create a rich yet perfectly balanced fragrance.
---
#13. Genuine Shearling Slipper From UGG®
Genuine Shearling Slipper From UGG®SHOP NOW
Indulgently plush genuine shearling and UGGpure wool bringing unparalleled comfort to a slide slipper set on a low platform with a grippy rubber tread.
---
#14. Sunflower Garden Grow Kit
Sunflower Garden Grow KitSHOP NOW
Sunflowers are among the easiest flowers to cultivate from seed, and are especially exciting as a child's first gardening project, because they grow so fast and get so tall.
So why not get mom this easy DIY kit and work together to grow a beautiful mix of sunflowers. The kit includes everything you will need to get started.
---
#15. Murder Mystery Jigsaw Puzzle
Murder Mystery Jigsaw PuzzleSHOP NOW
Here is a really fun Mother's Day gift idea. Begin by reading the story to reveal the clues. Then guided by the narrative rather than a visual reference, complete the jigsaw puzzle. The finished image provides you with all the clues you need to solve the mystery of whodunit.
---
#16. Sentimental Mother's Day Gifts Under $25 
Letters to My MomSHOP NOW
Give your mother a tangible reminder of how much she means to you with this touching letter set. Filled with situation-specific prompts, such as, "Read me when you need to know how much I love you" and "Read me when you miss me", this sweet collection invites sons and daughters to express their gratitude and recap memories that will make her smile.
---
Pamper Mom With Mother's Day Gifts Under $25 
#17. Sleeping Lip Mask Balm
Moisturizing Green Tea Matcha Sleeping Lip Mask Balm, Younger Looking LipsSHOP NOW
The conditioning and deep moisturizing ingredients of the Moisturizing Lip Mask help protect your lips from drying and rejuvenates them while you sleep. This lip mask also comes with a FREE lip brush for easy application.
---
#18. Variety Mask + Exfoliating Pad Set
Variety Mask + Exfoliating Pad SetSHOP NOW
Treat your skin to a full range of rejuvenating benefits with this set of seven single-use sheet masks and a pad you can use to exfoliate and cleanse throughout the week. A great gift for mom.
---
#19. Travel Makeup Mirror
LED Lighted Travel Makeup MirrorSHOP NOW
This pretty daylight LED makeup mirror closely simulates natural sunlight providing you with true-to-life color-correct details. It has two-sided magnification and up to 20,000 hours of long lasting LED lightbulbs.
This elegant compact mirror has a glossy black finish and is the perfect addition to mom's handbag.
---
#20. 

Meaningful

Mother's Day Gifts Under $25 
Help mom sleep better with this ultrasonic designed Aromatherapy Oil Diffuser. Just add a few drops of lavender oil to relax and fall asleep faster.
It has an auto shut-off humidifier, 7 color-changing LED mood lights and is coated in a beautiful wood grain which will make a great home décor addition to your home or office.  Love aromatherapy oil diffusers?  Here are even more wonderful oil diffuser gift ideas.
Wood Grain Ultrasonic Aromatherapy Oil Diffuser with Adjustable Mist Mode Waterless Auto Shut-off Humidifier and 7 Color Changing LED LightsSHOP NOW
---
#21. Organic Bath Bomb Gift Set
Pure Nature Lux Spa 12​ Bath Bombs – Gift Set ​with ​Organic Essential OilsSHOP NOW
The perfect relaxing gift to restore moms senses and gather her energy. Each organic ​shower bomb​ is rich in restorative antioxidants and invigorating ​essential oils​ that will have mom relaxed and sleeping soundly in no time!
---
Mother's Day Personalized Gifts
Personalize your Mother's Day gift this year with a loving message from you or have her name engraved, making it extra special.
#22. Knitting Needles For Mother's Day!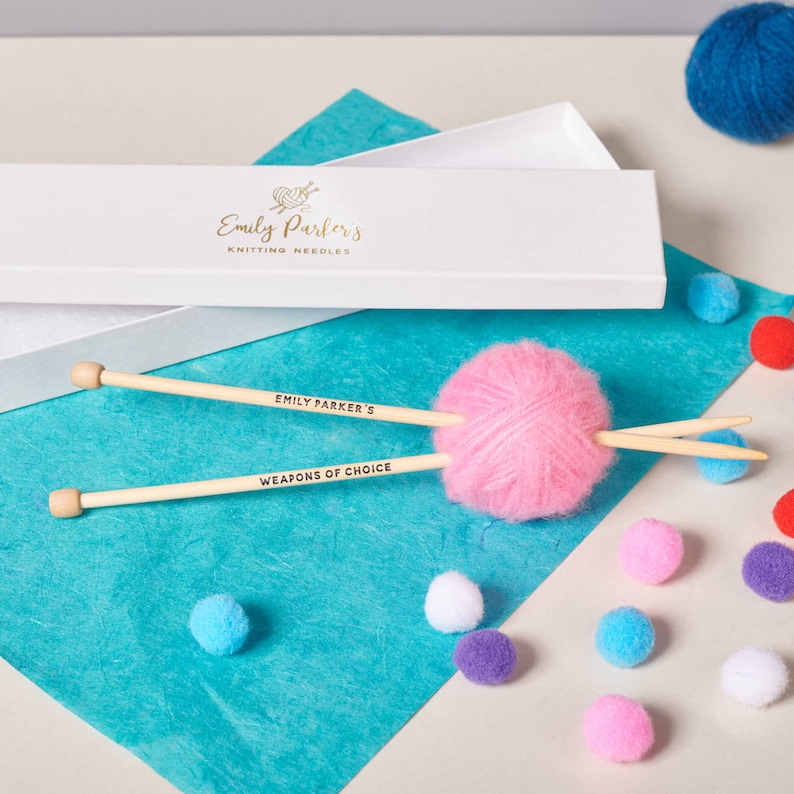 Personalised Knitting Needles With BoxSHOP NOW
These personalized knitting needles will make a lovely gift for the crafty mum in your life. Or a fun gift idea for grandma.  You can personalize one knitting needle with a chosen name and the other with words of your choice.
Made from solid bamboo, they have a smooth finish, are lightweight and high quality. Presented in a pretty personalized foiled box all ready for gifting.
---
#23. Mother's Day Jewelry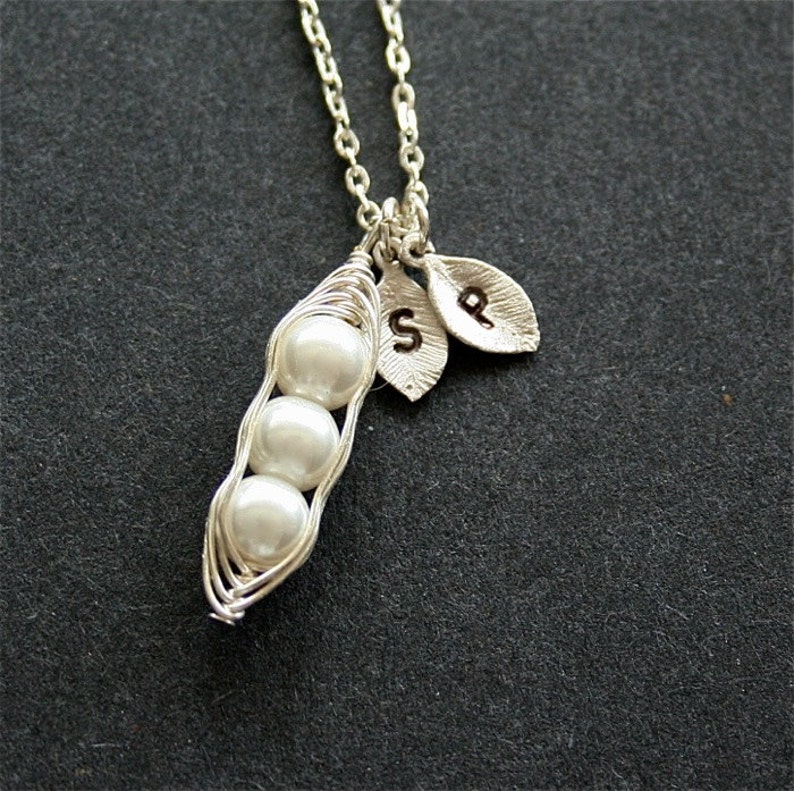 Personalized Pea pod NecklaceSHOP NOW
A beautifully crafted pea pod pendant with 3 pearls – wrapped in silver wire to form a pod shape. Adorned with three custom initialed leaves.
I love sterling silver so this would be perfect for me (please let my son know – he he), but it also comes in gold and rose gold if your mom prefers those colors.
---
Perfect Mother's Day Gifts For The Kitchen
#24. Recipe For A Special Mom
Definitely a unique gift for mom – you'll see, mom will love it. The Recipe for Special Mom can be used as a cutting board or as a serving board. It will look great in the kitchen. Make it extra special by engraving a personal message under the poem.
Recipe for a Special Mom Cutting BoardSHOP NOW
---
#25. Happy Mother's Day Kitchen Towel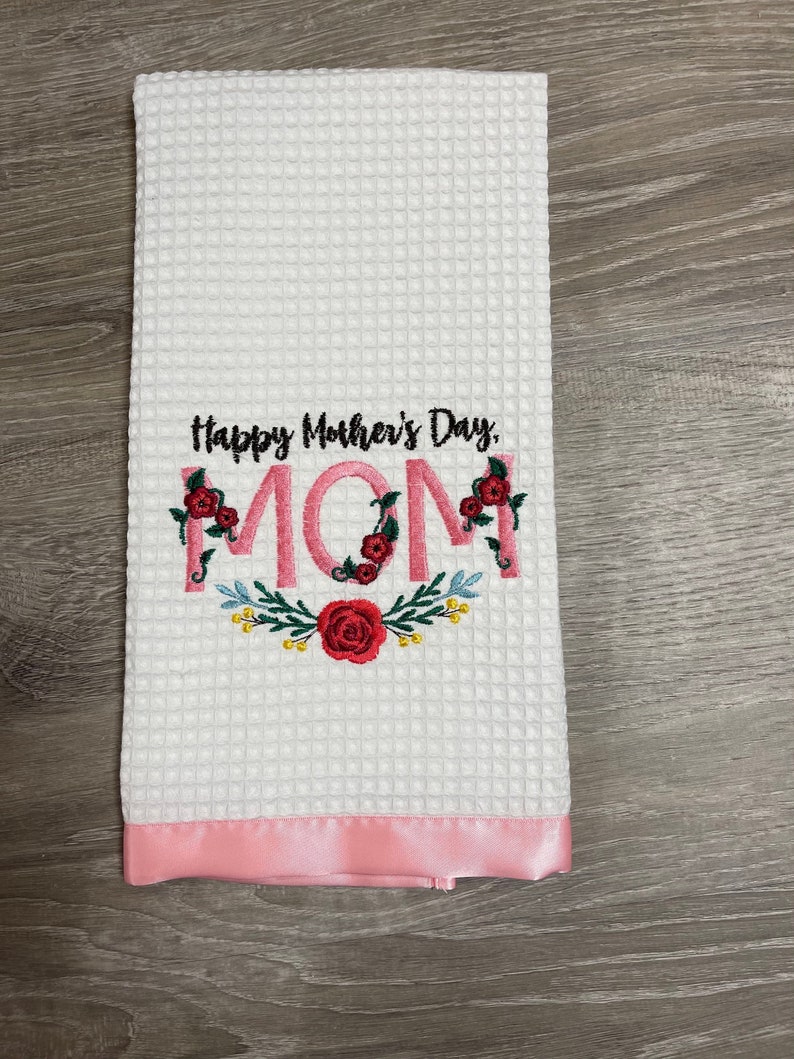 Happy Mother's Day Kitchen TowelSHOP NOW
A beautifully embroidered kitchen towel especially for mom on Mother's Day. She can display it for all to see. Here are some more wonderful kitchen gift ideas for you to choose from.
---
#26.

Deluxe Recipe Binder
Deluxe Recipe Binder – Favorite RecipesSHOP NOW
What an awesome looking recipe binder, so cute and creative. It will look great in mom's kitchen!
It includes:
– 50 pre-formatted recipe pages 
– 2 splash guards
– 6 tabbed dividers
– 1 matching notepad
– 3 matching magnets
as well as plenty of cooking hints and tips.
---
#27. Funny

Mother's Day Gifts Under $25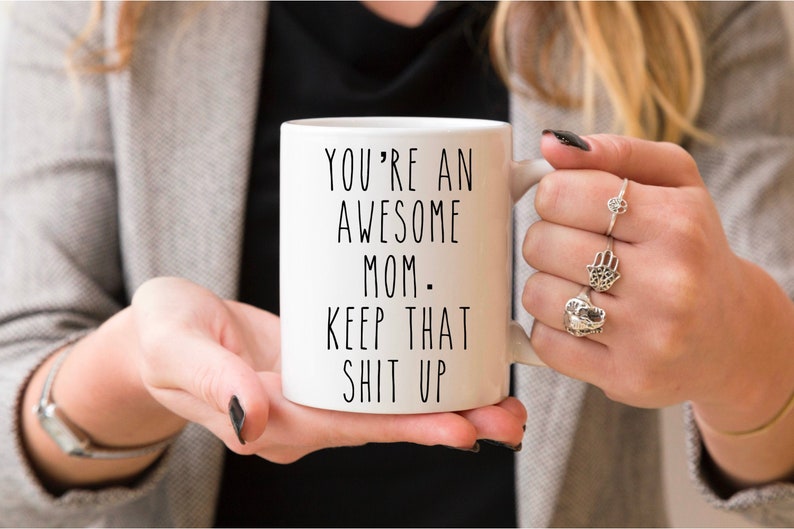 Funny Mother's Day MugSHOP NOW
Does mom love coffee with a dash of humor? Then she'll love this funny mug. 100% Ceramic, dishwasher and microwave safe.
---
#28. Personalized Cookie Jar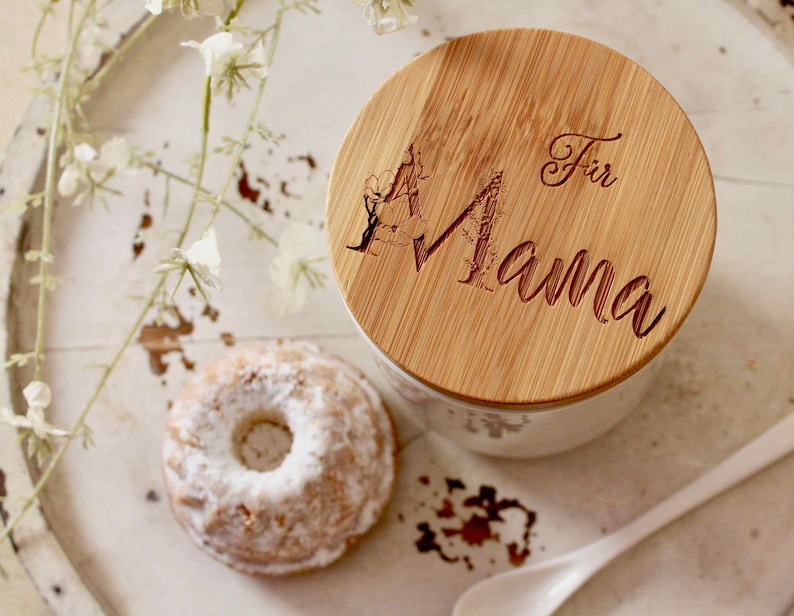 Personalized Cookie JarSHOP NOW
Give a gift that mom can use in the kitchen. This pretty ceramic jar comes with a bamboo lid and engraving. Fill it with homemade cookies, chocolates or even mom's favorite tea. Mom will love it, and you will leave a lasting impression.
---
#29. Custom

Mother's Day Gifts Under $25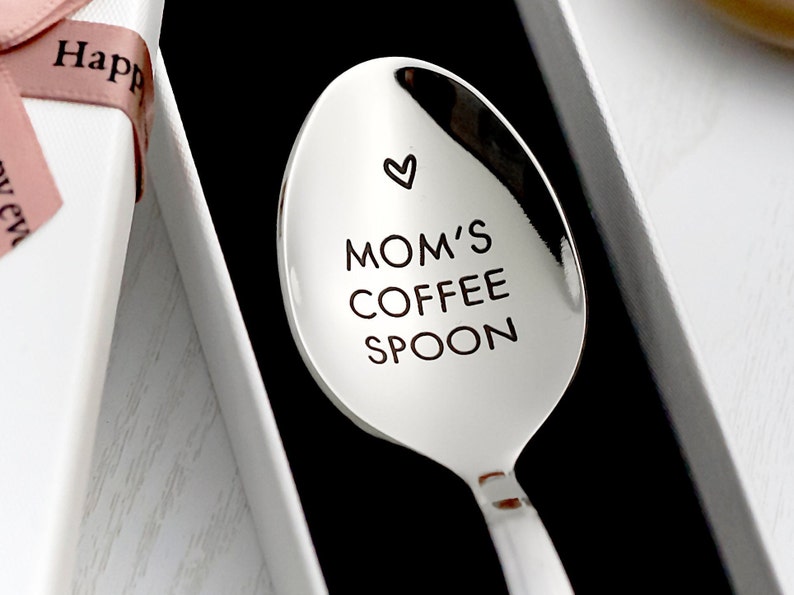 Mom's Custom Coffee SpoonSHOP NOW
Such a cute and unique gift idea for mom. Every time she stirs her coffee or eats her cereal she will be reminded of just how much you love her.
---
#30. Travel Tumbler for Mom – Mothers Day Gift Guides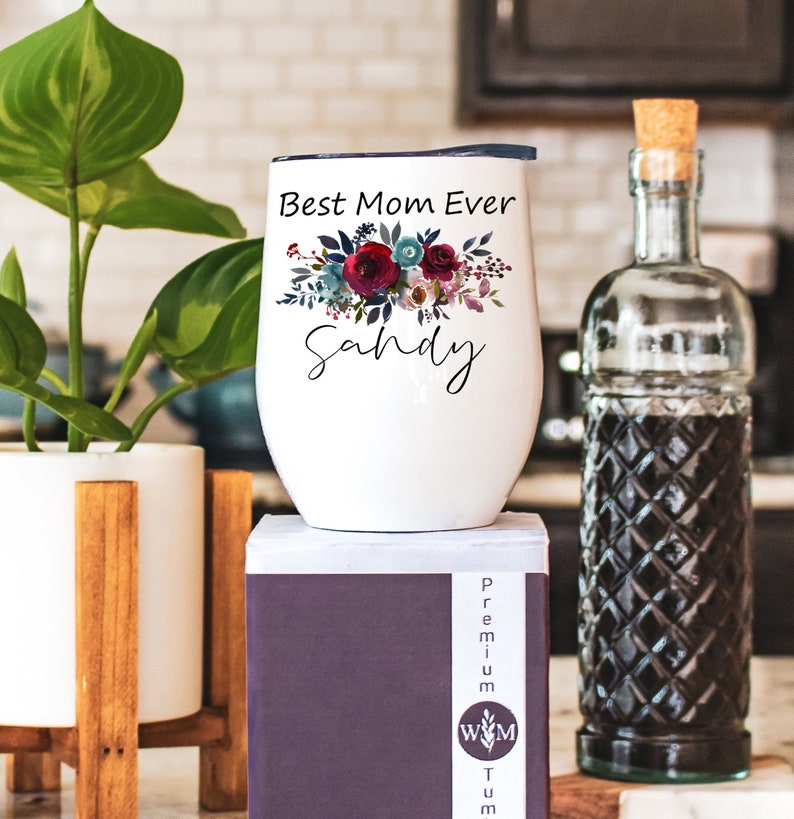 Travel Tumbler for MomSHOP NOW
A beautiful tumbler telling mom just how special she is. She can put her favorite beverage in it and take it anywhere with her. Coffee on the go!
---
#31. Personalized Casserole Dish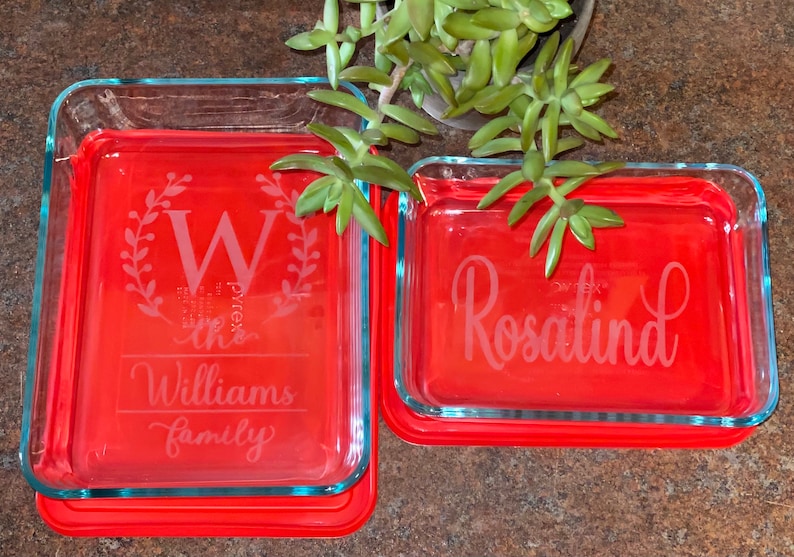 Personalized Casserole DishSHOP NOW
Add a special touch to an everyday item. This beautiful Pyrex casserole dish is laser engraved with your special message for mom. It also comes with a red plastic lid which is perfect for keeping food fresh.
The best thing is, mom never has to worry about getting her favorite dish back after the next potluck or cooking event ever again. With her name engraved on it everyone will know who it belongs to.
---
Happy Mother's Day Gifts Under $25 
These inexpensive mother day gifts are perfect for those on a tight budget, but still want to get mom something that says 'I love you'.
#32. Stemless Wine Glasses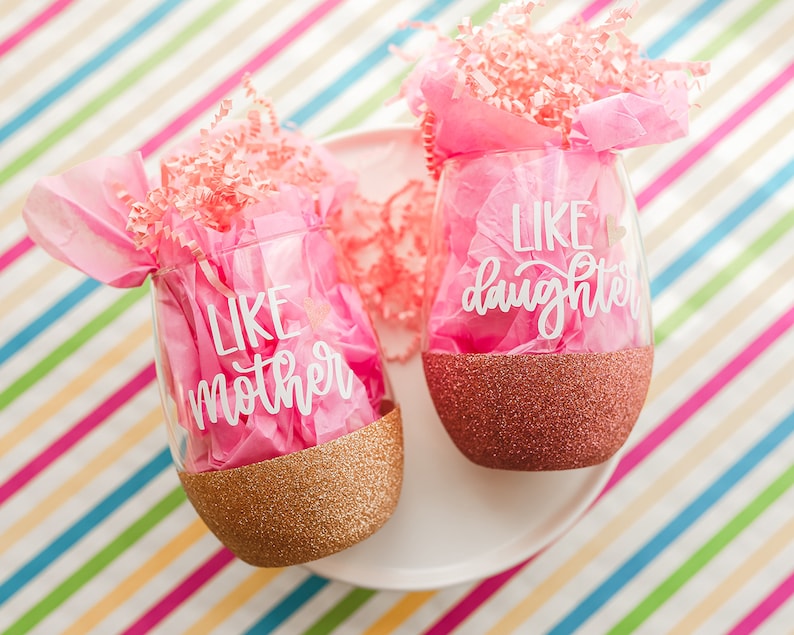 Like Mother Like Daughter Personalized Wine GlassesSHOP NOW
Celebrate the fabulous duo you are with these 'Like mother, Like daughter' stemless wine glasses. Each glass holds 21 ounces and features a rose gold and gold glitter-dipped bottom. The glitter is water-resistant and sealed. With premium vinyl lettering and made from durable glass this is a wonderful gift idea for mom.
---
#33.

Mother's Day Throw Pillow Cover
This Mother's Day throw pillow cover is so cute and will remind mom just how much she is loved every time she sees them scattered around the house.
All Smiles Mother's Day Throw Pillow Cover CaseSHOP NOW
---
#34. Coffee Mug For Mom
Mom Mug – 16 Ounce Ceramic Coffee Mug (Mother Sentiments)SHOP NOW
A high quality ceramic mug with beautiful sentiments for mom. It fits neatly underneath Keurig and most other home brewing systems so that mom can have her favorite coffee every morning without washing an extra mug. A great gift idea for any mom!
---
#35. Wall Art Mother's Day Gifts Under $25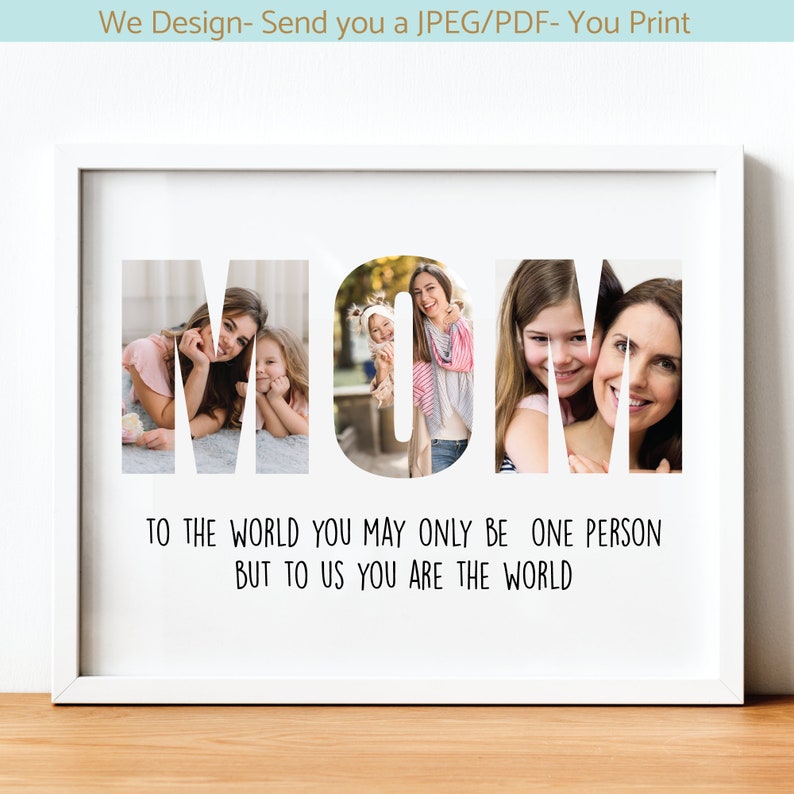 Mom Photo CollageSHOP NOW
A personalized Mother's Day gift for the home. A beautifully designed custom photo collage. You supply the photo and we will do the custom design. The printable will be a high quality 300 DPI JPEG file. And the best part is you can print as many as you want!
Looking for something for the whole family from Great Grandparents, down to Grandparents, down to mom, dad and then you? Take a look at this fantastic family tree wall art décor!
---
#36.

Knitted Scarf Poncho
Versatile Knitted Scarf with Buttons Light WeightSHOP NOW
Fashionable and stylish knit poncho wraps. Perfect for those days when a jacket is too warm, and you just need something to cover your shoulders to keep the chill out. A very useful and thoughtful gift for mom.
---
Best Mother's Day Gifts Under $25 
Thank you for browsing my list of Mother's Day gifts under $25. I hope there is something here that you know mom will like. If you have any suggestions or gifts that you would like me to add to the list, please give us a shout in the comments below.
Mother's Day Gifts Under $25 – Best Gift For Moms Related Posts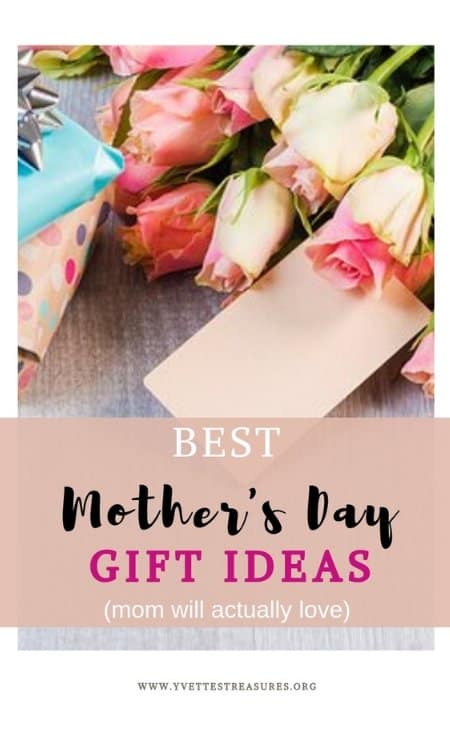 Summary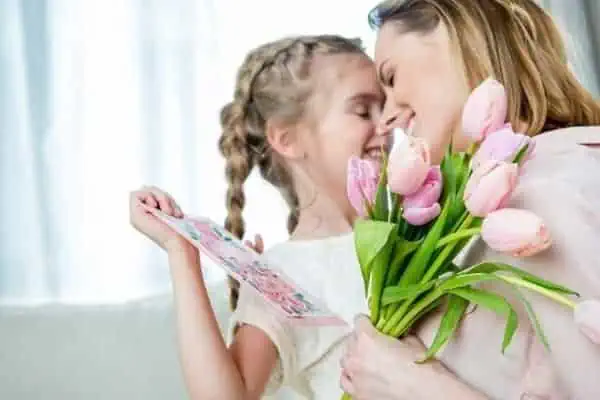 Article Name
20+ Mother's Day Gifts Under $25 - Best Gift For Moms
Description
Offering the BEST Mother's Day Gifts Under $25. Find the perfect gift for mom and still stay within your budget! Best gift for moms on Mother's Day!
Author