This post may contain affiliate links. I may receive commissions for purchases made through these links with no extra cost to you. See full disclosure here.
Last Updated on May 1, 2019 by Yvette's Treasures
Special Mother's Day Gifts Under $25 
Aren't moms just super special ? When it comes to celebrating mom we feel that you should put as much thought and care into choosing her gifts as possible.  Don't you agree?  To help you find the perfect gift, we have put together a list of some very special Mother's Day Gifts under $25 so that you can show mom just how much you care with a gift you can afford.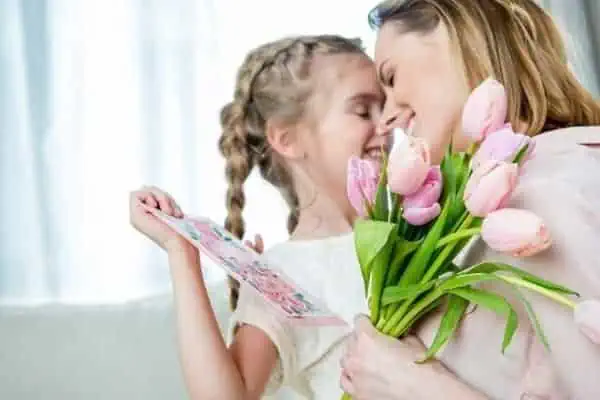 This post may contain affiliate links. I may receive commissions for purchases made through these links with no extra cost to you.
Meaningful Mother's Day Gifts Under $25
Get mom something special that she can keep and treasure always. 
1. 'Remember I Love You Mom' Bracelet

'Remember I Love You Mom' Cuff Bracelet (Rose Gold)SHOP NOW
This beautiful 'Remember I love You Mom' bracelet is a wonderful way to remind mom just how much you love her. It has a guaranteed life-time color retention which means no fading and it is non allergic.
I just LOVE the rose gold color and it comes in a pretty drawstring pink velvet gift bag. No extra wrapping needed.
---
2. Decorative Trinket Plate
Ceramic Ring Decorative Trinket Plate -Remember I Love You MomSHOP NOW
Does mom need somewhere to keep her rings and small jewelry? This Decorative Trinket Plate is the perfect place.
Not only will she always know where to find her rings, but every time she puts them on she will remember just how much you love her!
---
3. One Dozen Rainbow Roses
Flowers – One Dozen Rainbow Roses (Free Vase Included)SHOP NOW
Does mom love roses, kidding…what mom doesn't! Instead of having to decide on which color she loves best, this arrangement comes with 12 fresh roses in a variety of colors.
You can include a gift card message and BONUS it comes with a free vase.
---
 4.

Unique Rose Flower Glass Mug Just For Mom
WOW! This unique rose flower glass mug is so pretty. It is made from high quality eco friendly metal and crystal glass. Each piece is a work of art. This glass mug is perfect for mom's favorite tea, coffee, chocolate or any other hot beverage. It will look lovely in her kitchen. As far as Mother's Day gifts under $25 go, this one is a beauty. 
Mother's Day Gifts For Mom Unique Rose Flower Glass Drinkware (Blue Tall)SHOP NOW
---
5. 

Mom Butterfly Mother Suncatcher
Mom Butterfly Suncatcher with Pressed Flower Wings – Butterfly Suncatcher – Mom Gifts – Gifts for MomSHOP NOW
Mom can easily hang this beautifully engraved suncatcher inside by the window using the suction cup and hook that comes with it.
This unique design comes with real flowers pressed between the glass making it nice and colorful.
Pamper Mom With These Mother's Day Gifts Under $25 
6. Sleeping Lip Mask Balm
Moisturizing Green Tea Matcha Sleeping Lip Mask Balm, Younger Looking Lips OvernightSHOP NOW
The conditioning and deep moisturizing ingredients of the Moisturizing Lip Mask help protect your lips from drying and rejuvenates them while you sleep.
This lip mask also comes with a FREE lip brush for easy application.
---
7. Variety Mask + Exfoliating Pad Set
Variety Mask + Exfoliating Pad SetSHOP NOW
Treat your skin to a full range of rejuvenating benefits with this set of seven single-use sheet masks and a pad you can use to exfoliate and cleanse throughout the week. A great gift for mom.
---
8. Travel Makeup Mirror
LED Lighted Travel Makeup Mirror, 1x/10x Magnification – 5" Wide Folding MirrorSHOP NOW
This pretty daylight LED makeup mirror closely simulates natural sunlight providing you with true-to-life color-correct details. It has two-sided magnification and up to 20,000 hours of long lasting LED lightbulbs.
This elegant compact mirror has a glossy black finish and is the perfect addition to mom's handbag.
---
9. 

Aromatherapy Oil Diffuser – Meaningful Mother's Day Gifts
Help mom sleep better with this ultrasonic designed Aromatherapy Oil Diffuser. Just add a few drops of lavender oil to relax and fall asleep faster.
It has an auto shut-off humidifier, 7 color-changing LED mood lights and is coated in a beautiful wood grain which will make a great home decor addition to your home or office.  Love aromatherapy oil diffusers?  Here are even more oil diffuser gift ideas.
Wood Grain Ultrasonic Aromatherapy Oil Diffuser with Adjustable Mist Mode Waterless Auto Shut-off Humidifier and 7 Color Changing LED LightsSHOP NOW
---
10. Miracle Bath Bombs Gift Set
Gaea Miracle Bath Bombs Gift Set Natural Handmade Essential OilsSHOP NOW
Each and every eco-friendly Bath Bomb is exquisitely packaged with recycled brown paper, portable, convenient, and easy to unfold. The perfect gift for that special someone.
Moisturizes and smooths the skin, bringing immediate relief from fatigue and stress, therapeutic treatment that will have you sleeping soundly!
---
Mother Day Personalized Gifts
Personalize your Mother's Day gift this year with a loving message from you or have her name engraved, making it extra special.
11. Mum Gift Knitting Needles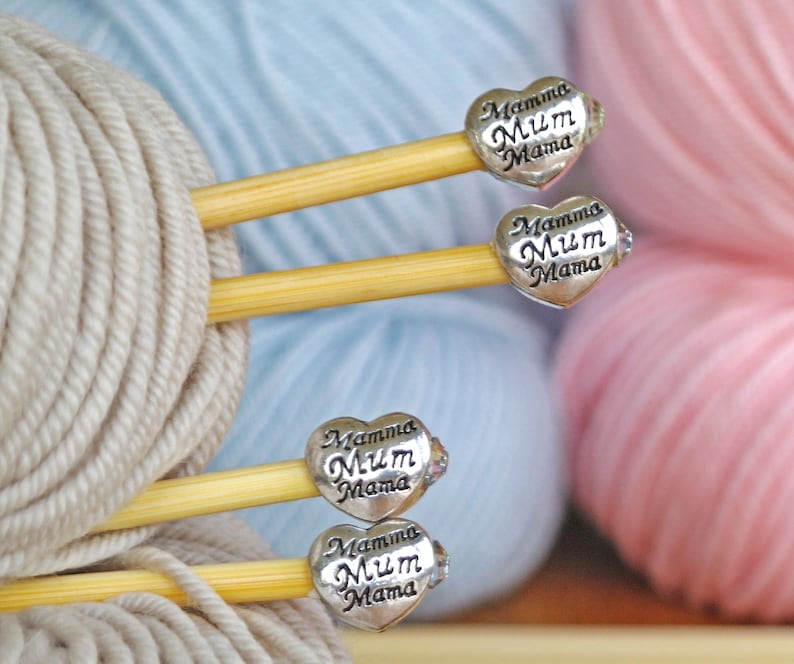 Mum Gift Bamboo Knitting NeedlesSHOP NOW
Two pairs of Mum Knitting Needles make a lovely gift for the crafty mum in your life.
These pretty, single point knitting needles are made of strong, light-weight bamboo. Isn't this just a cool gift idea? So unique!
---
12. Mother's Day Jewelry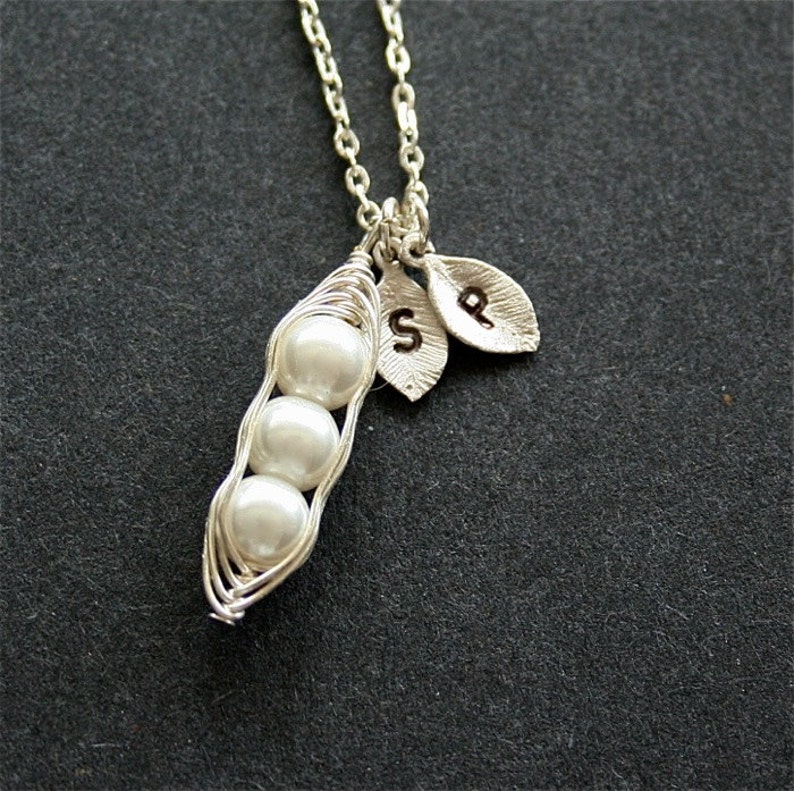 Mother's Day JewelrySHOP NOW
A beautifully crafted pea pod pendant with 3 pearls – wrapped in silver wire to form a pod shape. Adorned with three custom initialed leaves.
I love sterling silver so this would be perfect for me (please let my son know – he he), but it also comes in gold and rose gold if your mom prefers those colors.
---
13. I Love You Mom Candle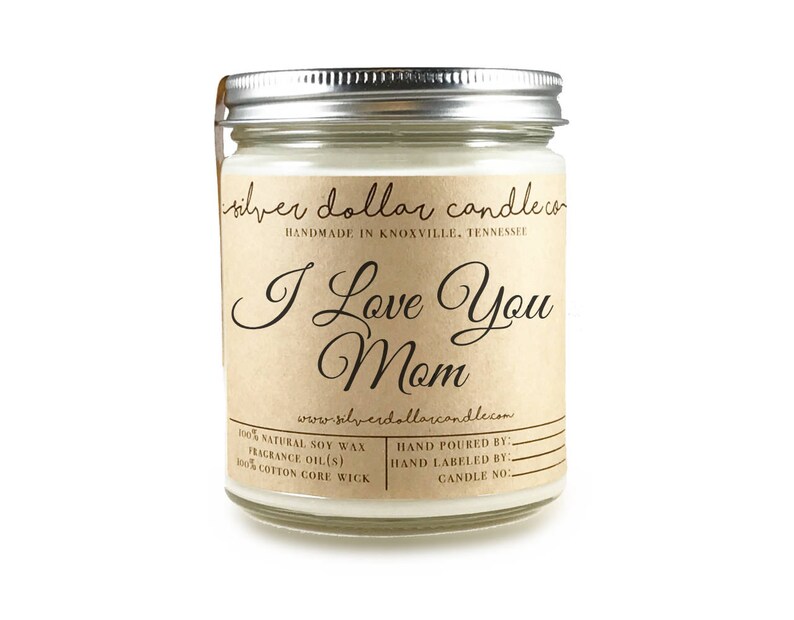 I Love You Mom CandleSHOP NOW
This "I Love You Mom" scented candle is ideal for a Mother's Day gift, or any occasion to tell Mom just how awesome she is!
Choose mom's favorite scent and then customize the lid with a name or short sentence and you've got a gift mom will love!
20+ Of The BEST Gifts For Grandma
Perfect Mother's Day Gifts For The Kitchen
14. Recipe For A Special Mom
Definitely a unique gift for mom – you'll see, mom will love it. The Recipe for Special Mom can be used as a cutting board or as a serving board. It will look great in the kitchen. Make it extra special by engraving a personal message under the poem.
Recipe for a Special Mom Cutting BoardSHOP NOW
---
15. Best Mom Ever Kitchen Towel – Best Mother's Day Gifts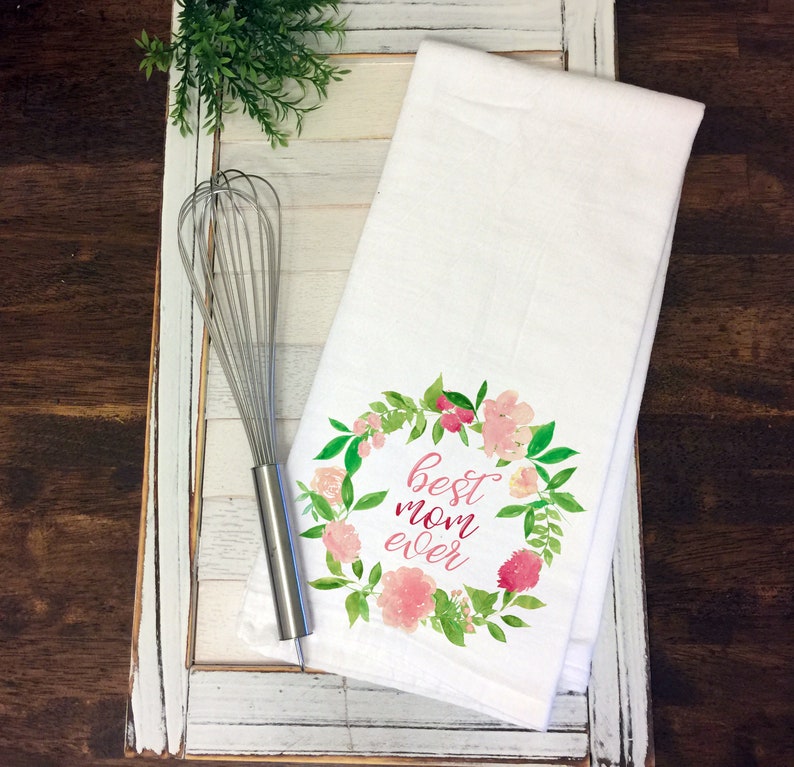 Best Mom Ever Kitchen TowelSHOP NOW
This cute "Best Mom Ever" kitchen towel makes a perfect gift for Mother's Day, a birthday, or just because! Flour sack towels are highly absorbent, long-lasting, and dry quickly.
---
16.

Deluxe Recipe Binder
Deluxe Recipe Binder – Favorite RecipesSHOP NOW
What an awesome looking recipe binder, so cute and creative. It will look great in mom's kitchen!
It includes:
– 50 pre-formatted recipe pages 
– 2 splash guards
– 6 tabbed dividers
– 1 matching notepad
– 3 matching magnets
as well as plenty of cooking hints and tips.
---
17. Travel Tumbler for Mom – Mothers Day Gift Guides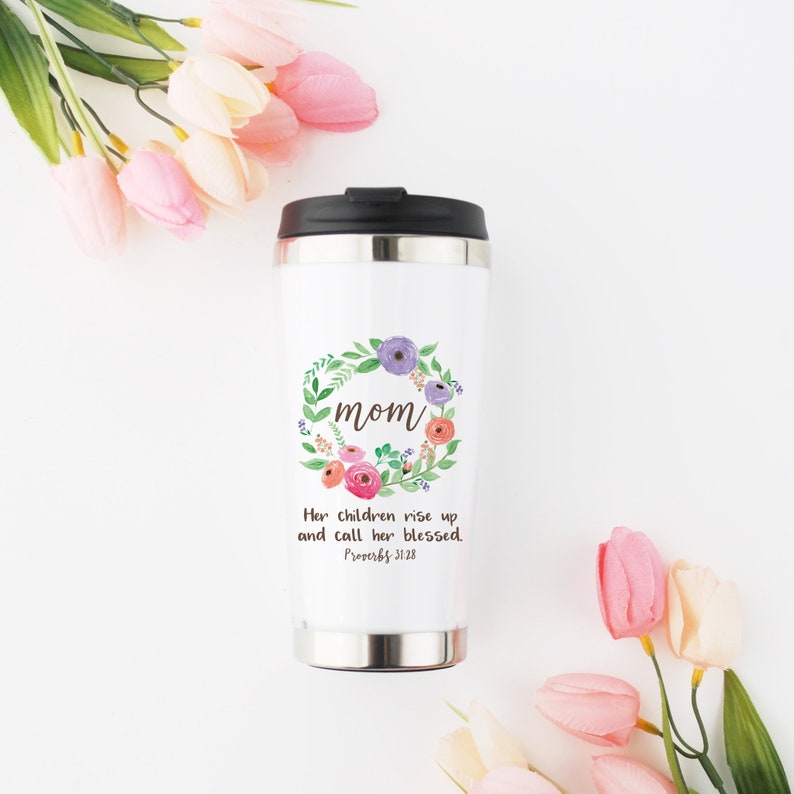 Travel Tumbler for MomSHOP NOW
A homemade, stainless steel travel tumbler for mom with the words 'Her Children Rise Up and Call Her Blessed' printed on a white waterproof insert.
---
18. Personalized Casserole Dish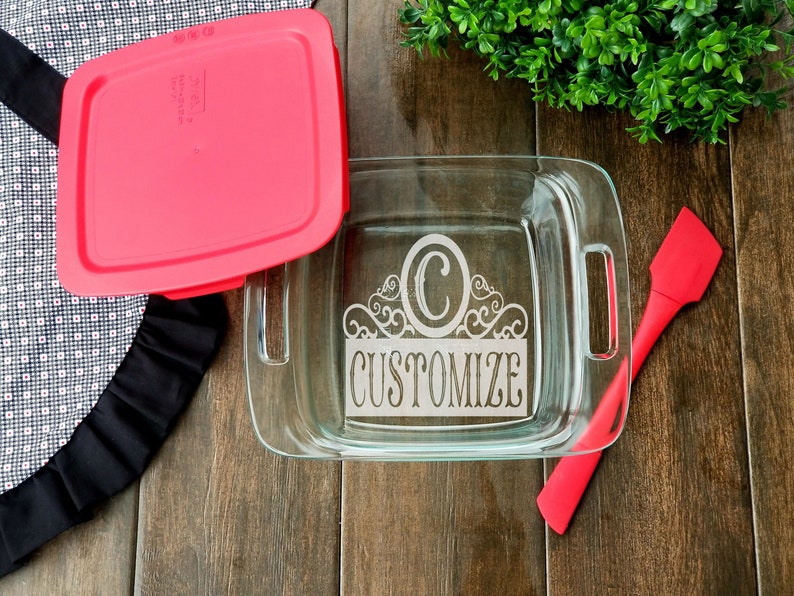 Personalized Casserole Dish With LidSHOP NOW
Add a special touch to an everyday item. This beautiful Pyrex casserole dish is laser engraved with your special message for mom. It also comes with a red plastic lid which is perfect for keeping food fresh.
The best thing is, mom never has to worry about getting her favorite dish back after the next potluck or cooking event ever again.
---
Happy Mother's Day Gifts
These inexpensive mother day gifts are perfect for those on a tight budget, but still want to get mom something that says 'I love you'.
19. Stemless Wine Glasses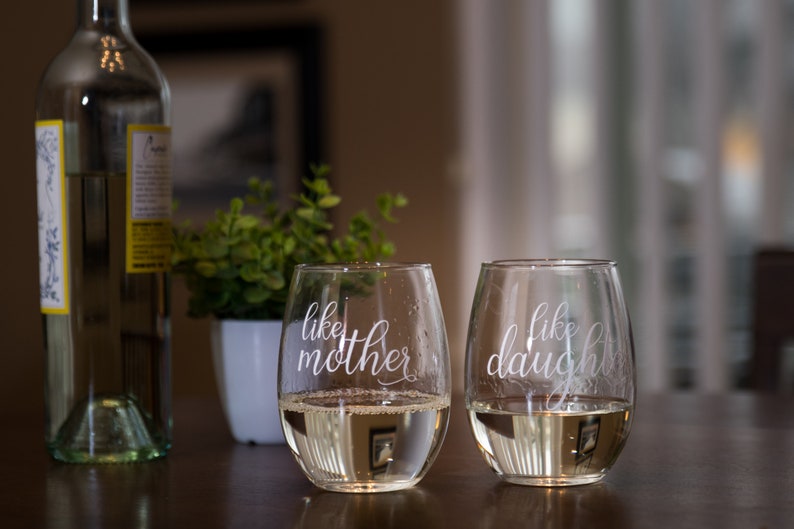 Stemless Wine GlassesSHOP NOW
Like mother, like daughter stemless wine glasses. Wine together from near or far! A set of 2, 15 oz stemless wine glasses with white lettering done in an outdoor, long lasting vinyl.
BONUS – Wine glasses shipped double boxed to ensure they arrive to you safe and sound!
---
20.

Mother's Day Throw Pillow Cover
This Mother's Day throw pillow cover is so cute and will remind mom just how much she is loved every time she sees them scattered around the house.
All Smiles Mother's Day Throw Pillow Cover CaseSHOP NOW
---
21. Coffee Mug For Mom
Mom Mug – 16 Ounce Ceramic Coffee Mug (Mother Sentiments)SHOP NOW
A high quality ceramic mug with beautiful sentiments for mom. It fits neatly underneath Keurig and most other home brewing systems so that mom can have her favorite coffee every morning without washing an extra mug. A great gift idea for any mom!
More Mother's Day Gifts Have Arrived! Enjoy 20% Off.
Use Coupon: MDAY20
22. Wall Art Mother's Day Gifts Under $25
A personalized Mother's Day gift for the home. Printed on authentic burlap that has a glazed backing to prevent unraveling, and the highest quality pigment ink is used to obtain an enduring vibrancy that will last a lifetime. A gift that can be treasured forever and a day!
Looking for something for the whole family from Great Grandparents, down to Grandparents, down to mom, dad and then you? Take a look at this fantastic family tree wall art decor!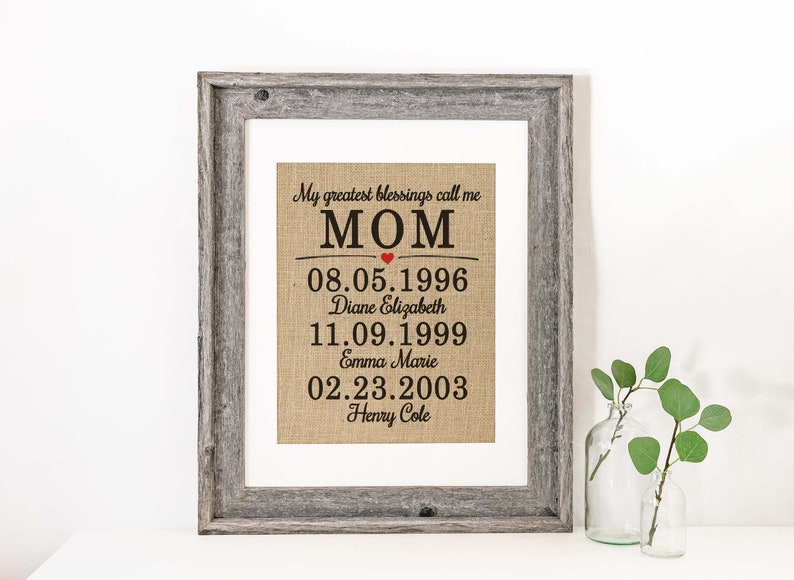 Personalized Mothers Day GiftSHOP NOW
---
23. Women's Wrap Shawl 
Fashionable and stylish knit poncho wraps. Perfect for those days when a jacket is too warm, and you just need something to cover your shoulders to keep the chill out. It can also be worn as a pashmina or used as a picnic blanket during outdoor activities. A very useful and stylish gift.
Urban CoCo Women's Color Block Shawl Wrap Open Front Poncho CapeSHOP NOW
Urban CoCo Women's Color Block Shawl Wrap Open Front Poncho CapeSHOP NOW
---
Best Mother's Day Gifts For Mom
Thank you for browsing my list of Mother's Day gifts under $25. I hope there is something here that you know mom will like. If you have any suggestions or gifts that you would like me to add to the list, please give us a shout in the comments below.
Mother's Day Gifts Under $25 – Best Gift For Moms Related Posts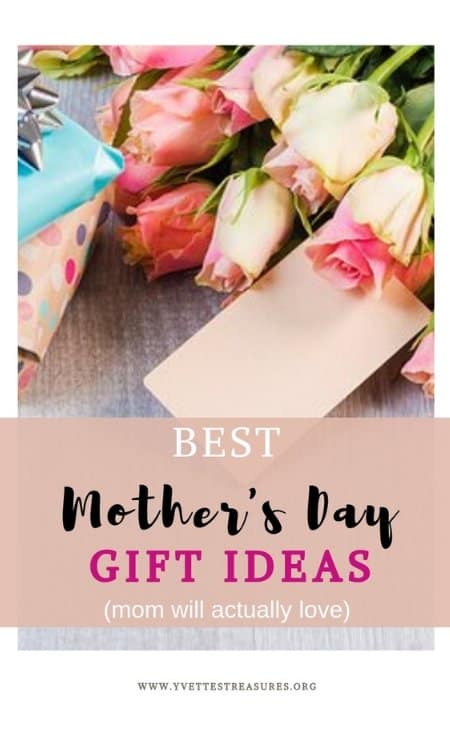 Summary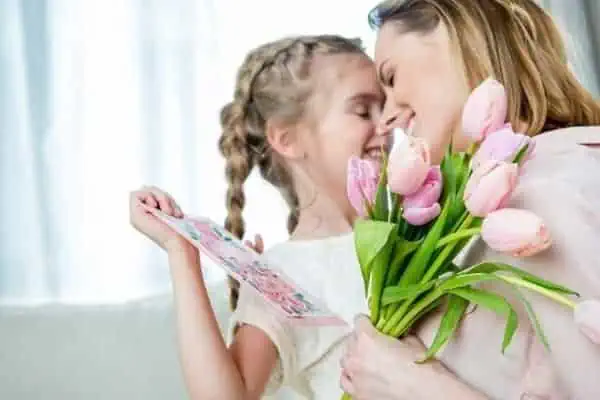 Article Name
20+ Mother's Day Gifts Under $25 - Best Gift For Moms
Description
Offering the BEST Mother's Day Gifts Under $25. Find the perfect gift for mom and still stay within your budget! Best gift for moms on Mother's Day!
Author