This post may contain affiliate links. I may receive commissions for purchases made through these links with no extra cost to you. See full disclosure.
Last Updated on April 1, 2019 by Yvette's Treasures
Kuvings Whole Slow Juicer B6000W Review – The Perfect Kitchen Gift
If you're thinking of buying a durable and efficient juicer, take a look at the pros and cons of the Kuvings Whole Slow Juicer B6000W in this review.
This post may contain affiliate links. I may receive commissions for purchases made through these links with no extra cost to you.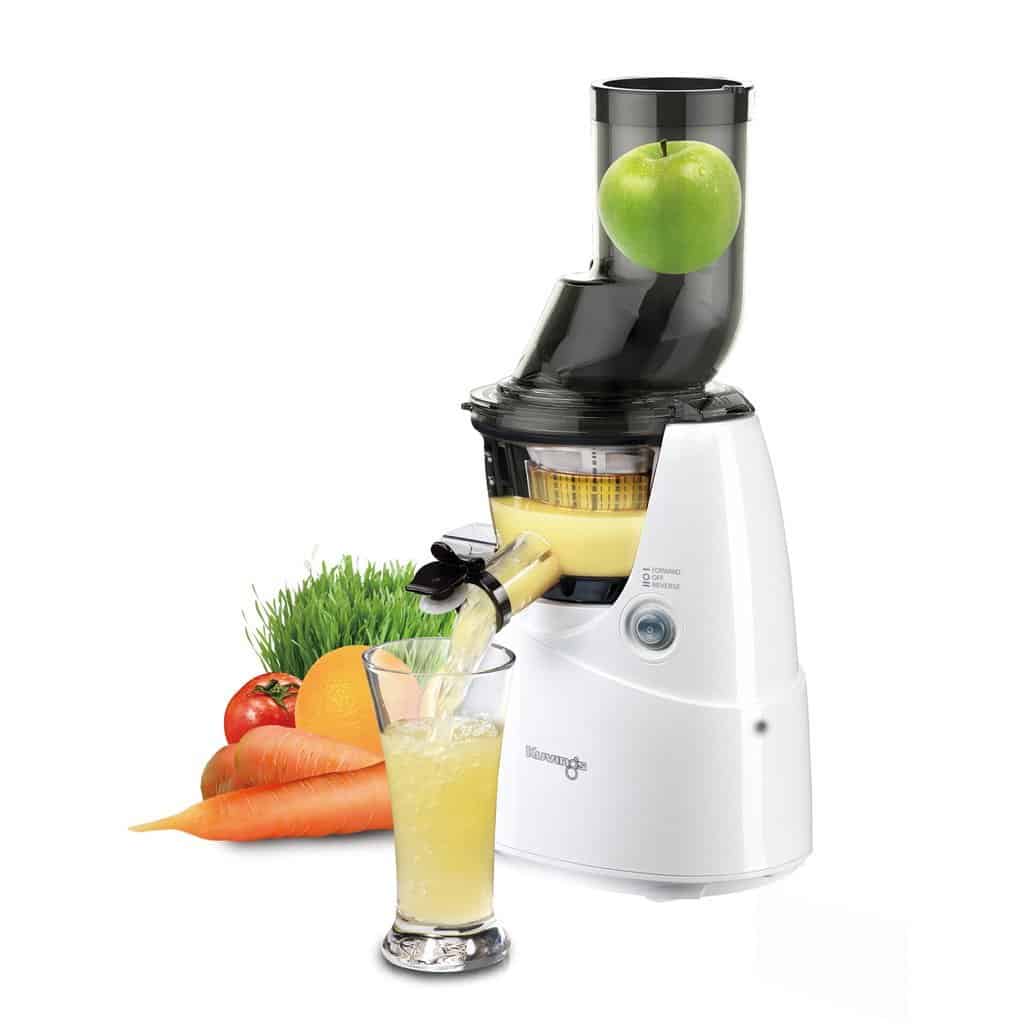 Today, just about everyone is aware that most modern eating habits are decidedly unhealthy. This includes indulging in fast food calorie bombs and unhealthy processed foods. To counter this growing trend, technology has also found ways to provide better alternatives for those who want to be healthy.
As just about every Kuvings Whole Slow Juicer B6000W Review will tell you, purchasing a Kuvings Whole Slow Juicer would be a good first step.
There are many benefits to juicing, and that's why sales of juicers last year saw a 60% increase. While part of the reason for this increase is the high profile visibility of slim and pretty celebrities who practice juicing, like Miranda Kerr and Rosie Huntington-Whiteley.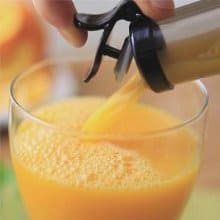 For me there are two main selling points of juicing –
1. Is that juicing can help encourage the consumption of fruits and veggies. Most people know about the health benefits of consuming fruits and veggies, except that a lot of people don't bother or don't like the taste.
But by converting these healthy ingredients into juice, you can make it a lot more fun and tasty.
2. Juicing makes my life so much easier. I always have juice on hand and ready for drinking in my fridge and it is so easy to clean which I love, especially being a busy mom.

Features of the Kuvings Whole Slow Juicer B6000W
So what makes the Kuvings Slow Whole Juicer better than its competitors? To answer that question in this Kuvings Whole Slow Juicer B6000W review, let's take a look at its specs and features.
Specifications:
Design category: Vertical low-speed masticating
Speed: 60 RPM
Wattage: 240W
Voltage: 120V
Dimensions: 228 mm x 208 mm x 448 mm
Weight: 6.7kg (14.7 pounds)
Capacity: 400ml
Maximum Use: Less than 30 minutes
Materials: Ultem, Tritan, ABS, PC
10 year warranty when sold in the USA
Free Accessories
Kuvings Whole Fruit Juicer
BPA Free Tritan juice cup
BPA Free Tritan pulp container
Juicing Bowl
Juicing Screen with Small Holes
Juicing Screw (Auger)
Lid with Feed Tube and Funnel
Over-sized cleaning brush
Rotation Wiper

Smart Cap

Special Screen Cleaning Tool
Tamper with Slim Line Handle

Sorbet Maker

Full color instruction manual

Recipe Book (with more than 75 full color pages)
 Kuvings Whole Slow Juicer White B6000W with Sortbet Maker, Cleaning Tool Set, Smart Cap and Recipe BookBUY FROM AMAZON
Related:  40+ Super Cool Gift Ideas For Mom
FEATURES
With such a wide opening, you can put in entire fruits and veggies without the need to slice them first. This makes the entire process of juicing a lot easier and faster. Also, by being able to put in the entire fruit without cutting them, you preserve the taste and the level of nutrients completely.
Kuvings has developed a patented new technology called Juicer Module Comprising System, or JMCS. Most juicers tend to operate on a very fast rpm speed. But grinding the fruits and veggies with a fast rotating blade leads to oxidation and separation. With the Kuvings Slow Whole Juicer, the slowly rotating screw gently presses on the fruit or vegetable, and that makes all the difference.


Stronger and more effective ULTEM screw
The screw is twice as long as those found in other juicers. This means that it can cut the whole fruit or vegetable without any difficulty while it juices. Since you don't really have to cut most fruits and vegetables before you put it in, you preserve the loss of nutrients and minimize the oxidation. The compression blade of the screw also applies the force at the most optimal angles.
It rotates at 50 to 60 rpm
Kuvings have found this speed to be the best when it comes to the proper force and time used.
The special Kuvings motor
At 240W, the motor is designed for heavy-duty use. Yet it doesn't make as much noise, nor does it vibrate as much.
Made from eco-friendly materials
The strainer and the screw are made from ULTEM, which is a semi-transparent and highly advanced eco-friendly material. The juice cup, pulp cup, and the juice bowl are made from Eastman Tritan. This material has been certified safe by both the National Science Foundation and the Food and Drug Administration.
The design is simple and streamlined, and it is very easy to assemble. You only need to consult the manual, and for additional video demos you can look up videos on YouTube.
The Smart Cap effectiveness
The smart cap prevents any dripping while in use, and with it on you can then mix the juice more thoroughly. It snaps off quickly for efficient cleaning.

Among the many freebies that come with your purchase is the patented rotary cleaning tool. The rotating brush really helps make sure that you can actually clean the juicer properly in just a short amount of time.
Safety features are in place
This includes a longer hopper, and 3-way venting channel, and a 2-step safety design.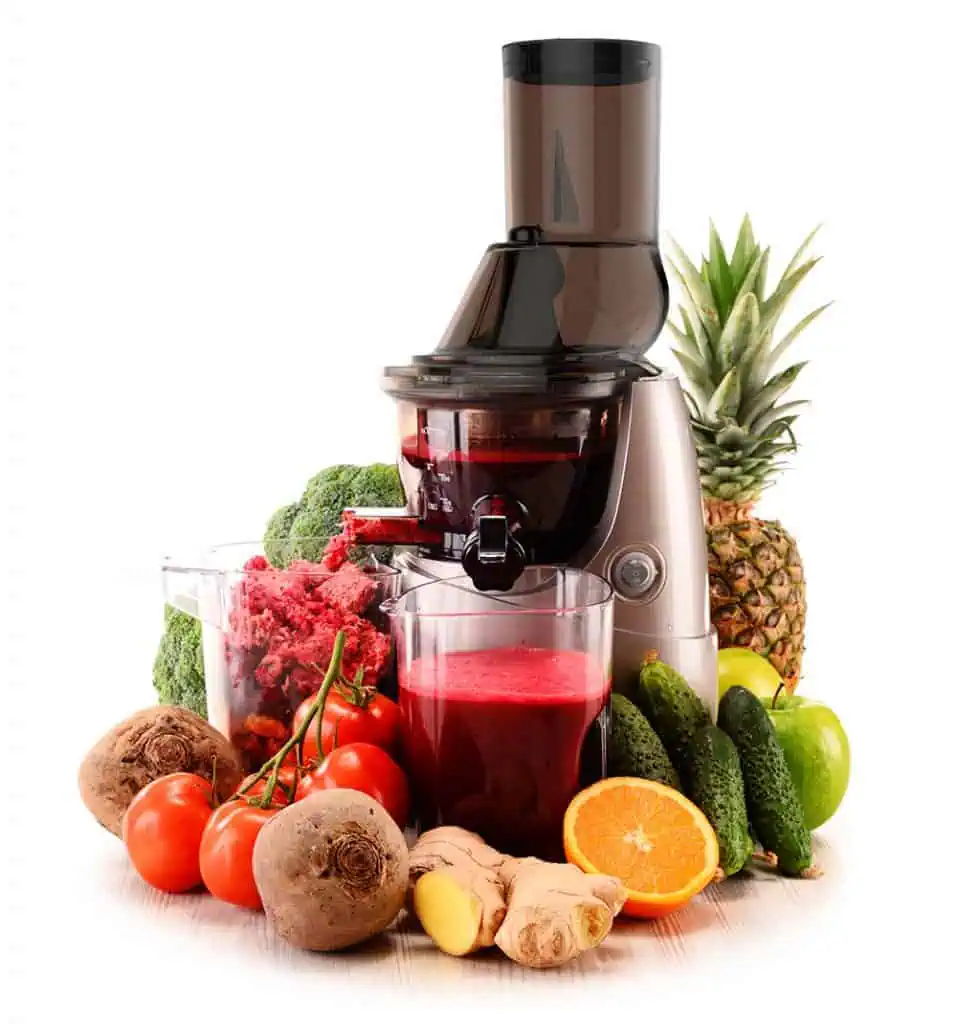 Related: Special Housewarming Gifts That Will Make You Feel Truly Special
The Manual
Some people don't like reading manuals, but for the Kuvings Whole Slow Juicer B6000W you really will have to. It's full of info, and by consulting the manual you can maximize the benefits of juicing while also maximizing the lifespan of your juicer.
The manual will contain the following crucial information:
Safeguards and safety warnings
The names and illustrations of the various components
Step by step, illustrated assembly instructions
Step by step, illustrated operating instructions. Here, various hypothetical situations are discussed and you are given precise directions on how to respond when something unexpected occurs.
Several tips about operating the juicer
Several tips about the ingredients
Instructions on how to prepare the ingredients properly
How to disassemble and clean the juicer, including how to clean the silicone parts and how to use the cleaning tools that came with the juicer.
Q & A section on various troubleshooting scenarios
Pros and Cons for the Kuvings Whole Slow Juicer B6000W
Let's not bother anymore about the pros and cons of juicing, since we already know for a fact that juicing is good. But the question that this Kuvings Whole Slow Juicer B6000W Review is supposed to tackle is whether this juicer is good enough. And the answer becomes clear when you take a good long look at the pros and cons.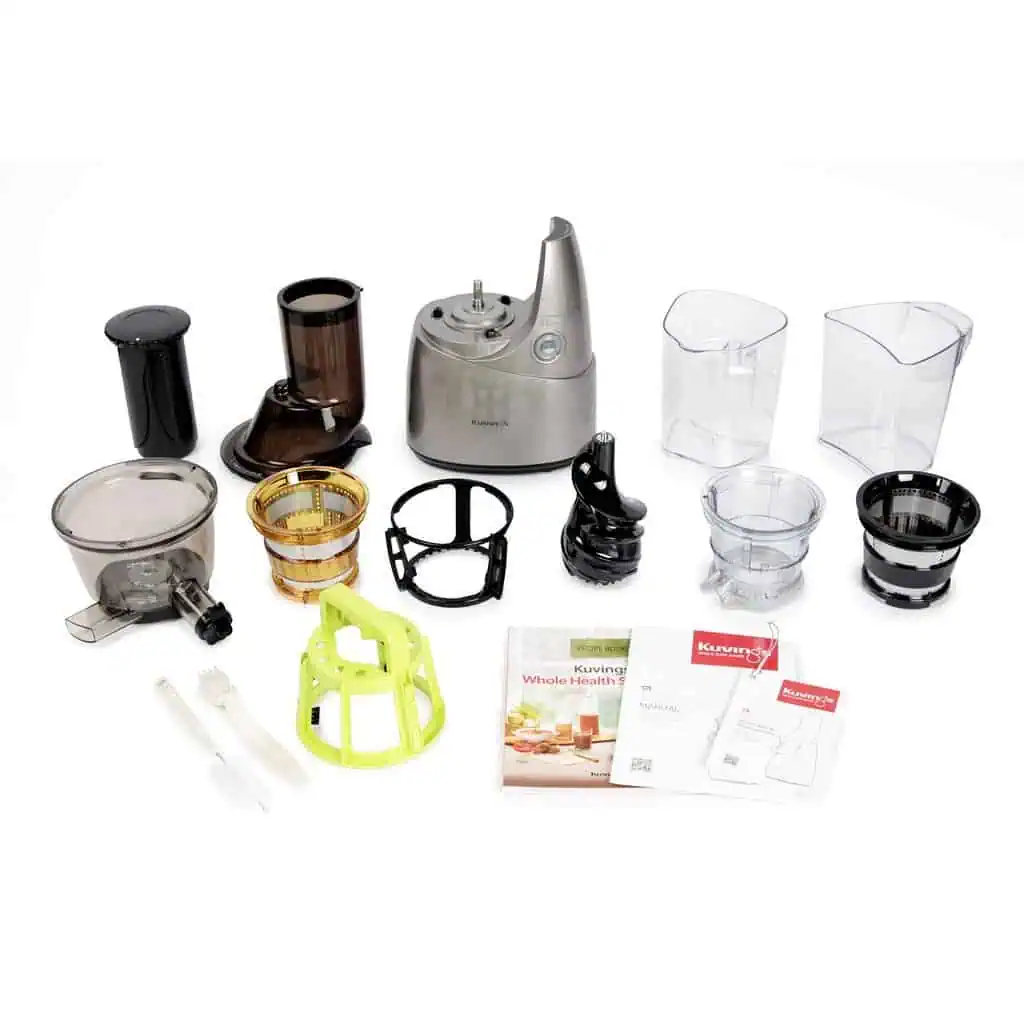 Pros
There are many good things to say about the Kuvings Juice Extractor, and here are some of them:
Lots of variety. It can get juice from many different types of fruits and vegetables, including leafy greens, soy, and tofu.
Higher juice quality. Many objective and independent tests have shown that the juice produced by the Kuvings Whole Slow Juicer B6000W offers high yields in nutrients with a low pulp level. There is no juice separation at all. The juice also goes down much better, as it is very smooth and consistent. In short, it's tastier and healthier.
Wider feed chute. Other juicers have really tiny feed chutes, which makes juicing a laborious process that always includes cutting up fruits and veggies. This also invariably causes the loss of taste and juice due to the dripping.
It's easy to operate. "Easy" is the operative word here. The assembly is quick and simple and its use is intuitive. Cleaning Kuvings Whole Slow Juicer B6000W components is simple too, as the juicer base and the bowl detach from each other easily as well. In addition, the manual provides a detailed step by step set of instruction for everything. You can also just check Google on what you want to do and you will find a lot of YouTube videos demonstrating the process.
It is very safe. The juice cup and the pulp container don't have any BPA, so you avoid having this suspicious industrial chemical seep into your drink. It simply won't start operating until you have assembled all the components properly and you have locked the lid on securely. Then there's a 3-way ventilation channel for safety. In addition, there's also a safety overload switch that offers protection against overheating and overloading. You can just flick on the Reset switch at the bottom of the juicer to resume operations.
The motor is powerful and rpm speed is optimal. The heavy-duty 240W engine on the juicer is powerful enough to process even high fiber fruits and veggies. Yet it is very quiet and it doesn't vibrate as much. And it has a lesser tendency to overheat because of the slower rpm speed. The slower rpm also maximizes the nutrient extraction.
It's very convenient to use. First of all, it's not really big, so you can leave it on your kitchen countertop since it occupies very little space. Or you can leave the entire thing still assembled inside a kitchen cabinet. It will fit most cabinets, which frees up valuable countertop space. There's also a convenient hand grip that lets you transfer the juicer from one place to another easily.
It looks great. Another reason (beside convenience) to leave it on your countertop is that the stylish design is really attractive. It can help make your kitchen look better than it actually is.
Here Is A Fun Post: 30+ Of The Best Housewarming Presents For Star Wars Fans
Cons
If you want to summarize all the cons of the Kuvings Silent Upright Juicer in one simple statement, it's this: juicing is a complicated process, and a lot of things can go wrong. Fortunately, Kuvings is aware of this reality, so they included a convenient FAQ section in its manual that anticipates several common "disasters". But they aren't really disasters at all, because for the most part these annoyances have very simple solutions.
Customer Ratings
Since this is essentially a very new product, there are only a handful of reviews online. But the typical Kuvings Whole Slow Juicer B6000W Review is enthusiastically positive. Customers tend to really love this juicer wholeheartedly.
While it will not completely eliminate the necessary preparations for producing the best juice possible, at least it cuts down the prep time and work considerably. About 30 minutes will suffice for you to make lots of juice.
All in all, it is one of the best juicers around according to most users, and in its price range it is arguably the best.
My Conclusion On The Kurvings Whole Slow Juicer B6000W
Juicing can be a very complicated business, and the wrong juicer can make it even more confusing and unsatisfactory. If your health is a priority, then the Kuvings Whole Slow Juicer is a great investment. It can really produce juice, and it does so without raising a ruckus that wakes up the entire house. It's very easy to assemble, use and clean, and it is also very durable and safe as well.
So should you get it? This Kuvings Whole Slow Juicer B6000W Review joins all the other reviews in recommending the Kuvings Silent Upright Juicer without any reservations at all. Get it now for yourself, and for your entire family.

Additional Tips for the Kuvings Whole Slow Juicer B6000W
Now just because you already got yourself a Kuvings Juice Extractor doesn't mean you are home free. There is a right way to juicing properly, and buying your Kuvings Whole Slow Juicer B6000W is just the first step. After you've done this, you then need to keep the following tips in mind:
Buy your fruits and vegetables only at reputable stores. This is important, because the main reason for buying a juicer is to remain healthy. But buying from unknown markets with questionable hygiene totally defeats the purpose.
Once you've picked your fruit to juice, make sure that you wash it very thoroughly. This can help remove unhealthy bacteria, pesticides, and dirt. If you are cutting the fruit, you also need to make sure that your knives and cutting board are also very clean.
If you are making a morning juice, you can save a lot of time by preparing the fruits and veggies the night before. Select the fruits and veggies you want and clean them before you put them in the storage container in the refrigerator. You should also assemble the juicer the night before as well.
When you're juicing, only produce enough juice that you can actually drink at one time. Juice that's left standing for long periods can become a home for bacteria. Drinking the juice later can also lower its nutritional value and can even cause food poisoning.
If you have to place the juice in the fridge, do it right away. The longer it is exposed to air, the greater the chance of contamination by pathogens. The juice will keep for a day or two, but you should get rid of it after 72 hours.
Food Storage Containers with Lids – Airtight Leak Proof (18 Piece)
18 Piece Glass Food Storage Containers with Locking Lids
Rubbermaid Food Storage Container, 10-Piece Set, 100% Leak-Proof, Plastic,
Have fun juicing with the Kuvings Silent Upright Juicer!
Related:  The best handheld blender for a healthier lifestyle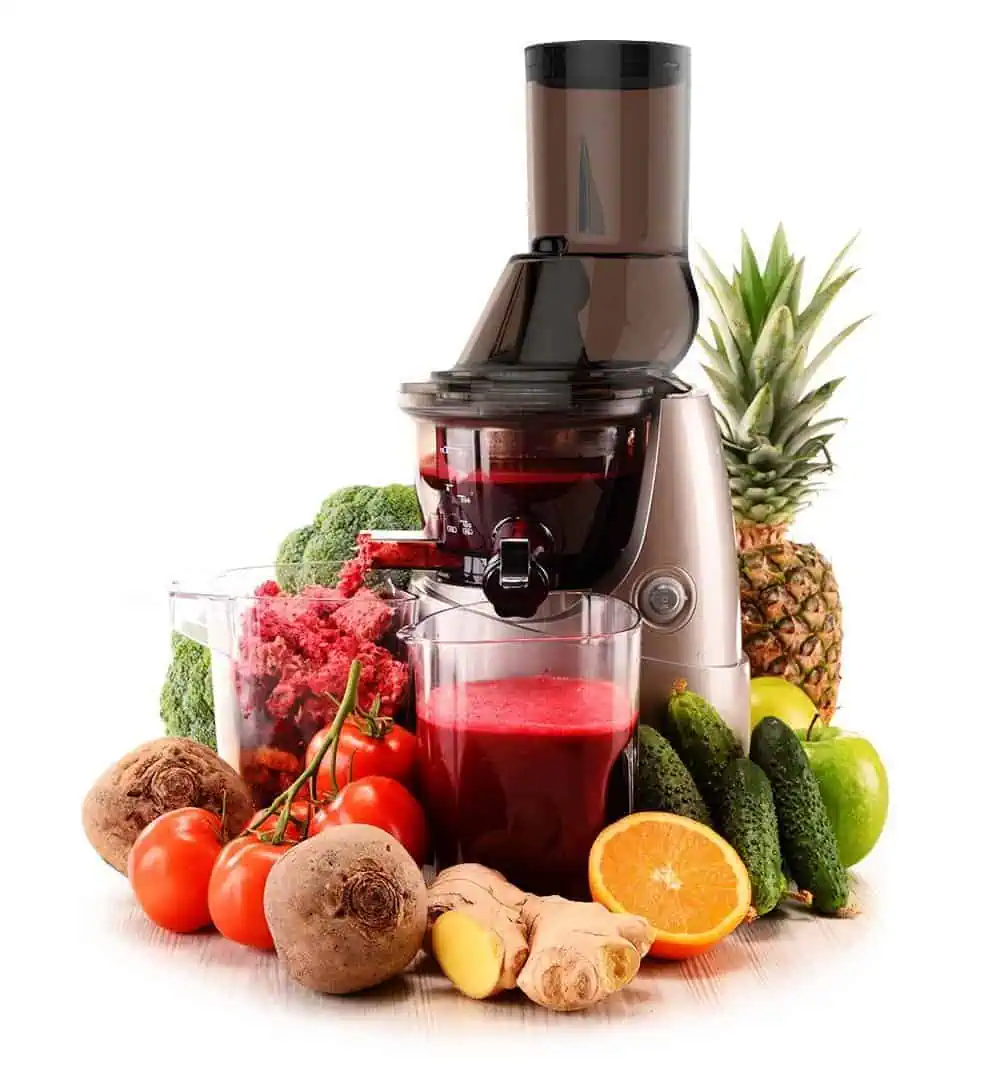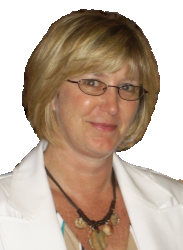 Latest posts by Yvette's Treasures
(see all)