Last updated on
Listed are some of the best gardening gifts for women.  Gardening is without a doubt one of the most popular hobbies in the world. And if the woman in your life loves gardening this is for you.
It doesn't matter if she is a master gardener or she is just getting started, there are a few gifts that are sure to bring a smile to her face.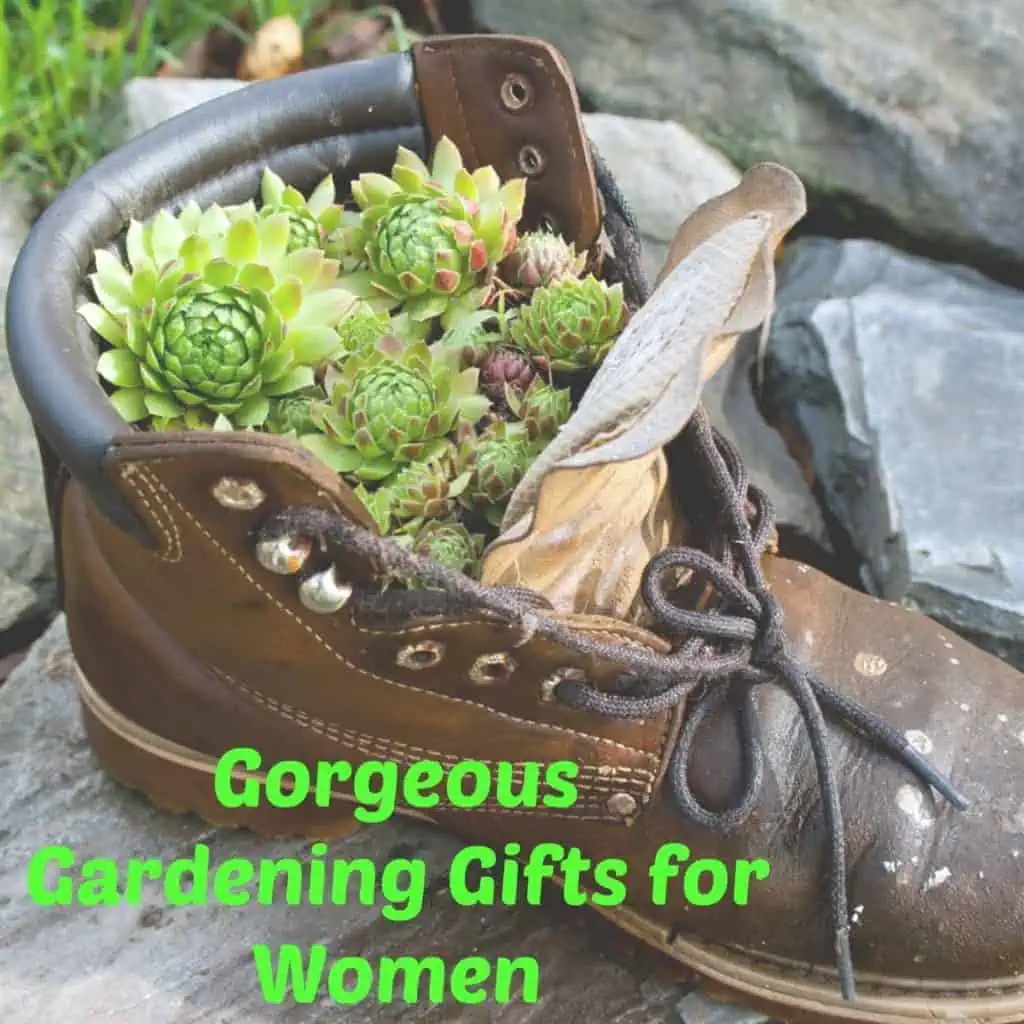 This post may contain affiliate links. I may receive commissions for purchases made through these links with no extra cost to you. 
Best Gardening Gloves for Women
One of the best gardening gifts for women is a comfortable pair of gardening gloves. Protecting your hands is an extremely important part of gardening.
If the hands are left unprotected you run the risk of getting a splinter or even catching an infection.
Showa Atlas 370 Garden Club Gloves. Assorted Colors – 4 Pack. Size Medium
The best gardening gloves for women should be sturdy enough to keep thorns and splinters out yet flexible enough to not restrict movement. A great option would be the Atlas Nitrile Garden Gloves. They are comfortable, offer great protection and cost less than $25.
These garden gloves are durable, versatile and are available in an assortment of colors.  I know they look a bit strange, but they really are the best.
&
More of the Best Gardening Gloves for Women
You can't go wrong with any of these gloves.
Rose Pruning GlovesThorn Proof Goatskin Leather Gardening Gloves
6 Pack HOMWE Gardening Gloves for Women – Assorted Colors – Medium
Women's Garden Gloves, nitrile coated work gloves, assorted colors. (Pack of 6)
Women Soft Jersey Garden Gloves, 3-Pairs Green/Pink/Blue per Pack
Yardbiz Gardening Gloves ★ 4 Pair Womens Medium ★ Machine Washable Breathable with Waterproof Palm
Bamboo Working Gloves Ultimate Barehand Sensitivity Work Glove for Gardening, Breathable by Nature!
Related: 40+ Super Cool Gift Ideas For Mom
&
In a hurry? Some of the best gardening gifts for women are sold by Amazon at really good prices
---
Top Gardening Hats for Women
Another one of the best gardening gifts for women is a gardening hat.   A gardening hat is also a great idea for the woman who loves to garden. When you are outside in the sun, especially during the summer months, fatigue and sunburn can kick in and completely ruin the gardening experience. The right hat can help keep the sun off your face so you can garden for hours on end.
The great thing about gardening hats for women is that they come in a variety of different styles. You
Sloggers 442DB01 Women's Wide Brim Braided Sun Hat with Wind Lanyard – Dark Brown – Rated UPF 50+ Maximum Sun Protection
Sloggers 4471DB Classic Cotton Hat with Wind Lanyard Rated UPF 50+ Maximum Sun Protection – Dark Brown – Adjustable Medium to Large
Sloggers Unisex Nylon Sun Hat, Tan with wind lanyard, – adjustable size small – large – Style 446TN – UPF 50+
Twist Sun Hat with Chin Cord and Fabric Bag for Gardening, 40C2
Womanswork 283 Rose Pattern Sun Hat
Garden Girl USA Gardening Hat, One Size, Classic Brown
Fun Gifts:  Awesome Gift Ideas For Sloth Lovers
---
The Best Garden Tool Sets for Women
Another great gift would be gardening tools designed specifically for women. Some of the tools you should consider investing in include pocket snips, garden holds, a garden kneeler and a lower rider swivel scoot.
All of these tools will make gardening more enjoyable and a lot easier. These make great garden tool sets for women.
Hand Trowel Reinvented the Ergonomic Pain-Free Shovel Perfect for Gardeners with Rheumatoid Arthritis Lifetime
A Pain-Free Shovel especially designed for Gardeners with Rheumatoid Arthritis so that you can still enjoy gardening without the pain.
This hand trowel is great for Clearing Gutters, Digging, Seeding, Transplanting, Spreading and Leveling. Perfect for hoeing and trimming lawn edges and great for your window box too. It has so many uses you just can't go wrong.
Amazon is offering discount coupons of up to 25% off if you buy more than one. Why not purchase one for yourself and one as a gift for a friend.
&
Garden Tool Sets for Women who are Organized
Pruners, Ratchet Pruning Shears, Garden Tool, For Weak Hands, Gardening Gift For Any Occasion
BEST SELLING GardenHOME 7 Piece All-In-One Garden Tool Set,Heavy Duty Folding Stool, detachable Canvas Tool Bag and Heavy Duty Steel Tools
Wrapables Indoor Gardening Tool Set
Ultra Snip 6.7 Inch Pruning Shear with Stainless Steel Blades
Steel Gardening Scissor Tree Flower Pruning Shear Branches Secateur Tool
Ultra Snip 6.7 Inch Pruning Shear with Stainless Steel Blades
Superior Garden Tools Set with Trowel, Transplanter and Rake. Garden Tools Case Included and Gardening Guide.
Gardman R687 4-Tier Mini Greenhouse, 27″ Long x 18″ Wide x 63″ High
3-Piece Garden Tool Set. Includes Trowel, Transplanter, Rake / Cultivator PLUS Growing Tips E-Book.
Garden Kneeler Wave Pad – High Density Foam for Best Knee Protection (Green)
&
Best Gifts For Organic Gardeners All Under $25
---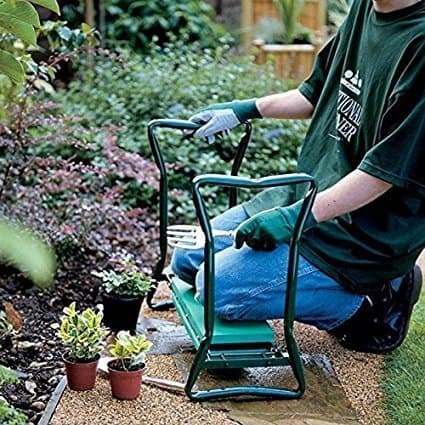 Ohuhu Garden Kneeler and Seat with Bonus Tool Pouch
The perfect way to reduce pain caused by long-time stooping and kneeling and also keep you away from dirt and grass stains.
This Garden Kneeler is crafted with a steel pipe, EVA, and plastic – sturdy but light and portable.
Folds for easy storage and portability. Can also work as a chair – simply turning it upside down and it also comes with a free garden tool pouch. This will make an awesome outdoor present for the keen gardener.
&
---
Organic Gardening Gifts – The BEST Gardening Gift Guide
Comfortable Garden Shoes for Women are One of the Best Gardening Gifts for Women
There's nothing worse than having sore feet, believe me I know.  When gardening you need to have comfortable garden shoes for women.  Shoes that are supportive, but can also handle water and are not slippery when wet.
These Sloggers are extremely popular, have had excellent reviews and come in a wide range of patterns depending on your mood or buy more than one. They are so snazzy.
This slip-on rain and garden shoe comes with an all-day-comfort insole and great tread for greater traction making them safer to walk in on the wet garden path.
&
Sloggers Women's Rain and Garden Shoe with
&
Sloggers Women's Premium Garden Clog with Premium Insole Insole, Kiwi Green
Starbay Women`S Garden Clog Shoes
Women's Rain and Garden Ankle Boots with Comfort Insole
The Original MuckBoots Daily Garden Shoe,Garden Green
Sloggers Chicken Print Collection Women's Rain & Garden Shoe Daffodil Yellow
Crocs Unisex Classic Clog,Black
&
These are some of the best gardening gifts for women, but no matter which gift you choose just remember it's all about making things easier on the person who is doing the gardening.
When trying to decide on the best gardening gifts for women think of the persons' personality and time that they love to spend in the garden. Do they need a hat for long hours. Do they have lots of gardening tools and perhaps need a new gardening bag?  The gift choices are endless.
---
Save
Save
Save
Save
Save
Save
Save
Save
Save
Save
Save
Save
Save
Save
Save
Save
Save
Save
Save
Save
Save
Save
Save
Save
Save