This post may contain affiliate links. I may receive commissions for purchases made through these links with no extra cost to you. See full disclosure.
Last Updated on November 6, 2021 by
30th Birthday Gift Ideas Women Will Actually Use
One's 30 birthday is a milestone that should be celebrated without a doubt! Whether it be your girlfriend, wife, sister or a gift for your bestie, we have a wonderful selection of 30th birthday gift ideas women will adore. So celebrate her special day with one of these unusual 30th birthday presents.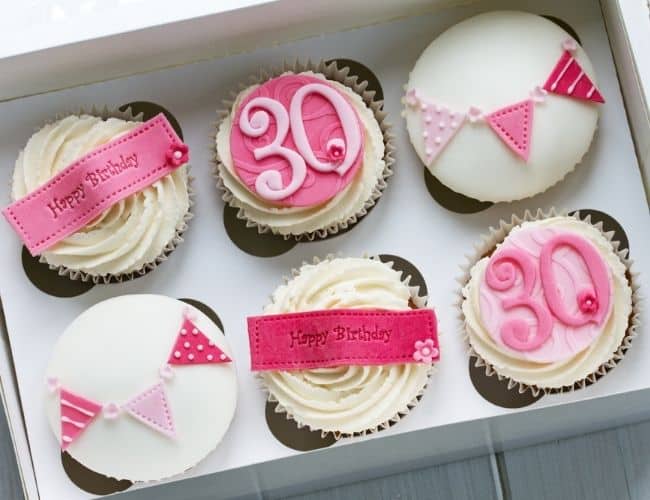 Fun 30th Birthday Gift Ideas Women
Cocktail Bath Melts
A wonderful collection of handmade cocktail fragranced bath melts. Featuring Gin and lime, Strawberry Daiquiri, Mango Mojito and Pina Colada.
---
Polka Face Ladies Socks
Mix and match these 6 fabulously bright and colorful socks. Each with its own funky print of dots, dashes, and bright colors to suit your mood. So you'll never have a boring sock day again.
---
The Gin And Tonic Tea Towel
A comprehensive guide to all things Gin. This wonderfully designed tea towel unpacks the history and tradition of Gin. This is a super gift for the more adventurous G & T lovers.
---
Birthday & Prosecco Chocolates
Birthday & Prosecco Chocolates

This gift set contains 1 prosecco half-bottle which is made from solid white chocolate at the base and features an ombre pink effect which has been created with natural carmine coloring. The neck of the bottle is made from solid milk chocolate and has edible gold glitter to give the gold effect.
The chocolate is handmade milk and white Belgian chocolate which is delicious and perfect for someone to enjoy on their Birthday.
---
30th Birthday Personalized Candle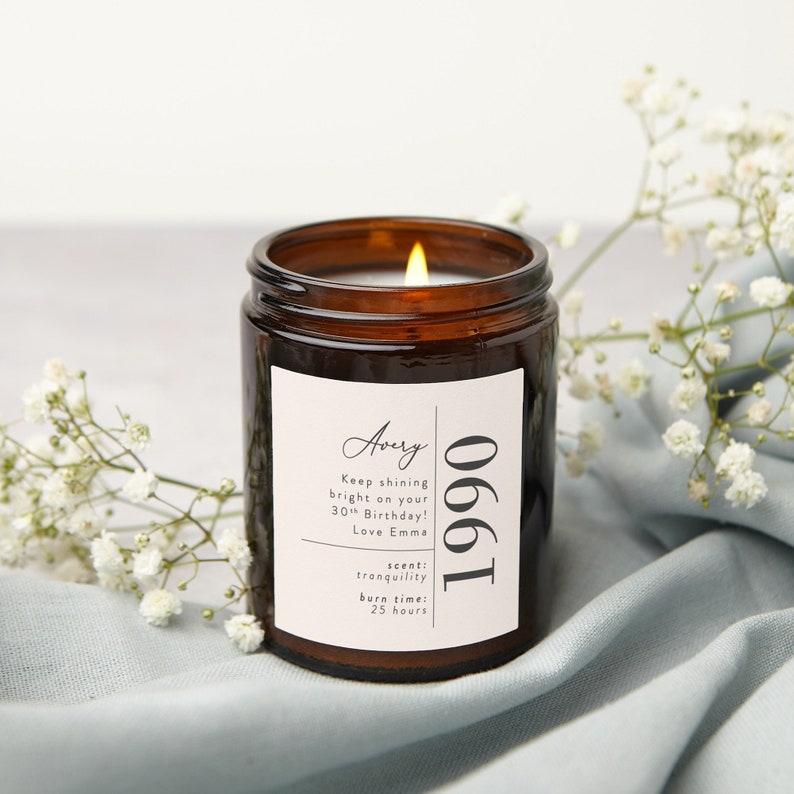 30th Birthday Personalized Candle

A stylish birthday gift perfect for celebrating the milestone birthday of 30. The modern typography label features year of birth, name of recipient and your message, along with your chosen scent and over 25hrs of burn time.
---
30th Birthday Wine Bottle Labels
30th Birthday Wine Bottle Labels

What a brilliant and fun 30th birthday gift idea for women. Apply these waterproof wine labels to your recipients favorite wine and delivery in a gift basket. Here are some more fun gifts for women who love wine.
---
30-ish Birthday Wine Glass
30-ish Birthday Wine Glass – Unique Gift Ideas

Be the life of the party with this fun, vibrant birthday wine glass! Each glass comes specially packaged complete with it's own gift tag for personalization.
---
Milestones Bucket List – 30th Birthday Gift Ideas Women
Birthday Milestones Bucket List

Milestone birthdays tend to inspire Big Thoughts. We're going to leave those up to the person whose birthday it is. This kit assists with the smaller, funnier stuff.
It has 25 wooden prompt sticks for each decade from their 20s through their 70s, each with a simple inspiration for something to do. Maybe there are activities they've wanted to try, but needed a little push.
---
Special 30th Birthday Gift Ideas Women
New York Times Custom Birthday Book

Commemorate a newsworthy birthday with a collection of the New York Times front pages from each year since their birth, personalized with name and birth date, and preserved in a handsome library binding.
---
Champagne Milestone Vase
Personalized Champagne Milestone Vase

Made from an upcycled champagne bottle, this keepsake vase is a reminder to always celebrate with bouquets and bubbly. The olive green glass is etched with a "label" that can be personalized to commemorate your special day!
---
Smartphone Sanitizer
PhoneSoap Smartphone Sanitizer

Unfortunately all your  handy electronic devices are a breeding ground for bacteria. This easy-to-use sanitizer and charger helps zap most of those germs. Simply place your device inside, attach the included charging cable, and close the lid. Let the Ultraviolet lights do all the dirty work.
The case even has built-in acoustic amplifiers so you can keep listening to music or use your phone's alarm while it's getting its spa treatment.
---
Special Birthstone Wishing Balls
Your birthday is like a private New Year's celebration—a chance to reflect and look forward to the milestones you plan on reaching in the year to come.
Each shimmering ball of hand-blown glass comes with 52 tiny slips of paper for you to pause once a week throughout the year and record a message of hope or gratitude. Coil them up and tuck them in the tiny hole near the base and they become a permanent part of the display.
---
Keep Fit Yoga Wheel
Does your birthday girl like to keep fit?  Then this cork yoga wheel is a brilliant gift idea and so unusual. This round little wonder allows you to deepen your stretches in a safe, easy way. You can use it to massage your spine, strengthen your core, and when you're sore from all that yoga, release tension in your muscles.
---
Beauty 30th Birthday Gift Ideas Women
Quartz Facial Roller
This nifty tool is just the ticket to smooth and repair wrinkles, age lines and puffy eyes. With two different sized rollers, this is a handy way to simply and quickly look after different areas of the face.
An easy process to work into a daily routine, the Rose Quartz Facial Roller not only soothingly massages the skin but helps to revitalize and brighten skin tones!
---
Diffuser With Lavender And Sleep Essential Oils
Wood Diffuser With Lavender And Sleep Essential Oils

There's nothing quite as relaxing as the smell of lavender… Even better if that smell has therapeutic effects on your body and mind.
The set includes a luxurious wooden diffuser and two bottles of essential oils: Lavender Oil, which helps relieve stress and anxiety and reduces sleep issues; and Sleep Well Oil, which contains a blend of Lavender, Sandalwood and Mandarin Oil to improve sleep quality.
The wood diffuser also features different colored lights, to help you create the perfect ambiance! Diffusers make wonderful gifts and they come in all forms. Take a look at these fantastic essential oil diffuser gift ideas.
---
Birthday Spa Gift Box
This luxury spa gift box includes all the wonderful ingredients to make your birthday special and relaxing.
---
30 Years Make-up Bag
Fun 30th Birthday Gifts for Women

Double-sided printed, waterproof coating, to ensure high quality images that will remain vibrant with daily use.
---
Clever Hair Care Holder
What a creative way to organize your hair styling tools. When you're running late you don't have to start rummaging through a drawer to find your blow dryer, it's easily accessible, looks pretty on the wall, and you'll always know where your styling tools are.
---
For The Home – 30th Birthday Gift Ideas Women
Sushi Maker
30th Birthday gift ideas women can use in the home.  Now you can make your favorite Japanese foodstuff from the comfort of your own home with the Sooshi – Sushi Maker!
Made completely from clean, smooth wood the Sushi Maker contains a mold for your sticky rice and filling of your choosing, and prod to ensure the rice is evenly packed in and pushed out! Perfect for impressing your friends.
---
Cool 30th Birthday Gift Ideas Women
An awesome keepsake mug made from high standard ceramic.  Dishwasher and microwave safe.
---
Flower Grown Kit – 30th Birthday Gift Ideas Women
Birth month flowers, like stars and gemstones, have symbolic and sentimental meanings. Collaborate with Mother Nature to give this birthday gift that grows and changes every day.
---
Himalayan Salt Tequila Glasses
Himalayan Salt Tequila Glasses- Set of 4

Spice up your party with these pretty pink, reusable shot glasses hand-carved from Himalaya salt. These shooters can certainly hold their tequila, and will give your shot of tequila or mezcal a delicious, salty finish.
Jewelry 30th Birthday Gift Ideas Women
30th Birthday Compass Necklace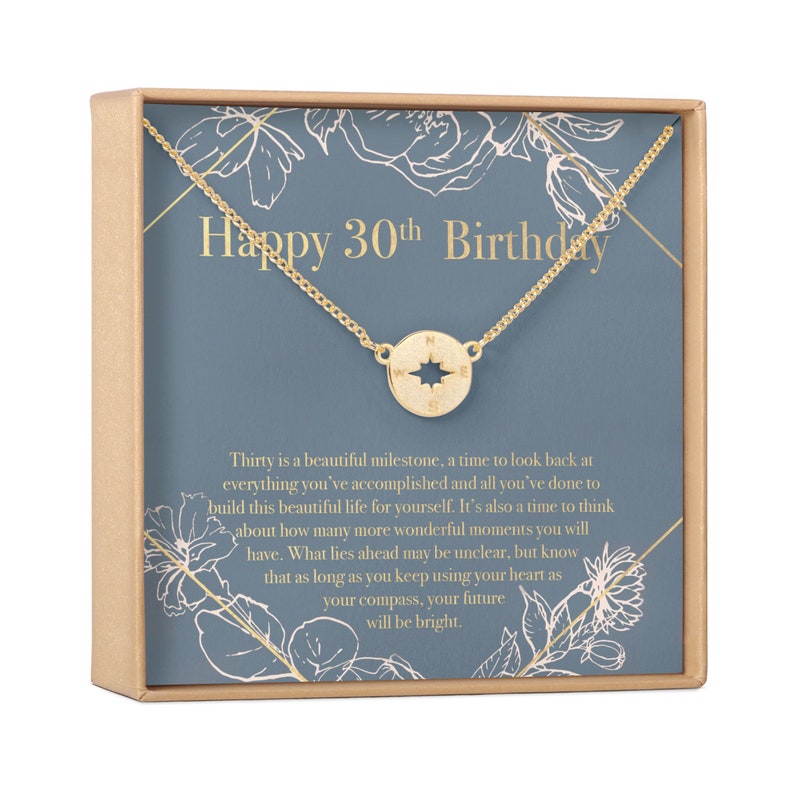 30th Birthday Compass Necklace

Turning 30 is a significant milestone. For the introspective birthday girl, give the gift of this delicate, symbolic compass necklace.
---
Earth And Beyond Bracelet Set
Earth And Beyond Set Of 10 Bracelets

Whether you're a free spirit that enjoys a touch of bohemian style, this set of 10 bracelets gives any outfit universal appeal. Each adjustable piece offers a subtle nod to our planets using distinct colors, beads, and charms.
The set arrives on a card that highlights the details and meaning of each bracelet. Handmade by women artisans in Guatemala.
---
Best 30th Birthday Gifts
Jewelry is treasured not only because of its beauty, a special necklace or set of earrings can carry a host of irreplaceable memories. Such things deserve a special place.
This ceramic jewelry stand offers up to 40 hand-cut holes for earrings and surface space for your favorite bracelets and baubles.
---
Unusual 30th Birthday Presents – Kaleidoscope Necklace
How often do you find a piece of jewelry that not only makes you look beautiful, but also gives you a new way of looking at the world?
I love unique jewelry pieces. This petite silver pendant is a functioning kaleidoscope made with sea glass and recycled glass. A truly unusual 30th birthday present for her.
---
Fashion 30th Birthday Gift Ideas Women
Special Lockdown Birthday Shirt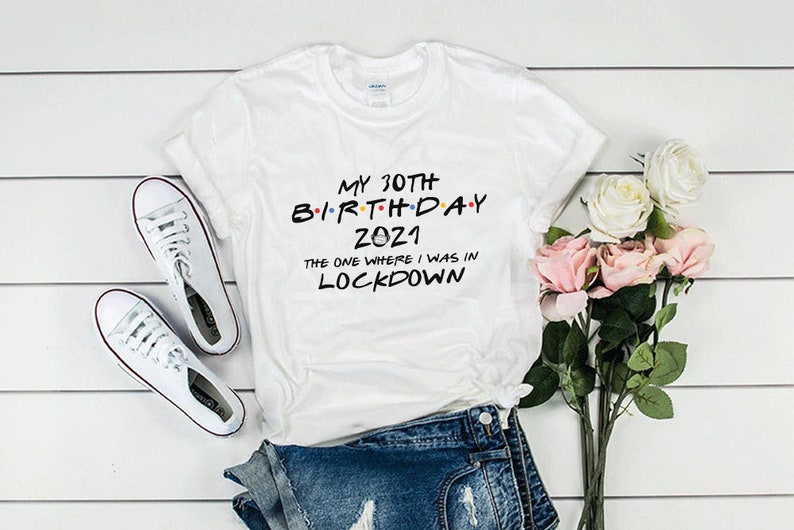 Personalized Lockdown Birthday Shirt

Have a little fun, and a wonderful keepsake with this 100% premium cotton t-shirt. Taking inspiration from the worldwide culture, this t-shirt is sure to turn a few heads.
---
30th Birthday Presents Her
This tank top is printed on a premium shirt that is soft, comfortable, and easy to wear. Made from 50% Polyester, 25% Combed Cotton, 25% Rayon with fashionable exposed stitching on neck, armholes, and at bottom of the hem.
---
Styling – 30th Birthday Gift Ideas Women
Lounge in lavish style with this robe made from a patchwork of repurposed saris pieced together by an artisan cooperative in a village outside of Rajasthan, India. These stitched squares of lovely, lightweight material feature the saturated hues and unique patterns that gave the original ensembles their characteristic beauty.
More: Cool Gift Ideas for Her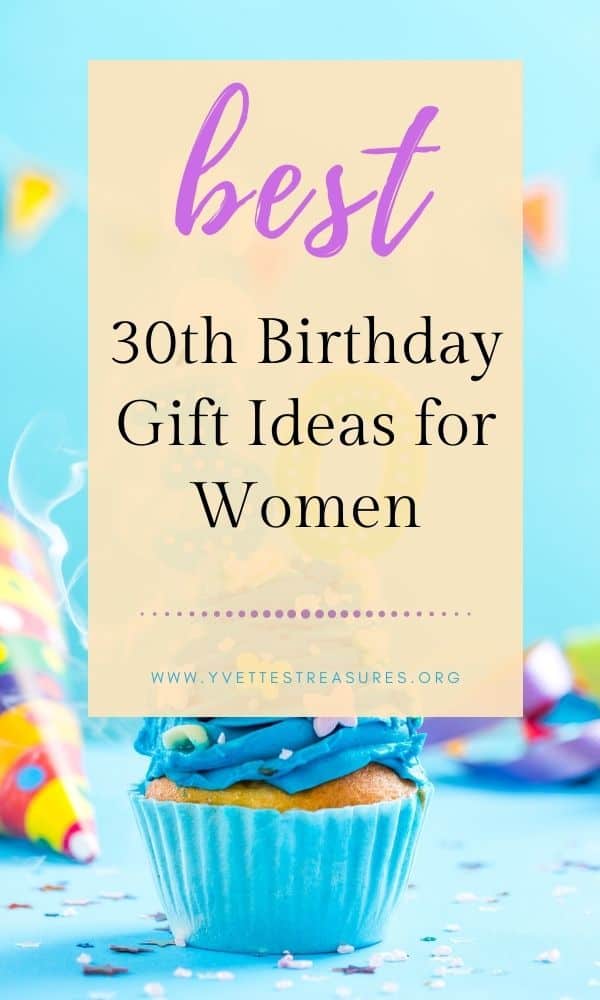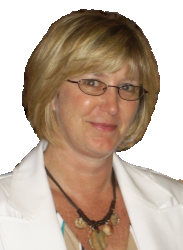 Latest posts by Yvette's Treasures
(see all)
Summary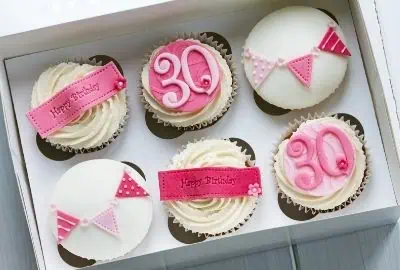 Article Name
30th Birthday Gift Ideas Women Will Love And Cherish
Description
One's 30 birthday is a milestone that should be celebrated without a doubt! We have a wonderful selection of 30th birthday gift ideas women will adore!
Author