Last updated on
Cool Valentine Gifts Under 20 Dollars For Teenage Girls
This year I have put together a great list of Valentine gifts under 20 dollars especially for teenage girls. Those teen years, what a wonderful time to be in love or have a mad crush on the girl next door
I especially chose these wonderful Valentine gifts under 20 dollars so that you don't have to break the bank, but you can still get something really special!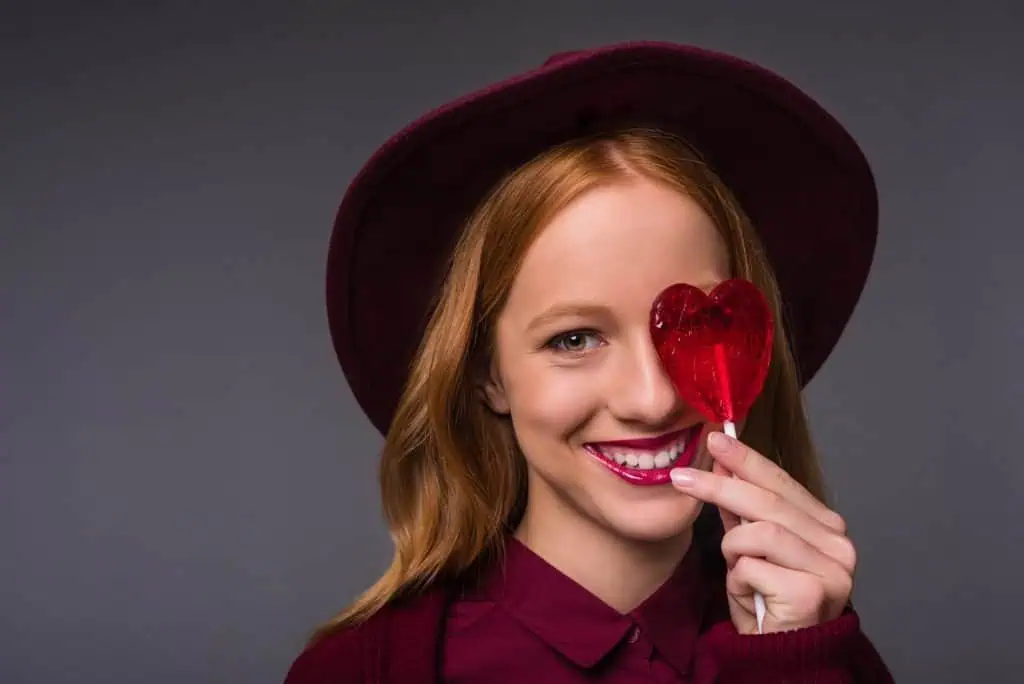 This post may contain affiliate links. I may receive commissions for purchases made through these links with no extra cost to you. These earnings help us keep this wonderful website going so that we can continue to bring you great gift ideas.
Valentines Day Gifts Under 20 Dollars
Women's Leather Cuff Bracelets – see price here
This gorgeous and unique leather cuff bracelet features multiple strands of leather cords mixed in different styles, accented with natural crystal.
The leather strands are cross stacked and secured together with a wide strong magnetic clasps. An overall handwoven design ensures we conscientiously finish each piece. This bracelet also comes in many different colors.
Leather Cuff Bracelets Feather Wrap Bracelet Gorgeous Crystal Bangle Handmade Jewelry Bohemian Gift for Teens Girls
---
Reversible Magic Sequin Notebook –

see price here
This pretty little journal can instantly change colors from Vibrant Pink to Sparkling Silver and back again with just the swipe of your hand.
Great as a brainstorming journal, doodle notebook, secret diary, homework tracker, project planner, goal tracker, practice log, travel record, to-do list or dreams notebook. With a 100% satisfaction guarantee!
Reversible Magic Sequin Notebook – Color-Changing Pink and Silver Flip Sequins – Perfect Diary or Journal for Teenage Girls
---
Personalized Silver Necklace – see price here
It doesn't get more personal that your initial hanging from a beautiful silver chain. Made from real 925 sterling silver and AAA grade quality. Just choose your initial and you have a lovely gift for Valentine's.
Initial Necklace Sterling Silver Pendant Necklace Jewelry for Women Teen Girls
---
This stylish and chic transparent bag is not only very pretty, but has many uses. It can be used as a shopping bag, a crossbody bag, a purse, makeup bag or travel bag.
Clear Transparent Messenger Bag, Shoulder Bag, Crossbody Bag Pink
---
Popsocket are currently the 'in' thing and this heart confetti popsocket is high on the list of great Valentine gifts under 20 dollars. Offering a secure grip so that you can text with one hand, snap better photos and protect your phone from drops.  You can also use it as a stand so you can watch videos on the fly!
PopSockets: Collapsible Grip & Stand for Phones and Tablets – Heart Confetti
---
This beautifully packaged soft lip balm deeply hydrates for softer, smoother lips. It has naturally nourishing cocoa and Shea butters, is dermatologist tested and hypoallergenic. A MUST HAVE in any teenage girls bag.
Visibly Soft Lip Balm Sphere – Coconut Milk | Lasting Hydration | 0.25 oz.
Related:  Coolest 13th Birthday Gifts For Girls
For fox sake, tell them how you feel! Let them know you only have eyes for them. A quirky, humorous gift that will delight any recipient on Valentine's Day.
You're a Fox Mug, 11oz. – Funny Valentine's Day Gift
---
Hipsy Cute Fashion Adjustable No Slip Hairband – see price here
Having a bad hair day? These cute adjustable hairband will do the trick.  They look pretty and stylish, a wonderful accessory to your gorgeous outfit.
Hipsy Cute Fashion Adjustable No Slip Hairband Headbands for Teens (5pk)
---
Great Gifts Under 20 Dollars For Valentines Day
Valentines Mason Jar Candles –

see price here
Make someone feel special with these long burning, smoke free mason jar candles. Natural smelling romantic rose and citrus fruit scent. The best romantic gift combination to say how much you love someone!  Comes beautifully packaged in a cute gift box.
Romance Pack Valentines Jar Candles Scented Set of 2
---
Light Support Strappy Sports Bra –

see price here
Is your teenager into sports or perhaps likes to spend some time at the gym then this light support sports bra featuring a breathable 4-way stretch fabric and strappy back design is the perfect gift.
Women's Light Support Simple Strappy Front-Zip Sports Bra
---
Glitter Liquid Valentines Photo Frame – see price here
What a great idea for Valentine gifts under 20 dollars.  When the glitter photo frame is turned the small floater will fall and swirl making the picture look dynamic. Then when the picture is static for a while it will once again turn into a clear photo frame. What a unique and fabulous gift.
Glitter Liquid Valentines Photo Frame,Plastic Acrylic Floating Sparkle Picture Frames for Gifts (Pink)
Related:  Beautiful Valentine's Gift Baskets For Her To Enjoy!
Jewelry Valentine Gifts Under 20 Dollars
Jewelry gifts for teenagers are always a BIG hit!  It's a gift you can wear and treasure always, and says 'I Love You' like no other.  These jewelry Valentine gifts under 20 dollars are no exception. Hope you like them.
Swarovski Crystal Ball Earrings for Teen Girls Valentines Gifts
Purple Pink Swarovski Crystal Butterfly Earrings ♥ Valentine's Gift for Girls
Small Mouse Stud Earrings for Girls
---
More Great Valentine Gifts Under 20 Dollars
Peace And Love Coloring Book –

see price here
Experiment with your creative side.  This truly glorious coloring book will fill your heart with peace and joy. A wonderful Valentines gift for any teenage girl.
Peace and Love Coloring Book My Beautiful Valentine Coloring Book with Gorgeous Designs
---
What a cute, multi-functional earphone storage case.  You can put practically any small objects in the case to keep them safe….keys, coins, memory card, Bluetooth headset, rings and anything else that comes to mind.
Earbud Case Hard Earphone Bluetooth Headphone Carrying Storage with Carabiner-Red
---