This post may contain affiliate links. I may receive commissions for purchases made through these links with no extra cost to you. See full disclosure.
Last Updated on December 19, 2020 by Yvette's Treasures
Best Galentine's Day Gifts For Your Bestie
February –  the month of love.  Galentine's Day is celebrated on the 13 February, the day before Valentine's Day.  While February the 14th is traditionally a day for showering our significant other with gifts, what about the love of a good friend. Their relationship is equally as important to us, and that is why I put together a list of the best Galentine's Day gifts especially for them.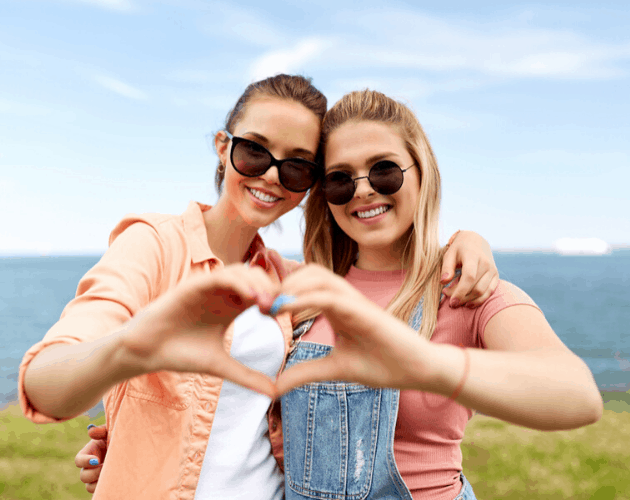 I love the idea of Galentine's Day and being able to celebrate the special female friendships I have. The bond between a woman and her close friends can be a defining factor in her life, forming some of her most powerful and long-lasting relationships.
Best Galentine's Day Gifts For Your Special Friends
First things first, this is a moment that I'm sure you'll want documented so that you can look back and revisit the wonderful time you spent with your girlfriends.  The Fujifilm Instax Mini 9 instant camera will certainly help with that.
The camera now comes with a new selfie mirror, a new Macro lens adapter for close ups, and an effective flash range of 0.6 to 2.7 meters.
Fujifilm Instax Mini 9 Instant Camera, Smokey White
---
Happy Galentine's Day Enamel Pin
A beautiful, handmade Galentine's Day enamel pin badge. Grab your bestie, the biggest box of chocolates you can find and girls, let's have some fun!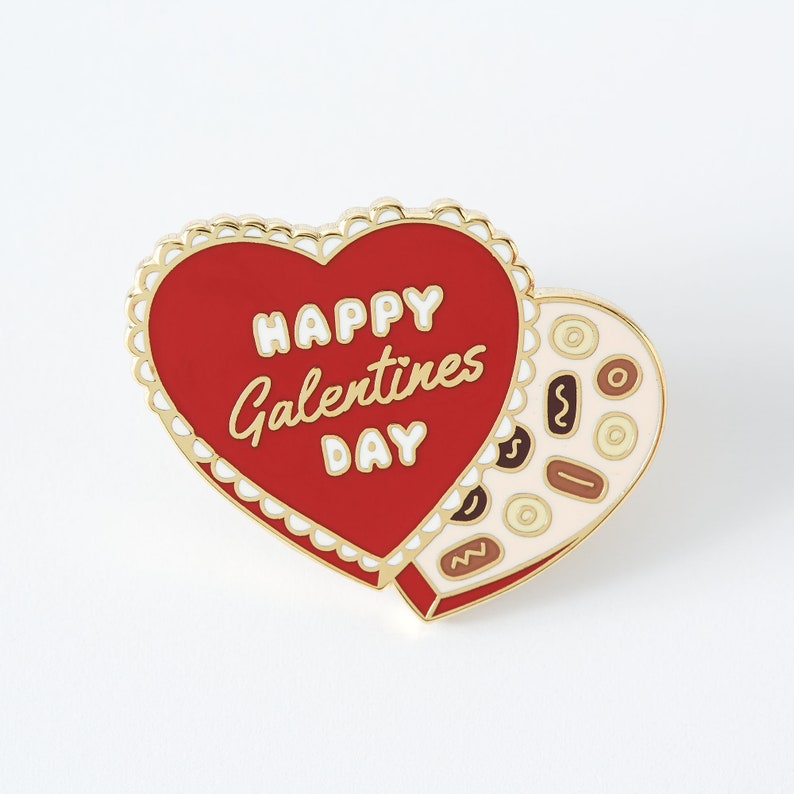 Happy Galentines Day Enamel Pin

---
Why You're My Bestie Journal
I love these cute little Knock Knock books.  This one is especially for Besties!  It has 112 pages with fill-in-the-blank lines to describe why your best pal is totally the bomb!
Knock Knock Why You're My Bestie Fill-in-the-Blanks Gift Journal
---
Best Friend Tumbler
This cute sippy cup adds an extra special touch for life long friends and shows how close you are when you are getting up in years. 
It comes with a clear BPA-free lid, reusable straw and cleaning brush, and is beautifully packaged in an elegant gift box.
Best Friend Gifts for Women – Funny Galentines Day Gifts
---
Galentine's Day T-Shirt
A great quality t-shirt that comes in several cool colors. Get one for yourself and your bestie, and be known as the Galentine's Squad!
---
Galentine's Day Leather Earrings
Get your bestie some cute earrings to wear on Galentine's Day.  They are made from Hypoallergenic material and are soft, lightweight and durable. These will go great with any outfit.
Galentine's Day Leather Earrings for Women
---
Related: 14 Valentine Date Night Gift Ideas
Custom Best Friend Coffee Mug
I absolutely love this custom coffee mug and am definitely getting my bestie one of these for Galentine's Day!  You can customize the hair color and add your names to the mug. What a meaningful gift for soul sisters.
Custom Best Friend Coffee Mug for Women
---
Women's Knee High
Treat yourself or a loved one to these fun socks. There are 9 pairs and they come neatly packaged in a cute gift box so wrapping is made easy.
TeeHee Special Women Knee High 9-Pairs Socks with Gift Box (Valentine)
---
Galentine Definition Print
This is a great gift idea for your bestie. The definition of a Galentine. These words couldn't be truer.
---
Inspirational Bracelet For Women
This beautiful, inspirational bracelet is made from surgical grade stainless steel. It will never rust, stain, and will never fade, peel or crack.  It also comes with a gift card.
Inspirational Bracelets for Women. Personalized Jewelry With A Gift Box
---
What Do You Meme?
Come on ladies – ditch the dudes for the night.  For The Girls is the game that every group of girlfriends needs — Period!
WHAT'S INSIDE: Contains 100 'Truth or Dare' cards, 100 'I Have Never' cards, 100 'Rapid Fire' cards, 100 'Best of the Best' cards, 100 'Most Likely To' cards, and one beautifully cubed die.
WHAT DO YOU MEME? For The Girls – Adult Party Game
---
Charming Wine Coasters
Ditch those plastic or cardboard coasters and make sure to give these hilarious retro style solid wood wine coasters a try. They are easy to wipe clean and the wood will never warp. What a fun gift idea.
4 Funny Wine Coasters Set & Holder | Rustic Wood with Funny Sayings & Quotes
---
Related: Cute Gifts For Wine Lovers On Valentine's Day!
Ovaries Before Brovaries
Oh my word, these personalized shatterproof plastic party cups get right to the point! They are perfect for serving wine, beer, soft drinks and of course your favorite cocktail.
---
Candles Make The Best Galentine's Day Gifts
A hand poured, hand labeled Galentine's candle.  Made with 100% Pure Soy Wax, expertly scented and made in small batches for the ultimate care and attention. Offering an 80-100 hour burn time on average.
---
Happy Galentines Day Wine Labels
Let's be real….No one cares about the name of the wine you can barely pronounce, so why not add some humor to it! Turn your ordinary wine bottle into a funny decorative piece for Galentines Day.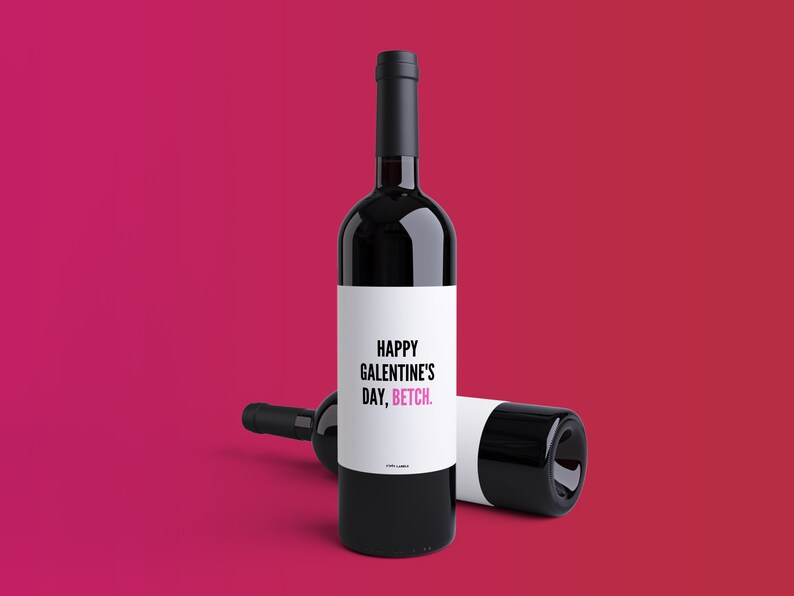 Happy Galentines Day Betch Wine Label

---
Capsule Messages
Isn't this a great idea for a gift for your best friend? Each pill is filled with a blank piece of paper. You can write whatever you want on it.  This is a great way to show your feelings and say what's on your mind if you don't have the courage to say it out loud.
Capsule Letters Message in a Bottle (Mixed Color 90pcs)
---
Trinket Dish For A Friend
A beautiful trinket dish crafted from great quality glazed ceramic. Put it in the bathroom or kitchen while you wash your hands, do dishes or prepare a meal. Leave it by the sink or nightstand to place your rings, earrings, necklaces and watch.
Gifts for Her Ring Trinket Dish-A True Friendship is a Journey Without an end
---
Bestie Stemless Wine Glass
Your Bestie will be reminded with every glass of white, red, or rose wine that best friends are the sisters we choose!
Cheers My Beautiful Bestie 15oz Stemless Wine Glass – Best Friend Gifts for Women
---
Inspirational Words Make The Best Galentine's Day Gifts
Add some meaningful words to your home. These inspirational sayings on plaques make great art for bedrooms walls, desks or TV stands. 
True Friends at a Distance Are Never Apart Because They Always Have a Place in Our Heart – Home Decor Accents – Galentines Gift for Friend
Dexsa Prayer.My Friend Wood Frame Plaque with Easel
Many people will walk In and out of your life. But only true friends will leave Footprints on your heart. Eleanor Roosevelt
---
Related: Cute Valentine's Day Quotes – Share The Love!
Blankiegram I Love You Throw
This Blankiegram is one Galentine's Day gift I'd like to get.  It's not only soft and cuddly, it's also very useful for those cold Winter nights when you're curled up on the couch watching a chick flick with your bestie.
Blankiegram I Love You Throw Blanket The Perfect Caring Gift for Best Friends
---
Galentine Beer Gift Set
Be My Galentine Beer Gift Set INCLUDES 6 beer bottle sticker labels and 6 bottle neck labels in the pink heart theme, as well as 1 six-pack carrier with 4 Valentine's Day stickers for decoration.
Be My Galentine – Valentine's Day – 6 Beer Bottle Label Stickers and 1 Carrier
---
Decorative Throw Pillow For Galentines
Tired of giving flowers?  A friend quote pillow cover is a little more creative, and a thoughtful way to say 'thank you for being my bestie'. The perfect Galentine's gift idea or for a special friend on her birthday.
Meekio Friendship Gifts Decorative Throw Pillow Covers 18 x 18 with Friend Quotes
---
Friendship Necklace – Perfect Galentine's Gift
This opal friendship necklace expresses the love you have for your best friend. She is your confidante, your rock, your most fun companion, and you are soul sisters. Perfect gifts for friends, as a way to say thank you for being there for me no matter what!
Friendship Necklace, 14K Gold Plated Bar Created Opal Necklace , Best Friend Necklaces
---
Related: Best Sloth Gifts For Valentine's Day
Galentines Spa Gift
Why not spoil her with a mini spa gift box. This beautiful box incudes a 4oz white cactus blossom soy candle,  lemongrass and lavender bath salts, summer melon lip balm with a fresh honeydew melon, and a nourishing oatmeal milk and honey shower steamer. All your senses will love this gift.
---
Text Me When You Get Home
"Text Me has the thrills and laughs of a romantic comedy, but with an inverted message: 'There just isn't only one love story in our lives,' Schaefer writes. If you're lucky, friends will be the protagonists in these multiple love stories. It's high time that we start seeing it that way."—NPR.org
Text Me When You Get Home: The Evolution and Triumph of Modern Female Friendship
---
Best Galentine's Day Gifts – Scented Candles For Good Friends
If you have more than one special friend then why not give them each one of these beautiful scented candles. The gift set comes with 8 candles and 8 fragrances – Strawberry, Lavender, Spring, Mint, Lemon, Vanilla, Rose and Green Zen. 
Scented Candles Aromatherapy Popular Valentine's Day Gifts for Women
---
Friends Makeup Mirror – Best Galentine's Day Gifts Idea
A beautiful silver makeup mirror with the words 'Side by side or miles apart, friends are always close at heart'. I personally think that this is a very special gift that your bestie can always carry with her…let's be honest, what women doesn't need a makeup mirror in her bag?  This one is just extra special!
Side by Side or Miles Apart Friends Gifts – Makeup Mirror Silver
---
Our Adventure Photo Album And Scrapbook
This special scrapbook is designed to keep your memorable photos with style and class. Get together once a week with your bestie and place your best photos and memories into this Adventure Album. It is a great place to keep all those special memories only the two of you have shared.
Photo Album Scrapbook, DIY Handmade Album – Our Adventure Book
---
My Thoughts On The Best Galentine's Day Gifts
To be honest, not long ago I didn't even know what Galentine's Day was. When I found out it was a day to celebrate the special girlfriends in your life, I couldn't have been happier.
Galentine's Day is celebrated on 13th February, the day before Valentine's Day. It is a day that you can get together with those special women in your life and tell them just how much they mean to you….and I'm sure a small Galentine's Day gift would definitely be appreciated.
Don't forget the card.  Here are some lovely ones to choose from:
4 Happy Galentines Day Cards for Friends with Red Envelopes
Hallmark Happy Galentine's Day
Be My Galentine – 10 Boxed Valentine's Day Greeting Cards with Envelopes
Related: Best Valentines Gifts For The Working Mom
---
Best Galentine's Day Gifts –

Pin For Later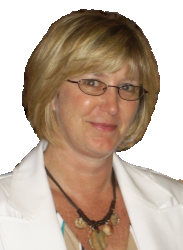 Latest posts by Yvette's Treasures
(see all)
Summary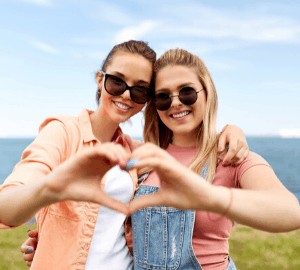 Article Name
Best Galentine's Day Gifts That Girlfriends Will Love
Description
The relationship of a good friend is equally as important to us as a partner relationship, and that is why I put together a list of the best Galentine's Day gifts especially for them.
Author