This post may contain affiliate links. I may receive commissions for purchases made through these links with no extra cost to you. See full disclosure.
Last Updated on January 2, 2022 by Yvette's Treasures
Every birthday is a special birthday, but turning 13 is definitely a cause for celebration! It is a milestone year filled with many changes and the beginning phases of adulthood. This article breaks down fabulous at home birthday party ideas for girls, boys, and gender-neutral themes. 
If you're looking for fun, eventful 13th birthday party ideas your 13-year-old will enjoy, then you've come to the right place.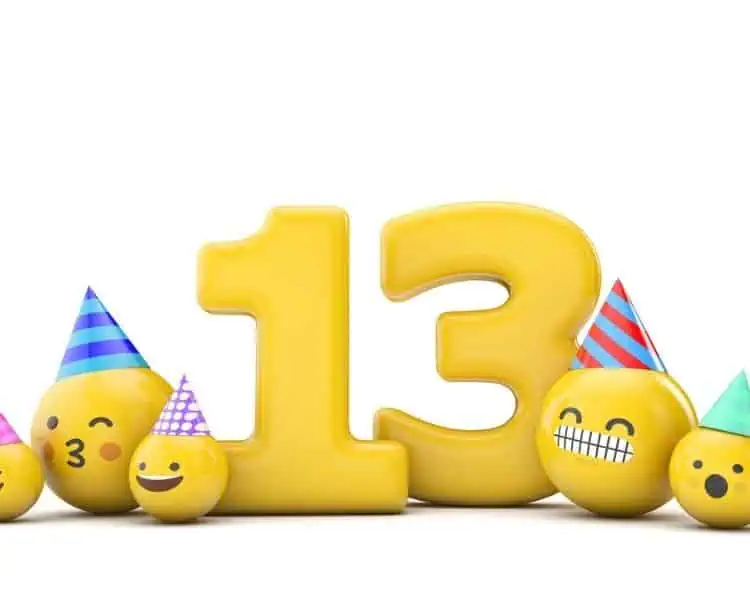 At Home Birthday Party Ideas For 13-Year-Old Girls
1. Cricut Craft Decorating Party
For girls who enjoy crafting, bedazzling, and everything sparkles, a Cricut craft decorating party would be a perfect fit! With a center station laid out with charms, jewels, glitter, a super cool Blinger, stencils, and more, the girls can each decorate and design sports bras and shorts, pullover hoodies, caps, and shirts with a Cricut, and take turns adding irons and stencil work to the finished project.
The possibilities are endless here, and bonus- they can be done with a Cricut Joy, Cricut Maker, or a Cricut explorer machine!
2. Faux Deluxe Facial Spa Party 13th Birthday Ideas
Thirteen is a serious turning point for psychically developing young ladies, so why not give them a chance to pamper each other.
The Faux Deluxe Facial Spa Party is a DIY facial station filled with mud and clay masks, soaps, hot towels, lip masks, and facial steamers.
Depending on the number in attendance, each girl can take turns at each phase of the facial process, moving on to the next item until the facial is complete. Grab bags, and leftover equipment can be taken home as trinkets to use at a later time. 
3. Selfie Museum Themed Party – 13th Birthday Themes
For the girls who can't get enough of taking pictures and glamming up for social media, the Selfie Museum Themed Party would be a hit!
Clearing out a few rooms (or setting up inside the living room, garage, or backyard), create multiple stations with various props for them to pose and take selfies.
Bonus points if you can bring out a polaroid printer to print on hand copies to later frame or place inside their diary.
4. DIY Body Scrub Feminine Care 13th Birthday Party Idea 
Catered towards the 'mermaid' gal pals, DIY Body Scrub Feminine Care Party would be a fun13th birthday idea. Set out all supplies for each girl to create her body scrubs, bath bombs, and soaps.
Set out different types of essential oils and a reference sheet and step back. They'll have fun chatting amongst themselves and creating their fragrances, and will be the next group chat hot topic after testing them out. 
Related: Best Birthday Gift Ideas For Teen Girls
At Home Birthday Party Ideas For 13-Year-Old Boys
1. Glow In The Dark Basketball Party
For your super sports fans, why not have a birthday that's out of the norm? The Glow In The Dark Basketball Party is a sure way to keep the boys up and active for hours.
Turning the living room, basement, or garage into a glow-in-the-dark basketball arena.
You can set up detachable basketball hoops and miniature basketball stations to allow them to play a little one-on-one ball and show off their skills.
Each participant will be required to wear a glow-in-the-dark shirt and arm bracelet.
2. Back Yard Nerf War Maze Thirteenth Birthday Ideas
If your son and his group are the masters of tag and enjoy a little competitive fun, then the Back Yard Nerf War Maze is a birthday party theme to try.
Advised as an outdoor activity, the boys will take turns running through the maze (plastic room separators that can be hung via rope and attached to opposite tree trunks), competing to be the last person standing at the end.
Each individual will carry a nerf gun and wear a 'tagable' piece of clothing, and the participant who makes it through the maze with the least amount of nerf tags wins a prize. How's that for an exciting 13th birthday party idea?
3. Pass The Controller Epic Birthday Blowout
Parents of gamers, take notice! The Pass The Controller Birthday Blowout party theme is perfect for the indoor male whose video games have become their life's purpose.
Ideally, the party will be centered around video games, with multiple controllers ready for an all-out gaming competitive fest. You can spice it up a bit with prizes and gaming-themed treats and drinks, and watch the madness ensue.  
4. Outdoor Tag Team Gamer Relay Birthday Party
Another outdoor themed event that is sure to be a hit, the Outdoor Tag Team Gamer Relay party, is centered around competition and the great outdoors.
The outdoor stations will compromise of two sections of balloons– each with hidden objects inside- to which the teams of two, each participant must pop and use to get through to the next task (you can be as creative as you'd like here).
The team that gets through the relay first wins a prize or can force the losing team to choose a task. How exciting!
Related: Best Birthday Gift Ideas For Teen Boys
At Home Gender Neutral Birthday Party Ideas For 13-Year-Olds 
1. Hip Hop Hurray Birthday Party
A fun way to dress up and show off the latest dance trends, the Hip Hop Hurray-themed birthday party can be a memorable event!
Each participant comes dressed in their 80s, 90s, or early 2000s attire and takes turns to dance and battle for fun prizes and trinkets.
There can also be a bonus prize for the most creative costume or hip-hop trivia game!
2. Masquerade Glow Dance Party Ideas To Celebrate Turning 13
Who doesn't love a good mask party? For parents looking for a gender-neutral birthday party idea, the Masquerade Glow Dance Party is a fun one!
Essentially attendees will come dressed up in an identity-masked costume (bonus points if it glows in the dark) and be handed glow sticks and party favors to use to dance the night away.
Top with neutral-colored desserts, trivia games, and some good old-fashioned karaoke, and rock out!
3. Emoji Themed Hunger Games Party
Competition has never been so funny! If your child's a goofball at heart (and their friends make it funnier), why not try an Emoji Themed Hunger Games birthday party.
Depending on the number of attendees, divide them up into groups of 2 or 3 (more if a large group) and see who can duel for the funniest jokes.
Have each wear an emoji face mask and let them compete in the battle of the funny! A fun and interactive gender-neutral birthday party that'll bring the inner comedian out of everyone.  
4. Outdoor Bowling Theme Party
Perfect for warm summer's night, try out our Outdoor Bowling Themed party idea for a bit of competitive fun.
Attendees can pair up in teams and compete with each other for prizes, challenges, and more.
For a bonus, add a slip-in-slide under the bowling area for an even wilder time!
Perfect for at home birthday party ideas. Use the ideas above to come up with an epic party your thirteen-year-old will never forget!   
My Thoughts On At Home Birthday Party Ideas
There are some really wonderful 13th birthday celebration ideas to choose from. Giving you the choice of indoor and outdoor 13th birthday themes.
Your 13 year old will love celebrating their special day with these 13th birthday party ideas at home with their friends and family. Any theme you choose will be talked about for many birthdays to come.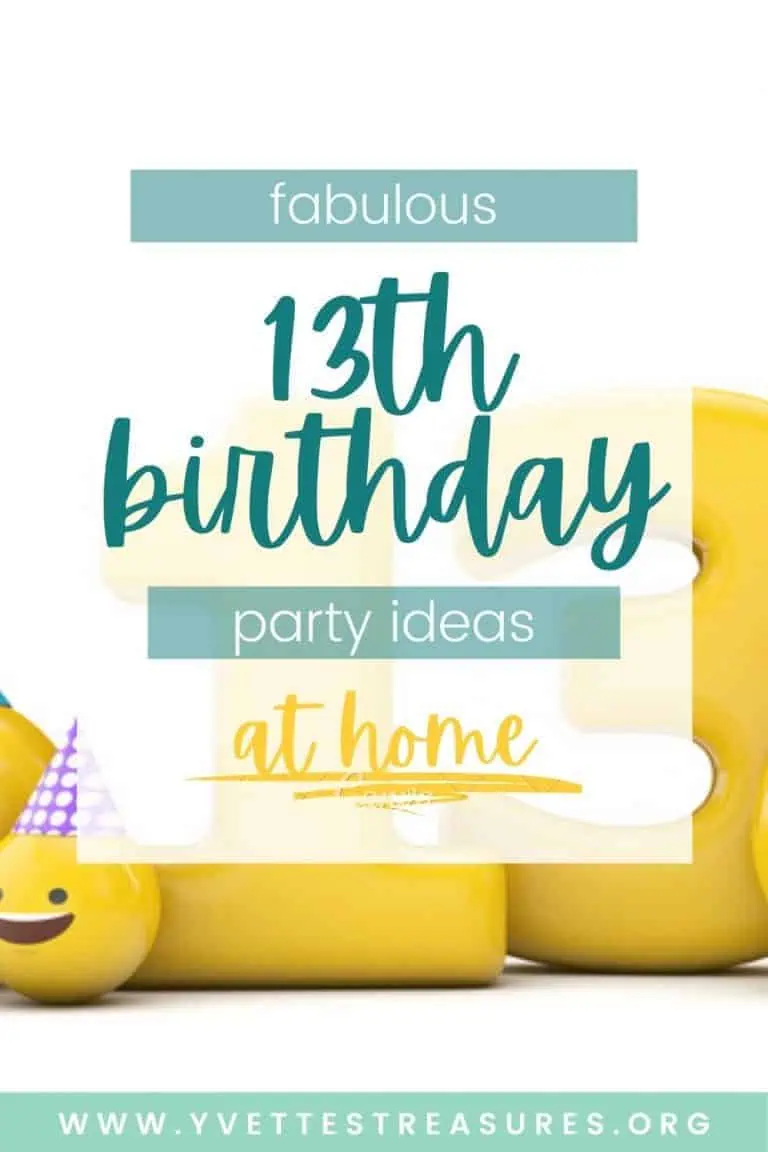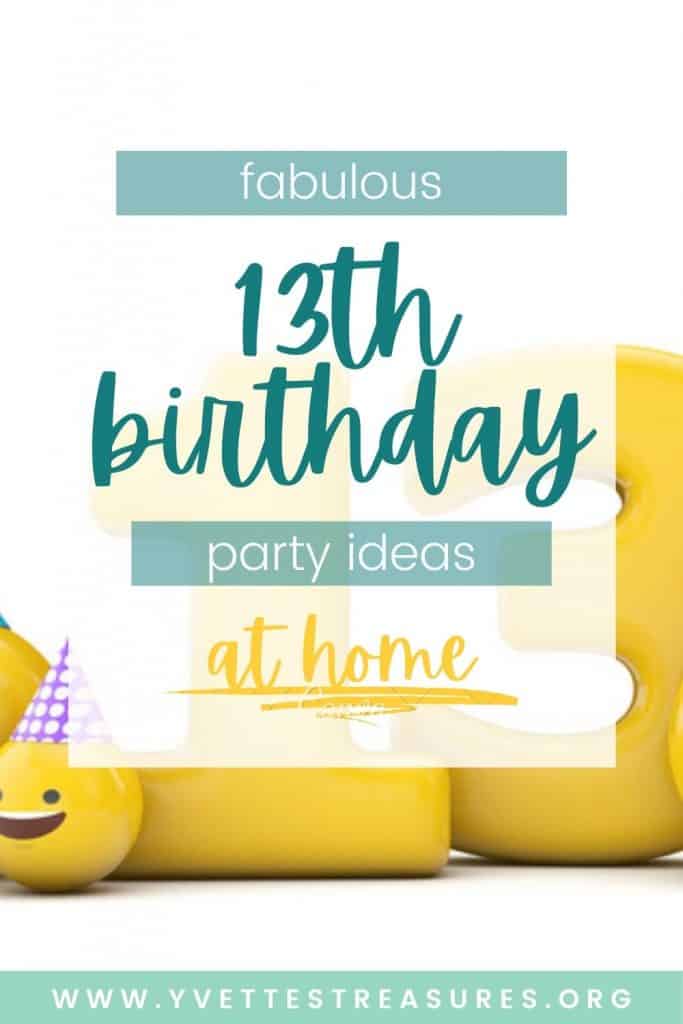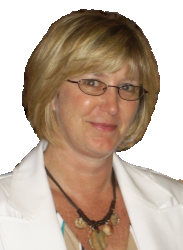 Latest posts by Yvette's Treasures
(see all)
Summary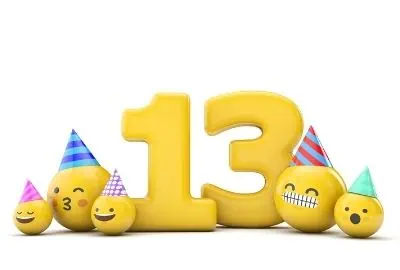 Article Name
Fabulous At Home Birthday Party Ideas Your 13-Year-Old Will Enjoy!
Description
This article breaks down fabulous at home birthday party ideas for girls, boys, and gender-neutral themes. 13th birthday celebrations ideas that they will absolutely love!
Author