Last updated on
Owleez The Best Little Helicopter Owl Kids Will Go Crazy For
SpinMaster have done it again and created another super cool toy….Owleez, the cute owl that flies!
If your kids love cuddly pets and drones then they're in for a BIG surprise.  Owleez is the mutant offspring of a cuddly pet and a helicopter!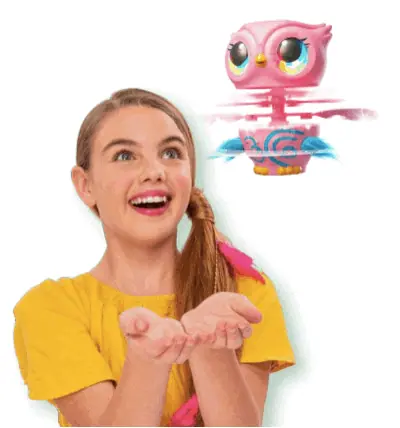 This post may contain affiliate links. I may receive commissions for purchases made through these links with no extra cost to you
This is a nurturing toy combined with a drone – that needs to be cared for, it also needs to be taught to fly. You must take good care of your cute little helicopter owl.
You can and should, stroke it, tickle it, feed it, burp it, teach it, encourage it and send it off to sleep!
Where To Buy Owleez
It's on its way –  You can now pre-order this cute little flying owl from either Amazon or Target and it will be available for delivery on 4 October 2019.  By pre-ording it, you are guaranteed to  lock in the best price. Update : It's here!
☑  Available Now On Pre-Order From Amazon
Owleez, Flying Baby Owl Interactive Toy with Lights & Sounds (White), for Kids Aged 6 & Up
Owleez, Flying Baby Owl Interactive Toy with Lights & Sounds (Pink), for Kids Aged 6 & Up
Target also has both the pink and white Owleez available for preorder.
Pink OwleezBUY PINK OWLEEZ
White OwleezBUY WHITE OWLEEZ
How To Care for Your Spin Master Helicopter Owl
This cute owl from Spin Master is an interactive toy pet that craves attention by way of big glowing eyes that change color according to its mood.
☑ Sets of sensors under the surface of the toy, respond to stroking, tickling, feeding and motion. Feed him with his favorite toy berries (included) and listen to it munching away.
☑ Once Owleez has eaten enough you will notice a green tinge in its eyes, that's your cue to burp him . . . a little belch and all is well!
☑ Chase him away by stroking him on the head.
☑ Tickle him on the tummy and you will be rewarded by gentle murmurs and coos.
☑ Motion sensors in the toy allow Owleez to know when you are gently rocking it to sleep and when you are teaching it to fly.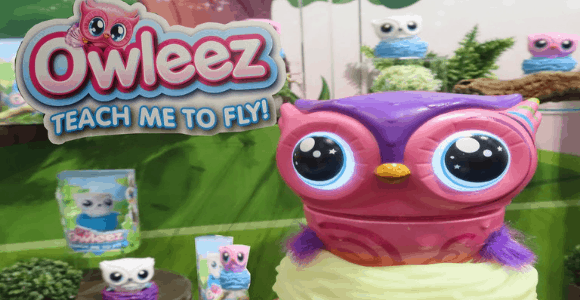 Teach Your Owleez To Fly
Teaching this cute little owl to fly is the next fun step in your relationship with your newest cute pet. Swing him back and forth through the air . . . Wheeee, Owleez will let you know that learning is fun!
As you teach this cuddly helicopter toy to fly, it will quickly gain confidence and want to take that first solo flight.
Place Owleez in its nest and if he is not yet ready to fly it will murmur sadly and its eyes will turn red. However, if he is ready to fly its head will raise up and wings (soft plastic, rotor blades) will be revealed. He is then ready to take flight.
At first, he will fly for 2-3 seconds and will gradually build up to longer flights of about 10 seconds.
When he gets tired of flying, he will be ready to return to his nest and, with some encouragement, quietly sing himself to sleep.
It is so easy to reset Owleez and start the learning process all over again.
☑  More Popular New Toys For Kids
So Cute and Colorful 
Owleez are colorful pets which currently come in two main color schemes, pink or white. Each comes with its own nest which is also a charging station.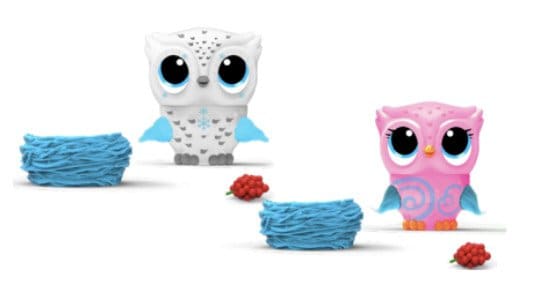 My Thoughts On The Owleez Spin Master Flying Toy
The unexpected meeting of different technologies works superbly – it is a great concept executed very well in one captivating and delightful toy.
Certain to be a big hit over the holiday season and in great demand as it captures the attention of children everywhere.
Preorder The SpinMaster Owleez Helicopter Owl
The official release date is said to be 4 October 2019.  Preorder should therefore be in September 2019.  Target is already set up for preorders. You have a choice of either the white one or pink one.
☑  Amazon Prime – Sign Up For 30 Days FREE Trial – Get Free Shipping!
More Hot New Toys 2019
SUBSCRIBE TO MY YOUTUBE CHANNEL FOR MORE POPULAR NEW TOY VIDEOS AND GIFT IDEAS
Summary
Article Name
Owleez The Best Little Helicopter Owl Kids Will Absolutely Love
Description
A cross between a drone and a cuddly pet, the new Owleez flying helicopter toy is going to be a big hit this year with the kids.
Author