Mason Jar Christmas Craft Ideas
You can use this creative list of mason jar Christmas crafts to either add the holiday mood to any room in your home, or you can give them as gifts to family and friends.  One or two will also make a wonderful gift for a co-worker.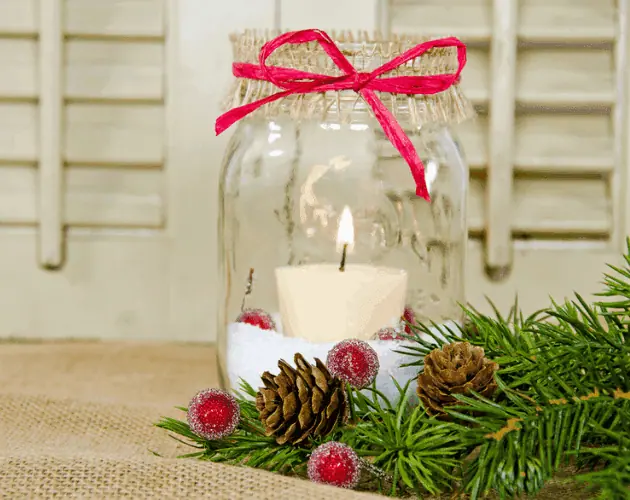 This post may contain affiliate links. I may receive commissions for purchases made through these links with no extra cost to you.
If you need more DIY inspiration, then take a look at our unique DIY Christmas gift ideas.  Or perhaps try these Christmas mason jar recipes.
Mason Jar Christmas Crafts For The Keen Crafter
1. DIY Mason Jar Snowglobe
This is such a cute DIY mason jar Christmas craft idea. Visit Classy Clutter to find out what you need to make this DIY snowglobe.
2. Mason Jar Lid Ornament Christmas Tree Wreath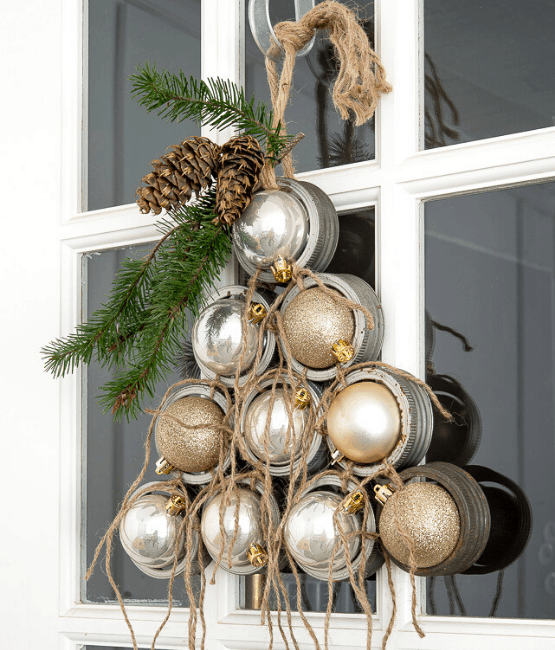 Now here's something completely different.  Try your hand at making this unique Christmas tree wreath made out of mason jar lids.  Visit Funky Junk Interiors to find out how.
3. Snowflake Mason Jars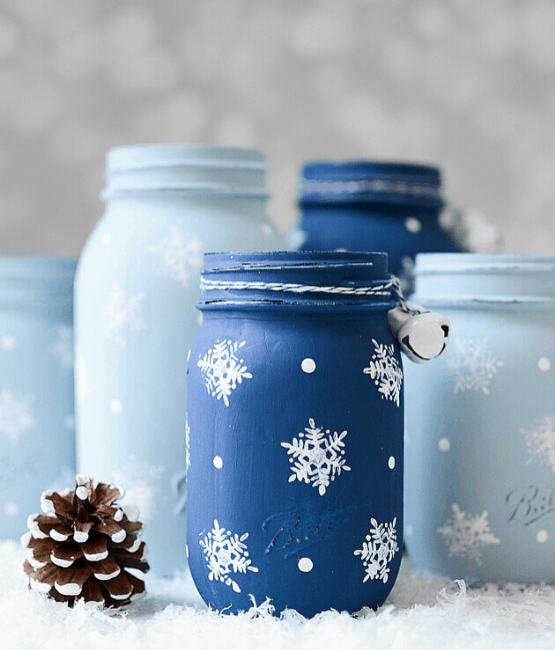 These beautiful snowflake mason jars were made by It All Started With Paint.  Get creative and paint your mason jars any color you want to match your home decor. 
4. DIY Peppermint Mason Jar Candles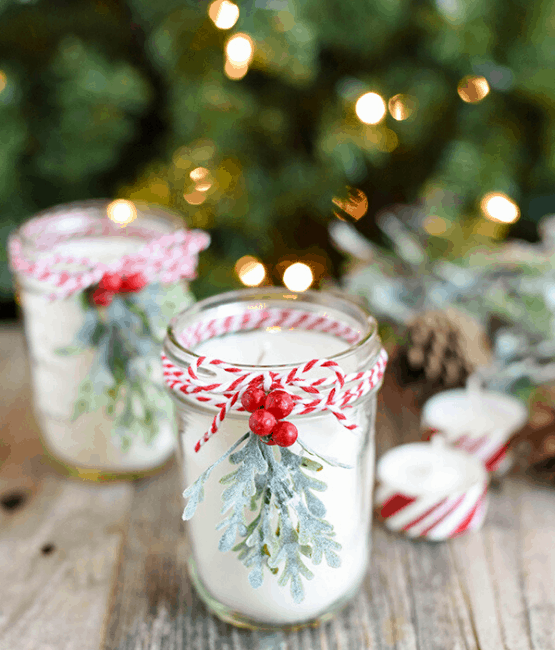 Make these pretty peppermint scented mason jar candles for your bestie or your kid's teachers.  They would also make a great secret Santa gift.  Find out exactly how it's done over at A Pumpkin And A Princess.
5. Rustic Mason Jar Wall Art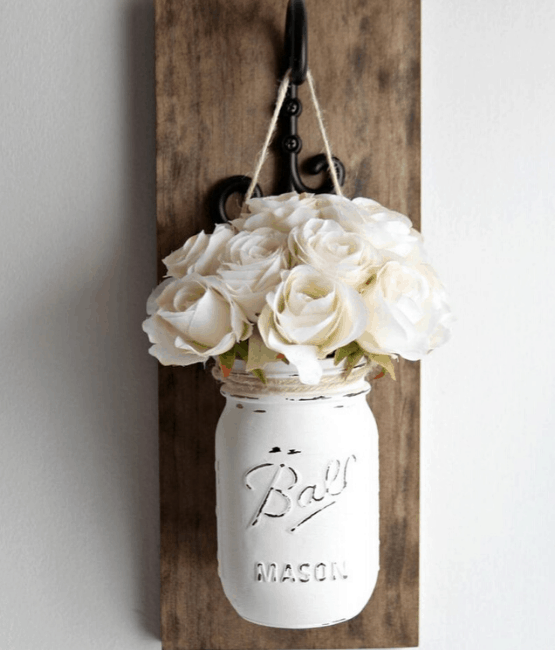 A great holiday home decor gift idea.  You can do a bit of DIY woodwork yourself and then paint a mason jar and attach it to the wood with a decorative hanger. Or, if you'd prefer you can buy one from JarfulHouse.
Mason Jar Christmas Crafts That You'll Love
6. Mason Jar Sewing Kit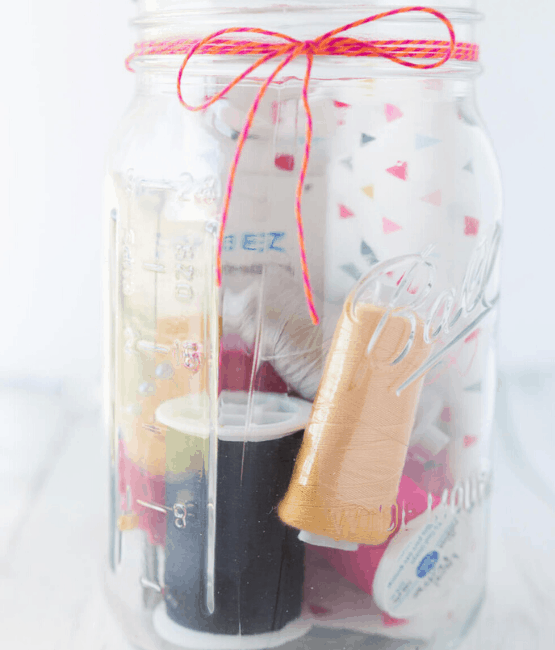 This mason jar sewing kit is a great gift for family members or friends who love to sew.  Also the perfect baby shower gift for the mom to be. Put in different color material depending on whether it is a boy or girl.  Get all the instructions you need from I Heart Nap Time.
7. Unique Map Mason Jar Bank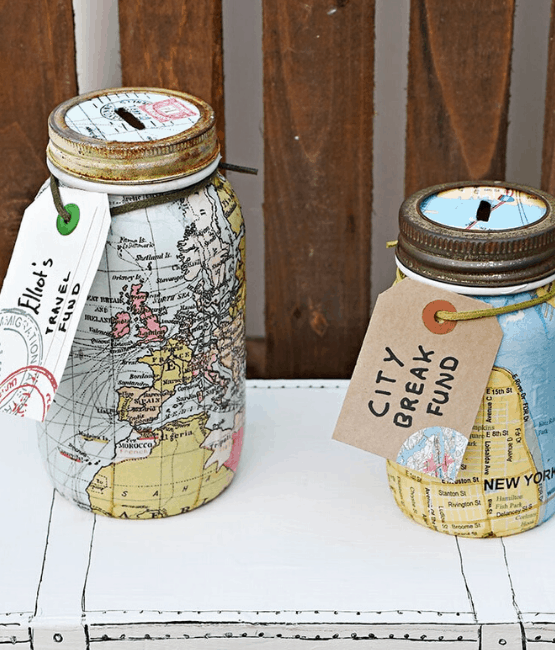 OhMyWord…I'm totally in love with this map mason jar bank gift idea from Pillar Box Blue!!  I'm extremely passionate about traveling so this is the perfect gift for me (hint hint to hubby). How totally unique, and what a great diy gift idea.
8. Mason Jar Fairy House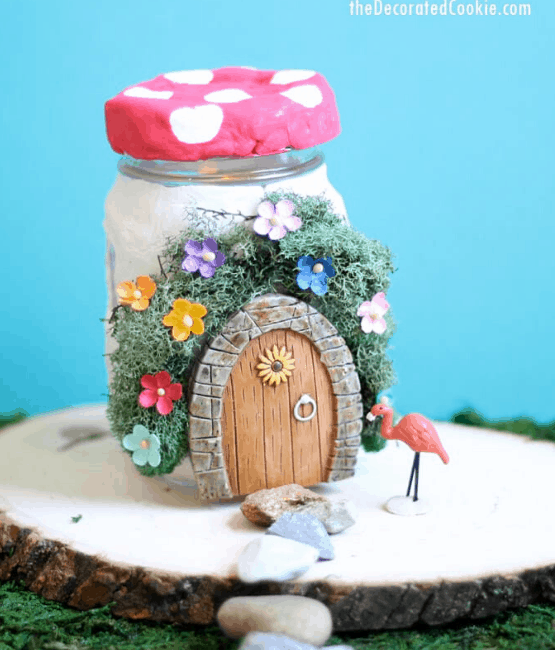 Wow, what a wonderful Christmas mason jar crafts gift idea for the person that loves to spend time in their garden and of course also loves fairies.
This is so cute, I can't get over how fantastic it looks. If you want to know exactly how to make this awesome looking mason jar fairy house then pop over to The Decorated Cookie for all the details.
9. Snow Globe Soap Pump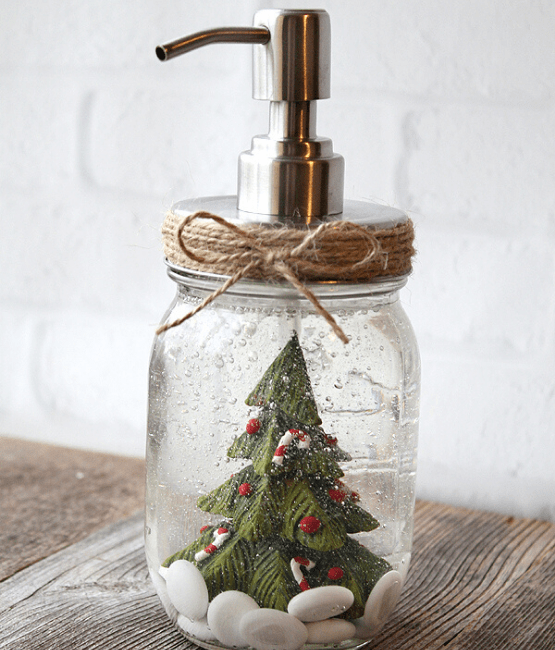 This snow globe soap pump in a mason jar is a brilliant idea. It adds a bit of fun holiday cheer to your bathroom. You can even put it in the kitchen for easy access. Creative Green Living will assist you with the details to making this great DIY mason jar gift.
10. Crochet Mason Jar Cozy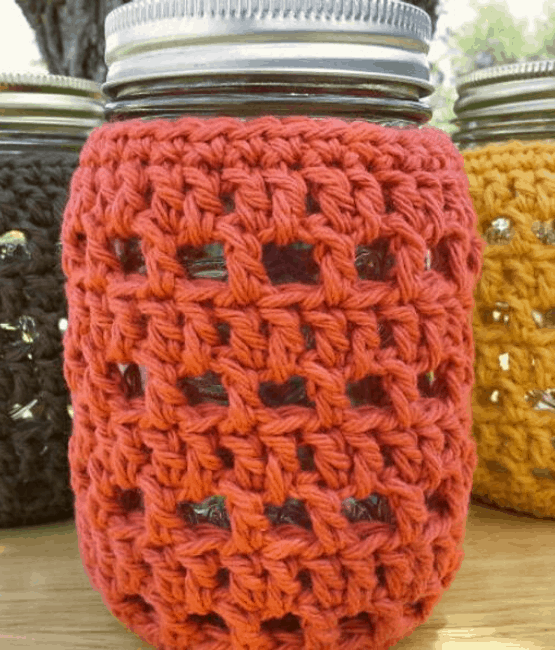 Aren't these crochet mason jar cozies so cute?  If you enjoy crocheting then I'm sure you can easily whip up one of these in no time. 
If you're in a hurry or perhaps crochet is not quite your thing, but you'd still love one of these then you can pick one (or two) up at CosyHandCraftsByCat. Just choose what color you want.
Mason Jar Christmas Crafts – My Thoughts
Mason jars are becoming more and more popular both as gifts and as home décor.  If you still need to get some mason jars for your own crafts or to put together as gifts then you can find them here on Amazon.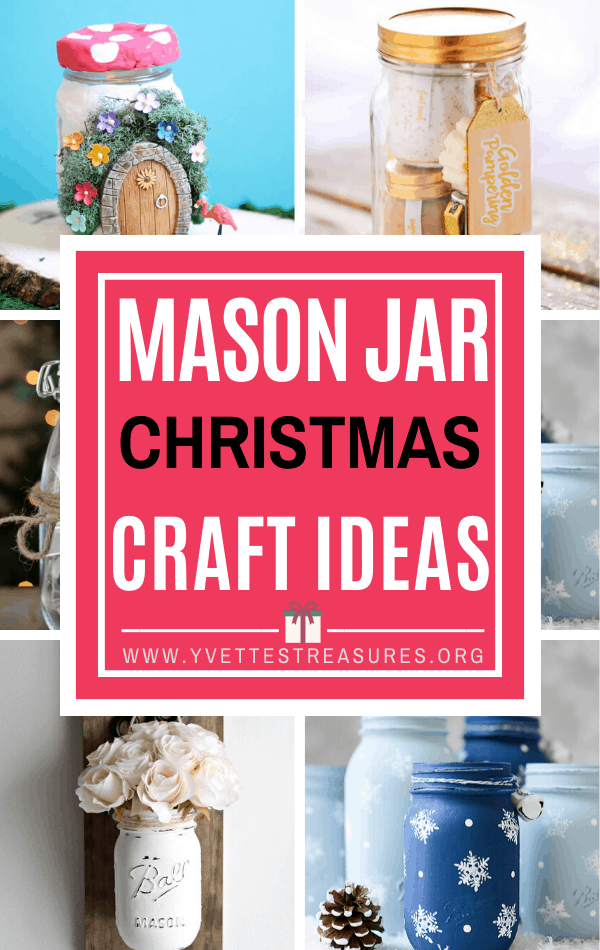 Summary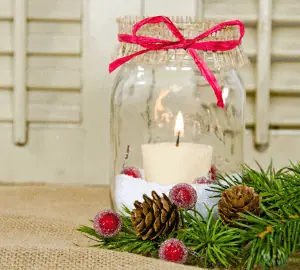 Article Name
Mason Jar Christmas Crafts - Best Holiday Gifts In A Jar
Description
You can use this creative list of mason jar Christmas crafts to either add the holiday mood to any room in your home, or you can give them as gifts to family and friends.
Author