This post may contain affiliate links. I may receive commissions for purchases made through these links with no extra cost to you. See full disclosure.
Last Updated on September 12, 2023 by Yvette's Treasures
Where To Take Kids For Halloween
Thinking of where to take kids for Halloween? We've compiled a list of 13 fun and family-friendly locations that are sure to make this Halloween one to remember.
From haunted houses to pumpkin patches, these festive destinations are perfect for kids of all ages. So put on your costumes, grab your trick-or-treat bags, and get ready for a hocus pocus adventure of family fun!
The History Of Halloween
Halloween, the spooktacular celebration we know today, has a hauntingly fascinating history! It all started over 2,000 years ago with the ancient Celtic festival of Samhain, when people believed that on the night of October 31st, the boundary between the living and the dead blurred, allowing ghoulish ghosts to roam freely.
Fast forward to medieval Europe, where folks began dressing up as spirits to trick the real ones, a practice that evolved into the colorful costumes we don today.
And don't forget the Jack-o'-lanterns! Originally carved from turnips, they lit the way to ward off evil spirits. Thanks to the mix of traditions from all over the world, Halloween has become the ultimate excuse to transform into witches, zombies, and candy-hungry monsters for a night of spine-tingling fun!
1. Local Pumpkin Patch
If you're looking for a fun and festive way to celebrate Halloween with your family, a visit to a local pumpkin patch is a must! This is the perfect opportunity to pick out the perfect pumpkin for pumpkin carving or decorate for Halloween.
Not only will your kids love searching through the patch to find their favorite pumpkin, but many pumpkin patches also offer additional activities to keep the excitement going.
a. Pumpkin picking: There's something special about going out into the field and selecting your own pumpkin. Your kids will love the thrill of finding the biggest or most unique pumpkin to take home and proudly display on their front porch.
b. Hayrides: Hop on haunted hayrides and enjoy a scenic tour of the pumpkin patch. This is a great way to relax and take in the beautiful fall scenery while spending quality time with your family.
c. Corn mazes: Get lost in a corn maze and see if you can find your way out. This is a fun and challenging activity that the whole family can enjoy together. It's a great opportunity to work together as a team and figure out the best route to escape the maze.
d. Face painting: Let your kids' imaginations run wild with face painting. They can transform into their favorite Halloween characters like Harry Potter or animals with the help of talented artists who can bring their ideas to life.
e. Pony rides: Take a ride on a friendly pony and enjoy a leisurely stroll around the pumpkin patch. This is a unique and exciting experience for younger kids who love animals, and it's sure to create lasting memories.
2. Haunted House Attractions
For older kids who crave a bit of thrill and excitement on Halloween night, visiting a haunted house attraction is a perfect choice. These ghost tours are designed to give you a good scare and provide a thrilling experience, all while ensuring it's age-appropriate for everyone involved.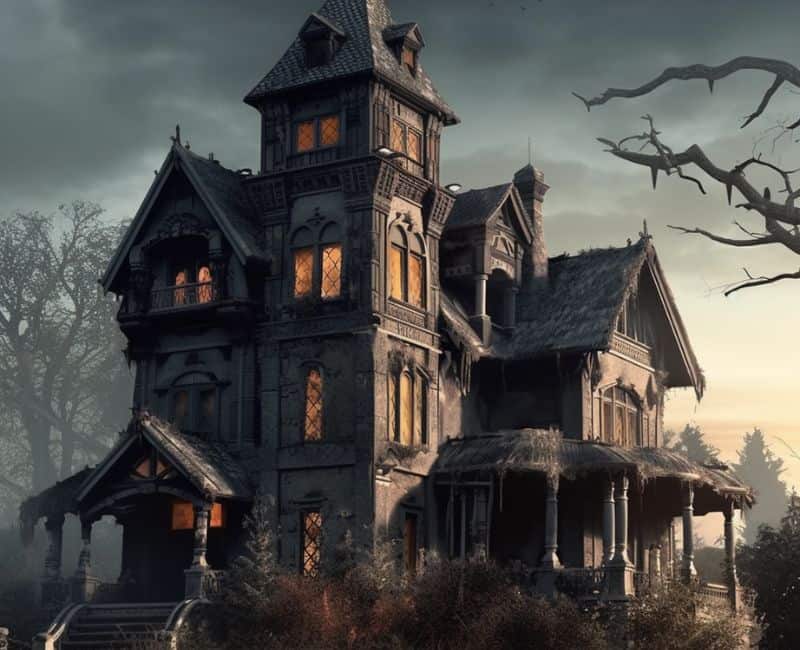 a. Age-appropriate scare levels: Haunted house attractions often have different scare levels, ranging from mild to intense. This allows you to choose an experience that is suitable for your child's age and comfort level.
b. Interactive experiences: Many haunted house attractions now offer interactive elements to enhance the experience. Your kids might encounter actors who engage with them, creating a more immersive and thrilling adventure.
c. Special effects: From fog machines to strobe lights, haunted houses are known for their impressive special effects. Your kids will be amazed by the eerie atmosphere and spooky ambiance created by these effects.
d. Costume contest: Some haunted house attractions hold costume contests where your kids can show off their creative Halloween costume and potentially win prizes. It's a fun way to celebrate Halloween and let their imagination shine.
e. Trick-or-treating: To add a sweet touch to the frightful fun, some haunted house attractions offer trick-or-treating opportunities. Your kids can collect tasty treats from friendly characters throughout the attraction, making their visit even more enjoyable.
3. Zoo or Animal Farms
If your little ones have a soft spot for animals, a visit to a zoo or animal farm during the spooky season can be a delightful experience. Many zoos and animal farms go all out with festive Halloween decorations and offer special activities for visitors.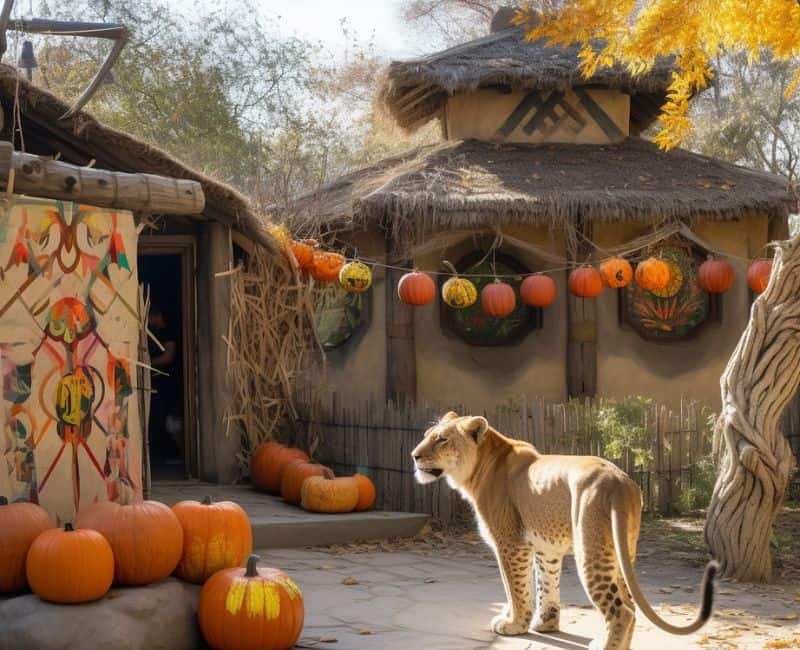 a. Halloween-themed animal exhibits: Explore the zoo or animal farm and discover Halloween-themed exhibits showcasing spooky adaptations of various animals. Your kids will learn interesting facts while enjoying the seasonal decorations.
b. Petting zoos: Get up close and personal with friendly animals in a petting zoo. Your kids can interact with furry friends like rabbits, goats, and miniature horses, creating unforgettable memories.
c. Animal shows: Enjoy live animal shows where your kids can learn about different species and witness fascinating behaviors. These shows are often educational and entertaining, making them a hit with both children and adults.
d. Pumpkin feeding: Watch as animals munch on pumpkins during special feeding sessions. It's a unique opportunity to observe their natural eating habits and see their excitement when presented with a seasonal treat.
e. Costume parades: Some zoos and animal farms organize costume parades where kids can dress up as their favorite animals and show off their creative costumes. It's a wonderful way to combine plenty of Halloween activities with a love for animals.
4. Local Farms or Orchards
Embrace the harvest season by visiting a local farm or orchard this Halloween. These destinations offer a range of festive activities that celebrate the bounty of the season and provide endless fun for the whole family.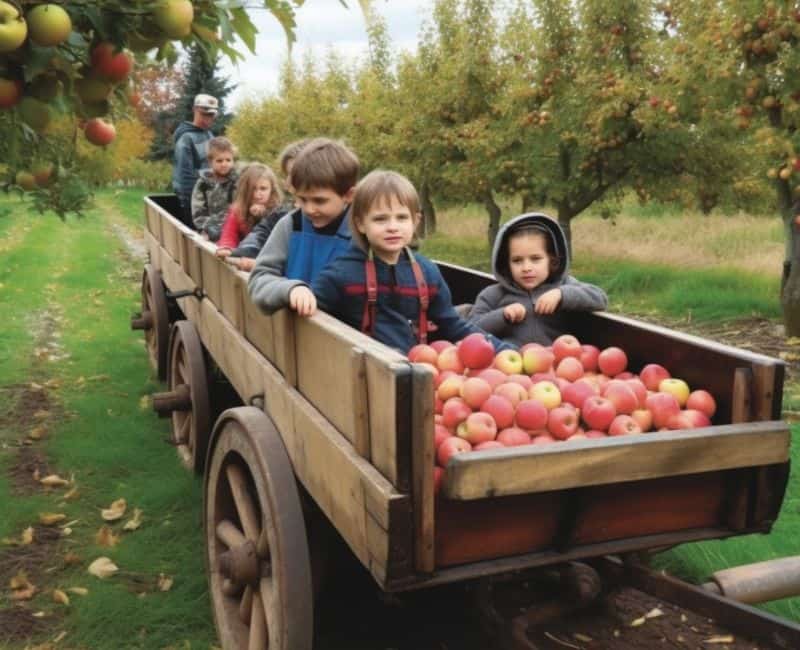 a. Pumpkin or  apple picking: Enjoy a quintessential fall activity by picking your own apples or pumpkins. Your kids will have a blast exploring the orchard or pumpkin patch, searching for the perfect specimens to take home.
b. Hayrides: Hop aboard a hay-filled wagon and enjoy a scenic tour of the farm or orchard. It's a relaxing and enjoyable way to soak in the beautiful autumn landscape while spending quality time together.
c. Farm animal encounters: Many farms allow visitors to interact with the resident animals. Your kids can feed and pet farm animals like cows, pigs, and chickens, fostering a sense of connection with nature and agriculture.
d. Cider pressing demonstrations: Learn about the apple cider-making process through interactive demonstrations. Your kids can observe the journey from apple to juice and gain an appreciation for the traditional methods of producing this delicious autumn beverage.
e. Harvest-themed games and activities: Farms often offer a variety of games (here is a Halloween word search that is loads of fun. Take it with you and see how many words you can kind find first before your friends or family), and activities perfect for getting into the Halloween spirit. From pumpkin decorating to corn-hole, your kids will be entertained for hours with these festive options.
5. Pirate Ship Adventure
A Pirate Ship Adventure is a unique and interactive experience designed for kids to embark on a nautical journey filled with pirate-themed fun, treasure hunts, and swashbuckling excitement.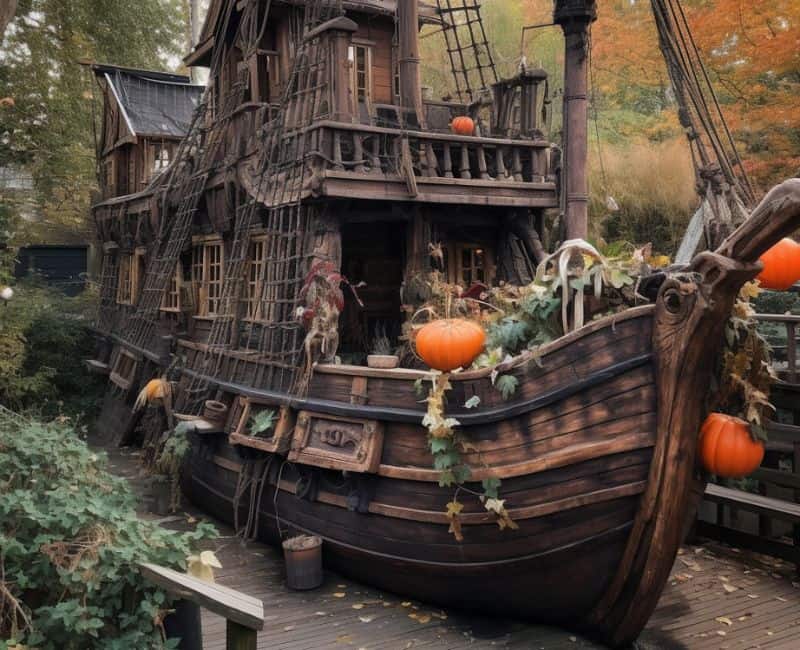 While it may not be an option in all locations, coastal areas or places with access to water bodies often offer this type of adventure.
Here's how a typical Pirate Ship Adventure might unfold:
a. Boarding the Ship: Kids and their families board a specially themed pirate ship, often with a crew dressed as pirates in full costume.
b. Pirate Storytelling: The adventure kicks off with engaging pirate storytelling, where children are introduced to the legend of hidden treasure and the ship's history.
c. Treasure Hunt: Kids are given pirate maps or clues to follow in search of hidden treasures. These treasures could be small trinkets or coins that kids can collect.
d. Pirate Games: Throughout the journey, there may be pirate-themed games and challenges, like sword fights, water gun battles, or decoding secret messages.
e. Costume Dress-Up: Some Pirate Ship Adventures provide pirate costumes for kids to wear during the journey, adding to the immersive experience.
f. Photo Opportunities: There are often opportunities for parents to capture memorable photos of their little pirates during the adventure.
g. Pirate Songs and Snacks: Pirate songs and themed snacks, like "pirate punch" or "treasure chest snacks," add to the festive atmosphere.
h. Discovery and Exploration: Kids get to explore the ship, including its "captain's quarters" and "treasure hold," enhancing their sense of adventure.
Pirate Ship Adventures are fantastic for kids because they combine elements of storytelling, role-playing, and outdoor exploration. It allows them to use their imaginations, work together to solve puzzles, and experience the thrill of a pirate's life, all while being in a safe and controlled environment.
It's an exciting and memorable way for kids to celebrate Halloween, as they get to be pirates for a day and search for hidden treasures on the high seas (or local waters).
6. Museums and Historical Sites
For a Halloween adventure that combines education and entertainment, consider visiting museums and historical sites that offer Halloween-themed exhibits and plenty of fun Halloween activities. Your kids will learn about history, art, and culture while having spooky fun!
a. Halloween-themed exhibits: Dive into the world of Halloween with special exhibits that explore the origins, traditions, and folklore associated with this holiday. From ancient artifacts to contemporary art pieces, museums showcase the rich cultural tapestry of Halloween.
b. Costume dress-up: Some museums provide costume dress-up stations where kids can try on historical or themed outfits. It's a great way to step back in time and experience different eras through playful imagination.
c. Art and craft workshops: Unleash your kids' creativity with Halloween crafts. They can paint pumpkins, make spooky decorations, or create their own creepy crafts inspired by the holiday.
d. Spooky scavenger hunt: Embark on a Halloween-themed scavenger hunt within the museum or historical site. Your kids will solve puzzles and find clues while exploring the exhibits, making the visit engaging and interactive.
e. Ghost storytelling: Gather around as professional storytellers transport you to a world of ghosts, ghouls, and mysterious tales. Your kids will be captivated by the spooky narratives and the art of storytelling itself.
7. Indoor Trampoline Parks or Playgrounds
When the weather isn't cooperating or you prefer an indoor Halloween adventure, trampoline parks and playgrounds are a fantastic option. These venues often offer special Halloween-themed events and activities that are sure to get your kids bouncing with excitement.
a. Halloween-themed bounce sessions: Experience the thrill of bouncing on trampolines with a Halloween twist. Some parks transform their facilities into spooky wonderlands, complete with themed music and decorations.
b. Costume contests: Encourage your kids to dress up in their favorite costume and participate in costume contests. It's a chance for them to showcase their creativity and potentially win fun prizes.
c. Face painting: Let your kids' imaginations soar as talented face painters turn them into their desired Halloween characters. From adorable pumpkins to scary little monsters, your kids will love the transformation.
d. Halloween-themed games: Trampoline parks and playgrounds often organize Halloween-inspired games and challenges. Your kids can participate in obstacle courses, relay races, or friendly competitions that keep them active and engaged.
e. Trick-or-treating: Some indoor venues arrange trick-or-treating stations where kids can collect treats and follow a treat trail while exploring the different play areas. It's a safe and controlled environment that adds an extra element of fun to the visit.
8. Science Center Spooktacular
A Science Center Spooktacular is a Halloween event hosted by science centers or museums. It combines the spookiness of Halloween with the wonders of science, offering a unique and engaging experience for children and families.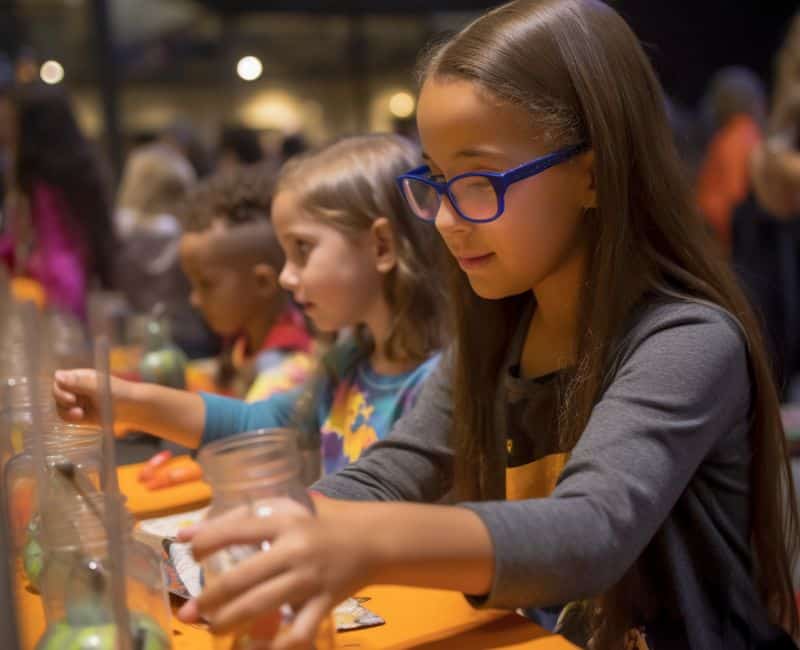 Here's what you can expect from a typical Science Center Spooktacular:
a. Themed Exhibits: The science center or museum decorates its exhibits with Halloween-themed decorations, creating a spooky but safe environment for kids.
b. Interactive Displays: There are interactive displays and experiments related to Halloween themes, such as the science behind jack-o'-lanterns, the chemistry of potions, or the physics of spooky sounds.
c. Hands-On Activities: Children can participate in hands-on activities and experiments that teach them about various scientific principles while incorporating Halloween elements. For example, they might make slime, learn about the biology of spiders, or explore the physics of flying broomsticks.
d. Science Shows: Some events feature special science shows or demonstrations that showcase Halloween-themed experiments and illusions. These can include things like making fog, creating eerie sounds, or even demonstrating the science behind ghostly apparitions.
e. Costume Contests: Kids are encouraged to come in costume, and there may be costume contests or parades within the science center. This adds a festive and playful element to the event.
f. Trick-or-Treating: Some Science Center Spooktaculars include safe and controlled trick-or-treating within the exhibits, where kids can collect treats while learning about the science behind some of their favorite Halloween candies.
g. Educational Workshops: Workshops led by scientists or educators may focus on topics like the biology of bats, the chemistry of candy, or the geology of gemstones (perfect for little witches and wizards).
h. Storytelling and Scavenger Hunts: Storytelling sessions with a scientific twist and scavenger hunts with Halloween-themed clues and riddles can keep kids engaged and excited.
The Science Center Spooktacular offers a unique blend of education and entertainment. It allows children to explore the scientific principles behind Halloween phenomena while having a blast in a spooky and immersive setting.
This type of event is not only fun but also promotes curiosity and a love for learning in a fun and festive atmosphere.
If there's a science center or museum in your area, check their event calendar during the Halloween season to see if they host a Science Center Spooktacular. It's a fantastic way for kids to have a hands-on and educational Halloween experience.
9. Theme Park and Amusement Centers
For an action-packed Halloween adventure, theme parks and amusement centers are a surefire hit. With their thrilling rides, entertaining shows, and festive attractions, these destinations offer wholesome fun for the entire family.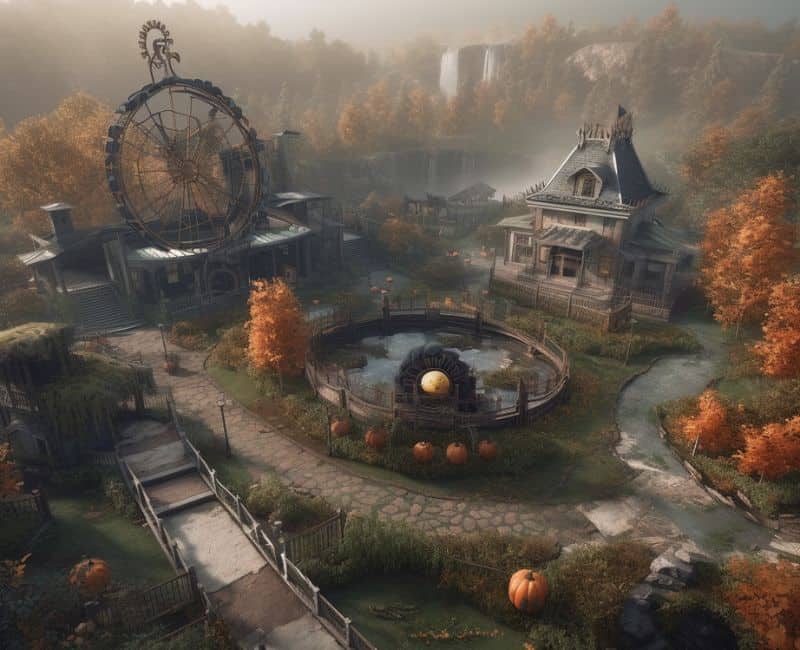 a. Halloween-themed attractions: Theme parks go all out with spooky decorations, magic shows, spooky stories and Halloween-themed rides during the season. From haunted houses to eerie walkthroughs, your kids will be captivated by the thrilling experiences.
b. Costume character meet and greets: Your kids can meet their beloved costume characters and snap memorable photos with them. This interaction adds an extra dose of excitement and magic to their Halloween visit.
c. Live entertainment shows: Enjoy live music and entertainment shows featuring acrobats, magicians, and performers in festive costumes. These shows are designed to entertain and dazzle, providing a break from the adrenaline-pumping rides.
d. Trick-or-treating: Many theme parks and amusement centers organize candy trails or trick-or-treating events for young visitors. Your kids can collect treats from various stations, filling their bags with goodies while exploring the park.
e. Themed parades or processions: Marvel at themed parades or processions featuring elaborate floats, dancers, and costumed characters. These spectacles create a vibrant and immersive Halloween atmosphere that your kids will love.
10. Local Community Events
Support your local community and enjoy Halloween festivities by attending local community events. These events often feature a variety of activities and attractions designed to bring neighbors together and create lasting memories.
a. Halloween carnivals: Step into a world of bright lights, games, and delicious treats at Halloween carnivals. Your kids can enjoy classic carnival games, win prizes, and indulge in tasty snacks like cotton candy and popcorn.
b. Costume contests: Show off your kids' best costumes and enter them into costume contests. It's a chance for them to strut their stuff on stage and compete with other imaginative participants.
c. Face painting and temporary tattoos: Transform your kids into their favorite Halloween characters or creatures with face painting and temporary tattoos. They can choose from a wide range of designs and let their imaginations run wild.
d. Games and inflatable attractions: Community events often offer a variety of games and inflatable attractions suitable for all ages. From bounce houses to obstacle courses, there's something for everyone to enjoy.
e. Haunted trails or mazes: For an extra thrill, venture into haunted trails or mazes that are set up specifically for the event. Your kids will love the suspense and surprises lurking around every corner.
11. Witch's Kitchen
The Witch's Kitchen is a whimsical and creative Halloween-themed baking and decorating experience designed for kids and families. It's a place where little witches and wizards can get hands-on with making and decorating Halloween-inspired treats.
a. Baking Workstations: The Witch's Kitchen is set up with baking stations equipped with all the ingredients and tools needed for making Halloween treats. There may be various workstations for different recipes.
b. Guided Workshops: Professional bakers or hosts lead the kids and their families through a series of guided workshops. They provide instructions, tips, and tricks for creating spooky and delicious treats.
c. Halloween-Themed Recipes: Children have the opportunity to prepare Halloween-themed recipes, such as witch's broomstick cookies, mummy cupcakes, monster eyeball cake pops, or haunted gingerbread houses.
d. Decorating: Decorating is a big part of the Witch's Kitchen experience. Kids can unleash their creativity by decorating their treats with colorful icing, sprinkles, candy eyes, and other spooky decorations.
e. Storytelling: To add to the enchantment, some Witch's Kitchen events incorporate storytelling sessions with Halloween tales and legends.
f. Costumes and Props: Kids are often encouraged to come dressed in their Halloween costumes, and some Witch's Kitchen experiences may provide props like witch hats or wizard wands to enhance the magical atmosphere.
Take-Home Treats: At the end of the workshop, children can usually take home the treats they've created, which makes for delightful Halloween-themed snacks or gifts.
​The Witch's Kitchen is a fantastic Halloween activity for kids because it combines the joy of baking and creativity with the magic of Halloween. It allows kids to express themselves artistically, develop culinary skills, and enjoy delicious, spooky treats.
It's an interactive and memorable way for kids to celebrate Halloween, and it can also be a great family bonding experience.
To find a Witch's Kitchen experience in your area, you can check with local bakeries, cooking schools, or community centers that might offer such workshops during the Halloween season.
It's a delightful way for kids to get into the Halloween spirit while having a tasty and educational adventure.
12. Children's Theaters and Performance Centers
For a theatrical Halloween experience, consider taking your kids to children's theaters or performance centers. These venues often feature Halloween-themed plays, musicals, and interactive performances that are sure to captivate young audiences.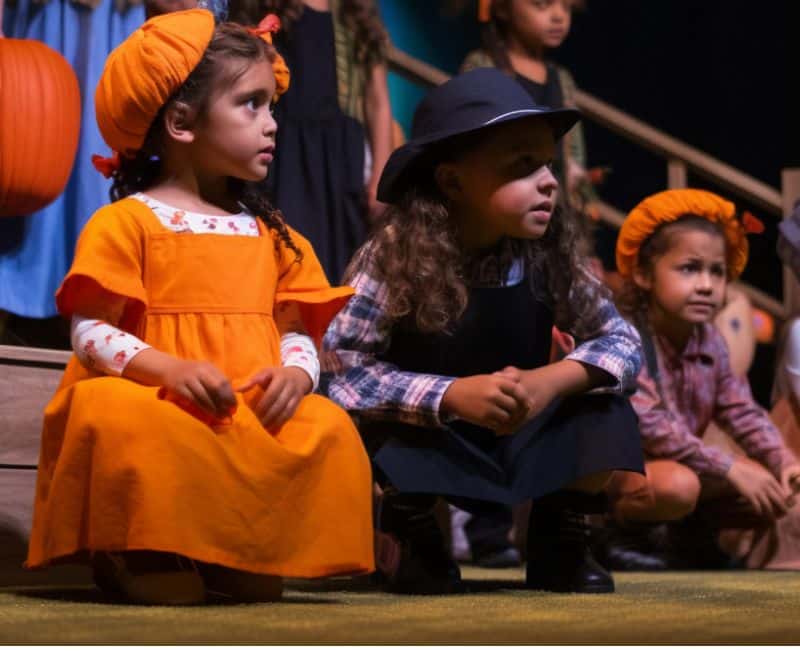 a. Halloween-themed plays or musicals: Immerse yourself in a world of magic and enchantment with Halloween-themed plays or musicals. Your kids can enjoy captivating performances while being transported to a world of ghosts, witches, and fantastical adventures.
b. Costume contests: Many children's theaters hold costume contests before or after performances. Encourage your kids to dress up as their favorite characters and potentially win prizes for their creativity.
c. Interactive storytelling: Engage in interactive storytelling sessions where your kids can actively participate in the narrative. They can become characters in the story or help solve spooky mysteries, making the experience more immersive and exciting.
d. Face painting: Enhance the theatrical experience by getting your kids' faces painted before the performance. Professional face painters can transform them into their favorite characters, bringing the story to life.
e. Trick-or-treating: Some theaters or performance centers organize trick-or-treating activities as part of their Halloween events. Your kids can collect treats from various stations, combining the joy of theater with the excitement of Halloween candy.
13. Non-Profit Organizations and Charities
Make a positive impact and enjoy Halloween fun by participating in events organized by non-profit organizations and charities. These events often raise funds for a good cause while providing a memorable experience for kids and families.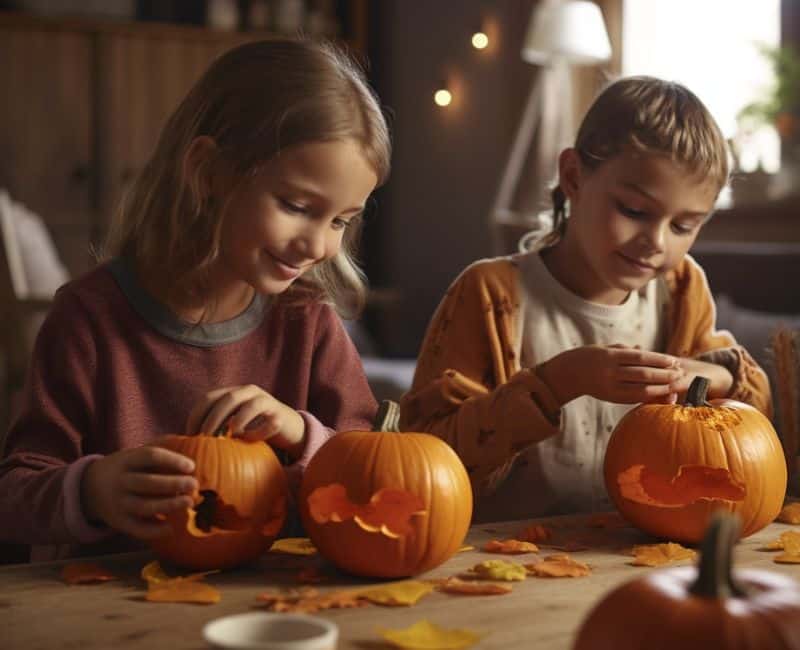 a. Halloween fundraisers: Support a charitable organization by attending their Halloween-themed fundraisers. These events often feature activities, games, and entertainment options for kids, ensuring a fun-filled day for a worthy cause.
b. Costume walks or runs: Lace up your sneakers and join costume walks or runs that raise awareness and funds for specific charities. This active and enjoyable activity allows your kids to participate in Halloween festivities while contributing to a meaningful cause.
c. Face painting and crafts: Enjoy face painting booths and craft stations, where your kids can get creative and have fun while supporting a charity. Funds raised through these activities often go towards the organization's programs and initiatives.
d. Pumpkin decorating contests: Show off your artistic skills by participating in pumpkin decorating contests organized by non-profit organizations. Your kids can let their creativity shine and have their pumpkins displayed for others to admire.
e. Trick-or-treating for a cause: Some non-profit organizations run special trick-or-treating events where participants collect donations or items for those in need. It's a wonderful way to teach your kids about the importance of giving back while having fun on Halloween.
My Thoughts On Where To Take Kids For Halloween
With these 13 fun places to take kids for Halloween, you're sure to create lasting memories and have a spooktacular time together as a family.
Whether you prefer outdoor adventures, interactive experiences, or educational outings, there's something for every family to enjoy this Halloween season.
So grab your costumes, embrace the festive spirit, and embark on a thrilling Halloween adventure with your kids!
More Halloween Related Posts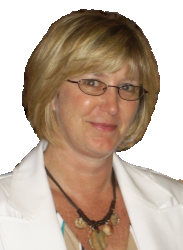 Latest posts by Yvette's Treasures
(see all)
Summary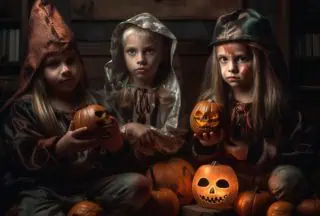 Article Name
Where To Take Kids For Halloween 13 Fun Places
Description
Get ready for a spooktacular adventure! Where To Take Kids For Halloween. Check out these 13 fun and family-friendly places from pumpkin patches to haunted houses. There's so much fun to be had!
Author