Last updated on
Best Gifts For The Knitter
Knitters are wonderful, creative people who design sweaters, scarves, blankets and other forms of coziness for their friends and loved ones to enjoy.  When it's time to shop for a gift for the knitter in your life you can never go wrong with needles or yarn, but what if you want something more special or unique for your knitter?  Here is a list of our favorite gifts for the knitter.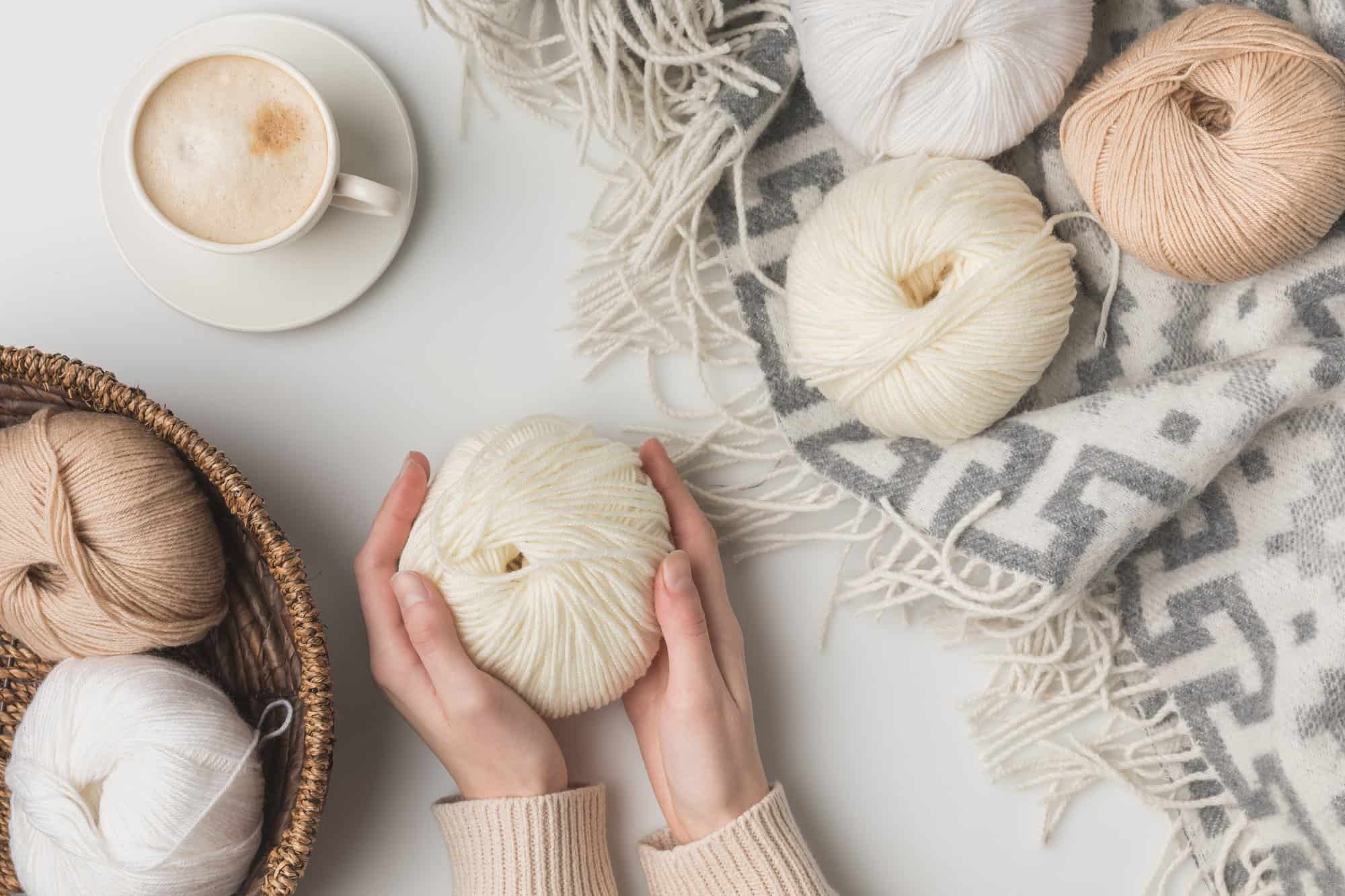 This post may contain affiliate links. I may receive commissions for purchases made through these links with no extra cost to you. These earnings help us keep this wonderful website going so that we can continue to bring you great gift ideas.
Knitting Storage Bag
BEST KNITTING BAG FOR YARN STORAGE. Portable, Light and Easy to CarryCHECK PRICE ON AMAZON
This best-selling yarn storage bag is essential for any knitter, whether novice or advanced.  The large sturdy linen bag is lined with cotton and has enough space for at least 10 skeins of yarn.
The knitting storage bag was designed to keep yarn organized and tangle free. It has 4 slits on top to  allow the yarn to be pulled at perfect tension. The slits are stiff enough so yarn won't pull out and pets can't get in!
The yarn bag has two inner pockets to hold scissors, phone, glasses, and five outer pockets to keep projects neat and organized.
Even though I highly recommended this popular knitting storage bag, there are some other great options available which you can see here if you're looking for something different  
---
Knitting Accessories Make Great Gifts For The Knitter
The following list of accessories are vital to knitters, but they also make for great, useful gifts.
Yarn Ball Winder
KnitPicks Yarn Ball WinderCHECK PRICE ON AMAZON
The yarn ball winder is a necessity for knitters and crocheters alike.  This tool takes heaps of tangled, messy skeins of yarn and transforms it into tightly organized balls.
The yarn ball winder is truly one of the best gifts for the knitter.  It attaches to any table with an easy-to-use clamping mechanism and each winder holds approximately 3.5 ounces of yarn.
---
Add Knitting Looms To Your List Of Great Gifts For The Knitter
This knitting loom kit consists of four round plastic knitting looms, a yarn needle and a loom kit.  The kit also includes instructions on how to knit a hat.
Each kit has looms that range in size from extra small to large.  The looms are made of durable plastic and come in a variety of bright neon colors.
Darice Round Plastic Knitting Looms, Set of 4 with 11-inch, 9-inch, 7-inch and 5-1/2 inch Sizes – Includes 1 Yarn Needle, 1 Loom Pick and a Clear Plastic Carrying CaseCHECK PRICE ON AMAZON
Related Post: 20+ Of The Best Unique Gifts For Grandma 
---
Addi Click Lace Short Tip Interchangeable Circular Knitting Needle System
addi Click Lace Short Tip Interchangeable Circular Knitting Needle System with Exclusive Blue CordsCHECK PRICE ON AMAZON
This addi click lace short tip kit contains eight lace short tips in different sizes.  The kit also includes five different length Skacel's pliable blue cords and an attractive carrying case.
A click connector also comes with the kit which allows for either storing or combining cords.
---
Basic Knitting Tools For Quick On The Go Repairs
56 in One Basic Sewing Knitting & Crochet Tools Accessories,CHECK PRICE ON AMAZON
This practical, easy to use knitting kit has everything you need for quick on the go repairs.
It is small, lightweight and compact making it easy to carry. It is very useful and will come in handy for knitters, DIY crafters and parents who want to teach their kids knitting or sewing.
This is definitely one those perfect gifts for a knitter if you're on a budget.
Related: 15+ Best Gifts For The Knitter All Under $25
---
Souarts Knitting Stitch Marker
These four counters are extremely useful and come in a pretty "velvet" bag. Counters are pretty, work well, and save a ton of time which is great if you're a busy mom.
Souarts Knitting Crochet Stitch Marker Row Counter Hand Crafts Tools Pack of 4pcsCHECK PRICE ON AMAZON
Related Post:  40+ Super Cool Gift Ideas For Mom
---
Gifts For The knitter – Blocking Mats For Knitting
Blocking Mats for Knitting | EXTRA THICK – with Grids Guaranteed to Align – Includes 100 Stainless Steel T-Pins and 60-Inch Sewing Tape MeasureCHECK PRICE ON AMAZON
These improved blocking mats come in a set of 9 and are extra thick. They have exact grid lines with 1-inch squares.
Every set of 9 blocks is printed individually to guarantee perfectly aligned grids for any orientation.
They are also heat and steam resistant great for use with steam blocking and drying your crafting project.
Gifts For The Knitter
If you're looking for the best gifts for the knitter in your family then you can't go wrong with any of these wonderful choices.