This post may contain affiliate links. I may receive commissions for purchases made through these links with no extra cost to you. See full disclosure.
Last Updated on May 31, 2022 by Yvette's Treasures
Best Hot Wheels Supercharged Shark Vehicle
Radio-controlled monster trucks are a win-win for kids. Don't you agree? Of course, games and playsets are also safe bets. Many parents (including me) have their eyes on toy sets that are appealing, leading-edge, and that can keep the children hooked. The Hot Wheels Supercharged Shark Vehicle review certainly makes it on to that list.
The Hot Wheels rc supercharged shark is no ordinary radio-controlled truck. It is pretty much a beast. The truck is truly designed in the form of a shark. What's more, your supercharged munchkin will have a rocking time putting the shark into play. Why just race the big fat shark on the land when the fish-like toy can stream through the water, rally on the grass, and hurtle on any terrain.
Hot Wheels R/C Supercharged Shark Vehicle

The Hot Wheels Supercharged Shark Vehicle will be a sure winner this festive season. Other popular Hot Wheels toys that kids will also love, and that can be added to their collection are the Hot Wheels Techmods and the Hot Wheels City Robo T-Rex Ultimate Garage.
Why Is the Hot Wheels Supercharged Shark Vehicle A Hot-Seller?
Curious to learn about the features of this stellar radio-controlled vehicle? Here is a quick tour of the attributes that makes the toy a kid's favorite.
The shark is certainly a bit large in size. However, it does streak in speed without any bumps. Kids have fun steering the creature vehicle. Wondering if the steering is easy and hassle-free? It surely is! The dynamic steering add-on makes navigating the shark very easy to handle.
It is a no-brainer that

Hot Wheels

vehicles ride on the land seamlessly. But, toys do bump into stumbling blocks and fail to move in rough terrains. The Hot Wheels Supercharged Shark Vehicle is quite an exquisite toy. Your kid can race the shark in water, land, rock, sand, and pretty much anywhere. The shark vehicle truck is smooth riding on all terrains. Isn't that awesome?
Think about a real-life shark. The fins play a big role in helping the big fish swim with ease, right? The Supercharged Shark Vehicle is not much different. But in this instance, the wheels play the part of fins. The dorsal fins help propel the vehicle and help it move very fast.
The toy is optimally remote-operated. What's not to love about a radio-controlled shark? There is also a button to make the shark gnaw and chomp when it's streaming towards it's prey. Your little one can also control the shark's jaws to crack open wide or stay shut. Just a quick tap on the button to control the moving jaws is all that's needed.
Hot Wheels R/C Supercharged Shark Vehicle

My Thoughts  
Presents like the Hot Wheels Supercharged Shark Vehicle review fills kids with glee and joy. Setting up playdates and going on adventure spins with friends is a very exciting affair with a smart, remote-controlled, and attractive-looking shark.
Other Gift Ideas You Might Enjoy!
Summary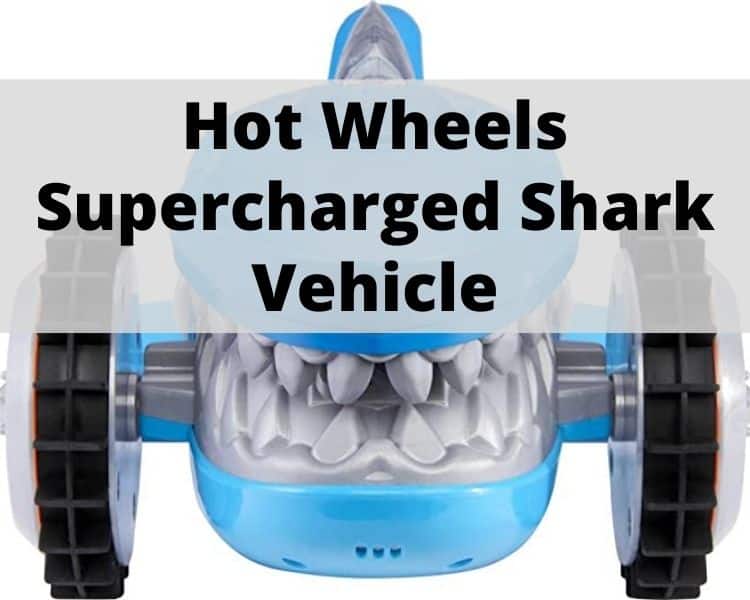 Article Name
Hot Wheels Supercharged Shark Vehicle Review
Description
The Hot Wheels Supercharged Shark Vehicle Review with give you an outline of all the key features for this cool shark radio controlled vehicle.
Author