This post may contain affiliate links. I may receive commissions for purchases made through these links with no extra cost to you. See full disclosure.
Last Updated on March 22, 2023 by Yvette's Treasures
Easter Scavenger Hunt For Tweens
Quick Links to Info on this Page
Are you looking for a fun and creative way to keep your tweens entertained during the Easter holidays? Why not create an Easter scavenger hunt for tweens that will have them racing around your living room or backyard searching for hidden Easter treats, trinkets and surprises?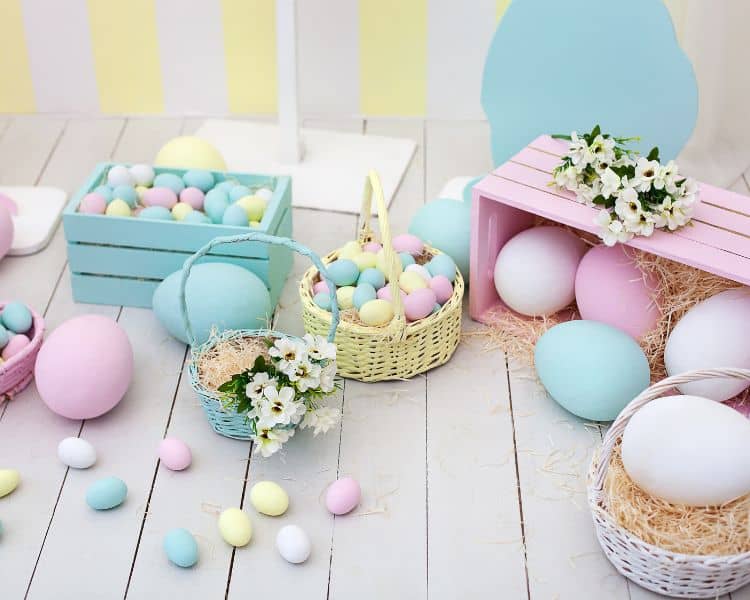 This scavenger hunt can easily be tailored to accommodate kids of all ages, not only the older kids, as well as provide additional entertainment by incorporating various activities along the way.
Having a birthday party? Why not incorporate these fun Easter party games into the scavenger hunt for family and friends.
From discovering precious eggs on a nature walk to putting together challenging riddles, this is sure to become a family favorite each year!
Read on for some helpful tips and advice on organizing an Easter-themed scavenger hunt with plenty of Easter surprises.
How To Plan An Easter Scavenger Hunt For Tweens
Easter is a holiday that is enjoyed by people of all ages, but it can be especially fun for tweens. One way to make Easter more exciting for tweens is to plan an Easter scavenger hunt.
A scavenger hunt is a game in which players are given a list of items to find or clues to solve, leading them to the bigger prize.
In this article, we will provide you with a step-by-step guide on how to plan an Easter scavenger hunt that tweens will love.
Step 1: Determine the scope of the scavenger hunt
The first step in planning an Easter scavenger hunt for tweens is to determine the scope of the hunt. How many participants will be involved? How many clues will you need? How long will the hunt last?
These are all important questions that you will need to answer before you begin planning the scavenger hunt.
Step 2: Choose a location
The next step is to choose a location for the scavenger hunt. Will it be an indoor Easter scavenger hunt or will it take place outdoors?
If it is an outdoor scavenger hunt, consider the weather and the terrain. If it is an indoor scavenger hunt, think about the space available and the potential hiding spot for clues.
Step 3: Create a theme
Creating a theme for your scavenger hunt can make it more exciting for tweens. You could choose an Easter theme, such as an Easter bunny or eggs, or you could choose a more general theme, such as pirates or superheroes.
Once you have chosen a theme, you can start thinking about the printable clues and fun prizes that will fit with that theme.
Step 4: Write clues
The clues are the most important part of any type of scavenger hunt. They should be challenging, but not too difficult for tweens.
You can use riddles, puzzles, and hidden objects to create your clues. Make sure that the first clue leads to the next one and that the last clue leads to the grand prize.
If you're not sure what clues to make, here are a few ideas to get you started. I've used these myself for my son's scavenger hunt and they worked brilliantly. These are for indoor scavenger hunts and here are some for outdoor scavenger hunts. Enjoy!
Step 5: Hide the clues
Once you have written the clues, it's time to hide them. Make sure that they are hidden in locations that are accessible to tweens and that they are not too difficult to find.
You can use tape or string (this twine rope works really well) to mark the locations of the clues or you can simply leave them in plain sight. Oh, they are going to have so much fun!
Step 6: Set the rules
Before you start the scavenger hunt, it's important to set the rules. Make sure that everyone understands the rules and that they are fair for everyone.
You may want to set a time limit for the scavenger hunt and specify what happens if someone finds the final prize before everyone else.
Step 7: Choose the prize
The final step in planning an Easter scavenger hunt for tweens is to choose the prize. The prize should be something that will motivate tweens to participate in the scavenger hunt.
It could be a Easter basket full of chocolate eggs or a gift card to a favorite store. Whatever you choose, make sure that it is age-appropriate and fits with the theme of the scavenger hunt.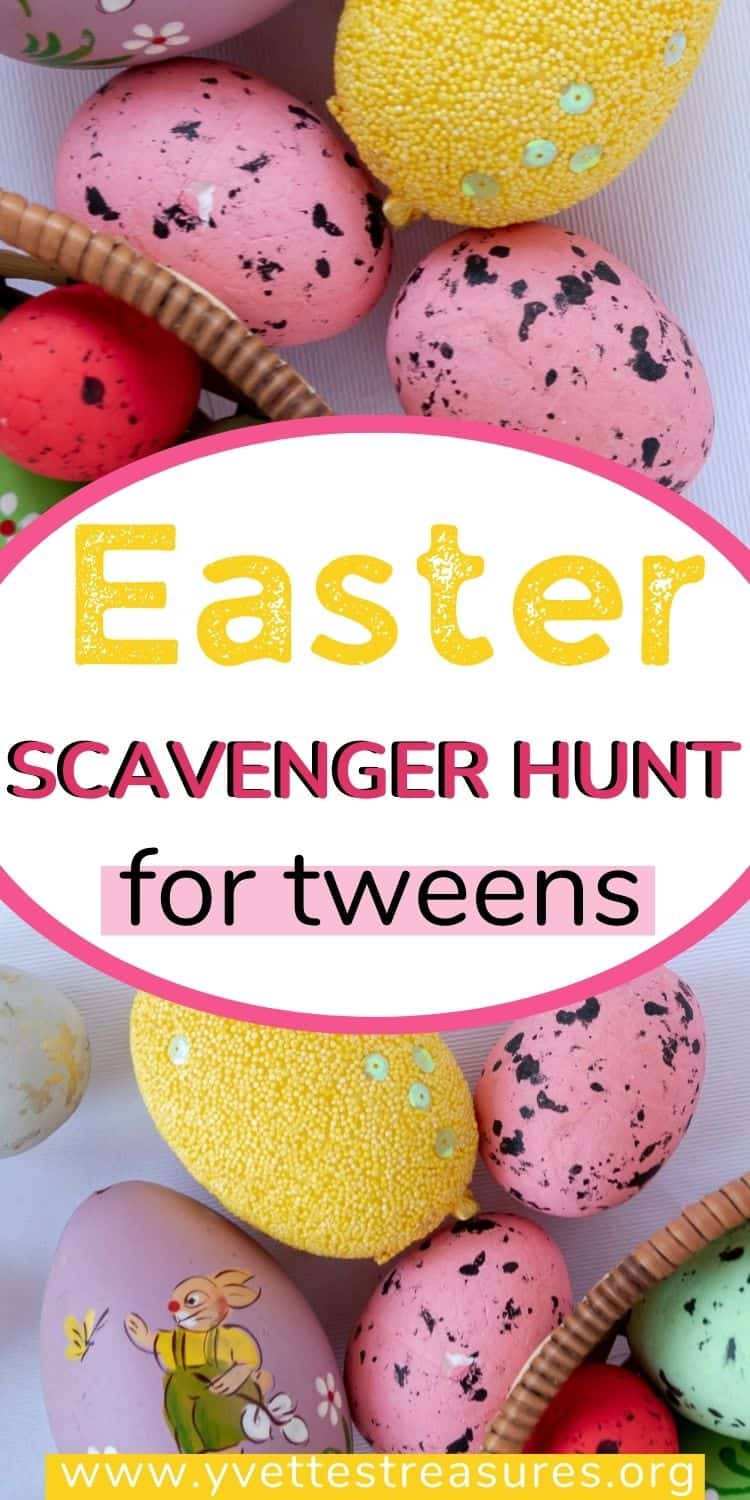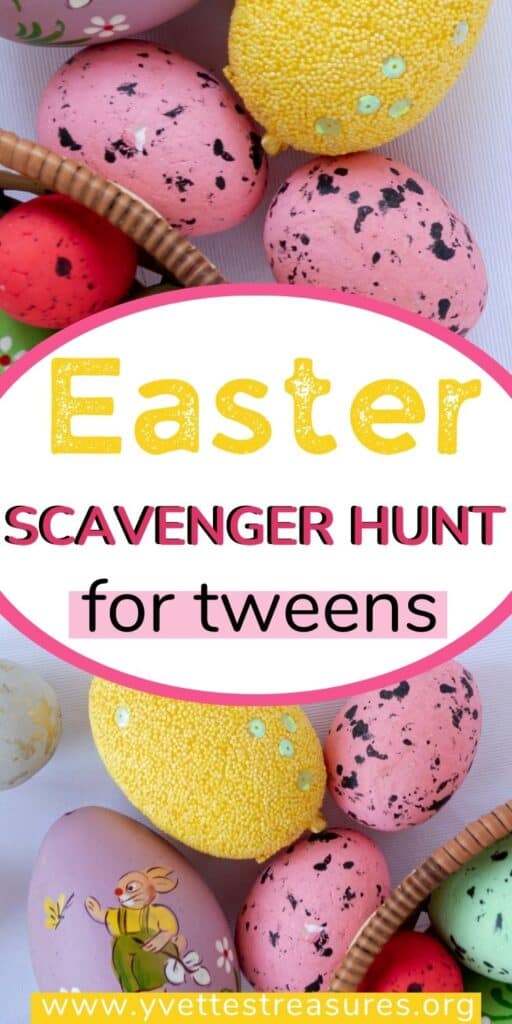 Tips For A Successful Easter Scavenger Hunt
Keep the clues age-appropriate and challenging, but not too difficult.
Make sure that the hiding places for the clues are accessible and safe for tweens.
Choose a prize that will motivate tweens to participate in the scavenger hunt.
Set a time limit for the scavenger hunt and make sure that everyone understands the rules.
Have fun! Easter is a time for celebrating and enjoying time with friends and family.
Fun Easter Egg Hunt Ideas
1. Glow-in-the-Dark Easter Egg Hunt:
For this Easter egg hunt, you'll need plastic Easter eggs that glow in the dark, which you can find at most craft stores. I find that these glow in the dark eggs work well.
Hide the eggs in a dark room or outside after sunset, and provide players with flashlights. This is a great way to add an extra level of excitement and makes the hunt even more challenging.
2. Puzzle Piece Easter Egg Hunt:
To make this scavenger hunt more challenging, create a puzzle with an image on it and hide the pieces inside the plastic eggs. Players will have to collect all the eggs and assemble the puzzle before they can claim their prize.
3. Golden Easter Egg Hunt:
Paint a few of the plastic Easter eggs gold or if you don't have time, get them here. Then hide them with the regular ones. The player who finds the most golden eggs wins a special prize.
4. Scavenger Hunt:
Create a list of clues or riddles that lead players to each egg. Each clue should have a hint or piece of information that will help them find the next egg.
This makes the Easter egg scavenger hunt more challenging and requires more problem-solving skills.
5. Reverse Easter Egg Hunt:
Instead of hiding eggs for the players to find, have players hide the eggs for each other. Each player can hide a few eggs and then write clues or give hints to help the other players find them.
This can be an interactive and fun way to involve everyone in the Easter egg hunt.
What You Will Need To Plan And Organize An Easter Scavenger Hunt
Let's start with the clue cards: These will contain the clues that lead the players to the next location. You can either make these yourself or purchase pre-made ones.
Easter baskets: These are the

perfect containers

for holding the Easter eggs and other goodies that the players will collect during the Easter hunt.
Easter eggs: These can be filled with a small toy, candies, or even money. They are a fun and traditional element of any Easter scavenger hunt.
Prizes: You'll need a small prize for the winners or for everyone who participates. You can choose to give out small toys, candy, or even gift cards to your local store.
Pen and paper: These will be necessary for the players to write down their answers to the clues, or to make notes about the locations of clues.
Tape or string: These can be used to hide the clue cards or mark the locations where the eggs are hidden.
Easter-themed decorations: These can add to the festive atmosphere of the scavenger hunt. You can choose to decorate with

Easter-themed balloons

, streamers, or

banners

.
Optional: If you want to make the scavenger hunt more challenging, you can also include some puzzles or riddles that the players will need to solve in order to find the next clue.
Remember to have fun and be creative while planning your Easter scavenger hunt. With a little effort, you can create a memorable and enjoyable experience for tweens of all ages.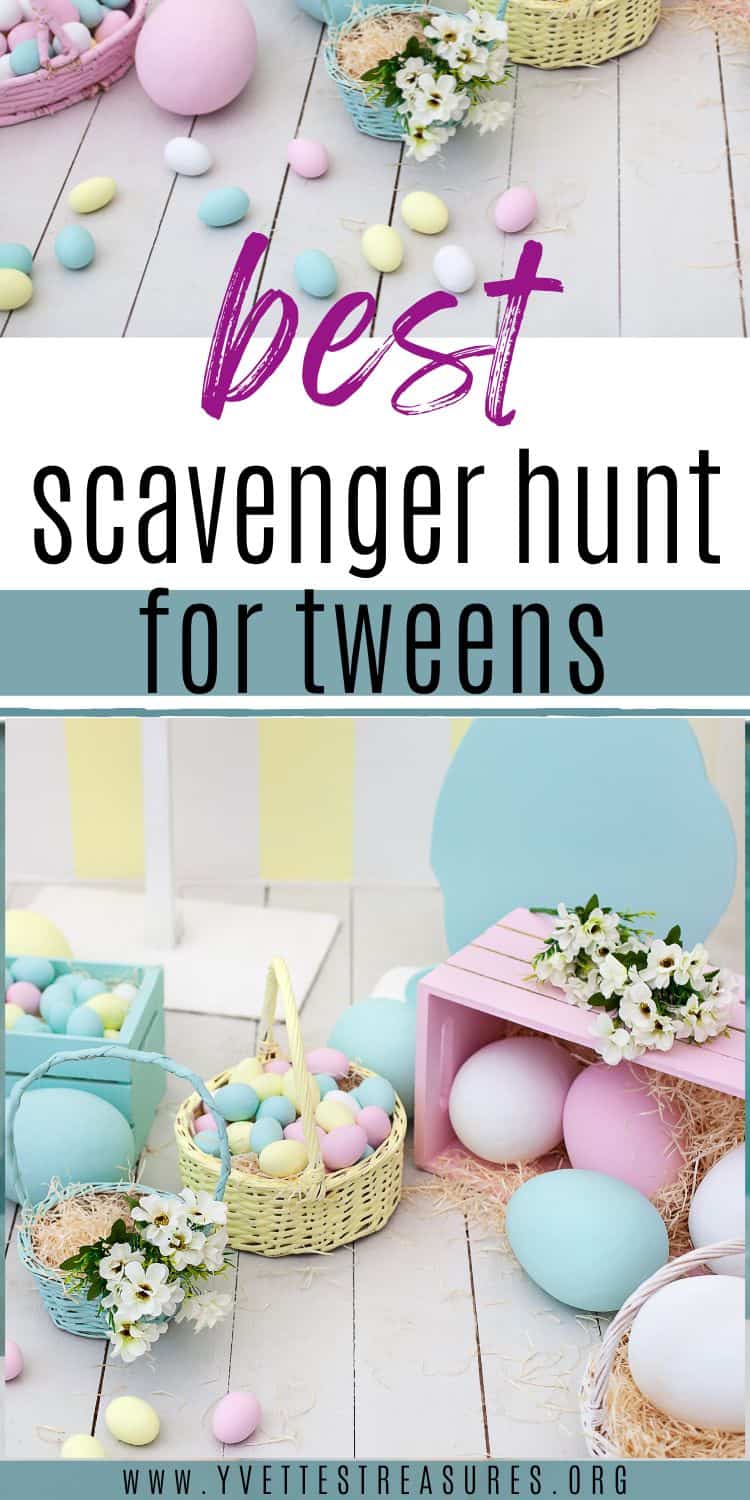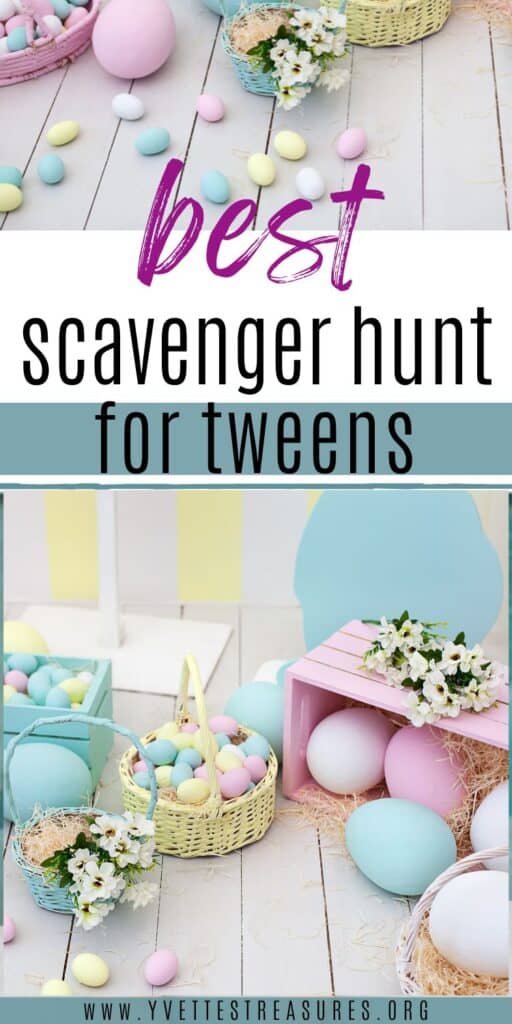 Easter Scavenger Hunt Riddles For Tweens
Here are a few ideas of riddles to get you started. Remember to adjust the difficulty of the riddles based on the age and skill level of the participants, and have fun!
Riddle: Hop, hop, hippity hop, look for eggs under this tabletop. Answer: Table
Riddle: I'm small and I'm round, and I'm hidden quite well. Look for me where you wash, dry, and yell! Answer: Laundry room
Riddle: I am filled with treats, and I'm hidden quite low. Look under a place where you often go. Answer: Couch
Riddle: I am cold and white, and you can find me in the night. Look for me where the frost forms, and you'll see me shining bright. Answer: Freezer
Riddle: I'm not a tree, but I grow in the yard. Look for me where the grass is green and the flowers are starred. Answer: Bush
Riddle: I'm not a book, but I have a spine. Look for me where you relax and recline. Answer: Sofa
Riddle: I am shiny and round, and I'm hidden quite well. Look for me where you brush, floss, and gel. Answer: Bathroom sink
Easter Scavenger Hunt Clues:
Clue: I'm the first place that you should go, where coats and shoes are kept in a row. Answer: Closet
Clue: I'm a place where you like to cook, where you bake cakes and read a cookbook. Answer: Kitchen
Clue: You're getting close, don't be a quitter. Look for me where you eat your dinner. Answer: Dining table
Clue: You're on the right track, you're doing just fine. Find me where you sleep and unwind. Answer: Bedroom
More Fun Easter Activities For Tweens
If you're looking for even more fun activities to add to your Easter holidays then these Easter coloring pages will certainly do the trick!
Download them instantly and you will be coloring in no time at all. 65 Pages of Easter fun you can color with friends and family. Make as many copies as you want and enjoy!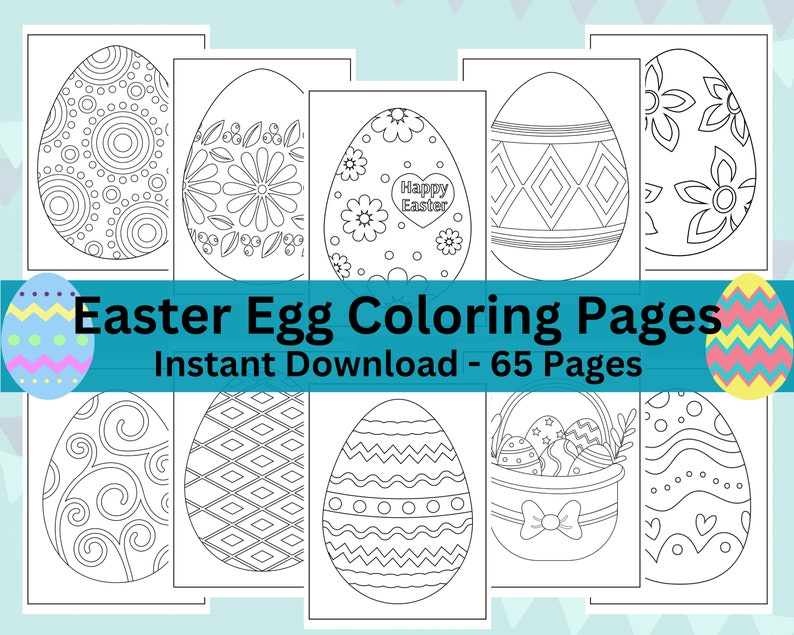 Easter Coloring Pages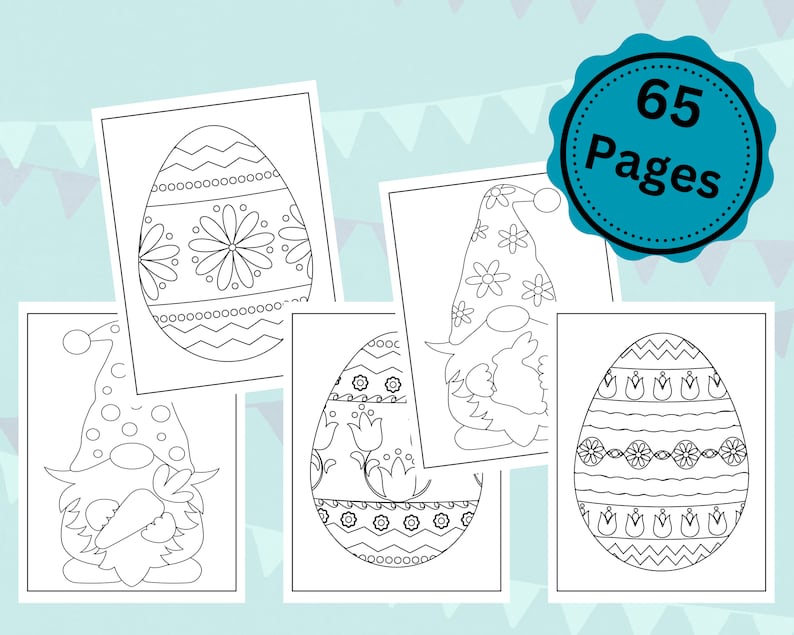 Easter Coloring Pages

My Thoughts On Fun Easter Scavenger Hunt Ideas
Planning an Easter scavenger hunt for tweens can be a fun and exciting way to celebrate the holiday. By following these simple steps and tips, you can create a scavenger hunt that will keep tweens entertained and engaged. Remember to keep the clues challenging
Related Easter Posts You Might Enjoy!
Summary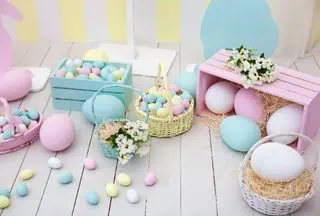 Article Name
Fun Easter Scavenger Hunt For Tweens With Creative Clues
Description
Fun Easter Scavenger Hunt for tweens. Whether it be indoor scavenger hunts or outdoor scavenger hunts these clues will create loads of fun.
Author