This post may contain affiliate links. I may receive commissions for purchases made through these links with no extra cost to you. See full disclosure.
Last Updated on January 15, 2023 by Yvette's Treasures
Easy Chicken Recipes For Valentines Day
Are you looking for the perfect dishes for a romantic dinner for Valentine's Day? Whether you're planning a cozy night in or a dinner date with your special someone, there's no better way to show your love than with delicious chicken dishes.
From Valentine cocktail recipes to the best part – the perfect dish – these easy chicken recipes for Valentines day will make your special occasion even more memorable. With these delicious recipes, your Valentine's Day will be full of love and flavor!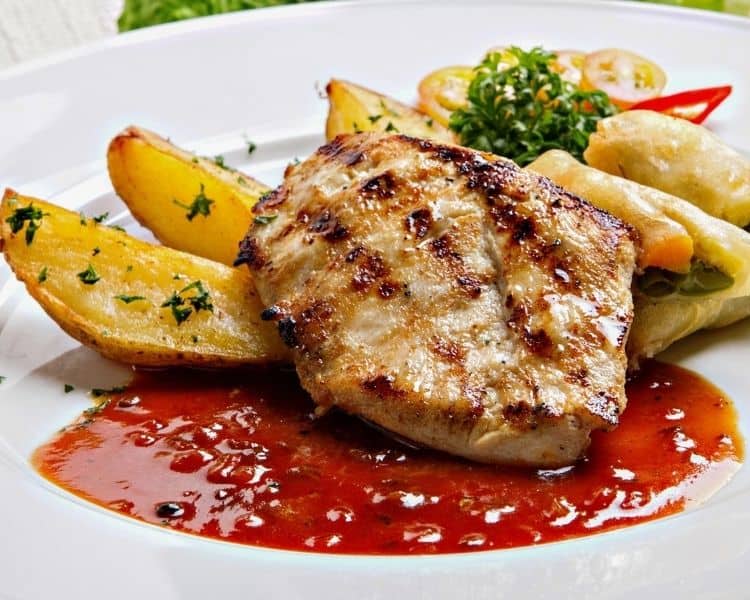 Why Chicken Dinner Recipes For Valentine's day?
Valentine's Day is a special day for couples to celebrate their love. It is a time to show your appreciation and love for your partner, and what better way to do that than to cook a delicious chicken dinner together?
Chicken is a versatile ingredient that can be used in a variety of recipes to create a romantic and memorable meal. You can choose to make a classic comfort dish like chicken parmesan or a modern take on the traditional like grilled chicken with roasted vegetables and fingerling potatoes or sun-dried tomatoes with fresh basil.
You can even get creative and make a unique dish like a stuffed chicken with a creamy tomato sauce. No matter what your tastes, there is sure to be a chicken dinner recipe that will make your Valentine's Day meal special.
Chicken is also a healthy option for a Valentine's Day dinner. It is packed with protein, vitamins, and minerals, making it a great option for a healthy meal. You can also add a variety of vegetables to make the meal complete and even more nutritious.
Whether you want to recreate a traditional dish or create something completely new, chicken dinner recipes for Valentine's Day are sure to make your romantic evening special.
They are also easy to prepare, therefore spending less time in the kitchen so you can spend more time enjoying the meal with your partner. So grab your ingredients and get ready to make a delicious chicken dinner just for two.
#1 Instant Pot Lemon Garlic Chicken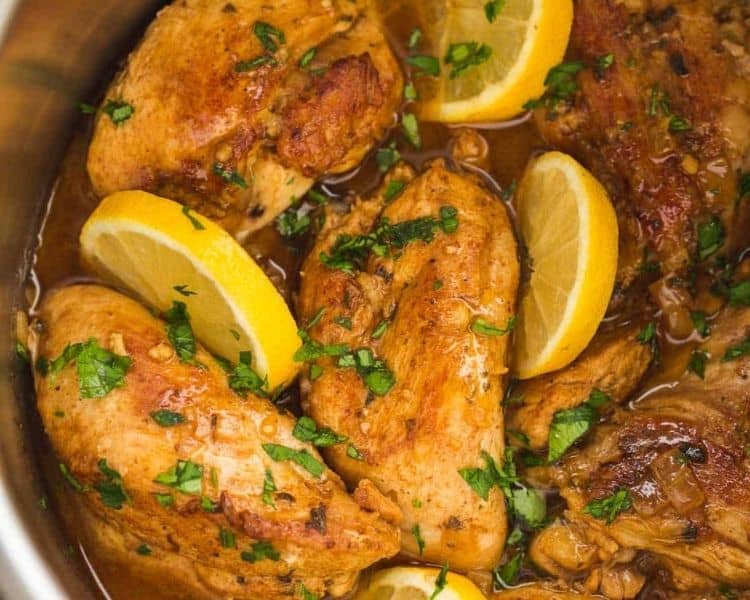 Instant Pot Lemon Garlic Chicken recipe is creamy, zesty, and delicious recipe. It is such an easy dish to make and it takes less than 30 minutes to be ready!
VIEW RECIPE
---
#2 Mongolian Chicken Stir Fry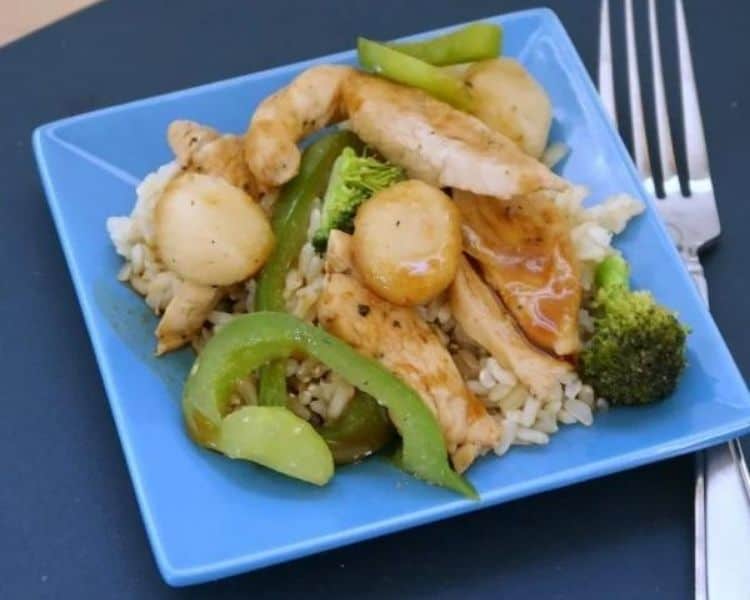 There are few things as easy as a stir-fry dinner. When you factor in how fast you can make it along with how many variations available, it can easily be a go-to dish once or more a week. Try this copy-cat Mongolian Grill Sauce that we really like.
VIEW RECIPE
---
#3 Marry Me Chicken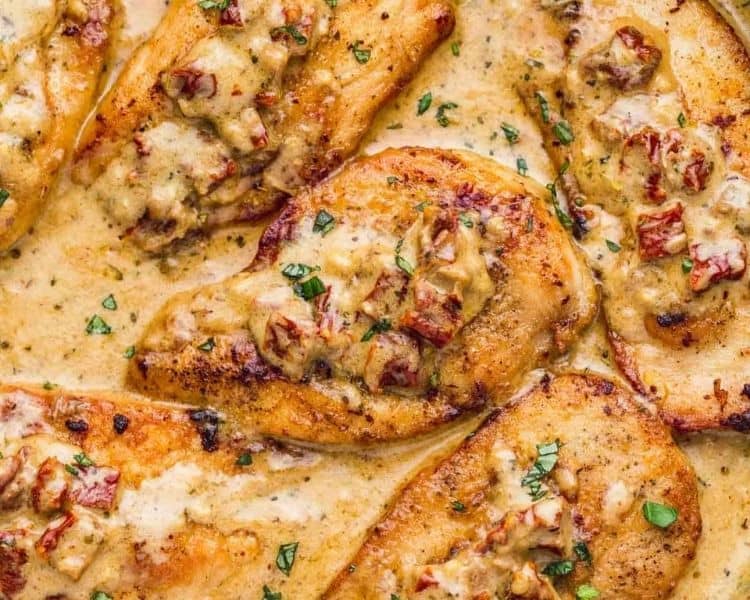 Marry Me Chicken is creamy, juicy, and full of flavor! It's said that this chicken dinner is so good that if you cook it for your partner, he will propose to you! A romantic meal that's perfect for Valentines dinner!
VIEW RECIPE
---
#4 Baked Chicken Caprese
You'll love this EASY baked chicken Caprese recipe. It's juicy and flavorful, yet healthy, made with simple ingredients, and ready in just 30 minutes!
VIEW RECIPE
---
#5 Authentic Chicken Korma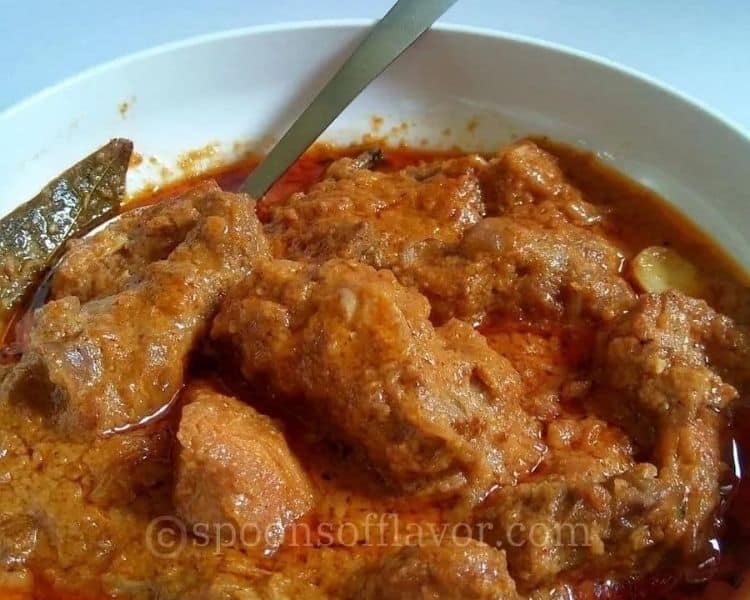 Juicy chicken pieces in an unforgettably rich, mild, fragrant gravy – this authentic chicken korma is one of the BEST recipes you can try.
VIEW RECIPE
---
#6 Drums Of Heaven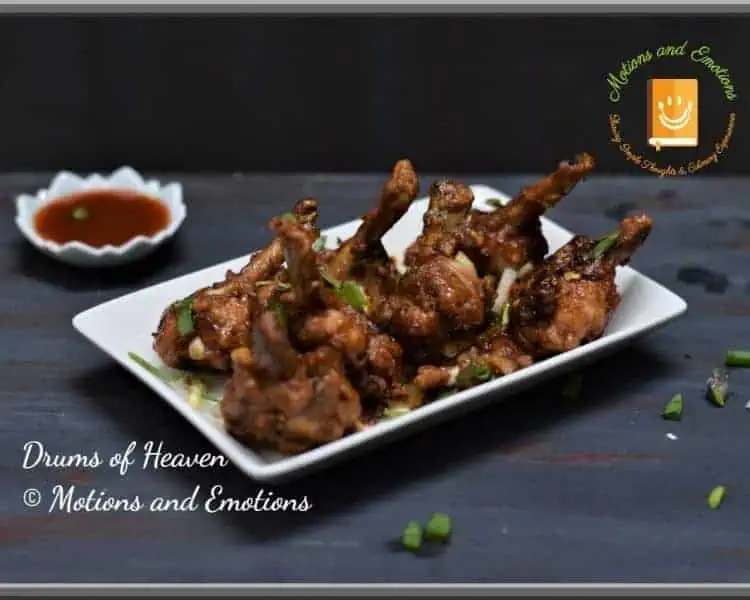 Drums of Heaven is a popular Indo-Chinese starter, where chicken lollipops are tossed in a sweet and spicy sauce.
VIEW RECIPE
---
#7 Instant Pot Whole Chicken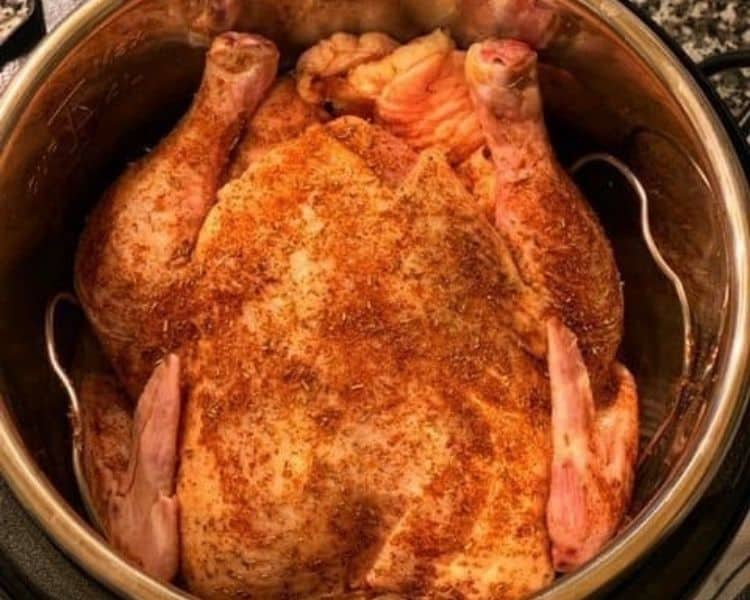 Wondering how to cook a whole chicken in an Instant Pot? This Easy Instant Pot Whole Chicken recipe is so easy to follow, and such a game changer for meals!
VIEW RECIPE
---
#8 Apple And Onion Chicken Casserole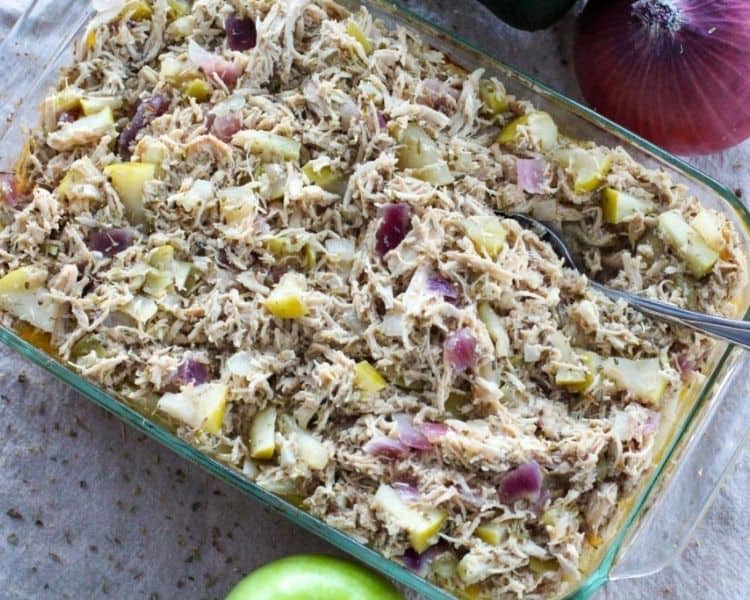 For a comfort food, Valentine's Day meal, make this apple 'n onion chicken casserole! Perfect for Keto, Paleo, Whole 30 and those trying to eat healthy. This delicious meal won't interferer with your goals.
VIEW RECIPE
---
#9 Easy Baked Cornish Hens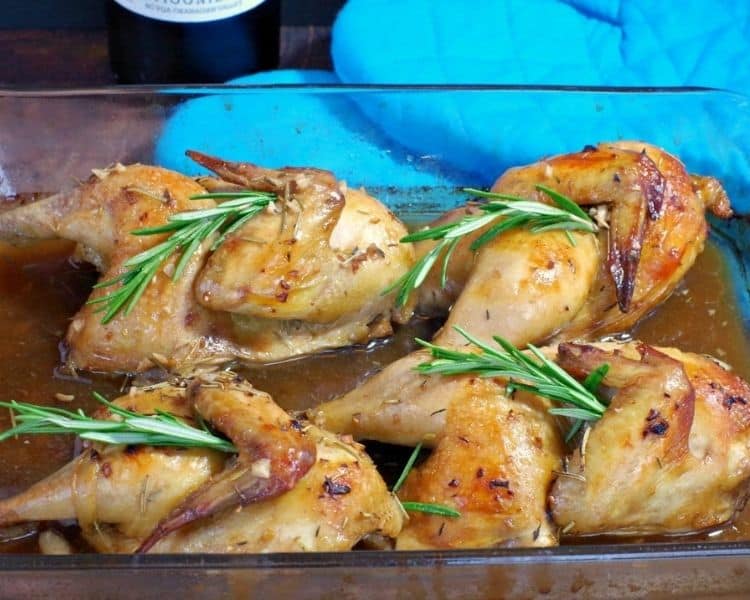 These Easy Baked Cornish Hens recipe with Rosemary Wine Sauce are the perfect date night recipe, Valentine's day, birthday dinner, Thanksgiving dinner, Christmas dinner or fancy enough for a dinner party.
This recipe is also economical, simple, easy to make, Weight Watchers friendly @ only 2 WW points on the blue plan and can be made in advance.
VIEW RECIPE
---
Which Cocktails Can You Serve With Chicken Dishes?
Valentine's Day is the perfect opportunity to indulge in a romantic dinner with your loved one. While a main course of chicken is a classic meal for such a special occasion, it can be made even more memorable with the perfect cocktail accompaniment.
Whether you're looking for an simple recipe or a more complex, yet still simple meal, there are plenty of options for a romantic pairing. For light and easy dinners, try a fresh and fruity Aperol Spritz. Its slightly bitter taste and vibrant hue make it the perfect accompaniment to any chicken dish.
Or, for something a bit more indulgent, a classic French Martini with its notes of raspberry and vodka pairs perfectly with a rich, creamy chicken dish.
If you're looking for something a bit more complex, yet still simple, try a classic Cosmopolitan. This zesty and refreshing drink is the perfect accompaniment to a light and flavorful chicken dish.
Or, for a more daring pairing, a Mango Margarita adds a spicy kick to any romantic meals. Whichever cocktail you choose to pair with your main course, it's sure to make your Valentine's Day dinner even more memorable.
With the perfect accompaniment to your chicken dish, you'll enjoy a romantic and delicious meal that's sure to be a hit.
#10 Mushroom Chicken Recipes For Valentines Day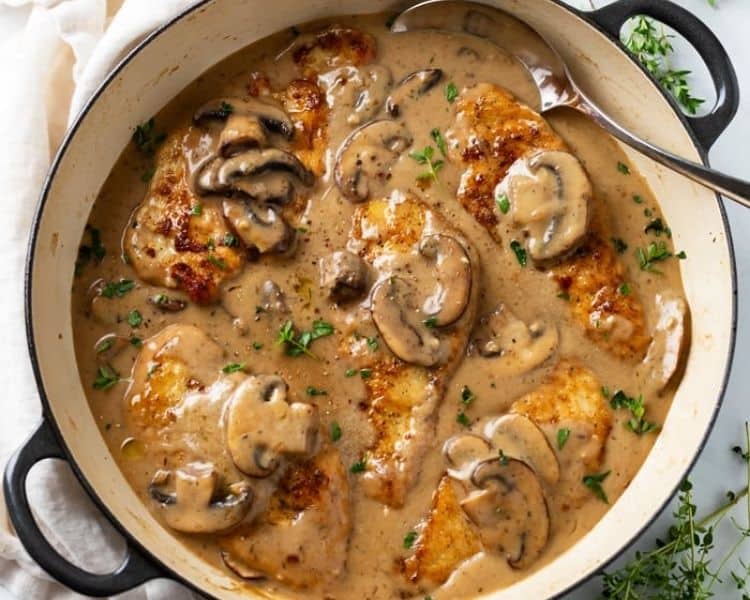 This mushroom chicken recipe has juicy chicken that's smothered in a thick and creamy mushroom sauce that encompasses the flavor and consistency of gravy.
VIEW RECIPE
---
#11 Piccata Milanese With Piccata Sauce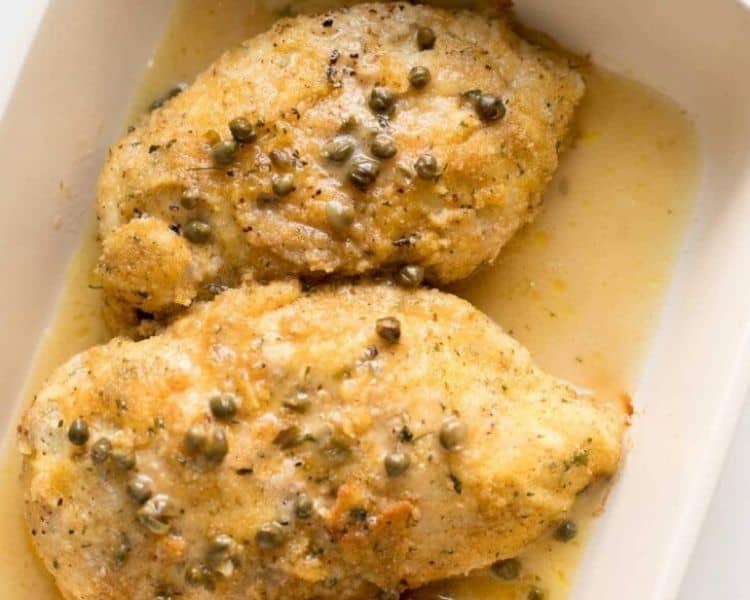 Piccata Milanese is such a simple, flavorful chicken dish. The easy and amazing Piccata Sauce is made with olive oil, butter, lemon juice, wine and capers.
VIEW RECIPE
---
#12 Instant Pot Chicken Cacciatore Recipe For Valentines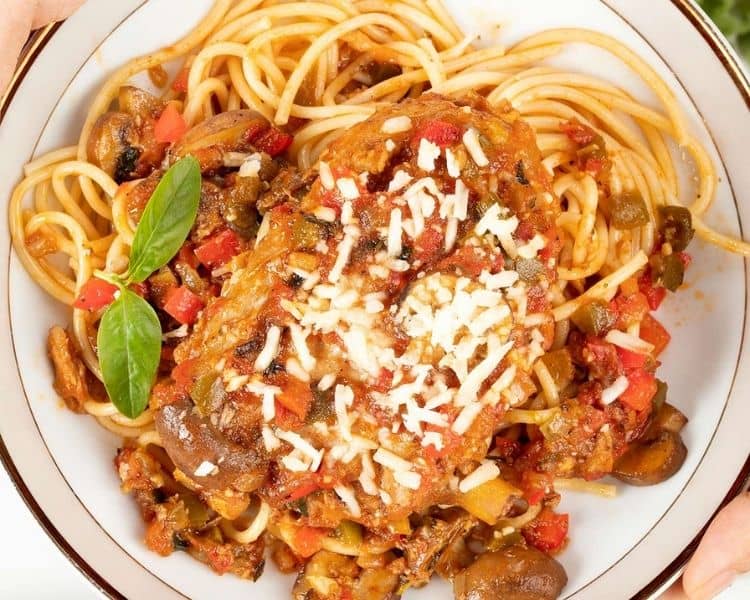 When it comes to mouthwatering dishes for a special night, this instant pot chicken cacciatore fits the bill. It's delicious and saucy, with a touch of red wine vinegar to accentuate its deep Italian flavors.
VIEW RECIPE
---
#13 Creamy Italian Chicken Dinner Recipe
This creamy Italian chicken is bursting with delicious flavors that the whole family will love! It can easily be made in the Instant Pot or can be adjusted for the slow cooker.
VIEW RECIPE
---
#14 Lemon Balsamic Chicken with Rosemary Sauce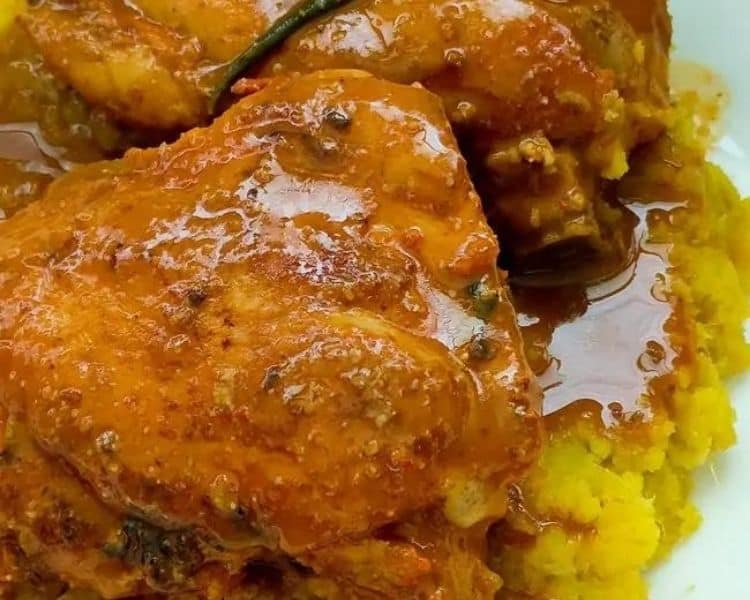 Lemon balsamic chicken with rosemary sauce is a healthier alternative to chicken and gravy over mashed potatoes. Serve this spicy braised chicken and sweet potato mash with the luscious gravy for a romantic yet healthy dinner!
VIEW RECIPE
---
Conclusion Of Easy Chicken Recipes For Valentines Day
Chicken dishes can make a great main course for Valentine's Day. From boneless skinless chicken breasts to chicken thighs, there are a variety of delicious recipes that can be made in a hot skillet for a romantic dinner.
Adding ingredients like parmesan cheese and heavy cream can really make the dishes special and rival any fancy restaurant. From sweet and savory to bold and spicy, these recipes offer something for everyone. With any one of these easy chicken recipes, you can have the perfect Valentine's Day dinner in no time!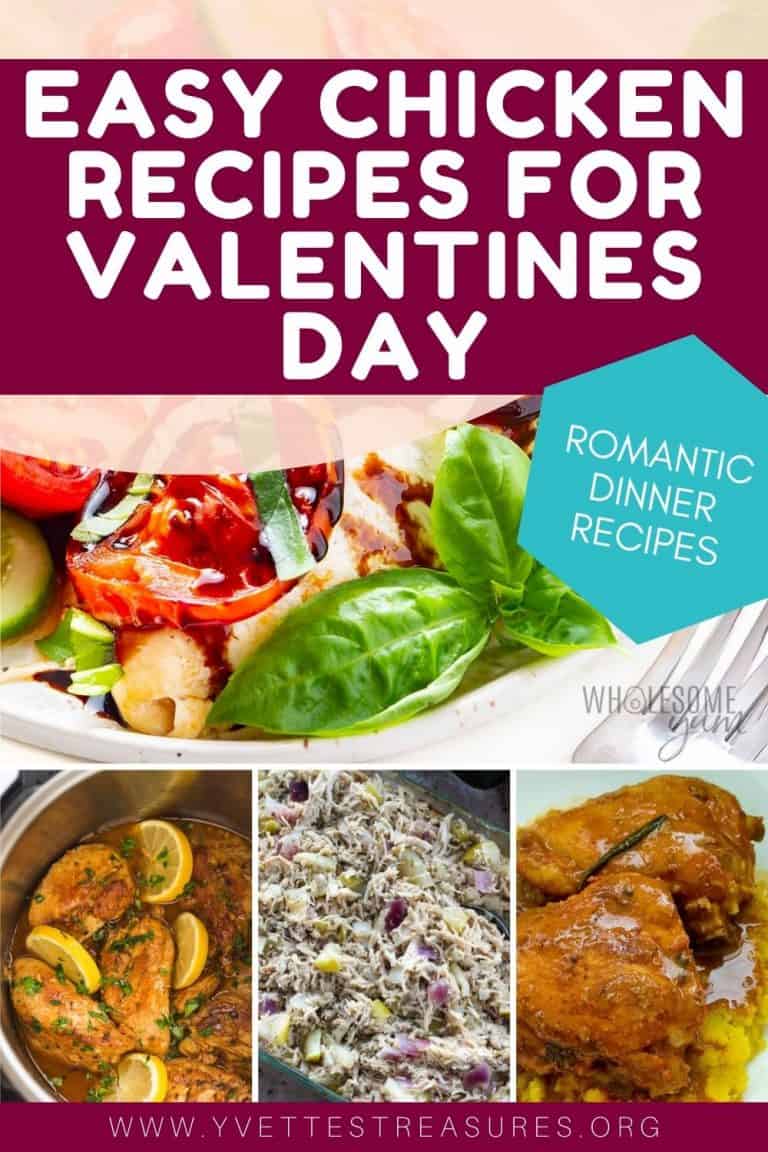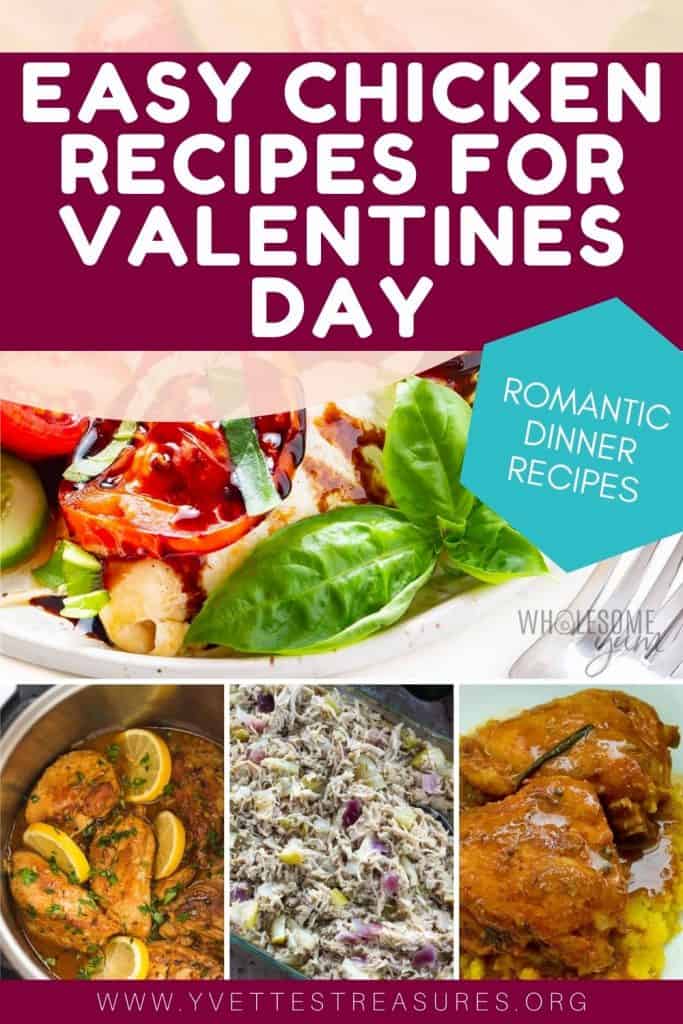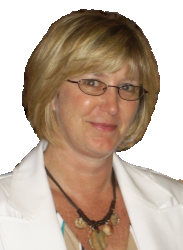 Latest posts by Yvette's Treasures
(see all)
Summary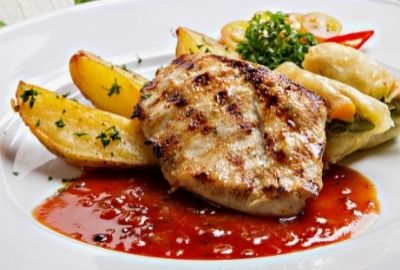 Article Name
14 Easy Chicken Recipes For Valentines Day
Description
Looking for a fun and easy dinner idea? Why not try one of these easy chicken recipes for Valentines Day! They are all simple to make, and sure to please. So relax and enjoy your special evening together – dinner is taken care of!
Author