Last updated on
Candylocks Collectible Surprise Dolls Have Cotton Candy Hair
Spin Master seems to be doing really well at the Toy Fair this year.  Their Candylocks collectible surprise dolls are predicted to be one of the most in demand toys for girls in 2019.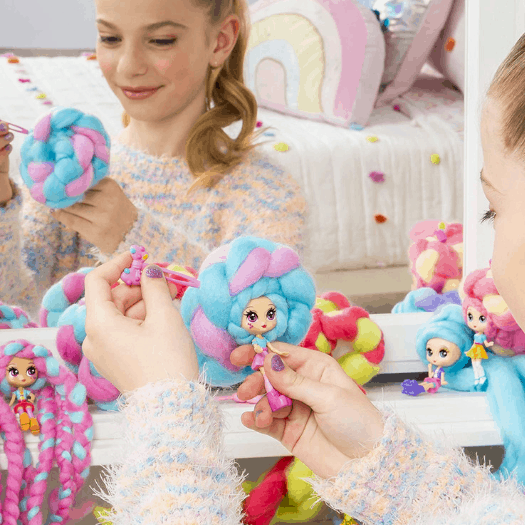 This post may contain affiliate links. I may receive commissions for purchases made through these links with no extra cost to you
The new Candylocks toy for girls has 15 inches of soft, colorful cotton candy inspired hair.  Although the hair is soft, it is also very strong.  You can easily create wild and crazy hairdos, buns, pony tails or braids. 
Have fun and see how many different hairstyles you can create.  Each of the 15 scented collectible dolls have a different cotton candy smell.
Where To Buy Candylocks Collectible Surprise Dolls
The Candylocks collectible dolls are so popular and should be available at most big stores.  Should you prefer to buy online, Amazon is still your best bet. 
Their prices are always competitive and usually lower than the rest.  Why not get them on Amazon Prime so that you can get free shipping. If you don't have Amazon Prime, you can sign up here for a 30-day free trial. 
Candylocks, Scented Collectible Surprise Doll with Accessories for Ages 5 & Up
Tell Me More About These Awesome Collectible Surprise Dolls
In phase 1 there are 25 different Candylocks collectible surprise dolls.  All Candylocks dolls come with different accessories to help you create the perfect hairstyle.
Each Candylocks surprise doll is packed in a cotton candy cone.  When you crack open the cone and move all the hair away, only then will it reveal which toy you have – SURPRISE!
The unpacking of the Candylocks toy can be just as much fun as the toy itself.
My Thoughts On Candylocks Collectible Surprise Dolls
What we really love about each Candylocks collectible doll it that their hair smells absolutely yummy! There are 25 glorious smells like cotton candy, chocolate, vanilla, strawberry, lemonade, and so many more fabulous aromas.
We have not yet seen what each of the 25 scented collectible dolls will be named, but we have seen a few and the names will be along the lines of Lacey Lemonade and Strawberry Mary.  So it seems as though they will be named after the smell of their hair.
What Do Candlylocks Surprise Dolls Cost?
We are happy to tell you they are super affordable with the suggested retail price of just $9.99. (Please note though: prices can vary depending on the packaging and accessories included)
☑  More Popular New Toys For Kids
More From This Collectible Dolls Range
Candylocks, BFF 2 Pack, Kerry Berry & Beau Nana, with Accessories
Candylocks, Strawberry Mary
Candylocks, Lemonade Lacy
Candylocks, BFF 2 Pack, Mint Choco Chick & Choco Lisa with Accessories
A List Of The Hottest Toys For 2019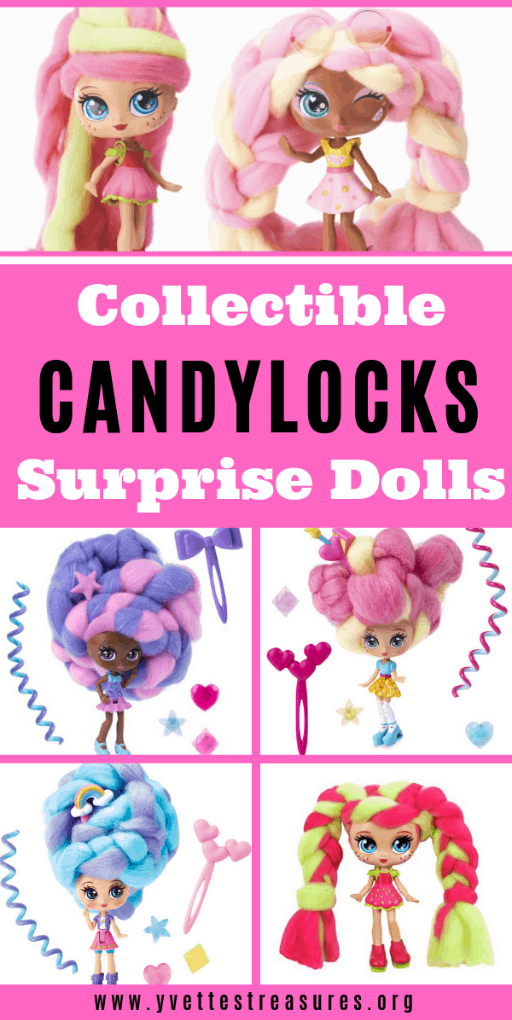 Summary
Article Name
Candylocks Collectible Surprise Dolls With The Best Accessories
Description
Candylocks collectible surprise dolls are predicted to be one of the most in demand toys for girls in 2019. With their cotton candy hair and sweet smell.
Author